Saturday,
February
22nd
, 2020
Rock n Honor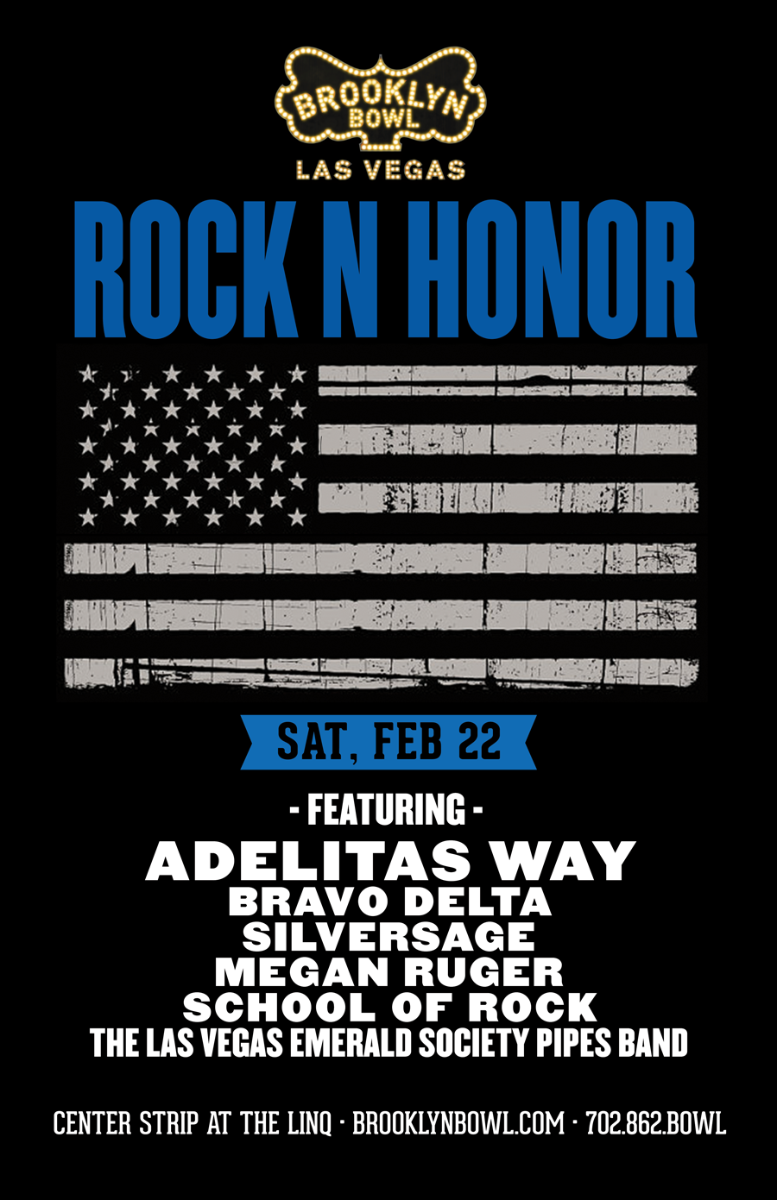 Event Info
Venue Information:
Brooklyn Bowl Las Vegas
The Linq Promenade
Las Vegas, NV
$10.00 General Admission, $15.00 General Admission (day of show)
All guests must have a valid government/state issued ID for entry to the venue. No refunds.
All general admission tickets are standing room only.
ALL TICKET PRICES INCLUDE NEVADA'S 9% LIVE ENTERTAINMENT TAX
Special room discounts via Caesars Hotels & Resorts for traveling fans. For hotel rooms use promo code: BRB15 at www.caesars.com applicable for rooms at The LINQ Hotel and the Flamingo.
*Advertised times are for doors -- show time not available*
* Venue closes between 12am - 1am unless otherwise noted*
In May 1997, the Police Unity Tour was organized, by Officer Patrick P. Montuore of the Florham Park Police Department, with the hope of bringing public awareness of Police Officers who have died in the line of duty and to honor their sacrifices. What started with 18 riders on a four day fund-raising bicycle ride from Florham Park, NJ to the National Law Enforcement Officers Memorial in Washington, D.C. Has grown into nine chapters consisting of nearly 2500 members nationwide who make the trip annually.
Chapter IV, in Virginia was organized in June of 2010 and ventured onto its inaugural ride in May of 2011. Although Chapter IV is based in "Virginia", the chapter has riders and support members from all over the country.
Members of Team Blue Line Valor from Las Vegas began riding with and in support of Chapter IV in 2013. Team Blue Line Valor are current and retired police officers who ride in support of the Police Unity Tour.
Artist Info
Rock n Honor
The Rock n Honor 2020 Benefit Concert will be hosted at the Las Vegas Brooklyn Bowl on Saturday, February 22, 2020. This event supports families of fallen officers, Police Unity Tour Chapter IV, the Vegas Misfits, and the LVMPD Honor Guard. Police Unity Tour Chapter IV, which includes members of LVMPD, will participate in a three-day bicycle ride to raise awareness of Law Enforcement Officers who have died in the line of duty. This ride raises funds for the National Law Enforcement Officer's Memorial and Museum. The Police Unity Tour consists of 10 Chapters across the country, each beginning their ride from a different location. All 10 Chapters culminate their ride at the Law Enforcement Memorial in Washington, DC during National Police Week.

The Vegas Misfits team will participate in the Florida Tour De Force five-day law enforcement memorial bicycle ride. This will be the first-year team Vegas Misfits will be participating in the event. The funds raised by Vegas Misfits will support the upkeep of the James D. Hoff Peace Officer Memorial in Carson City and the Southern Nevada Police Memorial Park. The Las Vegas Metropolitan Police Department Honor Guard proudly serves the City of Las Vegas, the County of Clark, and the Law Enforcement Community across the United States of America. The Honor Guard performs military style honors during funeral services for officers killed in the line of duty, as well as services for current and
retired law enforcement officers.

Bands performing at this year's event include Adelitas Way, Bravo Delta, Silversage, Megan Ruger, Green Valley School of Rock, and Las Vegas Emerald Society Pipe Band. There will also be special guests during the event and a raffle. Tickets are $10 in advance; $15 at the door.

For more information, visit www.putiv.org or www.brooklynbowl.com

###
Silversage
Megan Ruger
School of Rock
LV Emerald Society Pipes Band
Just Announced
Las Vegas
NOT VALID WITHOUT THE PURCHASE OF GENERAL ADMISSION TICKETS
Doors: 9:00 PM