There is No Hero in Heroin Foundation
Rock for Recovery
Empire Records - DJ Michael Toast - Long Beach Leftovers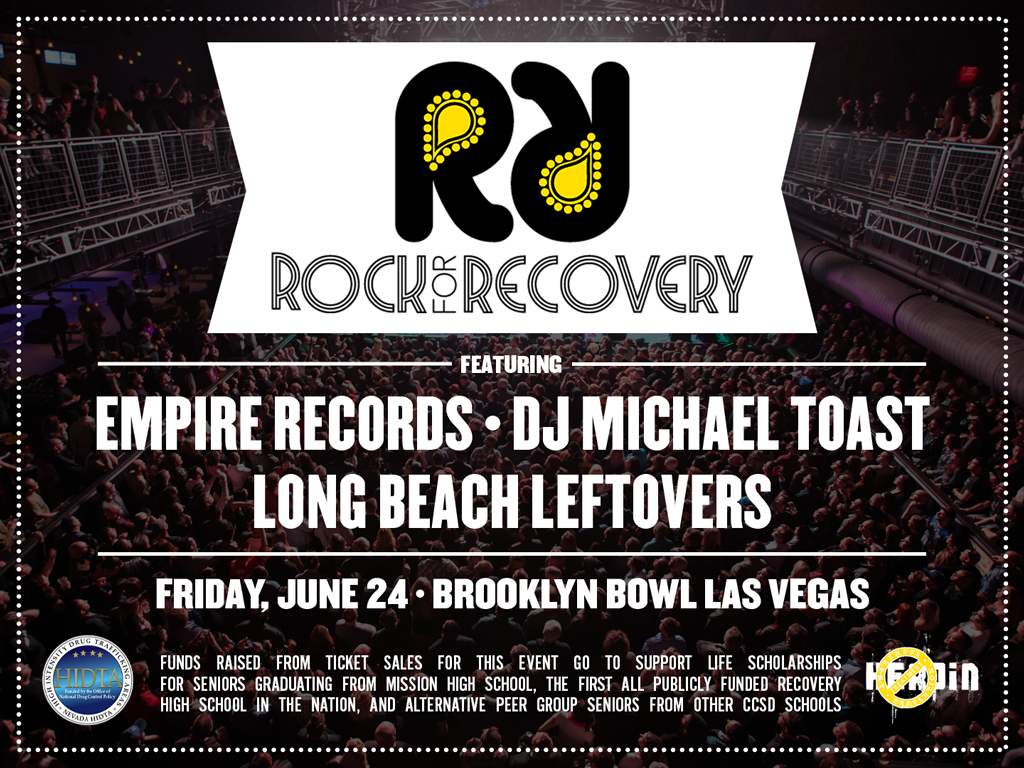 Event Info
Venue Information:
Brooklyn Bowl Las Vegas
The Linq Promenade
Las Vegas, NV
$15.00 General Admission


There Is No Hero In Heroin Foundation is a nonprofit organization dedicated to ending the devastation substance use disorder causes to families. We envision a world where fewer lives are lost and help exists for the millions of Americans affected by substance use disorder. We at TINHIH Las Vegas strive to be a support system by referring, educating, and assisting the general public on all aspects of substance use disorder. We have relationships with organizations in Las Vegas to help get you the help you need, either for the addict or family members.

Based on the latest local guidelines, attendees are no longer required to provide proof of negative COVID-19 test AND/OR vaccination for entry into this event. Brooklyn Bowl encourages mask wearing and encourages you to get vaccinated if you aren't already! Be sure to check our venue website for the latest updates and guidelines as entry requirements are subject to change.


An inherent risk of exposure to COVID-19 exists in any public place where people are present. COVID-19 is an extremely contagious disease that can lead to severe illness and death. According to the local health authorities, senior citizens and guests with underlying medical conditions are especially vulnerable. By visiting our establishment, you voluntarily assume all risks related to the exposure to or spreading of COVID-19.
Free Local Parking
- Residents of Clark County who purchased a ticket will receive free parking the night of the show at any Caesars Self-Parking locations. The Parking Validation Machine is located inside the Retail Store of Brooklyn Bowl.

No refunds.
All general admission tickets are standing room only.
ALL TICKET PRICES INCLUDE NEVADA'S 9% LIVE ENTERTAINMENT TAX
*Advertised times are for doors -- show time not available*
Artist Info
Rock for Recovery
ORGANIZATION INFORMATION
There Is No Hero In Heroin Foundation, Inc. (TINHIH) has been in existence in Las Vegas since June 2013. In the last five years, TINHIH has become a leader in the recovery community as well as a vocal advocate for sustainable recovery programs at the local, state and federal level. TINHIH's banner achievement is the creation of CCSD's Mission High School in downtown Las Vegas which opened in the Fall of 2017. The recovery-focused school is not only unique to Las Vegas because of its purpose, it is also recognized as the first entirely public-funded school of its kind in the nation.
PROGRAMS AND POPULATION SERVED BY TINHIH FOUNDATION:
TINHIH Foundation is a certified 501(c)3 non-profit organization. Funding is obtained through individual donations, corporate donations, local and state government gifts/grants. All funds raised remain in Southern Nevada to support the TINHIH Foundation programs TINHIH Housing Scholarships – "Lack of a stable, alcohol and drug free living environment can be a serious obstacle to sustained abstinence. Destructive living environments can derail recovery for even highly motivated individuals. Sober living houses (SLHs) are alcohol and drug free living environments for individuals attempting to abstain from alcohol and drugs. They are not licensed or funded by state or local governments and the residents themselves pay for costs. The philosophy of recovery emphasizes 12- step group attendance and peer support." TINHIH provides vouchers for local sober homes in S.NV.
Medication-Assisted Treatment Grants – Medication-Assisted Treatment (MAT) is the use of FDA- approved medications, in combination with counseling and behavioral therapies, to provide a "whole- patient" approach to the treatment of substance use disorders. Medications used in MAT for opioid treatment can only be dispensed through a SAMHSA certified Opioid Treatment Program (OTP). Currently, TINHIH MAT Grants are provided to the Center for Behavioral Health (certified OTP) at three Las Vegas locations (Cheyenne, Desert Inn, and McDaniel). The directors have the discretion to use the funds for individuals who come in and need to pay for their first week of treatment but have no financial resources.
TINHIH's annual signature event, Black Monday is a public education forum that includes a celebration of life, carnation memorial, resource fair and fundraiser. There have six such events since 2013. Alternative Peer Group, currently located at Mission High School, is an afterschool program created to address the emotional, psychological, spiritual and social needs of teens struggling with substance abuse issues. This unique treatment plan integrates the importance of peer connection with sound clinical practice through intervention, support, education, accountability and family involvement.
TINHIH INITIATIVES & PUBLIC POLICY
TINHIH advocated for the creation of the Clark County School District's Mission High School in downtown Las Vegas which opened in the Fall of 2017. The recovery-focused school is not only unique to Las Vegas because of its purpose, it is also recognized as the first entirely public-funded school of its kind in the nation.
Addiction Policy Forum – Nevada Chapter led by state chair Joe Engle (Las Vegas). The chapter focuses on helping families in crisis by elevating awareness around addiction, and to improve programs and policy through a comprehensive response that includes prevention, treatment, recovery, and criminal justice reform across Nevada. More than 21 million Americans are suffering from addiction. Data from the Centers for Disease Control and Prevention (CDC) show that 197 lives were lost daily to drug overdose in 2017—the equivalent of a plane crash every day. In 2017, Nevada saw more than 700 deaths from drug overdoses, and opioids accounted for 62 percent of those fatalities.
TINHIH testified during Senate Bill 459 hearings regarding NARCAN (naloxone) efficacy: Senate Bill 459, the Good Samaritan Drug Overdose Act, which was introduced by Governor Sandoval and passed unanimously in 2015. Among other things, SB 459 provides immunity to individuals who, acting in good faith and with reasonable care, administer an opioid antagonist to someone experiencing an opioid- related drug overdose. Good Samaritan immunity is provided to individuals who seek medical help for others, themselves, or are the subject of the help request. After testifying, TINHIH held the first overdose prevention training using naloxone in the State of Nevada in conjunction with Las Vegas Fire & Rescue (04/2016) and have held trainings on a quarterly basis since that date.
TINHIH is a Recovery Community Organization through the national accrediting association
Faces and Voices of Recovery.
https://facesandvoicesofrecovery.org/programs/arco/rcos-on-the-map.html
Partner Organization with Facing Addiction and The National Council on Alcoholism and Drug
Dependence (NCADD)
https://www.facingaddiction.org/partner/there-is-no-hero-in-heroin-las-vegas
Met with Former United States Secretary of Agriculture Tom Vilsack (Obama Administration) regarding sober living homes and discussed the critical need for affordable transitional housing. In August 2016, Secretary Vilsack announced an initiative to use USDA's rural development resources to help fill the need for transitional housing in Southern Nevada for people recovering from opioid and other substance use disorders. President Obama tasked Vilsack, as chair of the White House Rural Council, with leading a federal interagency effort focused on rural opioid use.
Empire Records
It's the 90's... Clinton is in the White House. Turn on the radio and you hear the ageless sounds that made you wanna raise the roof... Look around and you see people wearing flannel shirts, ripped blue jeans and suspenders. Those were the days of our lives that began a "hipster" fashion trend. Fast forward to 2016 and all of that is STILL true. The biggest bands of the 90's are even BIGGER and STILL rockin' on the radio! Bands like Alice In Chains and Soundgarden are putting out new albums. Destiny's Child reunited during the Super Bowl and Green Day is on Broadway! 90's acts such as: Boyz II Men, Celine Dion, and Shaina Twain have residencies all over the Las Vegas Strip. Empire Records brings the 90's music everyone wants -directly to you! Empire Records the 90's experience, is the eclectic soundtrack of smash hits and even more obscure jams. Getting all the party people moving with a night that they will not soon forget! If you don't see that the 90's are back, then you're whack!
DJ Michael Toast
Long Beach Leftovers