Rebel Souljahz - Peace, Love & Aloha Tour
Vana Liya, Kelandy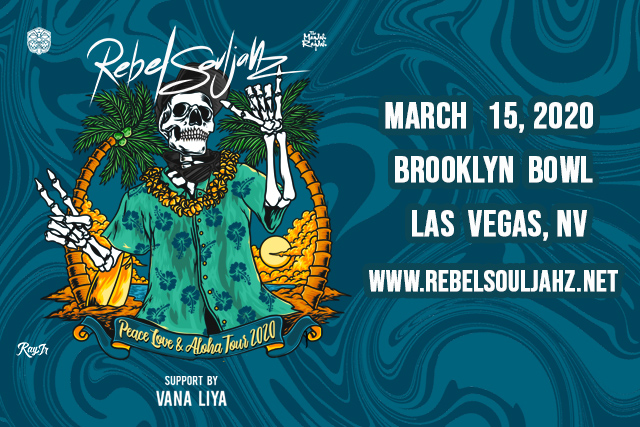 Event Info
Venue Information:
Brooklyn Bowl Las Vegas
The Linq, 3545 Las Vegas Blvd South
Las Vegas, NV 89109

LAS VEGAS -- Due to circumstances outside of our control, we regret to inform you that tonight's Rebel SoulJahz concert has been postponed until further notice. Hang on to your tickets, we'll email you (and post updates here) as soon as a new date is announced.




$27.50 General Admission, $30.00 General Admission (day of show)
All guests must have a valid government/state issued ID for entry to the venue.
No refunds.
Tickets purchased in person, subject to $2.00 processing charge (in addition to cc fee, if applicable).
All general admission tickets are standing room only.
ALL TICKET PRICES INCLUDE NEVADA'S 9% LIVE ENTERTAINMENT TAX
Special room discounts via Caesars Hotels & Resorts for traveling fans. For hotel rooms use promo code: BRB15 at www.caesars.com applicable for rooms at The LINQ Hotel and the Flamingo.
*Advertised times are for doors -- show time not available*
* Venue closes between 12am - 1am unless otherwise noted*
Artist Info
Rebel Souljahz
Rebel SoulJahz hail from the urban streets of Waipahu, Hawaii. Since the bands inception in 2006 they have arranged, written and performed several number 1 hits such as "Nothing to Hide", "The One", "Play me like a Fool" and "Ms. Beautiful". They have traveled to over 18 countries with headline performances to as many as 15,000+ attendees.

Rebel SoulJahz's newest full length album "4 The People" is due out on February 24, 2017 and is touring the USA West Coast and Asia during spring starting mid March.
Vana Liya
Nirvana a.k.a Vana Liya grew up outside of New York City. Being of Caribbean descent, Vana was surrounded by soca, calypso, dancehall and reggae music. Vana's mom gave her a ukulele for Christmas and a few years later she began covering songs by some of her favorite artists. The combination of the ukulele and her soft voice put a unique twist on some reggae-rock staples. Artists like 311, Rebelution, Stick Figure and SOJA shared Vana's covers across social media platforms, which was the beginning of Vana finding her audience. After gaining traction, in early 2018 Vana Liya signed with Pepper's LAW Records becoming the first female and first solo artist. Subsequently she released her debut single "Show Me". Later that year, Vana visited Stick Figure's Great Stone Studios in Oakland, CA. She recorded "Go For It" with Johnny Cosmic of Stick Figure. Cosmic signed on to produce her debut album, which is scheduled for a 2020 release. She says "Working with Cosmic has helped me find my sound - there's a new feel behind this album." Vana has shared the stage with bands like SOJA, Pepper, The Expendables & The Movement.
Kelandy
Just Announced
Las Vegas
LIVE NATION PRESENTS:
Four Year Strong, I The Mighty
Doors: 6:00 PM
Las Vegas
with Animals As Leaders, Veil of Maya and Wolf & Bear
Doors: 5:30 PM