Tuesday,
February
8th
, 2022
POLO & PAN: cyclorama tour
Mindchatter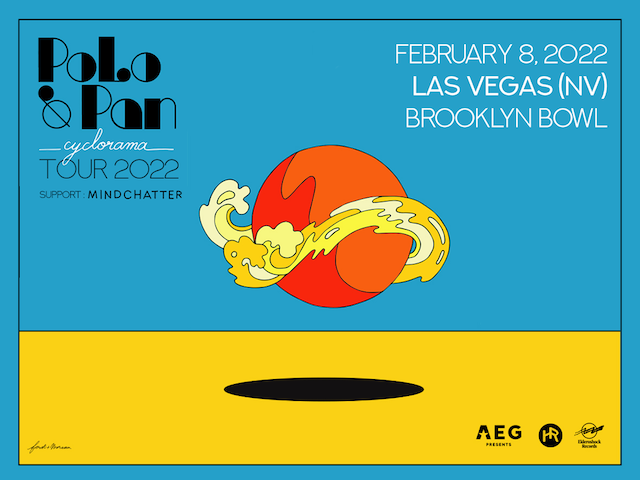 Event Info
Venue Information:
Brooklyn Bowl Las Vegas
The Linq Promenade
Las Vegas, NV
$25.00 General Admission,
$28.00 General Admission (week of show)
$30.00 General Admission (day of show)

Spotify Presale: Tuesday June 8th at 10am
Local Presale: Thursday June 10th at 10am
Public On Sale: Friday June 11th at 10am PT

Proof of your vaccination record (vaccination card or picture of your card with a matching ID card), demonstrating you were fully vaccinated at least two weeks in advance of the day of show. OR proof of a negative COVID test, administered within 72 hours of the day of show, with matching ID card.

A negative PCR or antigen COVID-19 test will be accepted. Please be sure to bring printed or digital proof of your negative test result, dated and time-stamped. At home test will not be accepted for entry
Acceptable Vaccines include: Pfizer | Moderna | Johnson & Johnson | vaccines authorized by WHO (if vaccinated outside of the U.S.)
MASKS: In accordance with local guidelines: Until further notice, masks are required to be worn at all times for attendees, regardless of vaccination status, except while actively eating or drinking. All Brooklyn Bowl staff are fully vaccinated and must wear masks while inside the venue.


By purchasing a ticket you acknowledge you will be required to show proof of vaccination or a negative test result. There will be no refunds for purchased tickets based on non-compliance of venue COVID-19 protocols, however, if you are unable to attend a show due to a positive Covid-19 test, please reach out to vegasinfo@brooklynbowl.com and we will help facilitate a full refund.

An inherent risk of exposure to COVID-19 exists in any public place where people are present. COVID-19 is an extremely contagious disease that can lead to severe illness and death. According to the local health authorities, senior citizens and guests with underlying medical conditions are especially vulnerable. By visiting our establishment, you voluntarily assume all risks related to the exposure to or spreading of COVID-19.

For testing locations visit:
https://www.clarkcountynv.gov/top_services/covid19/testing_locations.php


All guests must have a valid government/state issued ID for entry to the venue. No refunds.
Tickets purchased in person, subject to $2.00 processing charge (in addition to cc fee, if applicable).
All general admission tickets are standing room only.

ALL TICKET PRICES INCLUDE NEVADA'S 9% LIVE ENTERTAINMENT TAX
Special room discounts via Caesars Hotels & Resorts for traveling fans. For hotel rooms use promo code: BRB15 at www.caesars.com applicable for rooms at The LINQ Hotel and the Flamingo.
*Advertised times are for doors -- show time not available*
* Venue closes between 12am - 1am unless otherwise noted*
Artist Info
Polo & Pan
Polo & Pan are timeless. The Parisian duo rose to global prominence by eliciting a summery musical hedonism that flicks like frames through Golden Era Hollywood films—think romance-thrillers in San Tropez or love-crossed youth in Rio de Janeiro. With the release of their long-awaited sophomore LP Cyclorama, Polo & Pan further refine their cinematic impressions on house, disco, club, techno, and psychedelia in arrangements that play out like vignettes, abstractions on the motif of voyage that traverse through locales, time, tempo, and the cycles of life. Cyclorama is Polo & Pan fully realized: hedonism matured, sounds fine-tuned, scope broadened. While standouts like "Feel Good" and the ELO-inspired "Magic" are cued up to soundtrack the world's revelers emerging again into a joyful daylight world, Polo & Pan are also exploring shades of darkness and introspection. "Requiem," "Jiminy," and "Tunnel" —the latter a collaboration with the Compton-bred club iconoclast Channel Tres —take the duo's sonic late into the realm of all-night session bacchanalia, awash with brooding mystique. Cycloramaalso finds Polo & Pan foraying to the fringes of dancefloor thematics, exploring life, death, and transcendence in tracks like the buoyant and celebratory "Ani Kuni" —written by Alexandre Grynszpan for his son —and the wistful psychedelic ballad 'Melody.' The LP also features collaborative homage to eternal film score maestro Vladimir Cosma 'Bilboquet' —a silver screen flirtation that may be a sign of the duo's future celluloid aspirations.Throughout the Cycloramajourney, Polo & Pan offer richer textures, more complex emotions, intrepid collaborations, and surprises like the emergence of Paul Armand-Delille's dulcet vocals. The album closer "Peter Pan" is a promise that, although Polo & Pan may have matured, they'll never quite grow up so much that they lose their joyous touch. So while Cyclorama may be a watershed in the scope of the duo's sound, the feeling the music brings to the dancefloor remains uncompromisingly, inimitably, and undoubtedly Polo & Pan. That now signature Polo & Pan feeling the duo has wrought on the far-flung dancefloors of the world has been a decade in the making. But when Paul Armand-Delille and Alexandre Grynszpancrossed paths at the seminal Le Baron nightclub in 2012, much of their musical DNA was already encoded. They built on the club's penchant for approachable, open format DJ selection with their own concept for musical voyages that traverse the globe sprinkling joyous dancefloor energy at every port of call. Their shared tendency to crate-dig through cultural moments of the past in pursuit of contemporary, solar hedonism bore fruit from the onset. The duo entered the studio together and, in their words: "We never left." While much of the electronic music world has descended into fast fashion, churning out medium music that devolves into characterless drone, Polo and Pan have assumed the complete opposite philosophy. Grynszpan(Pan) is the gregarious one, a natural DJ with a love for well-crafted pop and pleasing the crowd. Armand-Delille (Polo) is the creative fountain, a studio technician and musical historian. These differences only serve to complement one another creatively as the duo eschews trends and expectations in doing very much their own way: live instrumentation, layered arrangements, and a complete refusal to compromise their own rhythm.Beginning with 2013's prescient and infectious Rivolta EP, Polo & Pan spent the better part of that decade meticulously crafting their sound at a perfectionist's pace, each release further building their musical world and reputation. Already a tastemaker's favorite, it was the 2017 debut album Caravellethat announced Polo & Pan to the world in grand style. The duo has become synonymous with sun-kissed whimsy and fetching grooves. And while tracks like 'Canopėe' and 'Dorothy' are now essential playing for any rooftop or beachside party no matter your latitude, it's Polo & Pan's live show that takes them to the next level. Linen suits, frisky theatrics, swaying palm trees, sirens with golden voices, and a liberal helping of pan flute: The Polo & Pan live performance brings their music to life with a sparkling vibrancy. It's a sight to behold. One look around the dancefloor—whether it's sold-out US tours or major festival performances—and you'll see smiles, pretenses dropped, and earnest joy on the faces around you. That, more than their cultured heritage, global appeal, or history of underground hits, might be Polo & Pan's most remarkable quality. As is the case for many iconoclasts, It may have taken some time for the world-at-large to catch Polo & Pan's creative drift, but now we are all very much along for the voyage.
Mindchatter
Hailing from NYC, Mindchatter is the artist project of singer, songwriter, and producer Bryce Connolly.After his debut single "Trippy" dropped in 2019, Mindchatter quickly gained recognition for his genre-defying sound and unique approach to music. By fusing introspective and thought-provoking lyrics with infectious, danceable beats, Mindchatter earned early praise from the likes of Pete Tong on BBC Radio 1. He was subsequently invited on tour with Polo & Pan where he first debuted his live show.2020 saw the rising artist sign to Mind Of A Genius Records with whom he released his debut album, Imaginary Audience in October of that year. He's since followed up with a string of singles in a lead up to his highly anticipated follow up album, due out in 2022. Mindchatter's live performance is where he truly stands apart from the pack, bringing a full live set with a one-of-a-kind visual experience. He first gave fans a taste of this audio-visual spectacle while on his debut headline tour in the fall of 2021.