Thursday,
October
14th
, 2021
Scott Mulvahill & Friends Present
Paul Simon's Graceland ft. Bakithi Kumalo, Jordy Searcy, Jennifer Hartswick
+ Jeff Taylor, Cody Fry & Arbo,support from Tristian Bushman
Doors: 6:00 PM
/
Show: 7:30 PM
18+ Years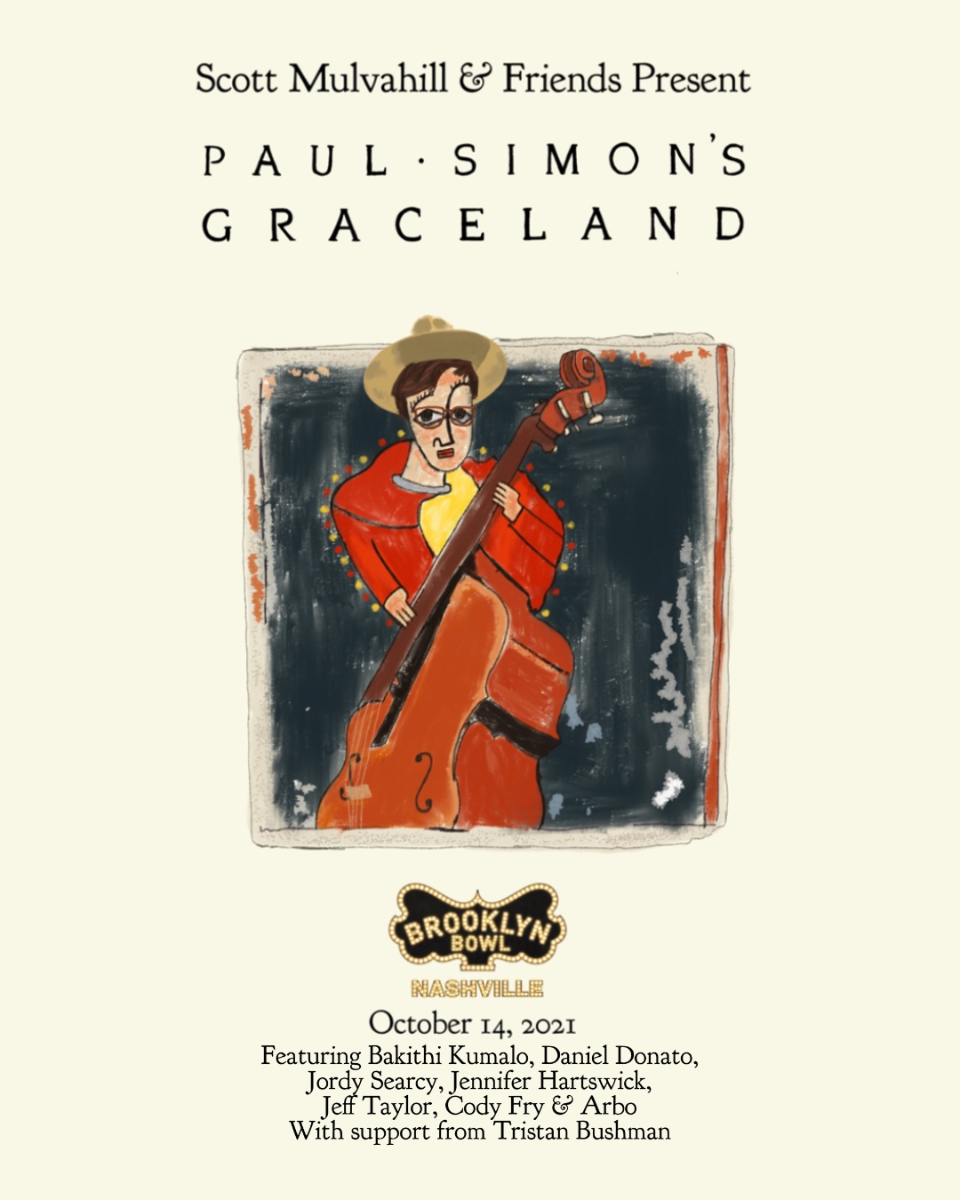 Event Info
Venue Information:
Brooklyn Bowl Nashville
925 3rd Avenue North
Nashville, Tennessee 37201
Because of the rise in cases due to the delta variant, a special COVID protocol is required for everyone that will be in attendance for Paul Simon's Graceland on 10/14 at Brooklyn Bowl Nashville. You, and anyone accompanying you in your party, are required to provide ONE of the following:
Proof of your vaccination record (vaccination card or picture of your card with a matching ID card), demonstrating you were fully vaccinated at least two weeks in advance of the day of show. OR proof of a negative COVID test, administered within 72 hours of the day of show, with matching ID card.
For information on free testing sites, please visit this link here: https://www.asafenashville.org/test-mask-resources/.
Brooklyn Bowl encourages mask wearing and encourages you to get vaccinated if you aren't already!
By purchasing a ticket you are acknowledging you will be required to show proof of vaccination or negative test result. There will be no refunds for tickets purchased, due to specific venue covid-19 protocol. If you receive a positive test before the show, please reach out to nashvilleboxoffice@brooklynbowl.com and we will help facilitate a full refund.
If you have any questions or concerns, please reach out to us at nashvilleinfo@brooklynbowl.com.
To ensure you don't miss any of the show, please plan to arrive closer to doors to go through security and present your vaccination card or negative test. This process takes some time so please make sure you have your ID and Vaccination Card/Negative Results out and handy when going through security to expedite the process for all patrons.
This event is 18+ Anyone under the age of 18 must be accompanied by a parent or guardian
Valid photo ID required at door for entry
This event is general admission standing room only.
Artist Info
Scott Mulvahill
Scott Mulvahill presents his #1 desert-island album with a wide-ranging cast of friends and collaborators. One of these friends is the mighty Bakithi Kumalo, the original bass player on the Graceland album, and a member of Paul Simon's band for the last 35 years.

In Scott's words, "This album made me want to be a songwriter. It completely mesmerized me at a young age with its other-worldly sounds, iconic bass playing, and totally unique lyrics. But I couldn't even put words on it then. Like so many others, I was hooked from the first accordion notes and along for the wild ride. It's been a favorite and a huge influence ever since." Come hear Scott, Bakithi, and some of Nashville's finest pay faithful tribute to a classic that is probably one of your favorites too.
Tristan Bushman
Folk-pop artist Tristan Bushman's soulful, small-town upbringing has made an indelible impact on his songwriting. He was born and raised in Ashton, Illinois, a midwestern nook of a town with a population of 800. When he was just 5 years old, his 2-year-old sister passed away from a rare metabolic disorder she was born with called NKH.
His brothers and cousin were his best buddies, and Tristan came up surrounded by a family of gifted and actively gigging musicians.

Tristan first stepped onstage with his dad and uncle's band when he was 5, making his debut as a vocalist at a local bar and grill. Eventually, he earned billing around town at coffee shops and small venues, playing 50-60 shows a year as a solo artist when he was just a teen. Today, at 23, Tristan is a Nashville-based singer-songwriter signed to Reservoir Publishing (Ben Harper, Sheryl Crow), releasing a self-titled debut EP on Soundly Music.

"Music has always been there for me—it's been a natural constant. Losing my sister, and processing having nurses in the house, her seizures, and the stress it took on my folks made me grow up quickly," he recalls. "Listening to my favorite songs was my salvation—CDs from my father and uncle's band meant everything. My cousin and I would blast those in the car all the time."

Tristan is an intimately empathic, and elegantly earthy artist whose songwriting recalls Tom Petty, James Bay, and Ed Sheeran. His 6-song EP is cohesive but varied. "Some songs have lap steel; some songs feature programming. It was a huge weight off our shoulders to just go for exactly what we wanted and not think in terms of strict genres," Tristan shares. Thematically, the EP explores relationships—specifically, the euphoria of new love and the agony of fading love—and it delves into coming-of-age reflection.

The EP's first single, "Carried Away," is an invigorating dose of pop Americana, brimming with carefree romance and soaring hooks. Here, Tristan sings with awe, and his lyrics capture the fireworks of the small stuff when you're in the throes of new love. One choice passage is: Oh the wonder of you/Two cube short glass old fashioned/The smile in your eyes when you sip is a chain reaction/Oh the wonder of you/You still love a yellow taxi/Your hand don't leave my hand/When you pull me in the backseat.
The ballad, "Break Itself," yearns for an amicable and easy split with someone you care about but no longer feel romantically invested in. The verses implore the other person to do something relationship-ending, like cheat or be hurtful, and the chorus features the cleverly playful refrain: Cuz I'm gonna need a little help/This heart ain't gonna break itself.

An emotional centerpiece of the EP is "Illinois," a poignant dose of acoustic and ethereal Americana. "That's the most autobiographical and vulnerable song I've written. It's about my home life, and being in Nashville where my dreams are while balancing missing my family and hometown," Tristan reveals. His words here are sharp and honest, he sings: I don't know if I could ever move back home/To tell the truth there's nothing there for me/I'm sick of being tired and I'm tired of being broke.

Tristan Bushman was tracked at Castle Recording Studios—home base for over 500 gold and platinum records, and produced by Brad Stella, member of the award-winning group The Stella's, and the father of artists/actors Lennon and Maisy Stella.

Tristan's evolution as an artist began with the anthemic Americana of Tom Petty and John Mellencamp. From there, he found passion and purpose in indie-folk artists such as David Ramirez and Noah Gundersen who were playing cozy 150-200 cap shows near his hometown. These artists, and their surrounding scene of songwriters, inspired Tristan to be musically uncompromising, boldly vulnerable with his lyrics, and not be afraid of a big chorus hook. After establishing himself in his regional singer-songwriter circuit, Tristan set his sights on Nashville. He took a job at a factory to save up for the big move, and relocated to Music City when he was 20.

This past year has been a whirlwind for Tristan as he navigated finishing his EP, fielding music business opportunities, and longing for his family who he didn't see for months during the height of the pandemic. During this time, one of Tristan's most satisfying moments was sending his parents his newly recorded EP. Upon listening, Tristan's father, a man of few words, texted, "You sound awesome—I'm so proud of you." Tristan says: "Knowing they're proud of me means everything. It inspires me to, as Tom Petty would say, 'run down a dream.'"