Wednesday,
October
20th
, 2021
Patrick Droney
Doors: 6:00 PM
/
Show: 8:00 PM
18+ Years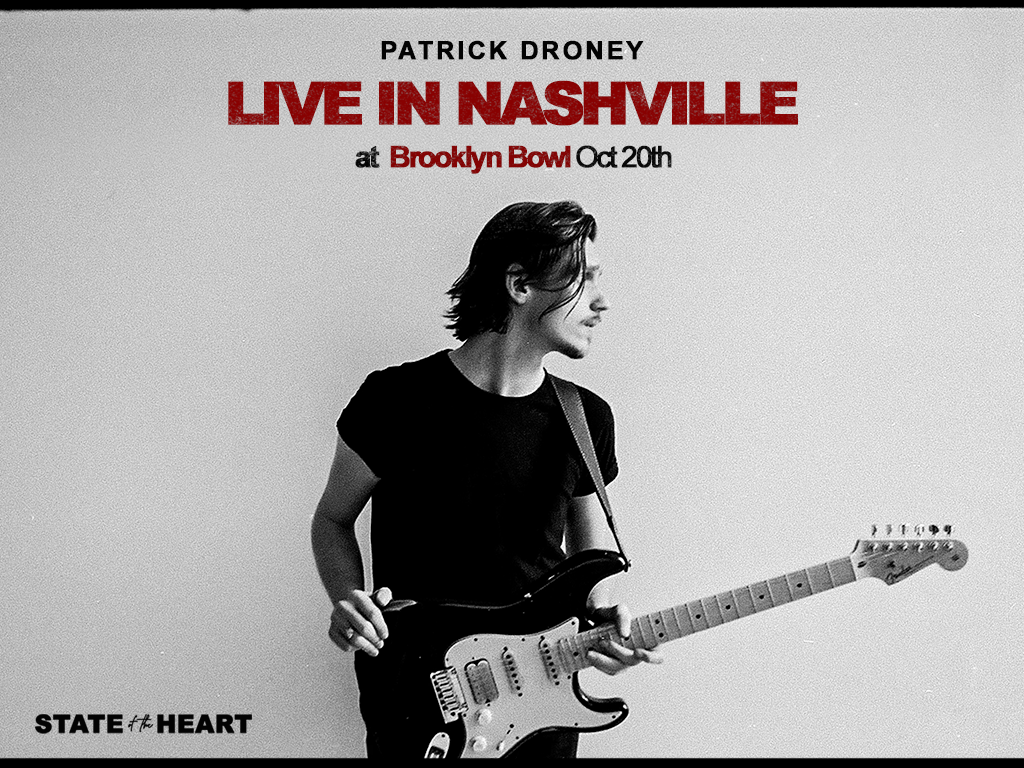 Event Info
Venue Information:
Brooklyn Bowl Nashville
925 3rd Avenue North
Nashville, Tennessee 37201
Valid photo ID required at door for entry.
This event is general admission standing room only.

Doors: 6:00 PM
Show: 8:00 PM

Evolving health and safety guidelines regarding COVID-19 may cause changes to the venue's capacity, admission prerequisites and other health and safety protocols. Brooklyn Bowl reserves the right to cancel your ticket and provide a full refund if our venue capacity is reduced.
Artist Info
Patrick Droney
Patrick Droney's life in music has been nothing if not singular, and yet the timeless, soulful songs he creates come from a place that is as universal as it is unique. The Jersey raised and Nashville based 28-year-old has a résumé that reads like a dream, and yet only now, after extensive touring and playing onstage with some of the all-time legends of blues, pop, rock, and soul, is Droney set to release a debut album of his own. On his State of the Heart LP, the virtuosic guitar playing for which he is known is equaled by his singing, songwriting, and production abilities, resulting in a master class of contemporary songs infused with everything the artist has learned to date about his craft. By tapping into his vast well of experience, Droney has created a debut record that balances its broad influences with sincere and specific sonic touchstones to offer something that can truly appeal to everyone.

To make these songs, Droney looked to his life experiences living in multiple places around the country, with major inspiration coming from his full-on, early adulthood immersion in New York City. Having grown up in its shadow, he was drawn to the city's grit and immediacy. "There's something about how the city meets you where you are and gives you what you need, whether you like it or not." Droney tapped into those feelings of acceptance and presence on State of the Heart, noting that much of the songwriting on the album is a reflection of what's behind him to make sense of the present, and ultimately move forward.

"While New York is the pillar of much of this record, it's really a tale of three cities," he says. "My time in Los Angeles, post New York, was pivotal. And during the last few years in Nashville, I was able to make so much sense of my story, being in a songwriting town where story is paramount." In addition, Droney donned many hats during the making of the album, including that of co-producer, songwriter, instrumentalist, and vocalist. "They're all different colors in the same picture," he says. "I remember the days in my parent's basement reading liner notes from my Dad's record collection—they were my baseball cards. I'd collect stats like who was the producer, the engineer, the songwriters, etc. and I found that the artists I most admired had a hand all the way down the assembly line. It inspired me from an early age to dive into all aspects of record making."

State of the Heart inspires from start to finish, with Droney's singing and guitar playing matched by the other areas of production, from synth-laden peaks and drone-inspired rhythms to saxophone parts, and wry, tough, yet tender ballads. The influence of Droney's heroes (Don Henley, Steve Winwood, B.B. King, Bruce Springsteen, Jeff Buckley) is undeniable, yet the music always feels urgent and contemporary, with Droney's chops and heart-forward expression leading the charge. In fact, for the artist, the album's title itself best exemplifies his feelings about it: "The heart represents so much for me. It's the engine in your chest, the internal churning propelling us to strive for something more. There's a price to ambition and we all live in various states of heart because of it. But I'll be damned if it isn't a worthy pursuit—chasing what you were put on this earth to do."

At its core, State of the Heart offers an in-depth look into the long journey its creator undertook in order to get to this exact moment in time. For Droney, that circuitous path carries with it the context needed to fully comprehend his profound intentions and artistic potential—for this album, as well as for his music and career yet to come.

"It's been a long journey to the beginning…in the context of the life behind me, but more immediately in the context of making a record in such a hard year. The music has been a constant through an era of variables. There's a dichotomy to the process of calling this album complete—it's a culmination and, at the same time, an exhale, a new breath, a beginning. I have so much ambition and so many people to thank. It's my fuel. It's gas in the engine. My late grandfather said, 'I have made peace with myself somewhere between my ambition and my limitations, therefore I do the very best I can do and no more.' State of the Heart is the best of me today. As for tomorrow, the bar is set to beat."