Monday,
October
25th
, 2021
Omar Apollo with Deb Never and Niko Rubio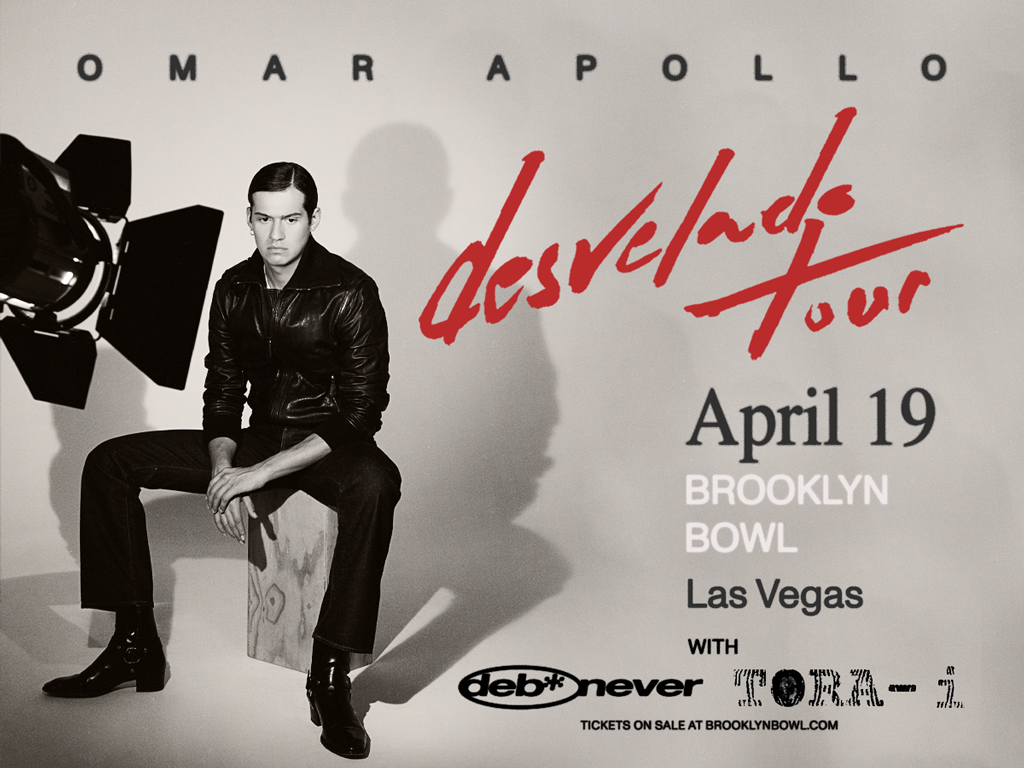 Event Info
Venue Information:
Brooklyn Bowl Las Vegas
The Linq 3545 S Las Vegas Blvd
Las Vegas, NV
$23.00 General Admission,
$25.00 General Admission (week of show)
$28.00 General Admission (day of show)
All guests must have a valid government/state issued ID for entry to the venue. No refunds.
Tickets purchased in person, subject to $2.00 processing charge (in addition to cc fee, if applicable).
All general admission tickets are standing room only.
SOUND CHECK PARTY + MERCH BUNDLE
- Early Entry for soundcheck
- Limited Edition, Numbered (Special) Laminate
- Exclusive Tour Poster Signed by Omar Apollo
- Exclusive Tour T-Shirt
- Pre-show Merchandise Shopping Opportunity before Venue Opens
- Q&A Session with Omar
DISHA HOT SOUND CHECK PARTY
- Early Entry for soundcheck
- Limited Edition, Numbered Laminate
- Exclusive Tour Poster
- Pre-show Merchandise Shopping Opportunity before Venue Opens
- Q&A Session with Omar
ALL TICKET PRICES INCLUDE NEVADA'S 9% LIVE ENTERTAINMENT TAX
Special room discounts via Caesars Hotels & Resorts for traveling fans. For hotel rooms use promo code: BRB15 at www.caesars.com applicable for rooms at The LINQ Hotel and the Flamingo.
*Advertised times are for doors -- show time not available*
* Venue closes between 12am - 1am unless otherwise noted*
- GA: $23 ADV, $25 WOS, $28 DOS
Artist Info
Omar Apollo
Omar Apollo is one of R&B's most exciting shape-shifters. As the 23-year-old singer/songwriter prepares his debut album, he's holding close to music that feels inventive, experimental, and true to his wide-ranging passion. R&B remains the foundation, but Apollo is branching out with a bilingual fusion of funk, pop, electronic, hip-hop, and more. He's dreamt up intimate acoustic songs, psychedelic folk-rock reveries, and wild reinventions of pop's past eras. For his first full-length, Apollo wanted space to dig into—if not outright invent—new sounds, and with his commanding vocal range and knack for memorable melodies, every experiment works.
"You can play all different types of music with the same instrument, so I just treated my voice like that," says the young artist. "I don't want to have a classifiable 'Omar-type beat'. We're going everywhere with my music, tapping into R&B, reggaéton, and corridos—everything."
The album has had a long, transformative journey. It first started coming together as his songs often do, with Apollo writing melodies while stuck at home in his Los Angeles apartment. He'd share ideas with his go-to producer, Carter Lang (SZA, Mac Miller, Post Malone), who happened to live down the street, but as the world slowly began opening up, he challenged himself to also include people and places outside of his usual bubble. Apollo left his room and visited others including iconic studios like New York's Electric Lady and, in L.A., Westlake, Conway, and Henson.
"I'm as hungry and ambitious as when I started," Apollo says plainly. "If not more."
This creatively driven mindset has driven Apollo since he was growing up as a first-generation Mexican-American in Indiana. As a kid, he'd listen to the likes of Brandy, Musiq Soulchild, Prince, and Stevie Wonder, R&B songwriters who shaped his perspective—world-builders, yes, but vulnerable storytellers first. After plucking away at the guitar from age 11 onward, he began posting music to SoundCloud and YouTube once he turned 18, holding onto that inherited vision all along, making songs that feel intimate and authentic, but boundary-pushing too.
Apollo's story as a professional musician began four years ago when a friend who believed in his talent let him borrow $30 to upload a song on Spotify. It turned out to be a blessing, as that track—the introspective, dreamy "Ugotme"—broke through. From there, he self-released a pair of EPs, Stereo (2018) and Friends (2019), that established his signature "bedroom soul," and earned him love from fans and press (Pitchfork, Rolling Stone, and FADER, to name a few).
As unique as his sound is, Apollo has gotten just as much attention for his lyrics, where themes of romantic yearning and self-improvement swirl up with open expression of his cultural heritage and identity. Now, he's leaning even more into all of it, making music that feels closer to his heart than ever. "This album is even more personal," he says. "I'm just writing from experience."
In 2020, he released his "quarantine project" Apolonio, which was solely recorded and produced in his bedroom. But as he finishes up his album, he's dreaming bigger, exploring more sounds, pushing himself harder than he ever has before. He's more self-assured now, and wants the rest of the world to catch up to what his fans have been seeing from the beginning "I used to be too hard on myself," Apollo explains. "I thought I'm not built for this because I'm just a kid from Indiana. But that thought is gone now. I know what to do. Now everything just feels right."
Deb Never
Niko Rubio
When creating her debut project, 20-year-old singer/songwriter Niko Rubio found a never-ending muse in the Pacific Coast Highway: the iconic stretch of road that runs along the ocean for nearly the entire length of California, including the Southern California South Bay area where she grew up. Expansive and euphoric, Niko's radiant form of songwriting perfectly echoes the pure sense of possibility that accompanies driving down the PCH. Drawing inspiration from the collage of artists she's come to admire throughout her life including Vampire Weekend, Lana Del Rey, Erykah Badu & twenty one pilots, as well as the mariachi & banda music her grandparents played at home, Niko's music is an amalgamation of these influences, but unique in its effervescent melodies and unpredictable textures. Using cinematically detailed references and her effortlessly untamed vocals, Niko is ready to take those who listen to her debut single, "You Could Be The One," and forthcoming EP on a sonic road trip along the highway where they became a possibility.