Wednesday,
August
3rd
, 2022
New Found Glory 2022 Sticks & Stones 20th Anniversary Tour
Four Year Strong - Be Well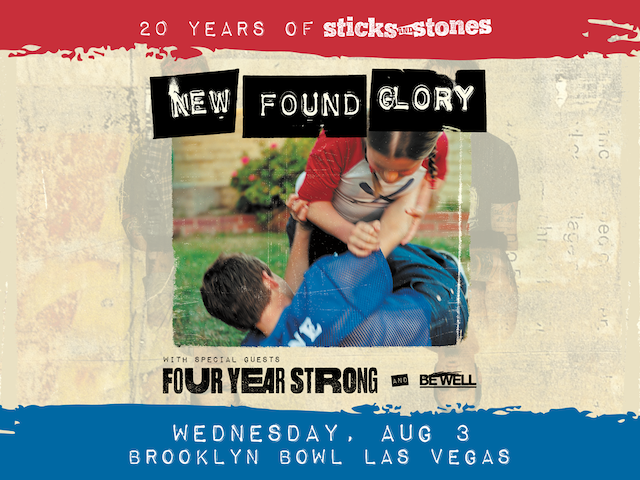 Event Info
Venue Information:
Brooklyn Bowl Las Vegas
The Linq Promenade
Las Vegas, NV
$29.99 General Admission
$35.00 General Admission (Day of Show)
$45.00 Club Level General Admission

BBLV Presale: Wednesday, February 17th @ 9am PST
Public Onsale: Thursday, February 18th @ 9am PST

**Tickets for this event will be delivered to your email 7 days prior to the show**

Based on the latest local guidelines, attendees are no longer required to provide proof of negative COVID-19 test AND/OR vaccination for entry into this event. Brooklyn Bowl encourages mask wearing and encourages you to get vaccinated if you aren't already! Be sure to check our venue website for the latest updates and guidelines as entry requirements are subject to change.


An inherent risk of exposure to COVID-19 exists in any public place where people are present. COVID-19 is an extremely contagious disease that can lead to severe illness and death. According to the local health authorities, senior citizens and guests with underlying medical conditions are especially vulnerable. By visiting our establishment, you voluntarily assume all risks related to the exposure to or spreading of COVID-19.
Free Local Parking
- Residents of Clark County who purchased a ticket will receive free parking the night of the show at any Caesars Self-Parking locations. The Parking Validation Machine is located inside the Retail Store of Brooklyn Bowl.
All support acts are subject to change without notice.

All guests must have a valid government/state issued ID for entry to the venue. No refunds.

Tickets purchased in person, subject to $2.00 processing charge (in addition to cc fee, if applicable).

All general admission tickets are standing room only.

ALL TICKET PRICES INCLUDE NEVADA'S 9% LIVE ENTERTAINMENT TAX

*Advertised times are for doors -- show time not available*
Artist Info
New Found Glory
New Found Glory has always been about the same thing - honesty, community, and positivity. After 20+ years of being a band, ten studio albums, one live album, two EPs, and four cover albums, New Found Glory's ethos has never wavered; they always strive to be the friend you always need and always understands you. With their tenth studio album, Forever + Ever x Infinity, the band has put together the quintessential NFG record, supremely catchy with sing-along anthems, trademark breakdowns, and sweetly poignant lyrics. "This is the record our fans have been waiting for us to make," guitarist Chad Gilbert shares, "The old now feels new and fresh. It was a blast finding ourselves again."

Combining punk, hardcore, and post-hardcore with emotional lyrics and melody is nothing new for the band that epitomizes heartfelt optimism with DIY work-ethic and spirit. But never has this been more evident than this 15-song barn burner of a record. Set at a blistering pace, songs like "Shook By Your Shaved Head" and "Nothing To Say" rip the listener out of their monotonous day-to-day and drain away all the pressure and self-doubt that manifests inside. When singer, Jordan Pundik, sings, "You've gotta take your life back. You've got so much more to give. That's what I say to myself when I feel like giving into the shame I feel. Won't let it keep me standing still," you can't help jumping up, throwing a fist in the air, and singing the words out at the top of your lungs. This is what New Found Glory has always been about - inspiring people to not be afraid of the odds, lift each other up, and get up again.

For what is the most revealing and unnerving than love? After all, Forever + Ever x Infinity represents how long you want your love to last. Songs like "Greatest Of All Time" and "Stay Awhile" dive beyond the surface and into the depths of love, rolling through ups and downs, and riding through the fear to keep going through failure. Lines like "I think we are what we've been waiting for," and "We can love, we can fail, it never goes out of style," tug at the heartstrings of anyone that has struggled, worked, and made it out the other side. But nothing can prepare you for the joy and exuberance of coming full circle with, "You like my sense of humor and I like the way you smile...Why don't you stay awhile...or maybe for a lifetime." It hits hard because you know this to be true, New Found Glory has always been about this; life will be difficult, but these difficulties make us into stronger, bolder people, and celebrating the triumphs in life make it all worth it.

With Forever + Ever x Infinity, the band created an album that is 100% New Found Glory, a brand and mantra 20+ years in the making, riffs and sing-a-longs to last a lifetime.

New Found Glory is Jordan Pundik (lead vocals), Chad Gilbert (guitar), Ian Grushka (bass guitar) and Cyrus Bolooki (drums).
Four Year Strong
If it's hard for you to believe that Four Year Strong have been a band for nearly two decades, you're not alone because its members feel the same way. Since forming in 2001 in Worcester, Massachusettes, while the members were still in high school, Four Year Strong have carved out their own niche in the music community by merging the infectiousness of pop-punk with the aggression of hardcore and never shying away from breaking with creativity-limiting conventions. This is evident on the band's fifth full-length Brain Pain, a collection of songs that retains the qualities of the band that fans have grown to love while pushing forward the band's effort to continually redefine their sound. "One thing we've struggled with in the past is writing in a way that's personal to us that our wide range of fans can find a way to relate to as well," vocalist/guitarist Dan O'Connor explains. "On this record we really tried to find the thing that connects us to our younger fans or the people who have been listening to us for a long time who still see us as younger kids despite the fact that we're now in our thirties."

The band -- which also features vocalist/guitarist Alan Day, bassist Joe Weiss and drummer Jake Massucco -- began conceptualizing the ideas for Brain Pain two years ago and for the past year-and-a-half have focused on bringing those thoughts to fruition. "We probably had 40 song ideas to get the creative juices flowing and some of those grew into the songs that are on this record," Day explains, adding that it was important for the group not to rush the album or go into it with any musical or logistical limitations. "We didn't want to set a strict deadline for this album because we wanted to be sure we took the time to write the best songs possible. In the past our writing and recording was so dependent on getting something out in time to go on tour; this time we really had the opportunity to take our time and work through these ideas." In order to capture that sound the group enlisted producer Will Putney, who was an engineer on 2010's Enemy Of The World and already had a relationship with the band. "We were really emotionally invested in this music so we wanted to go with someone who we knew would care about it as much as we did and Will was that guy," Day says.

From the off-time breakdown of the opener "It's Cool" to the orchestral balladry of "Be Good When I'm Gone" to the midtempo groove of "Get Out Of My Head," Brain Pain sees Four Year Strong showcasing the various aspects of their sound, which ranges from catchy to chaotic, yet all sound undeniably like Four Year Strong. "I think 'Get Out Of My Head' holds a special place in our hearts because it was the first song that we finished front-to-back with all the pieces in there," Day explains. "Almost none of it changed from when we first wrote it to the finished version of it and it felt like a turning point in the writing process." Alternately "Seventeen" evokes the best parts of nostalgia without sounding dated while the syncopated riffing on "Usefully Useless" crafts a sonic maelstrom that's as inventive as it is infectious. Finally old-school fans will love songs like "Mouth Full Of Dirt" which showcases the melodic hardcore style the band helped pioneer and sounds absolutely massive thanks to Putney's production.

Vocally Brain Pain sees the band being more direct and carrying over cohesive themes in a way they haven't done in the past, making for a more complete narrative. "I think that from a lyrical perspective this is the most thought we've ever put into a record," O' Connor explains -- and it shows. Sonically the album's vocals also sit in the mix in a way that they aren't battling with the other elements, making Brain Pain the band's most dynamic release to date. "There are a lot more bands doing the heavy-but-poppy hybrid thing now than there were when we started out and we just really wanted this record to stand out and be its own version of that," Massucco explains. "Our goal was to make a record that felt authentic to who we are, not pander to some version of us that we thought people wanted to hear," Day affirms. "I think we did that this time around."

"We always try to evolve the sound of our band," O'Connor adds. "I think that's one of the things that has separated us from some of the bands who are around for a long time because you can get kind of sendenary and happy with where you are. We always say, 'if Four Year Strong is a box we're always trying to push the edges of that box out a little bit of what the band can be' and I think that's keeps it exciting for us," he summarizes when asked about how the band have managed to stay relevant for so long. "A lot of the things we did when we were younger kids were throwing things against the wall and seeing what sticks. Now we're trying to come to a place with everything we're doing where it's a little more thought out… which is what old guys would do," he adds with a laugh, "but we're really happy with how it turned out."
Be Well
To hear Be Well singer and lyricist Brian McTernan tell it, this new band was essentially willed into existence after a sharp, but meaningful verdict. "It would have been a whole lot easier to just make this Battery," he laughs, referring to the iconic straightedge hardcore band that he co-founded in the 1990s. "Built-in fanbase, booking agent, touring history, nostalgia. It's just easier than starting something new. But Battery's got a mold, and I had to accept that this was not that. And accepting it only made me more determined because I knew there was a place in the world for this." That point was almost two decades in the making: After Battery disbanded in 2000, McTernan redirected his energy into a prolific production career he started in the mid-'90s, going on to leave his mark on seminal albums for bands like Thrice, Hot Water Music, Circa Survive, and Turnstile, among others. But as the music industry fluctuated, so too did McTernan's livelihood: "The budgets were dropping, and I was just as busy as ever, but all the records that I really wanted to do, I was actually losing money doing," he explains. "And the records that paid well made me totally fucking miserable." McTernan made a radical pivot in 2014, accepting a project management role for a construction company, and at first, the change in pace and career felt healthy. But after a major promotion to COO upended his previously sedentary routine—he traveled between work sites, often driving 400 miles a day—major issues in McTernan's mental health began to unravel. Issues that had been previously sublimated by the nonstop grind of a producer's schedule now had time and space to wreak havoc. "For literally the first time in my life, I had to be alone with my thoughts, alone with things I'd felt ever since I was a little kid," McTernan recalls, careful to choose the right words. "All of the shit that I had been hiding from with my work for my whole life? There was nowhere to run anymore." A period of severe major depression went unchecked for years, McTernan says, until 2017, when a temporarily reunited Battery wrote and recorded their first new song in 17 years. That song, "My Last Breath," was markedly different from everything that came before it, and in many ways, its lyrics served as a spiritual precursor to what eventually became Be Well. "We wound up putting out a song out about being in a mental hospital and me being totally afraid that I was going to pass this on to my daughter," he points out, "and instead of the world being like, 'Fuck you, you fucking psycho,' people were like, 'Wow, I didn't know that happened to you!' It helped me realize that I needed to stay connected with this part of myself, so I started to write." The writing didn't stop. After making that decision to start over, McTernan continued to process his experience through lyrics and turned elsewhere for collaborators. It started with Mike Schleibaum, formerly of Darkest Hour and Battery, who is arguably the one person who did the most to make this band move from idea to execution. ("Mike believed in me and felt it was important to do this," McTernan says. "He was the guy propelling the project along and making me stick with it. He was this guiding light the whole time.") An e-mail from a mutual friend reconnected McTernan with Bane's Aaron Dalbec, an old friend who was coincidentally moving to Maryland after his own band's break-up. When Dalbec signed on, McTernan adds, "that was the reinforcement I needed. That dude knows what the fuck he's talking about." Next came Peter Tsouras, whose previous band, Fairweather, recorded with McTernan, and finally, Fairweather drummer Shane Johnson. With that, they went to work on what would become Be Well's debut album, The Weight and the Cost. Make no mistake: This is an album that pushes well outside of the confines of what you know about its members previous bands. Be Well's "ex-members of" status might, in fact, be the least interesting thing about it. Where most hardcore records conform their content to the shape of genre conventions, this album shows what's possible when the content creates the shape: The Weight and the Cost follows McTernan's deeply personal experience to get here and it is absolutely unwavering in its purpose. It is cohesive, relentless, and often seemingly quite dark. It is also, at times, both inspiring and uncomfortable. But McTernan is confident that this is an album that someone, somewhere, needs right now. And after everything he's been through, he knows this might be his only chance to put it down and get it right. "What I'm hoping is not that people listen to this and go, 'Fuck, I feel worse now!'" he insists. "I am hoping people listen to this and go, 'You know what? I need to tell the people around me what's going on with me.' And that's where I think you get to the hopeful thread, because I think that, hopefully, I made it clear in the lyrics that there is nothing good about this feeling and I don't want to carry this around anymore." McTernan pauses, then exhales with either a sense relief, accomplishment, or both. "I'm never going to not have depression or mental illness. I'm never going to not have anxiety. But for maybe the first time in my life, right now, I don't feel like I'm living as someone else. For some reason, in this setting, I feel like I can finally put it all out there." The Weight and the Cost is literally everything they have.
Just Announced
Las Vegas
NOT VALID WITHOUT THE PURCHASE OF GENERAL ADMISSION TICKETS
Doors: 9:00 PM