Sunday,
September
26th
, 2021
Marc Rebillet - THIRD DOSE TOUR
Mike Xavier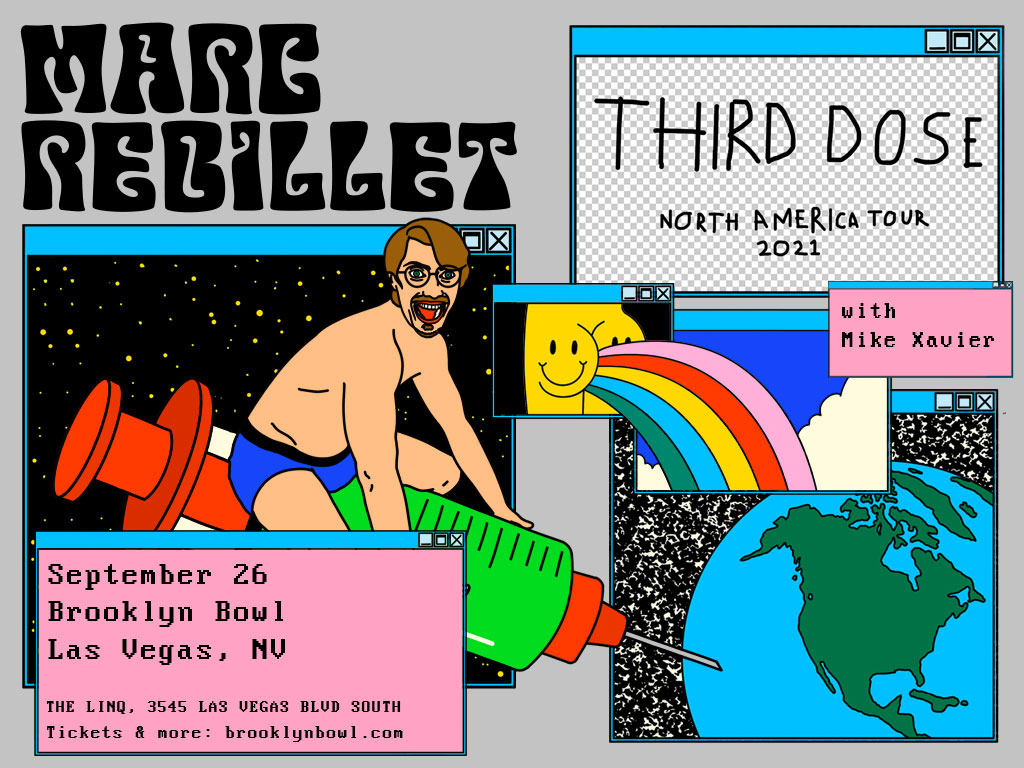 Event Info
Venue Information:
Brooklyn Bowl Las Vegas
The Linq Promenade
Las Vegas, NV
$35.00 General Admission
$40.00 General Admission (day of show)
$50.00 Club Level
$55.00 Club Level (day of show)


Please note, a special COVID protocol is required for everyone that will be in attendance for Marc Rebillet's Third Dose Tour on Sun, Sept 26 at Brooklyn Bowl Las Vegas:

At the request of the artist, all attendees will be required to show evidence of their full vaccination against COVID-19 for entry. Full vaccination means 14 days or more have passed since the attendee has received a single-dose vaccine or the second dose in a two-dose series. Acceptable vaccination documentation may be a physical, digital or photo copy of a COVID-19 Vaccination Record Card or a digital copy of such card.

Clark County, the Southern Nevada Health District, and Nevada National Guard are offering free vaccination services at UNLV Stan Fulton Parking Lot, 801 E. Flamingo Road (off Paradise Road). For more information on vaccination locations, please visit this link here: https://covid.southernnevadahealthdistrict.org/vaccine/distribution/

There will be no refunds for tickets purchased, due to specific venue covid-19 protocol. If you receive a positive test before the show, please reach out to vegasinfo@brooklynbowl.com and we will help facilitate a full refund.

If you have any questions or concerns, please reach out to us at vegasinfo@brooklynbowl.com.
All guests must have a valid government/state issued ID for entry to the venue. No refunds. All general admission tickets are standing room only.

ALL TICKET PRICES INCLUDE NEVADA'S 9% LIVE ENTERTAINMENT TAX
Tickets purchased in person, subject to $2.00 processing charge.
*Advertised times are for doors -- show time not available*
* Venue closes between 12am - 1am unless otherwise noted*
Special room discounts via Caesars Hotels & Resorts for traveling fans. For hotel rooms use promo code: BRB15 at www.caesars.com applicable for rooms at The LINQ Hotel and the Flamingo
Artist Info
Mike Xavier
It's rare to find a hip-hop artist who appeals to everyone from all walks of life. Xavier does just that, proving himself to be that unique artist through his vivid, poetic and real life – though upbeat and optimistic – lyrics.

Xavier's generation-defying appeal comes in part because of his live band. A gifted, smooth and well-trained group that includes trumpet, keys, bass, and drums. After years of performing alongside a DJ, Xavier decided it was time to task a crew of expert instrumentalists to help him create a live experience that's unparalleled in the world of hip-hop. They gently wrap his insightful lyrics in energetic and accessible jazz that consistently captivates crowds of all ages.

While the band's smooth, patient strumming draws you in, the lyrical portrait Xavier paints of this often gritty world is what leaves audiences of all backgrounds feeling they're one with a peer or someone who has genuinely lived in their dirt-stained shoes. That's because they are: Xavier is all of us.Before Xavier ever opened up for Hip Hop pioneers such as; Mobb Deep, KRS-One, Tech N9NE and Rakim, he was raised in Los Angeles by a single mother and eventually wound up homeless – sleeping in his car until he could make a few dollars to lay his head on an actual pillow.

The life lessons he first learned on the streets of L.A pour out when he's on stage. When Xavier performs his acclaimed song "Sunshine," it's clear that he longs to be a good father and a positive role model.

"We just got to teach our kids they can change the world," Xavier raps with his calm though upbeat tone. "They used to tell me, 'Try them drugs.' I ain't never try it."

Xavier's heart doesn't just pour out in his lyrics; he also backs it up with action. He organized an event to feed the homeless, and held his second annual Toy Drive, which brought out some of Las Vegas' best talent to pay it forward for children in need. Mike has been a Keynote Speaker for the House of Blues Music Forward Foundation and has also performed for the neglected and abused children who live at St. Jude's Ranch. In addition to the above, Xavier has partnered with the Subversive Music Foundation for the second year to raise over $80,000 to provide scholarships for music education + studio time to promote respectful, non-violent drug-free music to underprivileged youth.

With interviews and performances on popular TV outlets such as FOX, NBC, and ABC News, Xavier has expanded his reach to the masses. In 2018 Xavier partnered with Toyota for a special performance, and also shared the bill with world-renowned artists such as The Weeknd, Florence + The Machine, and Travis Scott at The Life Is Beautiful Music Festival. His success has quickly carried over into 2019 with the release of his new album titled 'Still Dreaming,' and a sold-out show at Vinyl Las Vegas, a 750 capacity venue located inside the famed Hard Rock Hotel & Casino.