Sunday,
December
11th
, 2022
Julian Lage
Margaret Glaspy
Doors: 6:00 PM
/
Show: 8:00 PM
18+ Years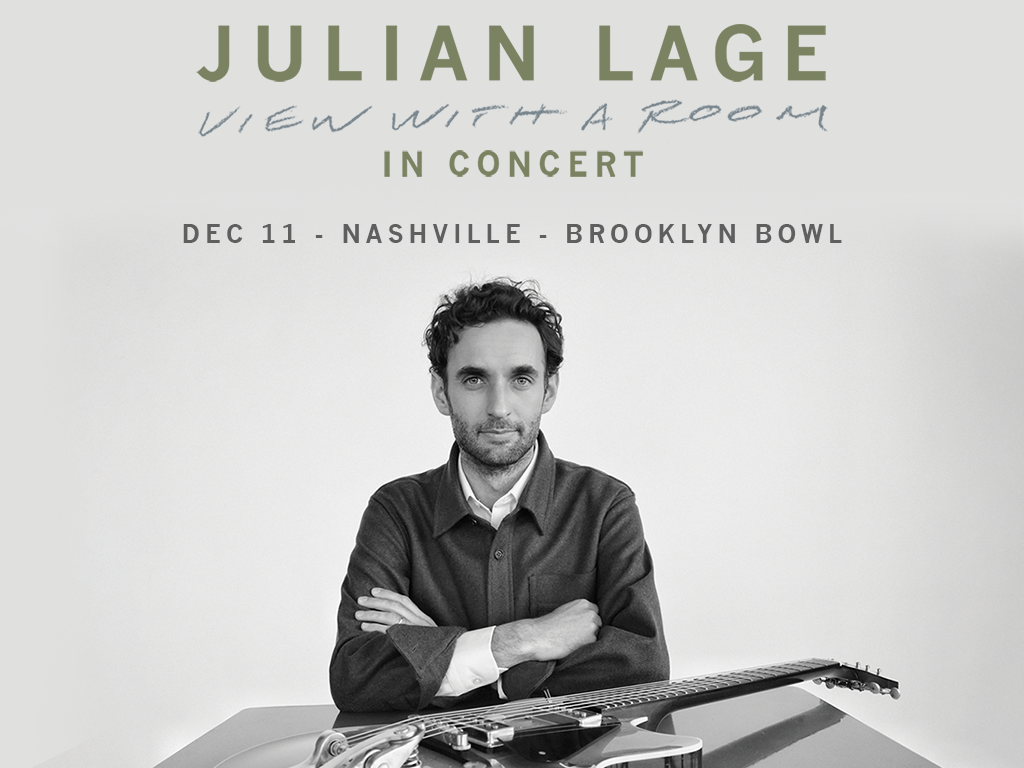 Event Info
Venue Information:
Brooklyn Bowl Nashville
925 3rd Avenue North
Nashville, Tennessee 37201
This event is 18+, unless accompanied by a parent or legal guardian. Valid government-issued photo ID is required for entry. No refunds will be issued for failure to produce proper identification.
There are no COVID-19 vaccination or test requirements for this event. An inherent risk of exposure to COVID-19 exists in any public place where people are present. By visiting our establishment, you voluntarily assume all risks related to the exposure to or spreading of COVID-19.
This ticket is valid for standing room only, general admission. ADA accommodations are available day of show.
All support acts are subject to change without notice.
Any change in showtimes, COVID-19 protocols, and other important information will be relayed to ticket-buyers via email.
Want to have the total VIP experience? Upgrade your ticket today by reserving a bowling lane or VIP Box by reaching out to nashvilleevents@brooklynbowl.com
ALL SALES ARE FINAL

Julian Lage is thrilled to offer an exclusive Master Class at select cities on his View With A Room Fall Tour. All Master Class tickets include admission for one to the evening's concert. Where available, Master Class tickets will include early admission to the show. Unfortunately, we're unable to offer 'master class-only tickets' at this time. Start time for the class is generally an hour before advertised doors but exact start time will be communicated with ticket buyers around one week before the show. During each class, 30 minutes will be spent teaching to a unique piece of curriculum before a 10-15 minute Q&A session. Tickets to these classes are limited to ensure everyone comes away with a unique and hands-on experience. Participants are not required to bring instruments - topics are not necessarily tied to instruction and technique. In addition to the class, participants will leave with an exclusive Julian Lage poster.
Artist Info
Julian Lage
Guitarist Julian Lage expands his horizons on View With A Room, a collection of 10 compelling original compositions that marks his second release for Blue Note Records. Having established a home base with his brilliant and deeply attuned trio of bassist Jorge Roeder and drummer Dave King—most recently heard on the guitarist's acclaimed 2021 Blue Note debut Squint—Lage casts his gaze outward to discover new orchestrational possibilities with the addition of six-string icon Bill Frisell, who adds his inimitable voice to this absolutely stunning album.

"In so many ways, I've wanted to make this record for years," says Lage. View With A Room harkens back more than a decade to the Julian Lage Group, a quintet with saxophone and cello last heard on 2011's Gladwell. "It comes from a line of musical inquiry: can you have lush orchestration combined with an organic sense of improvisation and the agility of a small ensemble?"

Without bolstering the line-up with additional instrumentation and more intricate writing, thus losing the maneuverability and venturesome spontaneity that he's honed with Roeder and King over the last several years, Lage found his solution where he so often does: in the guitar.

"The answer came from some of the historical references that matter to me about the electric guitar," Lage explains. "There's a certain lineage that grows out of early pioneers like Jimmy Bryant and George Barnes and Charlie Christian, where there's this almost electric volatility to the sound. It's both beautiful and kind of sharp; it's subdued and warm, but also kind of gritty. In thinking about the orchestration for this album, I wanted to foster the point of that arrow."

There's no one better suited to understanding what Lage was seeking, who is better versed in the history of guitar and jazz and beyond, its personalities and possibilities, than Bill Frisell. The legendary guitarist has worked with Lage in several different contexts, including duo concerts and projects devised by John Zorn, and enhances Lage's vision in atmospheric and incisive ways throughout View With A Room. The pair honed in on a shorthand vocabulary rich with references as diverse as the Beach Boys, Keith Jarrett's American and European Quartets, and George Harrison's All Things Must Pass.

"Bill on his own, is such an iconic orchestrational force," Lage says. "But what I loved in our conversations about this record is that Bill instantly responded, 'Oh, I totally get it. I know what frequencies you want to pop and I know what that represents to the lineage of jazz guitar.' Bill is so in tune with those nuances of the guitar's journey, and it was fun to speak that language natively together."

Frisell is at his most evocative on the tender opening track, "Tributary." The tune showcases Lage's gift for songcraft, unfurling a wistful narrative that flows with the staccato grace of a Willie Nelson phrase, enshrouded by Frisell's airy tones and dazzling effects. The two guitarists' subtle weave is at the heart of "Auditorium," where Frisell's agile rhythm work buoys Lage's eloquent leads atop the gracefully subtle propulsion of Roeder and King.

Roeder garners co-writing credit for "Echo," where his rock-solid bassline serves as the song's spine. Frisell's tremolo-drenched rhythm charge lends a surf rock tinge to "Chavez," while his baritone Telecaster adds a deep-rooted twang to King's grungy shuffle feel on "Temple Steps." The limitless questing of Frisell's vital trio work with Paul Motian and Joe Lovano is channeled in the entrancing free improvisation of "Let Every Room Sing," before "Fairbanks" closes the album with a plangent optimism.

Frisell steps aside on three tracks to allow the trio's finely honed dynamic to shine. "Word For Word," like "Chavez," is a song that Lage has attempted in multiple iterations over the years, finally finding its intended form as a lively swing waltz. With its cascading melody and King's chattering swing feel, "Heart Is A Drum" finds its influence in Chick Corea's early trio with Miroslav Vitous and Roy Haynes. The mid-tempo gallop of "Castle Park" is a dedication to Lage's father, whose California high school gives the song its title, while deriving its cyclical, offbeat approach from Warne Marsh and Steve Swallow.

As with Squint, View With A Room is enhanced by the production team that the guitarist has assembled and which has become an extension of the trio itself. "It's definitely more than a trio," he insists. "It's more than a quartet. It's really a kind of seven-person art project."

The album was produced by Margaret Glaspy, his wife and musical partner who brings her own insights as a singer-songwriter to the lyrical and storytelling aspects that make Lage's compositions so singular. She worked closely at Brooklyn's Bridge Studios with engineer Mark Goodell, who Lage credits with "wrangling this album into a sonic place that references what we love best about classic Blue Note records while still feeling utterly contemporary and unique to the sound of this band." Lage's longtime friend and collaborator Armand Hirsch added integral post-production elements that bring the emotional intent of each song into focus.

In the end, View With A Room is gorgeous and intimate, exploratory and embracing, imbued with the vibrant colors and exquisite interplay that one would hope for from the meeting of two of modern jazz's most distinctive voices with one of the music's most skilled and inventive rhythm sections.

"There's no one I would trust more than Bill Frisell to come into our trio ecosystem and be able to expand it while totally embracing it," Lage concludes. "It became a beautiful collaboration that achieved the Technicolor experience that I've been searching for."

Julian Lage • View With A Room • Release Date: September 16, 2022
Margaret Glaspy
On Margaret Glaspy's long-awaited second album, Devotion, this highly acclaimed young artist reaffirms her status as one of the most sharp-eyed singer-songwriters of her generation while managing to audaciously reinvent her sound. She fearlessly defies expectations -- and the results are exhilarating.
Coming home after nearly three years on the road in support of her 2016 debut album Emotions and Math and the 2018 follow-up EP Born Yesterday, Glaspy was eager to challenge herself as an artist and start to make a new album with a clean aesthetic slate. Her bold experimentation has paid off, with tunes that are her most melodically confident, rhythmically compelling, and often incredibly romantic. The arrangements are unexpectedly lush at times, especially on the torchy "Heartbreak," and often boast an impressive groove, on such tracks as "You've Got My Number" and the title song, "Devotion." Glaspy announces her radical approach at the very start of Devotion, where digitally altered voices serve as the prelude to "Killing What Keeps Us Alive," and she fills the album with surprising sonic touches, right up to the haunting electronics-and-voice soundscape of album closer "Consequence."
For Glaspy, Devotion is more about evolution than total transformation. The distinctive personality that marked Emotions and Math is still very much in evidence here. On her debut, Glaspy could be bracingly direct as she chronicled the trials of being alone or the tribulations of being together. She brought swagger, as well as sensitivity, to her lyrics and her performances. On Devotion, she still does, but her perspective has changed: "This record is very different from the last. It's not about being righteous or all-knowing, it's about letting love in even when you don't know what will happen when you do. It's about devoting your heart to someone or something, against all odds."
Glaspy toured throughout the USA, Canada, Europe, China and Australia behind Emotions & Math, including dates with Wilco and The Lumineers among others – she also appeared on NPR's Tiny Desk, CBS Saturday Morning and CONAN. Finding herself in her Brooklyn apartment after all of her travels, Glaspy admits, "It was such a shift for me that I didn't know what to do with myself when I closed that chapter. I was feeling pretty shy. I like to be alone and I had constantly been around people for two or three years straight. I took a long breath, reorienting myself, trying to find my in to get inspired and to get excited about making records again."
Glaspy enlisted L.A.-based producer and multi-instrumentalist Tyler Chester, who has collaborated with Blake Mills and Jackson Browne among many others, to produce Devotion - recorded at Atomic Sound in Red Hook, Brooklyn, where they made the bulk of the album. As Glaspy notes, "Tyler and I proved to be a very good match in the studio. I love being very hands-on with my records and he was a force of nature without restricting my sense of what the record should be. His instincts and ability are truly inspiring." They brought in Glaspy's touring drummer Tim Kuhl to complete the picture with his brilliantly artful and austere sense of the kit paired with Chester's programming. Brooklyn-based engineer, Mark Goodell captured these performances masterfully and James Krausse (Los Angeles) mixed Devotion in a way that Margaret says, "she has always envisioned her music sounding like."
"It has been amazing to be able to stretch out," she says, "to not define myself just by the music I make, but to follow my nose toward all the things that make me happy." A good example: Glaspy enlisted herself in distance education through Harvard University to fulfill her dream of getting an education outside of music: "Embracing being a student has made me feel like a child again and I think that has helped to propel my music forward so much more. My brain feels happy."
Devotion, then, is like a series of hard-earned life lessons. Glaspy's evolution over the last few years has been both musical and personal, which makes the album that much more compelling: "I'm learning that life is painful but you take the bad with the good; that love is hard but if you love someone, you make yourself available; that life is short and it's okay to be sincere. I'm starting to be able to write about these things and it's a feat for myself as an artist and growth for me as a person."