Chicano Batman w/ special guest Le Butcherettes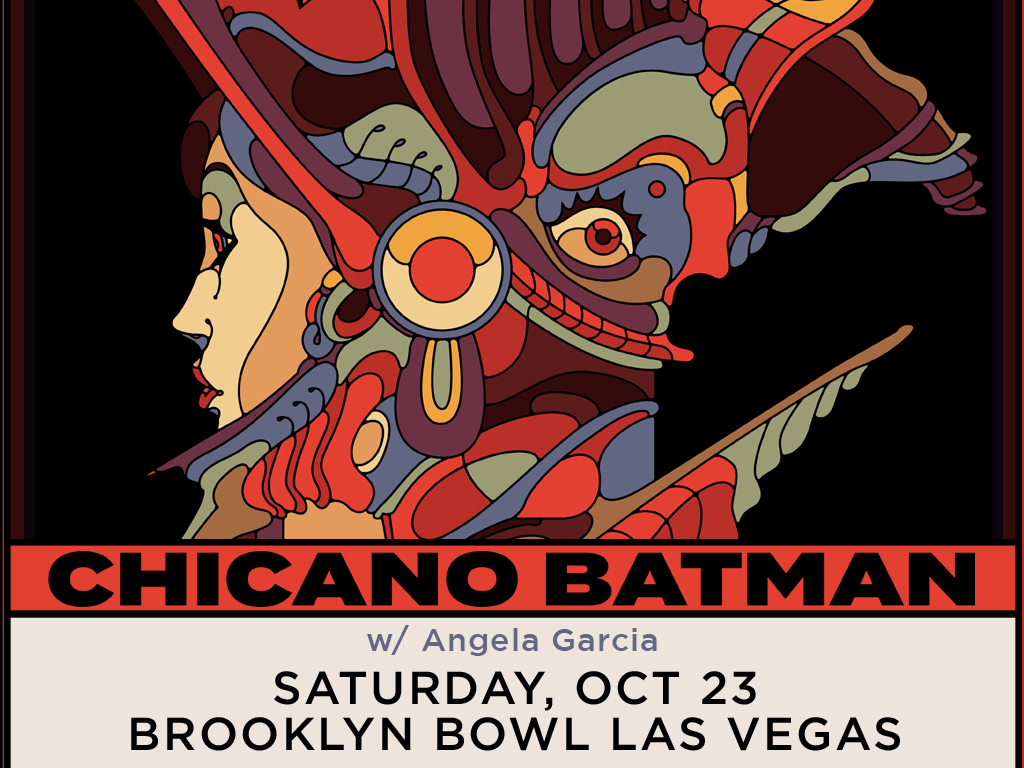 Event Info
Venue Information:
Brooklyn Bowl Las Vegas
The Linq 3545 S Las Vegas Blvd
Las Vegas, NV
$22.00 General Admission, $25.00 General Admission (day of show)
All guests must have a valid government/state issued ID for entry to the venue. No refunds.
Tickets purchased in person, subject to $2.00 processing charge (in addition to cc fee, if applicable).
All general admission tickets are standing room only.
ALL TICKET PRICES INCLUDE NEVADA'S 9% LIVE ENTERTAINMENT TAX
Special room discounts via Caesars Hotels & Resorts for traveling fans. For hotel rooms use promo code: BRB15 at www.caesars.com applicable for rooms at The LINQ Hotel and the Flamingo.
*Advertised times are for doors -- show time not available*
* Venue closes between 12am - 1am unless otherwise noted*
Artist Info
Chicano Batman
"Chicano Batman's look has done as much to set them apart as their sound or their name. Since the beginning, they've performed in matching suits and ruffled shirts; Bardo explains, "We're making a particular reference that some people understand—Los Ángeles Negros, Los Pasteles Verdes. In the '70s, it was a big thing where all these cats were playing romantic ballads, but they were funky as hell."

That sharp funk groove shows up throughout Freedom Is Free, but especially on the title song. Bardo's uplifting lyrics, delivered in his uniquely dreamy/romantic style, are bolstered by the backing vocals of New York's all-female Mariachi Flor de Toloache.

Freedom Is Free reflects Chicano Batman's decision to foreground the soul and R&B elements of their sound. To achieve their ambitious sonic goals, the quartet worked with producer Leon Michels (El Michels Affair, The Arcs) in his Diamond Mine Recording studio in Long Island City, NY. Michels, a veteran in the New York soul revival scene, has performed in Sharon Jones & the Dap Kings, The Black Keys and The Menahan Street Band. In addition to tracking the album to analog tape, Michels contributed keyboards and his trademark horn arrangements (he's been sampled by Jay-Z and Ghostface Killah). The partnership between Michels and Chicano Batman truly captures the band's live energy and brings their aesthetic goals to life.

Outside the studio, Chicano Batman have built a stellar reputation through heavy touring across the country. They've played major festivals like Coachella, Bonnaroo, Outside Lands, and opened for Jack White, Alabama Shakes, and Portugal. The Man. The past two years have demonstrated a breakout year, selling out just about every show across the US as a headliner in support of their most recent record."
Le Butcherettes
Family incites joy/PAIN, satisfaction/GUILT, and love/HATEin equal measure.
Life happens in between the emotions we feel for/ORagainst those closest to us. The fallout radiates across our lives andultimatelydefines us.Le Butcherettes—Teri Gender Bender [vocals/guitar/piano], Alejandra Robles Luna[drums], Rikardo Rodriguez-Lopez[guitars]and Marfred Rodriguez-Lopez[bass}—dissect the meaning of family on their fourth full-length album and first for Rise Records, bi/MENTAL. Equal parts cerebral poetry, art assault, and primal punk cacophony, these 13 tracks represent the Guadalajara-born and El Paso-based group at its most incisive and infectious.
"We all have two extremities," exclaims Teri. "Black and white are on opposite sides. When I was little, I had a family. Now that I'm older, it's fallen apart by conflict, emotional corruption, blackmail, and sickness. What does that mean? What does it do to us?We're always battling with, what I like to call, 'The Other'.When things aren't right with your roots, you feel like you're on the edge of disconnection. You start doubting yourself. They were the roots of my everything...but I'm not that little girl anymore.I have to start making room for myself. I can't let this torment me. The pendulumswings back and forth. Reason will be lost and gained again. That's bi/MENTAL. Now that I think about all of this, it makes sense I came up with the name in the shower," she laughs.
Over the past decade-plus, Teri and Co. quietly laid the groundwork for a statement of this magnitude. 2015's A Raw Youthattracted acclaim from Consequence of Sound, Magnet, Classic Rock, and more. An infamous live force, the frontwoman defied house rules(and gravity), hanging upside down from the rafters at a storied Coachellaset followed by stage-wrecking displays everywhere from LollapaloozatoFun FunFunFest. Handpicked to support Jack White, At The Drive In, Faith No More, Yeah Yeah Yeahs, Deftones, and others, Le Butcherettes earned the blessing and anointment of rock's vanguard. The songstress also joined iconic Garbage leader Shirley Manson and Brody Dalle on the cover of Nylon, while Iggy Pop, Henry Rollins, and John Frusciante immediately accepted invitations to collaborate. Spreading their influence into the mainstream,"Eli" soundtracked an episode of HBO's True Detective, and "New York" became the theme for the 2015 World Seriesopener.
Never content to sit still or get comfortable, Le Butcherettes teamed up withiconicTalking HeadsmemberJerry Harrison [No Doubt, Violent Femmes, KD Lang] behind the board as producer. Afterthree albums produced by Omar Rodríguez-Lópezof At The Drive In and The Mars Volta, the new creative environment added another dimension to the sound.
"I stayed at Jerry'shouse up in Northern California for pre-production," she recalls. "He, his wife, and their little dog have the most amazing family vibe. The whole atmosphere was very greenand really amazing. I was going through a lot, but I felt like I had a family during this time. I was able to be vulnerable and in-your-faceat the same time.With all of his wisdom,it's as if Jerry fathered the record. I think my dad would've liked him."
Themes of internal and familial strife hang over the opener and first single "spider/WAVES" [feat. Jello Biafra]. A ticking timebomb of riffs clicks and clacks as her howling falsetto swings towards a searing screech punctuated by spoken word from the Dead Kennedys frontman.Appropriately, she dons a Chichimeccan warrior outfit in honor of her grandmother in the accompanying music video directed by award-winning duo Noun.
"Lyrically, it's like this big delicious spider has its wave," she elaborates. "In away, we're all caught init. This thing wants to devour as much as it can, but you have to make sure you're okay. You're trying to protect yourself from something that wants to get in. It goes along with the idea of the record.It helped me go through the emotions.I realized it might be more about me than, 'The Other'."
The schizophrenic barrage of "mother/HOLDS" [feat. Alice Bag] unites two generations of disruptive goddesses as Alice Bag and Teri formally meet on a recording. Chilean superstar and "ultra girl crush"Mon Laferte lends her massive vocals to the Latin-tinged "la/SANDIA."Everything concludes on the abrupt catharsis of "/BREATH." It's the ultimate emotional exorcism conjured by theatrical delivery, rock 'n' roll ambition, and punked-out psychedelic provocation.
"Music is my outlet," she admits. "I've never been to a therapist before. I don't talk to my friendsabout this stuff. Music keeps me away from trouble. It keeps my mind free. It makes me feel connected to God like everything will be okay at the end of the day."
In the end, bi/MENTALwill undoubtedly make you feeltoo.
"If you listen, I hope it moves you—evenjusta little bit," she leaves off. "I'm not asking for much, maybe just a finger. That's all I could ask for."