Saturday,
October
23rd
, 2021
Chicano Batman
Angelica Garcia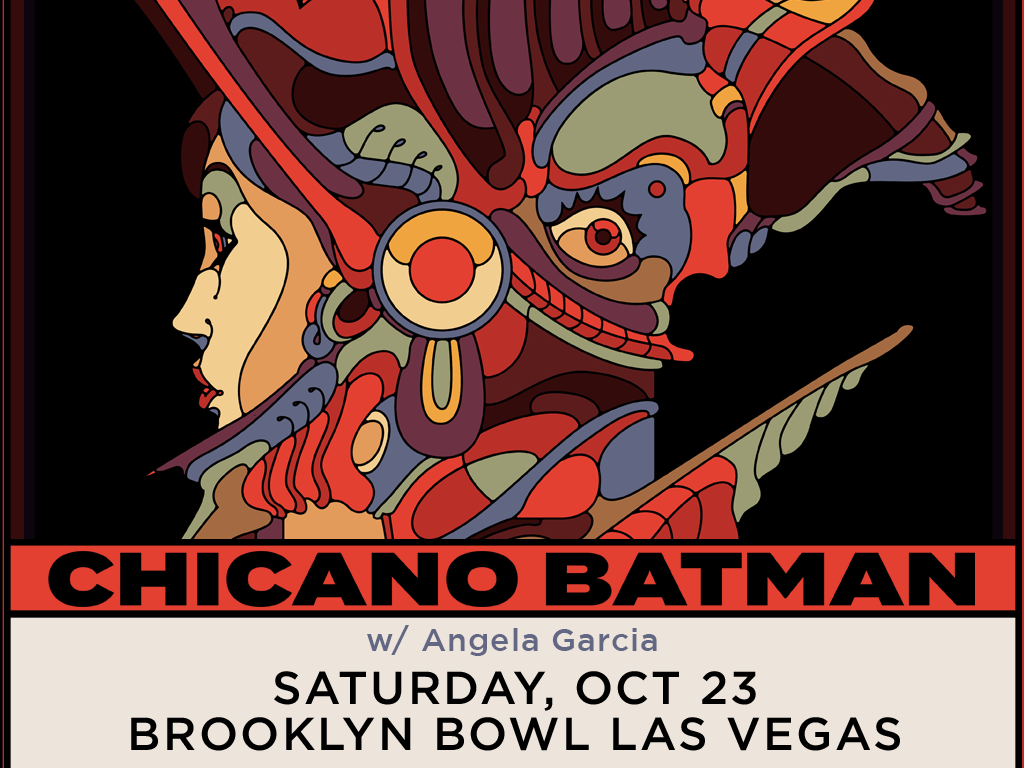 Event Info
Venue Information:
Brooklyn Bowl Las Vegas
The Linq Promenade
Las Vegas, NV
$22.00 General Admission
$25.00 General Admission (day of show)
Please note this show is requiring all fans to provide proof of a negative COVID-19 test within 72 hours of the event OR full vaccination for entry.
Proof of your vaccination record (vaccination card or picture of your card with a matching ID card), demonstrating you were fully vaccinated at least two weeks in advance of the day of show. OR proof of a negative COVID test, administered within 72 hours of the day of show, with matching ID card.

A negative PCR or antigen COVID-19 test will be accepted. Please be sure to bring printed or digital proof of your negative test result, dated and time-stamped. At home test will not be accepted for entry
Acceptable Vaccines include: Pfizer | Moderna | Johnson & Johnson | vaccines authorized by WHO (if vaccinated outside of the U.S.)
MASKS: In accordance with local guidelines: Until further notice, masks are required to be worn at all times for attendees, regardless of vaccination status, except while actively eating or drinking. All Brooklyn Bowl staff are fully vaccinated and must wear masks while inside the venue.


By purchasing a ticket you acknowledge you will be required to show proof of vaccination or a negative test result. There will be no refunds for purchased tickets based on non-compliance of venue COVID-19 protocols, however, if you are unable to attend a show due to a positive Covid-19 test, please reach out to vegasinfo@brooklynbowl.com and we will help facilitate a full refund.

An inherent risk of exposure to COVID-19 exists in any public place where people are present. COVID-19 is an extremely contagious disease that can lead to severe illness and death. According to the local health authorities, senior citizens and guests with underlying medical conditions are especially vulnerable. By visiting our establishment, you voluntarily assume all risks related to the exposure to or spreading of COVID-19.
Clark County, the Southern Nevada Health District, and Nevada National Guard are offering free drive-thru COVID-19 testing and vaccination services at UNLV Stan Fulton Parking Lot, 801 E. Flamingo Road (off Paradise Road). For more information on testing locations, please visit this link here: https://www.clarkcountynv.gov/top_services/covid19/testing_locations.php
All guests must have a valid government/state issued ID for entry to the venue. No refunds.
Tickets purchased in person, subject to $2.00 processing charge (in addition to cc fee, if applicable).
All general admission tickets are standing room only.
ALL TICKET PRICES INCLUDE NEVADA'S 9% LIVE ENTERTAINMENT TAX
Special room discounts via Caesars Hotels & Resorts for traveling fans. For hotel rooms use promo code: BRB15 at www.caesars.com applicable for rooms at The LINQ Hotel and the Flamingo.
*Advertised times are for doors -- show time not available*
* Venue closes between 12am - 1am unless otherwise noted*
Artist Info
Chicano Batman
"Chicano Batman's look has done as much to set them apart as their sound or their name. Since the beginning, they've performed in matching suits and ruffled shirts; Bardo explains, "We're making a particular reference that some people understand—Los Ángeles Negros, Los Pasteles Verdes. In the '70s, it was a big thing where all these cats were playing romantic ballads, but they were funky as hell."

That sharp funk groove shows up throughout Freedom Is Free, but especially on the title song. Bardo's uplifting lyrics, delivered in his uniquely dreamy/romantic style, are bolstered by the backing vocals of New York's all-female Mariachi Flor de Toloache.

Freedom Is Free reflects Chicano Batman's decision to foreground the soul and R&B elements of their sound. To achieve their ambitious sonic goals, the quartet worked with producer Leon Michels (El Michels Affair, The Arcs) in his Diamond Mine Recording studio in Long Island City, NY. Michels, a veteran in the New York soul revival scene, has performed in Sharon Jones & the Dap Kings, The Black Keys and The Menahan Street Band. In addition to tracking the album to analog tape, Michels contributed keyboards and his trademark horn arrangements (he's been sampled by Jay-Z and Ghostface Killah). The partnership between Michels and Chicano Batman truly captures the band's live energy and brings their aesthetic goals to life.

Outside the studio, Chicano Batman have built a stellar reputation through heavy touring across the country. They've played major festivals like Coachella, Bonnaroo, Outside Lands, and opened for Jack White, Alabama Shakes, and Portugal. The Man. The past two years have demonstrated a breakout year, selling out just about every show across the US as a headliner in support of their most recent record."
Angelica Garcia
With Mexican and Salvadoran roots in the San Gabriel Valley, east of Los Angeles, Angelica Garcia has spent the last few years creating a new, second family for herself within the welcoming community of Richmond, VA. This multicultural dichotomy shapes her new album Cha Cha Palace—her Spacebomb Records debut and follow up to 2016's Medicine for Birds. The album finds Garcia confidently assembling a "mental scrapbook" of her journey for listeners, and for herself, all the while confronting a lifetime of feeling split between two identities. "I grew up feeling embarrassed of my culture because it often made me feel like I stuck out in school. My dad would pick me up sometimes blasting Mexican banda music. My own lunch would embarrass me," she explains. "When I got older I realized that these things are all a part of my identity and I should be proud of them. The things that felt like they were holding me back from being 'a normal American kid' are actually my power."
The message of first single "Jícama" spans generations and is one that resonates deeply for Garcia, who sings/shouts: "I see you, but you don't see me Jímaca, Jímaca, Guava Tree…I've been trying to tell ya, but you just don't see, like you I was born in this country." Garcia speaks the reality for millions of Americans unapologetically and with passion. She recalls the first time she performed it live in Los Angeles, "I remember looking out into the crowd—and in front of me were all these young Latinx kids, singing back, every word, even though it was a song I had never played live, or released—and I had the epiphany: 'This is exactly who I wrote this song for, anyone who feels like they are in-between two identities and their heart is in two places.'"
Growing up in a musical and multigenerational home, Garcia recalls Mexican ranchera music always playing throughout her childhood (her grandmother, uncle, and aunt all were raised singing traditional Mexican music). Garcia's mother (a professional singer of mostly mariachi and Latin pop) and family always encouraged her musical talents and interests; her stepdad introduced her to classics that quickly became personal favorites, including Neil Young whom she credits as her "first introduction to the expansiveness of rock music." While attending the magnet high school LACHSA (Los Angeles County High School for the Arts)—where she would take her first formal classes studying jazz and classical music—Garcia's listening habits grew to include artists and bands like The White Stripes, Pinback, School of Seven Bells, and Bat for Lashes. More recently, though, she's been inspired by Mexican-American singer-songwriter Lhasa De Sela ("she inspires me with her mystical and emotive vocals") and the ways Anderson .Paak and M.I.A. meld their own personality and songwriting with modern production. "I knew that to make the kind of album I wanted to make, I'd have to channel a similar fearlessness. Plus, people just want to dance—so help them!" The combination of these influences became the foundation for Garcia's bold and buoyant sound—one that creates her own space by blending cultural traditions with contemporary and visionary styles.
After graduating, Garcia followed her mom and stepdad (a recent seminary graduate) across the country to Accomac, VA (a small community with few people her age) before eventually moving out on her own to Richmond. Though completely different from Los Angeles, it was ultimately the right move for Garcia's songwriting and career. "I was too young to feel comfortable with just staying in LA," she says. While her roots in the San Gabriel Valley inspired her to pursue music, moving to Richmond crystallized her artistic vision.
Armed with the skeletons of a few new songs and a collage on her wall that became the artwork for Cha Cha Palace, Garcia just needed to find sparring partners. Enter Eddie Prendergast and Russell Lacy. Garcia first met Prendergast at a show while he was playing with his band the Mikrowaves. Immediately feeling a connection to his appreciation for and way he fluidly married Latin rhythms with rock, Garcia and Prendergast hit it off, and quickly started working on the assured lead single "Karma the Knife." From there, everything fell into place, with Prendergast joining to produce along with Lacy, the engineer of Garcia's favorite Richmond studio, Virginia Moonwalker. Garcia credits the duo for helping her connect with everyone who helped her craft Cha Cha Palace, including the Spacebomb Studio staff and others.
Pulling inspiration from her experience growing up in the predominantly immigrant Latinx communities, Garcia's roots are woven all throughout Cha Cha Palace. And like Lorde and Billie Eilish, she isn't afraid to tear pages out of her diary and share candid emotions that might be difficult, and oftentimes daunting. The past is always present within her memories, songs, and art, from "Jícama," to her covers of the traditional Mexican folk song "Llorona" (on which she duets with her mother) and Jose Alfredo Jimenez's "La Enorme Distancia," here improvised by her grandmother as included as a vignette. Moving far away from her family takes its toll and that homesickness comes through on each of Cha Cha Palace's songs. Garcia explains, "I recorded my grandmother performing 'La Enorme Distancia' on my cell phone. Since she lives across the country, these lyrics in particular were very moving when I heard her sing them to me."
"Guadalupe"—which references La Virgen De Guadalupe (a Catholic icon of the Latinx community)—is a meditation on the deity as a dynamic 14 year-old who is the epicenter of a culture, and the power and responsibility that comes along with that. "The more I thought about her, the more I was amazed and inspired by such a young girl being one of the most highly regarded figures among men and women. This is why I repeat 'I want to be like her!' I thought about what I wanted my little sisters to hear. I really challenged myself with all of my songs, to write about things that I wanted other people to hear. It's really weird out there," she says with a laugh. "I wanted to be the voice that I wanted to hear."
This kind of humanity and honesty that audiences seek is found in spades throughout Cha Cha Palace. Two years in the making, the album is the result of Garcia's daily experience of finding her own sense of identity and place, feeling torn between saying and doing, of being a voice and speaking with your voice, of being Latinx while being American. "The U.S. is a country made up of people from other countries," says Garcia. "In my case, I'm American, but I am also Mexican & Salvadoran because of my family blood. Seems like people in power are concerned with preserving some sort of ideal American identity. The irony here is that I am just as much a part of that identity–to knock my family and I down is to knock down all of America's history."