Thursday,
November
4th
, 2021
JJ Grey & Mofro
TK & The Holy Know-Nothings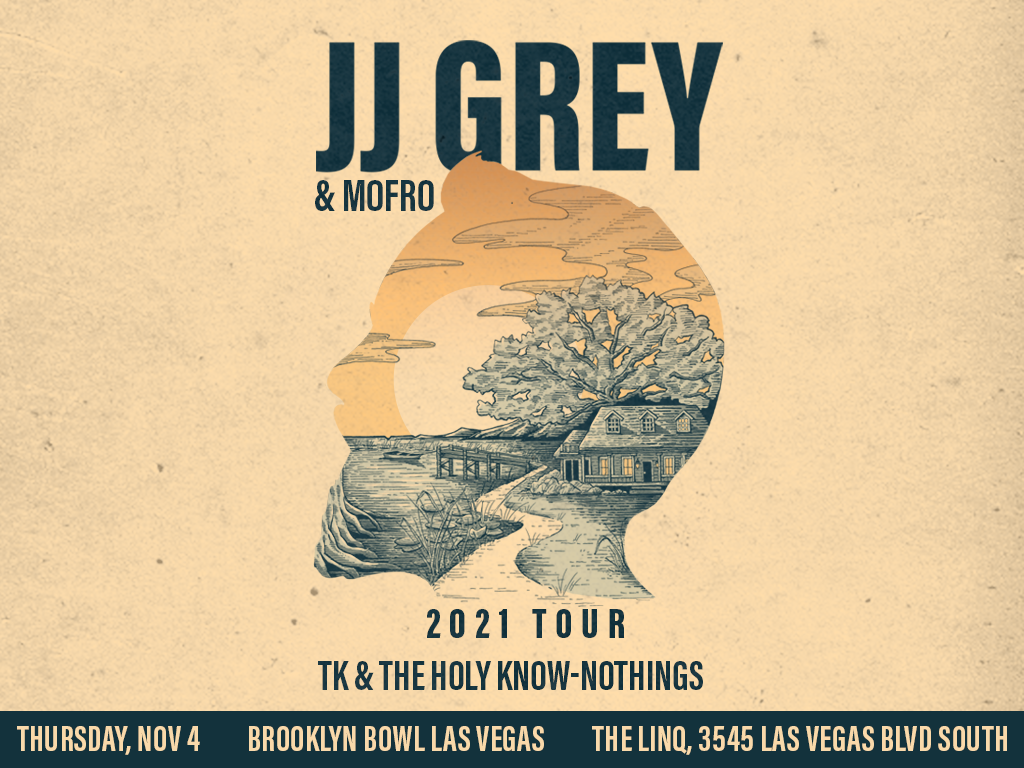 Event Info
Venue Information:
Brooklyn Bowl Las Vegas
The Linq Promenade
Las Vegas, NV
$32.50 General Admission,
$35.00 General Admission (week of show)
$37.00 General Admission (day of show)



Please note this show is requiring all fans to provide proof of a negative COVID-19 test within 72 hours of the event OR full vaccination for entry.
Proof of your vaccination record (vaccination card or picture of your card with a matching ID card), demonstrating you were fully vaccinated at least two weeks in advance of the day of show. OR proof of a negative COVID test, administered within 72 hours of the day of show, with matching ID card.

A negative PCR or antigen COVID-19 test will be accepted. Please be sure to bring printed or digital proof of your negative test result, dated and time-stamped. At home test will not be accepted for entry
Acceptable Vaccines include: Pfizer | Moderna | Johnson & Johnson | vaccines authorized by WHO (if vaccinated outside of the U.S.)
MASKS: In accordance with local guidelines: Until further notice, masks are required to be worn at all times for attendees, regardless of vaccination status, except while actively eating or drinking. All Brooklyn Bowl staff are fully vaccinated and must wear masks while inside the venue.


By purchasing a ticket you acknowledge you will be required to show proof of vaccination or a negative test result. There will be no refunds for purchased tickets based on non-compliance of venue COVID-19 protocols, however, if you are unable to attend a show due to a positive Covid-19 test, please reach out to vegasinfo@brooklynbowl.com and we will help facilitate a full refund.

An inherent risk of exposure to COVID-19 exists in any public place where people are present. COVID-19 is an extremely contagious disease that can lead to severe illness and death. According to the local health authorities, senior citizens and guests with underlying medical conditions are especially vulnerable. By visiting our establishment, you voluntarily assume all risks related to the exposure to or spreading of COVID-19.
Clark County, the Southern Nevada Health District, and Nevada National Guard are offering free drive-thru COVID-19 testing and vaccination services at UNLV Stan Fulton Parking Lot, 801 E. Flamingo Road (off Paradise Road). For more information on testing locations, please visit this link here: https://www.clarkcountynv.gov/top_services/covid19/testing_locations.php
All guests must have a valid government/state issued ID for entry to the venue. No refunds.
Tickets purchased in person, subject to $2.00 processing charge (in addition to cc fee, if applicable).
All general admission tickets are standing room only.
ALL TICKET PRICES INCLUDE NEVADA'S 9% LIVE ENTERTAINMENT TAX
Special room discounts via Caesars Hotels & Resorts for traveling fans. For hotel rooms use promo code: BRB15 at www.caesars.com applicable for rooms at The LINQ Hotel and the Flamingo.
*Advertised times are for doors -- show time not available*
* Venue closes between 12am - 1am unless otherwise noted*
Artist Info
JJ Grey & Mofro
From the days of playing greasy local juke joints to headlining major festivals, JJ Grey remains an unfettered, blissful performer, singing with a blue-collared spirit over the bone-deep grooves of his compositions. His presence before an audience is something startling and immediate, at times a funk rave-up, other times a sort of mass-absolution for the mortal weaknesses that make him and his audience human. When you see JJ Grey and his band Mofro live—and you truly, absolutely must—the man is fearless. Onstage, Grey delivers his songs with compassion and a relentless honesty, but perhaps not until Ol' Glory has a studio record captured the fierceness and intimacy that defines a Grey live performance. "I wanted that crucial lived-in feel," Grey says of Ol' Glory, and here he hits his mark. On the new album, Grey and his current Mofro lineup offer grace and groove in equal measure, with an easygoing quality to the production that makes those beautiful muscular drum-breaks sound as though the band has set up in your living room. Despite a redoubtable stage presence, Grey does get performance anxiety—specifically, when he's suspended 50 feet above the soil of his pecan grove, clearing moss from the upper trees. "The tops of the trees are even worse," he laughs, "say closer to 70, maybe even 80 feet. I'm not phobic about heights, but I don't think anyone's crazy about getting up in a bucket and swinging all around. I wanted to fertilize this year but didn't get a chance. This February I will, about two tons—to feed the trees." When he isn't touring, Grey exerts his prodigious energies on the family land, a former chicken-farm that was run by his maternal grandmother and grandfather. The farm boasts a recording studio, a warehouse that doubles as Grey's gym, an open-air barn, and of course those 50-odd pecan trees that occasionally require Grey to go airborne with his sprayer. For devoted listeners, there is something fitting, even affirmative in Grey's commitment to the land of his north Florida home. The farms and eddying swamps of his youth are as much a part of Grey's music as the Louisiana swamp-blues tradition, or the singer's collection of old Stax records. As a boy, Grey was drawn to country-rockers, including Jerry Reed, and to Otis Redding and the other luminaries of Memphis soul; Run-D.M.C., meanwhile, played on repeat in the parking lot of his high school (note the hip-hop inflections on "A Night to Remember"). Merging these traditions, and working with a blue-collar ethic that brooked no bullshit, Grey began touring as Mofro in the late '90s, with backbeats that crossed Steve Cropper with George Clinton and a lyrical directness that made his debut LP Blackwater (2001) a calling-card among roots-rock aficionados. Soon, he was expanding his tours beyond America and the U.K., playing ever-larger clubs and eventually massive festivals, as his fan base grew from a modest group of loyal initiates into something resembling a national coalition. Grey takes no shortcuts on the homestead, and he certainly takes no shortcuts in his music. While he has metaphorically speaking "drawn blood" making all his albums, his latest effort, Ol' Glory, found him spending more time than ever working over the new material. A hip-shooting, off-the-cuff performer (often his first vocal takes end up pleasing him best), Grey was able to stretch his legs a bit while constructing the lyrics and vocal lines to Ol' Glory. "I would visit it much more often in my mind, visit it more often on the guitar in my house," Grey says. "I like an album to have a balance, like a novel or like a film. A triumph, a dark brooding moment, or a moment of peace—that's the only thing I consistently try to achieve with a record." Grey has been living this balance throughout his career, and Ol' Glory is a beautifully paced little film. On "The Island," Grey sounds like Coleridge on a happy day: "All beneath the canopy / of ageless oaks whose secrets keep / Forever in her beauty / This island is my home." "A Night to Remember" finds the singer in first-rate swagger: "I flipped up my collar ah man / I went ahead and put on my best James Dean / and you'd a thought I was Clark Gable squinting through that smoke." And "Turn Loose" has Grey in fast-rhyme mode in keeping with the song's title: "You work a stride / curbside thumbing a ride / on Lane Avenue / While your kids be on their knees / praying Jesus please." From the profane to the sacred, the sly to the sublime, Grey feels out his range as a songwriter with ever-greater assurance. The mood and drive of Ol' Glory are testament to this achievement. The album ranks with Grey's very best work; among other things, the secret spirituality of his music is perhaps more accessible here than ever before. On "Everything Is a Song," he sings of "the joy with no opposite," a sacred state that Grey describes to me: "It can happen to anybody: you sit still and you feel things tingling around you, everything's alive around you, and in that a smile comes on your face involuntarily, and in that I felt no opposite. It has no part of the play of good and bad or of comedy or tragedy. I know it's just a play on words but it feels like more than just being happy because you got what you wanted — this is a joy. A joy that doesn't get involved one way or the next; it just is." Grey's most treasured albums include Otis Redding's In Person at the Whisky a Go Go and Jerry Reed's greatest hits, and the singer once told me that he grew up "wanting to be Jerry Reed but with less of a country, more of a soul thing." With Ol' Glory, Grey does his idols proud. It's a country record where the stories are all part of one great mystery; it's a blues record with one foot in the church; it's a Memphis soul record that takes place in the country. In short, Ol' Glory is that most singular thing, a record by JJ Grey—the north Florida sage and soulbent swamp rocker.
TK & The Holy Know-Nothings
For the past several years, there's a good chance you'd find TK & The Holy Know-Nothings songwriter and lead vocalist Taylor Kingman onstage at the LaurelThirst. Portland's oldest independent venue has long been a lifeblood for artists like Kingman. It's a sort of misfit stronghold -- a sanctuary for the same kind of spirit that sustained local punk legends Dead Moon and outsider folk hero Michael Hurley. Rejecting the influence of fleeting scenes, foodies and encroaching developers; it's stayed in tune with its muddy patrons who've carved out lives as blue collar artists for generations. It's here that Kingman earned the respect of his community.

Ask around and you'll quickly uncover Kingman's reputation as the kind of songwriter who makes other songwriters jealous, even angry. Still, those same artists line up to play with him. It's more than his exceptional songwriting that draws them in, though. It's his creativity, tenacity, and disarming honesty. It's led him to play with both Portland legends and newcomers, starting myriad projects to explore different concepts and styles, and making the sort of honest music that stands starkly against the backdrop of a city quickly fading under the lacquer of gentrification.

TK & The Holy Know-Nothings is perhaps Kingman's most beloved project. Affectionately dubbed "psychedelic doom boogie," the group was born out of Kingman's desire to create a loose, groove-heavy bar band that never sacrifices the importance of good, honest songwriting. Doing so required pulling together a supergroup of local friends, neighbors, and fellow LaurelThirst royalty, including drummer Tyler Thompson and multi-instrumentalists Jay Cobb Anderson (lead guitar, harmonica), Lewi Longmire (bass, guitar, pedal steel, flugelhorn) and Sydney Nash (keys, bass, slide guitar, cornet). It's a band of deeply contrasting styles buoyed by a sincere and palpable mutual trust -- one that allows them to find and lose the groove with the same ease. They build graceful, spaced-out landscapes around Kingman's storytelling -- his voice ragged and broken one moment and raging the next -- only to deconstruct them through a fit of manic and often dissonant rabbit holes. This is irreverent rock and roll, tempered and deepened by the sacred mystery of western country.

Western country isn't southern country. It's a sound as rough-hewn and alluring as the western landscapes it comes from. Its heroes are outsiders on a path set by a stubborn devotion to the truth of things, no matter how dirty or tender. Its misfit poetry is addled by influence, scarred by hard luck, and haunted by the eternally drifting, lonesome heart of a cowboy. Its sound is accessible and human in its pure honesty, but it's one that's too big to be tamed. Ultimately, it belongs to the great darkness you'll only find in the wild, open expanse of the West.

Following this lineage on their debut album Arguably OK, TK & The Holy Know-Nothings cites Doug Sahm, The Holy Modal Rounders, The Flatlanders, Dan Reeder, and Jeffrey Frederick & the Clamtones as strong influences. For Kingman, though, it's Terry Allen's 1979 art country gem Lubbock (on everything) that's most affected his songwriting. Like Allen, Kingman writes with delicacy about indelicate things. The songs on Arguably OK are about dead ends, addiction, self-sabotaged relationships, drug trips gone bad (or good? or both?), and, above all, holding out for the real thing. His lyrics are tightly crafted and profoundly paradoxical; simultaneously self-deprecating and unapologetic, clever and crass, irreverent and tender; and sometimes riotously funny. Each song takes you somewhere unexpected, every phrase crafted with the same signature combination of dirtbag revelry and haltingly poignant poetry. He brings all of himself to these songs -- the honest, unglorified truth.

Arguably OK came together swiftly on the heels of Kingman's stark 2017 solo debut Wannabe. The morning after Wannabe's release party, the band left Portland and drove across the state to the prairies of northeast Oregon to make a very different album. Arguably OK was recorded in three days in Enterprise, a quiet cowboy town at the foot of the snow-capped Wallowa Mountains. It was made live, with no overdubs, on stage at the historic OK Theatre, where most of their budget was spent on keeping the heat on. Built in 1918, the theater is a striking testament to the old west. After putting their name on the old marquee, TK & The Holy Know-Nothings went to work. Engineered on the fly by Thompson with the help of old buddy and local theater resident Bart Budwig, the band recorded the entire album by way of whole set run-throughs, stopping only at the end of each day to kick back in the theater's seats and listen through its speakers. After the final night of recording, the band played a few songs at The Range Rider, the oldest of Enterprise's two bars. At midnight, what felt like the whole town followed them back to the theater for one more run-through. It's the locals' raucous approval that can be heard on the track "Good Stuff."

It's no surprise TK & The Holy Know-Nothings found an audience so easily that night. Arguably OK is as wild and expansive as the eastern Oregon landscape; and its songs are as complex and idiosyncratic as the sort of outsiders who find family in bars like The Range Rider and LaurelThirst.