Saturday,
March
12th
, 2022
Lightning 100 Presents
Hiss Golden Messenger
Alexa Rose, No Bowling after 9:15pm
Doors: 6:00 PM
/
Show: 8:00 PM
18+ Years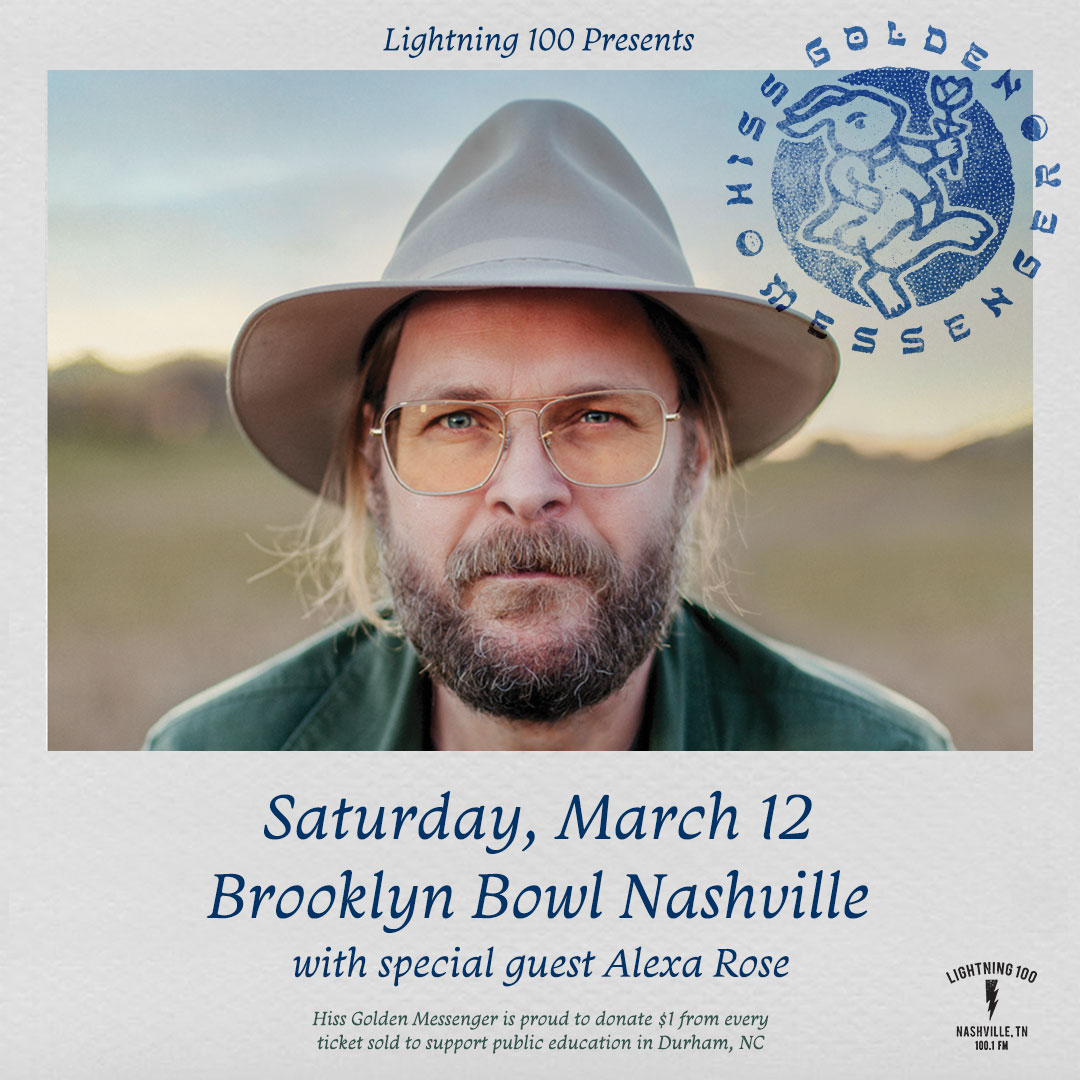 Event Info
Venue Information:
Brooklyn Bowl Nashville
925 3rd Avenue North
Nashville, Tennessee 37201
$1 from every ticket goes to support the Durham Public Schools Foundation whose mission is to foster community support for public schools and invest in our students, educators, and families to ensure success and equity for every student.
Valid photo ID required at door for entry
This event is general admission standing room only
Doors: 6:00 PM
Show: 8:00 PM
Evolving health and safety guidelines regarding COVID-19 may cause changes to the venue's capacity, admission prerequisites and other health and safety protocols. Brooklyn Bowl reserves the right to cancel your ticket and provide a full refund if our venue capacity is reduced.
Artist Info
Hiss Golden Messenger
I went looking for peace," says songwriter M.C. Taylor of Hiss Golden Messenger about his new album Quietly Blowing It, out June 25, 2021, on Merge Records. "It's not exactly a record about the state of the world—or my world—in 2020, but more a retrospective of the past five years of my life, painted in sort of impressionistic hues. Maybe I had the presence of mind when I was writing Quietly Blowing It to know that this was the time to go as deep as I needed to in order to make a record like this. And I got the time required in order to do that." He pauses and laughs ruefully. "I got way more time than I needed, actually."
Quietly Blowing It was written and arranged by Taylor in his home studio—his 8' × 10' sanctuary packed floor to ceiling with books, records, and old guitars—as he watched the chaotic world spin outside his window. "Writing became a daily routine," he explains, "and that was a ballast for me. Having spent so much time on the road over the past ten years, where writing consistently with any kind of fl ow can be tricky, it felt refreshing. And being in my studio, which is both isolated from and totally connected to the life of my family, felt appropriate for these songs." Between March and June, Taylor wrote and recorded upwards of two dozen songs—in most cases playing all of the instruments himself— before winnowing the collection down and bringing them to the Hiss band. In July, the group of musicians, with Taylor in the production seat, went into Overdub Lane in Durham, NC, for a week, where they recordedQuietly Blowing Itas an organic unit honed to a fi ne edge from their years together on the road. "We all needed to be making that music together,"he recalls. "We've all spent so many years traveling all over the world, but in that moment, it felt cathartic to be recording those particular songs with each other in our own small hometown."
Throughout Quietly Blowing It, Taylor brings his keen eye to our"broken American moment"—as he fi rst sang on Hiss GoldenMessenger's critically acclaimed, GRAMMY®-nominatedTerms of Surrender—in ways that feel devastatingly intimate and human. Beginning with the wanderer's lament of "WayBack in the Way Back," with its rallying cry of "Up with the mountains, down with the system," Taylor carries the listener on a musical journey that continually returns to themes of growing up, loss, obligation, and labor with piercing clarity,and his musical infl uences—including classic Southern soul and gospel, renegade country, and spiritual jazz—have never felt more genuine. Indeed,Quietly Blowing Itis a distillation of the rolling Hiss Golden Messenger groove, from therollicking, Allman-esque "The Great Mystifi er" to the chiming falsetto soul of "It Will If We Let It," to the smoky,shuffling title track with its bittersweet guitar assist fromNashville legend Buddy Miller. The album ends with soulful lead single "Sanctuary," a song about trying to reconcile tragedy and joy, with references to John Prine ("Handsom) Johnny had to go, child…"), economic disparity, and the redemptive quality of hope. Indeed, when he sings, "Feeling bad, feeling blue, can't get out of my own mind; but I know how to sing about it," it feels like the album's spiritual thesis. Throughout Quietly Blowing It, Taylor reckons with the tumultuous present in wholly personal terms, encouraging listeners to do the same. "These songs always circle back to the things that I feel like I have a handle on and the things that I'm not proud of about myself. When I think of the phrase 'quietly blowing it,' I think of all the ways that I've misstepped, misused my gifts, miscommunicated. 'Born on the level, quietly blowing it.' That's what's on my mind there. Always fuckin' up in little ways."
Surrounding himself with a trusted cast of collaborators that includes Miller, songwriter Gregory Alan Isakov, songwriter and Tony Award–winning playwright Anaïs Mitchell, multiinstrumentalist Josh Kaufman, Dawes' brothers Taylor and Griffin Goldsmith, and his oldest musical confidant Scott Hirsch, Taylor has made his most audacious and hopeful work yet with Quietly Blowing It; it's an album that speaks personal truth to this moment in which the old models of being feel broken and everything feels at stake. "I don't know that the peace that I crave when I'm far from home exists, actually," says Taylor. "It's more complicated. I still don't know what peace means for me, because I can be sitting on the couch watching a movie with my family and be completely tangled up in my head. But if I keep on doing my own personal work on myself—writing records like Quietly Blowing It—I have to think that I'm getting closer.
Alexa Rose
Originally from Alleghany County, Virginia, Alexa Rose now lives in Black Mountain, North Carolina. She grew up singing and playing piano, but she didn't begin to develop her songwriting until she was in her early twenties, leaving home for the first time after college. "I take pride in where I'm from," says Alexa, "and my appreciation for community and the value of small towns definitely informs my writing. But there's also what comes from touring, the joy of driving around and seeing the rest of the world. That's just as much an influence as where I'm from." This heightened sense of the world suffuses Headwaters, giving it its cinematic bent without sacrificing any of the intimacy of her first album, Medicine for Living.
"Pretty much all of Headwaters was written during the pandemic," says Alexa, "in that weird lucid feeling of not-time." Recorded over five sessions in Memphis, Tennessee at Delta Sonic Studios, with Bruce Watson producing, with mixing by Matt Ross-Spang and Clay Jones. Alexa would sometimes bring songs written the night before and record them the next day with an all-star band, including guitarist Will Sexton, bassist Mark Stuart, drummer George Sluppick, and Al Gamble on organ and piano. The immediacy of being in the studio with freshly-written songs and an excellent band allowed Alexa to expand her music in new ways.
"I feel like this record is the first time I've ever let my whole self into the room," says Alexa. "The parts of me that are angry and wanting to stand up and the parts that want to be quiet. The parts that remember being a kid. Letting myself release all of that in the studio and having all these people back me up and make it work was a tremendous gift."
On opening track "Clearwater Park," Alexa sings, "But I don't remember the street that you live on. I just remember the turns in the road." Alexa then pulls us back to the startling present, where she sits alone on a porch, remembering: "Feels like a ghost town tonight with the paper mill lights burning holes in the cloak of the dark." It's a jarring transition, the kind that gives the music a tension and spark.
"I was reflecting on sitting at the end of a dead-end road with a childhood friend I hadn't talked to in a really long time," Alexa says, "thinking about how hard it can be talking to old friends who have taken a different path from you. People don't plan to change just like the rain doesn't plan to change into snow. The song is about coming to terms with that, and forgiving myself for being the one who changed as well."
One of Headwaters' finest moments is "Wild Peppermint," also the last song written and recorded for the album. The lyrics embody the way the past and present flow in and out of each other, melding in a fluid and watery way. "Somebody broke my heart/The way that I broke yours," sings Alexa. "You always said we'd move to Vermont/I found a new dream to haunt." But the song never sounds bitter or angry. It's hopeful, with Alexa's voice carrying the wisdom gained from heartbreak but also the joy to be found in new things, in every new experience coming. That mixture of past and present, innocence and wisdom, is where Alexa's music shines brightest, the realm she most wants to explore.
"The headwaters are the source of the river," says Alexa. "the furthest point from where the water merges with something else. They aren't a mighty thing. Just a network of small tributaries or a creek, not necessarily picturesque, but they're the most important part of the river. Water is fluid and inconsistent and sacred and indifferent. That's how the songs feel to me—the way memories find you, in that inconsistent water way. As quickly as you come across them, you're going to bend in another direction. And that's what makes them beautiful. That's what makes them last."
Just Announced
Nashville
Free Bowling from 5pm-8pm!
Show: 5:00 PM
Nashville
Free Bowling from 5pm-8pm!
Show: 5:00 PM