Monday,
December
6th
, 2021
Gregory Alan Isakov w/ Special Guest Leif Vollebekk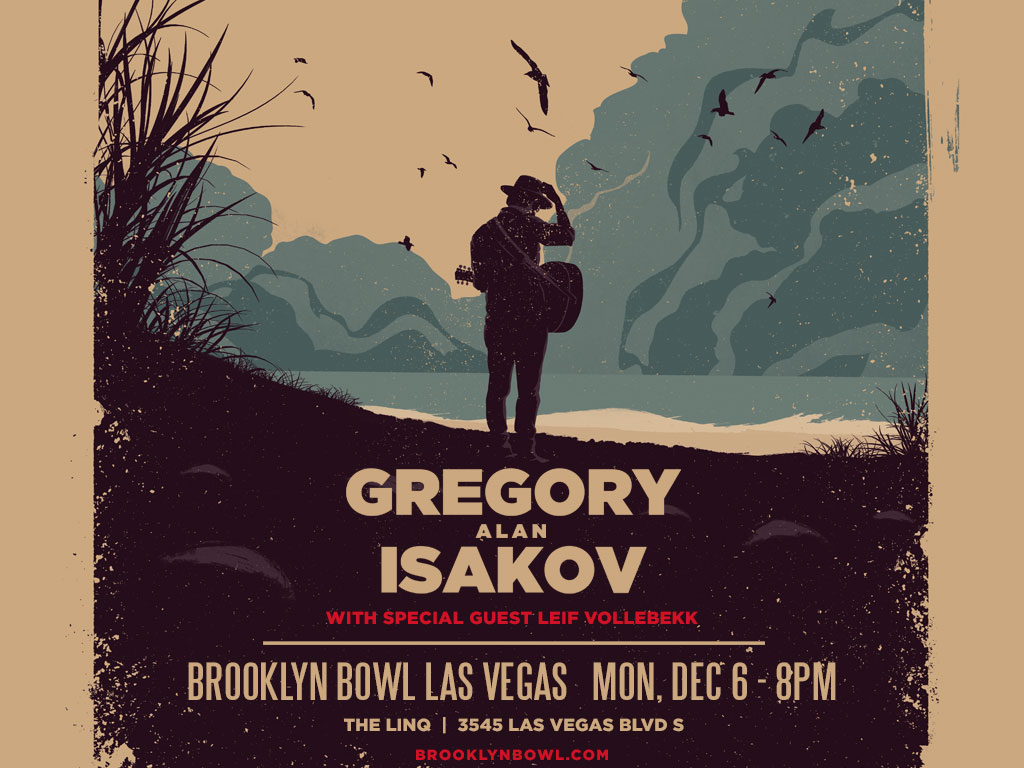 Event Info
Venue Information:
Brooklyn Bowl Las Vegas
The Linq Promenade
Las Vegas, NV
$31.00 General Admission
$33.00 General Admission (week of show)
$36.00 General Admission (day of show)

BBLV Pre Sale 10/13 @ 10:00 am PST
Public On Sale 10/14 @ 10:00am PST


All attendees must be fully vaccinated. Proof of full COVID-19 vaccination at the time of
entry will be required. (Negative tests are not an acceptable form of entry.)

Masks are required for entry, and must be worn at all times, except when eating or
drinking. (Gaiters and bandanas are not an acceptable form of mask.)

All staff who are present in the building day of show must be fully vaccinated, and
present proof of a full COVID-19 vaccination upon arrival. Masks must be worn
at all times, except when eating or drinking.

At home tests will not be accepted for entry.

There will be no refunds for tickets purchased, due to specific venue covid-19 protocol. If you receive a positive test before the show, please reach out to vegasinfo@brooklynbowl.com and we will help facilitate a full refund.

Clark County, the Southern Nevada Health District, and Nevada National Guard are offering free drive-thru COVID-19 testing and vaccination services at UNLV Stan Fulton Parking Lot, 801 E. Flamingo Road (off Paradise Road). For more information on testing locations, please visit this link here: https://www.clarkcountynv.gov/top_services/covid19/testing_locations.php

All guests must have a valid government/state issued ID for entry to the venue.
ALL SALES ARE FINAL. NO REFUNDS OR EXCHANGES
Tickets purchased in person, subject to $2.00 processing charge (in addition to cc fee, if applicable).
All general admission tickets are standing room only.
ALL TICKET PRICES INCLUDE NEVADA'S 9% LIVE ENTERTAINMENT TAX
Special room discounts via Caesars Hotels & Resorts for traveling fans. For hotel rooms use promo code: BRB15 at www.caesars.com applicable for rooms at The LINQ Hotel and the Flamingo.
*Advertised times are for doors -- show time not available*
* Venue closes between 12am - 1am unless otherwise noted*
Artist Info
Gregory Alan Isakov
Born in Johannesburg, South Africa, and now calling Colorado home, horticulturist-turned-musician Gregory Alan Isakov has cast an impressive presence on the indie-rock and folk worlds with his five full-length studio albums: That Sea, The Gambler; This Empty Northern Hemisphere; The Weatherman; Gregory Alan Isakov with the Colorado Symphony; and Evening Machines (nominated for a Grammy award for Best Folk Album). Isakov tours internationally with his band, and has performed with several national symphony orchestras across the United States. In addition to owning his independent record label, Suitcase Town Music, he also manages a small farm in Boulder County, which provides produce to the farm's CSA members and to local restaurants.
Leif Vollebekk
New Ways is a new album by Montreal's Leif Vollebekk, his hotly anticipated follow-up to the Polaris Prize finalist Twin Solitude. It's a record that lives between the kick and the snare, in that instant of feeling before the backbeat.

"The way that it was is the way it should be," Vollebekk sings on "Phaedrus"—a line that's a memory and a wish. New Ways is that too: the sound of desire in its unfolding. Two years ago, things were changing so fast, and the songwriter didn't want to forget. "I often think of Leonard Cohen's line, 'I hope you're keeping some kind of record,'" he says. "So I did." It was like he was pretending you can compose a soundtrack to your own life (which perhaps you can).

In the end, New Ways is a document of everything Vollebekk felt, the way each moment arrived and moved through him. Whereas Twin Solitude was about self-reflection, New Ways is about engaging and changing, touching and being touched. It's a physical record, with louder and tighter grooves, and the rawest lyrics the musician has ever recorded. A portrait of beauty, desire, longing, risk, remembrance—without an instant of regret. "She's my woman and she loved me so fine," goes the chorus to one tune. "She'll never be back."

"Anything that I wouldn't ever want to tell anyone—I just put it on the record," Vollebekk says: tenderness and violence, sex and rebirth, Plato and Julie Delpy. A story told through details—"the sun through my eyelids," "a sign on the highway covered in rain." The songs came fast—recorded a week here, a week there, initially just Leif and a drummer. "After each take, we'd go into the control room and listen back and see how it felt," he says. "If it didn't feel right we'd do it again, or switch from piano to guitar, or change the drum sound, or the microphones." Once they got it, he'd move on. Never at rest, always in movement: 10 different tracks for 10 states of motion—each with its own pulse, drawing the listener in.

There's the heat of the night and the cool blue of morning, hints of Prince and Bill Withers, the limbo of a lover's transatlantic flight. "Hot Tears" is all hot-blooded memory. "Apalachee Plain" is a clamorous goodbye. "I'm Not Your Lover" would be a perfect love-song were it not for its chorus—a song that lets two opposites be true at once. "That last record I made for me," Vollebekk admits. "This one is for someone else."

Imagine the singer at the end of last September, performing at midnight in one of Montreal's rarest and most intimate venues—a century-old porno theatre called Cinema L'Amour, a temple to the true and the carnal. He was sitting at a piano. The chords were moving like shadows on a wall. "She's my woman and she loved me so fine!" Leif cried, singing to the rafters. "She'll never be back."

When everything was finally over—when the mixes were perfect and the masters cued up—Leif says listening to the album was like re-watching a film. "Now I knew what was going to happen," he remembers. "Now the moments didn't feel fleeting—they felt eternal, almost fated. The songs spoke to me differently, but they hadn't changed. I just heard them in New Ways."