girl in red
Holly Humberstone
Doors: 6:00 PM
/
Show: 8:00 PM
All Ages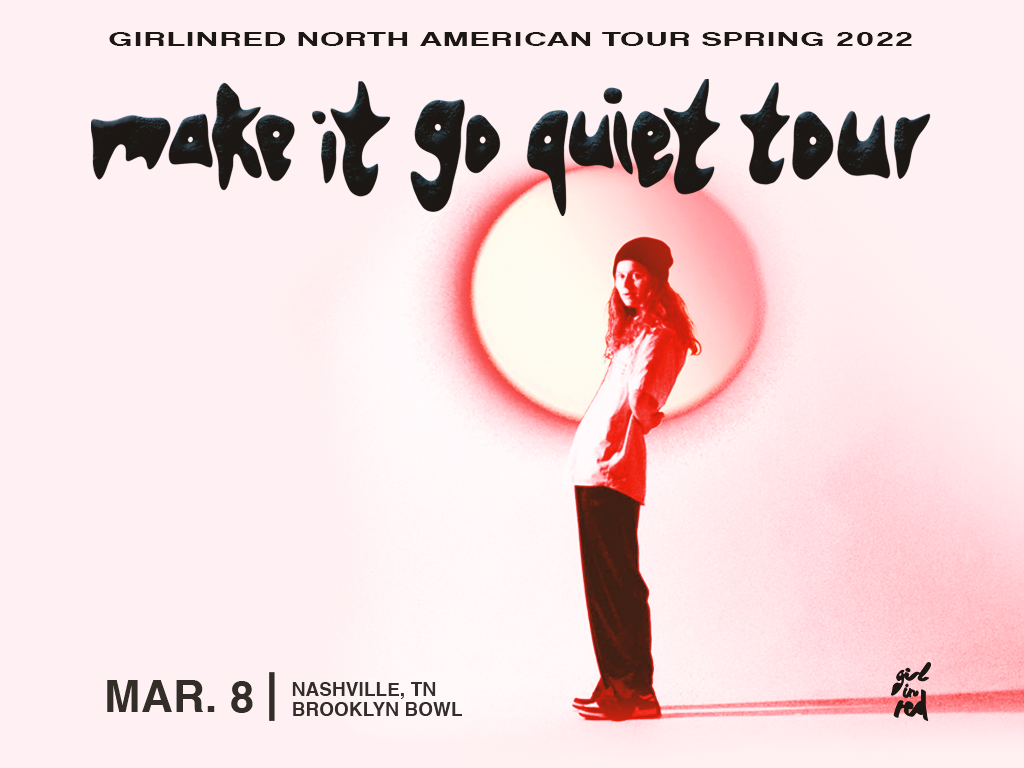 Event Info
Venue Information:
Brooklyn Bowl Nashville
925 3rd Avenue North
Nashville, Tennessee 37201
Because of the rise in cases due to the delta variant, a special COVID protocol is required for everyone that will be in attendance for this show at Brooklyn Bowl Nashville. You, and anyone accompanying you in your party, are required to provide ONE of the following:
Proof of your vaccination record (vaccination card or picture of your card with a matching ID card), demonstrating you were fully vaccinated at least two weeks in advance of the day of show. OR proof of a negative COVID test, administered within 72 hours of the day of show, with matching ID card.
We recommend uploading your vaccination card or negative COVID test information to the Bindle app — available for free on the Apple App Store or Google Play Store. This is a secure and private app that will allow you to quickly display your information, ensuring timely entry into the venue. For more information, visit joinbindle.com.
For information on free testing sites, please visit this link here: https://www.asafenashville.org/test-mask-resources/.
Brooklyn Bowl encourages mask wearing and encourages you to get vaccinated if you aren't already!
By purchasing a ticket you are acknowledging you will be required to show proof of vaccination or negative test result. All Sales are Final.

If you have any questions or concerns, please reach out to us at nashvilleinfo@brooklynbowl.com.
To ensure you don't miss any of the show, please plan to arrive closer to doors to go through security and present your vaccination card or negative test. This process takes some time so please make sure you have your ID and Vaccination Card/Negative Results out and handy when going through security to expedite the process for all patrons.
Valid photo ID required at door for entry
This event is general admission standing room only
Artist Info
girl in red
Had everything gone according to plan, Marie Ulven -- a.k.a. intimate rock/pop sensation girl in red -- would've spent the vast majority of 2020 playing for new crowds, in new venues, and taking in new landscapes as she drove from city to city on tour. But the COVID-19 pandemic upended all of that, and so she found herself grounded, at home in Oslo, and revisiting the familiar skeletons of songs she'd begun to sketch out the year before. She wrote and demoed 11 songs at home, and soon she was borrowing her father's car to make the eight-hour trek from the Norwegian capital city to Bergen, a city nestled between majestic fjords in an inlet off the North Sea, to record if i could make it go quiet, her debut album out April 30th, 2021. Consider if i could make it go quiet the musical distillation of Ulven's solitary conversations on the road: it's an album brimming with the things we wish we could say to others, but tell ourselves instead. "Every time I left the studio from Bergen, I would listen to hours and hours of my own tracks, and just be like, what can I do better? What can I refine?" she says, recalling her cross-country drives through the Norwegian wilderness to the studio. "Driving is a cathartic thing; it gives this amazing feeling of freedom. I love to talk to myself, so most of the time, if I didn't listen to my songs, I would just reflect in the car. I read that talking out loud to yourself is healthy, so I'm going to keep doing that. But the drives, they take you out of all the other distractions because you just gotta pay attention to the road. It allows you some headspace." After 2018's breakout single "i wanna be your girlfriend" established Ulven as a talent to watch, she amassed a worldwide following that heard themselves in her poetic lyrics, at times hopelessly romantic and painfully direct, that meshed beautifully with the sparse yet captivating arrangements she wrote and produced herself. Instead of nursing the emotional wounds of a break-up or the aches of unrequited love in private, Ulven, then a teenager on the cusp of adulthood, opted to process and heal before her growing audience with a series of EPs and singles. Whether it's collaborating with pop mastermind and Billie Eilish collaborator FINNEAS on "Serotonin," a huge pop anthem that speaks to Ulven's struggles with mental health, or flexing her instrumental chops with album closer "it would feel like this," she has pushed herself to new depths in her artistry and fortified it in the process. "There are things on this album that I haven't been able to talk about in my songwriting previously," she says of if i could make it go quiet. "'Serotonin' is brutally honest, lyrically, especially about having these intrusive thoughts -- thoughts of never going to be okay, and thinking my therapist hates me. I stopped going to my therapist because I felt like I was such a big burden for her that she didn't like me. I'm pretty sure a lot of people have felt that, whether it's a friend or a family member or a therapist. I'm addressing a lot of things I haven't been comfortable talking about, or admitting to myself, or even things to tell my closest friends and family." Betrayal, lust, longing, pulling herself out of a depressive spell -- nothing is off-limits on if i could make it go quiet, and Ulven lays bare her ruminations on all of the above while distorting and reimagining the sounds coming out of her piano and guitar. She explores the limits of the human condition and her radical acceptance of it on "Body And Mind," which ebbs and flows over a moody, electronic groove; she proudly tackles sexual liberation with sunny chords on "hornylovesickmess," and reveals she wants more from an unavailable partner on "midnight love." Love, in all its messiness, is a constant muse on if i could make it go quiet, and Ulven delighted in challenging the mere concept of a love song, and what it can do, in her own way. "When you [hear] 'love song,' I have very bad connotations immediately; I'm like, that's some sappy shit!" she says, laughing. "But love is so big, and there are so many sides to love. I feel like I'm exploring a little bit more of the hate side of love with this album. I also feel like I'm exploring a little bit more of being vulnerable and letting someone in. I haven't talked about that before… [The album] is a big, boiling pot of thoughts and things I haven't said." There are lessons to be drawn from these self-examinations, and Ulven has eagerly embraced the opportunity to write her way through them, even when it hurts or she's left with more questions than answers. It's easy to picture her behind the wheel, somewhere between Oslo and Bergen, listening through "Rue" while recalling the dark mental place she was in when she wrote the song, or the friendship she hoped would turn into something more that inspired "You Stupid Bitch." if i could make it go quiet is girl in red in its purest, elevated form: Ulven has never been braver, and the music follows suit. "I really poured my heart into a lot of these lyrics, fully," she says. "I just feel like I emptied myself in this album."
Holly Humberstone
"This EP represents a feeling of being lost. It's the kind of lost that makes you question who you are and where you belong. So lost that someone might need to find you again because you can't find yourself. That's how it felt to move to Liverpool, then London, and be in transit between cities and never settling".

Holly Humberstone's childhood home is your quintessential spooky, strange house. Formerly used as servants quarters for a nearby castle, it's now crumbling down around the musician's family. Like most unusual houses of its ilk, its most intriguing parts – save for the hordes of old violins Holly's dad has lying around the place – are in its subterranean layers. There's a dungeon and a room full of meat hooks, and a climate so damp mushrooms grow out of the walls. Friends find the whole house so creepy they've been known to make excuses to avoid sleeping over there.

"Loads of people have probably died here in the past but I've always felt really safe here," Holly shrugs. "It's like a seventh family member. It's part of me."

If the house is a big part of the 21-year-old's identity, it's no surprise it's had a big impact on her music too. Hers is a sound that belongs to the night, moonlight flashes and twilight tinges occupying her genre-blurring songs, which take influence from the likes of Bon Iver, Damien Rice, Frank Ocean, Lorde and Phoebe Bridgers, but stand alone in their own distinctive world. Her debut EP 'Falling Asleep At The Wheel' was written at her home and imitated the sounds of the house – packed with distant buzzes, ethereal echoes and wonky, warped glitches.

For Holly, the family digs have always been a place where she can experiment freely. "The whole house is a creative mess," she explains. "I always felt like it was a really safe space to be creative. You can go outside and scream and no one will hear you. My dad's a big poetry lover and he'd put his poetry books in front of me and I'd make up little songs. It's just a really inspiring environment. I feel like I make my best stuff when I'm here."

Last summer, the family were told that they wouldn't be able to live in the house anymore because it was becoming so dilapidated. The news followed a period of big changes in Holly's life, from finishing school and heading off to uni only to hate her experience, the end of a relationship, and having to say goodbye to a loved one. "I just felt like all the special bits that I was really trying to hold onto from my childhood that were really precious were getting away from me," she says.

The idea of having to leave her childhood home for good soon inspired one of her best songs so far. 'Haunted House' finds the young musician saying farewell to the extraordinary residence and paying tribute to its impact on her life. "Bringing up four daughters made this house a fortress," she sings over plaintive piano, later pleading: "Don't say that I'm leaving/ In the morning, let me lie here with you."

Writing her second EP – which opens with 'Haunted House' – helped her to come to terms with the shifts that were happening in her life. It first began to take shape in the pre-pandemic days when Holly would visit her friends and sisters in Manchester, revel in big nights out and then get the train back to wherever she was living at the time, feeling worse for wear.

"On those train journeys I had loads of time to confront how I was feeling because I had nothing else to distract me from it," she says. With her hangovers preventing her from being able to filter her thoughts, she began to write ideas in the Notes app on her phone and record little voice memos that would form the genesis of her second EP.

The record not only processed the changes that were happening around her but helped her find her way out of situations. 'The Walls Are Way Too Thin' details her experience of moving to London and taking a room in a flat with people she'd never met before. Far from the sanctuary of her family home, she found it to be an uncomfortable situation, living in "a really dodgy, really small" space with no privacy. "How come it rains inside?/ The house is full but I'm alone," she sighs over creeping electronics and bright guitars.

'Scarlett' is named after Holly's best friend and looks back at the musician helping her through a break-up. On 'Please Don't Leave', meanwhile, she teamed up with The 1975's Matty Healy to create a song built for sleepless nights playing over the highs and lows and what went wrongs of a relationship. Working with Matty, she says, was not only inspiring but helped her dispel some of her self-doubts. "I have imposter syndrome and I don't feel like I should be doing this job sometimes," she explains. "Working with someone I admire like Matty is reassuring and affirming. I must be alright at what I'm doing, I can trust myself."

Storytelling is indeed an important part of Holly's craft. She wants all her lyrics to be ones people could tattoo on themselves and she writes lines that are specific to her life, from her sister's struggles with mental health to growing apart from her friends. "People can connect to a song more if it's just me and my unfiltered thoughts," she explains. "That's what I look for in music that I listen to – a personal connection. Everything I'm going through is universal stuff. Everyone's been through these situations, it's not just me."

The creativity in Holly's work is also integral to her artistry. Her music videos and the short film 'On The Run' all link together, with easter eggs hidden throughout, creating a world around her. When she was invited to perform on The Late Late Show with James Corden earlier this year, she used the fact it had to be filmed remotely to her advantage and picked up the storyline once again, finding herself being thrown into the back of a police van for fictional crimes committed earlier in the tale.

Beyond music, Holly has already created the Fifth Sister Swap initiative as a way for her and her fans to get new clothes without relying on fast fashion. It's an idea that stemmed from her and her three sisters constantly borrowing from and swapping their own wardrobes.

"I think growing up in a house full of females has made me really passionate about the stuff that's important," she explains. "Being sustainable and caring about climate change are going to be really important in my career." She also cites women's rights issues as making her realise the importance of using her platform to help make a difference.

With her inimitable brand of songwriting and visionary creativity, as evidenced on her stunning second EP, Holly Humberstone's star will continue to rise long after the family home that raised her crumbles to the ground.