Live Nation Presents
Frank Turner & The Sleeping Souls' Never-Ending Tour of Everywhere
The Bronx, Pet Needs
Doors: 6:00 PM
/
Show: 7:30 PM
18+ Years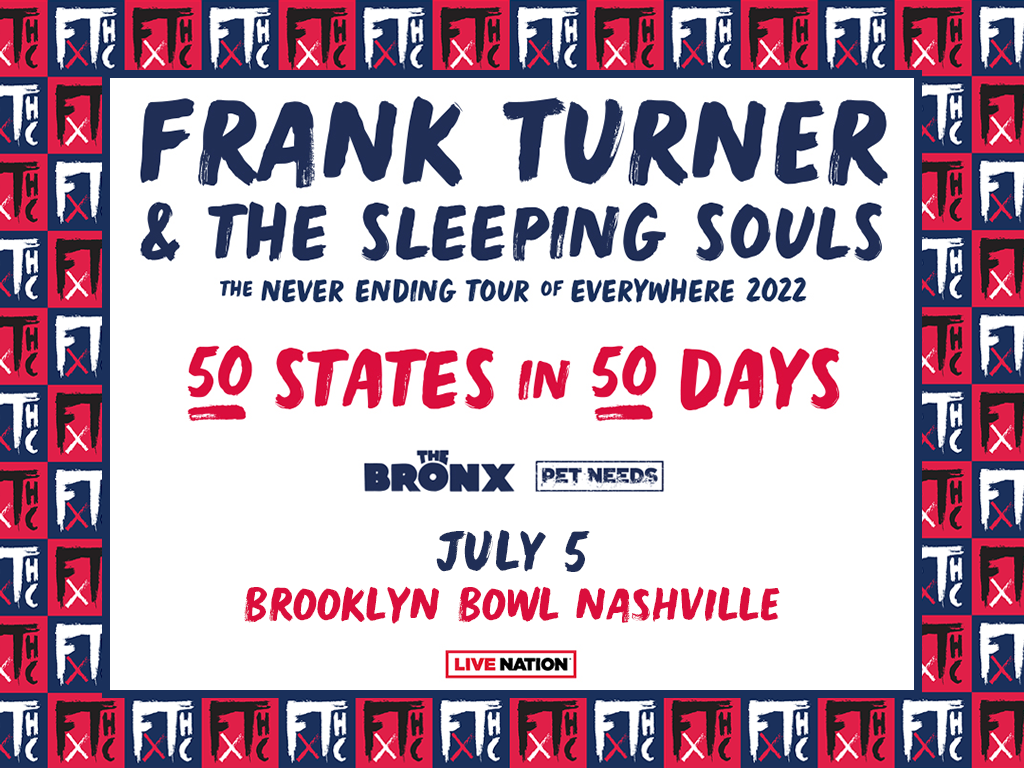 Event Info
Venue Information:
Brooklyn Bowl Nashville
925 3rd Avenue North
Nashville, Tennessee 37201
Per the artist's request, proof of vaccination or a negative COVID test taken within 72 hours of the event is required for entry.
This event is 18+, unless accompanied by a parent or legal guardian. Valid government-issued photo ID is required for entry. No refunds will be issued for failure to produce proper identification.
This ticket is valid for standing room only, general admission. ADA accommodations are available day of show.
All support acts are subject to change without notice.
Any change in showtimes, COVID-19 protocols, and other important information will be relayed to ticket-buyers via email.
Want to have the total VIP experience? Upgrade your ticket today by reserving a bowling lane or VIP Box by reaching out to nashvilleevents@brooklynbowl.com
ALL SALES ARE FINAL
Artist Info
Frank Turner & The Sleeping Souls
A record of reckonings, realisations and redemption, FTHC sees Frank Turner growing up, moving on and moving out of his beloved London. Turning 40 just before its release, even if there hadn't been a global pandemic during its creation, you get the feeling that Turner would have still approached his ninth solo album very differently from all the others. Returning to his punk rock roots, he goes harder than he's ever dared before in his solo material as well as being even more honest, opening up about identity, aging, addiction, anxiety, loss and love. On FTHC home truths are served up thick and fast.
"I'm fully aware that I'm not the most experimental musician in the world, but I made an electro pop record and then I made a history folk album, both of those were pushing at the boundaries of what I do," explains Turner of his last releases. "But the music I've made has always been punk adjacent or punk with an adjective; whether it was it was post hardcore, folk punk or indie punk. I just mostly still listen to punk rock records, so I wanted to make one – a noisy and, in places, angry record, which is much more sonically aggressive than anything I've done in my solo career." As well as getting ready to enter his fifth decade, another major milestone has impacted FTHC – his 2019 wedding to fellow musician, Jessica Guise. "People assume that marriage is some sort of surrender, but actually I'm enjoying the fact that I'm about to put out my angriest, noisiest, most raucous record ever," says Turner with a smile.
A riff on the 'Frank Turner X Hardcore' logo he's had since the very early days, FTHC is a restatement of purpose which sees him reunited – via FaceTime rather than in the flesh – with Rich Costey, who produced 2013's Tape Deck Heart. Recorded in-between lockdowns with Turner and his band The Sleeping Souls in Oxford and Costey in Vermont, they made the entire record remotely, with drums from Nine Inch Nails' Ilan Rubin, as well as guest appearances from Jason Isbell, Biffy Clyro's Simon Neil, Muse's Dom Howard and Death Cab for Cutie's Jason McGerr, all of whom sent their respective parts from various corners of the globe.
Kicking into life with a buzzsaw riff on unflinching opener Non Serviam – words attributed to Lucifer in John Milton's Paradise Lost – Turner starts as he means to go on; by rocking the fuck out and answering to no-one but himself. "Reading it, you really get the vibe that Lucifer's cool," explains Turner of the much misunderstood character and his refusal to do as God tells him. This has long been an approach shared by Turner, but directed towards the machinations of the music industry rather than the gatekeepers of heaven. "The role of an artist is to make art as best they can and not to please any given constituency, whether that's your girlfriend or your boyfriend or your record label or radio pluggers," says Turner. "I've tried to live by that over the years and particularly with this record, and indeed, with this song, it's about doing what I want to do and I couldn't give a shit what anybody else has to say about it."
It's a message hammered home during the course of the album's 14 uncompromising tracks, as Turner moves through a barrage of sensitive subjects, dealt with in the only way he knows how and that's with unflinching honesty. Most touching is 'A Wave Across A Bay', a tribute to Scott Hutchison of Frightened Rabbit, who took his own life in 2018. Released with the permission of Scott's younger brother Grant, it sees Turner coming to terms with Scott's decision in a powerfully accepting manner. On 'Miranda' Turner opens up even further, revealing the intricacies not just of his difficult relationship with his father but their recent reconciliation following his parent's transition from male to female. "Miranda's just actually quite a nice person, but my dad was a shitty person, a bitter and angry and resentful person who had a gigantic temper problem," says Turner. Though the pair's relationship is still very much a work in progress, the twanging, countryish 'Miranda' is something of an olive branch. "If you just continue with resentment endlessly for somebody, it's not having any kind of meaningful effect," says Turner. "The only person it's affecting is you and it's a waste of energy. Miranda's not a completely new person, but she's certainly a new version of a person – and a much better version."
Turner turns the spotlight inwards on the chugging, melodic punk-rock anthem, Untainted Love, which details years of substance abuse and utilises Johnny Cash's infamous comment to Bono – "I sure do miss them drugs" – as its opening line. "If you've had a proper addiction issue in your life it never goes away," explains Turner. "I think about cocaine once an hour, every single day, even though I don't do it anymore." Dealing with the lows as well as the highs of addiction, it was his wife that inspired him to get clean. Well, eventually. "Six months into our relationship there was a 'me or the drugs' moment," remembers Turner. "Initially, I chose the drugs and we broke up for a minute. Instantly I recognised that I had chosen the wrong button." With Turner then committing to going clean, the pair reconciled and have now been together for six years. "I thought I was happy with the sex, drugs and rock and roll lifestyle, but the thing I didn't account for was that moment of proper connection with another person who immediately said 'this is fucked up'."
Turner's struggles with mental health are further revealed in Haven't Been Doing So Well, which unpacks panic attacks and anxiety, much of which can be traced back to being packed off to boarding school when he was eight years old, attending Eton on a scholarship. It's a part of his past which is often derided, but which he finally digs into on the forthright Fatherless. "I've tried not to really talk about it, because it makes me uncomfortable, but everyone still used it as a stick to beat me with anyway," admits Turner. "It's a privilege, of course it is. It's socially unjust and I don't support that, but there's an assumption that I'm revelling in it, even though it was awful." It's a song that doesn't ask for the listener's pity, but rather recognition that sending a child away at such a young age is a deeply traumatic thing. Especially when they end up surrounded by the kinds of people Turner was. Inspired by old school US hardcore artists like Youth of Today and Ignite, My Bad sees him on fast and furious form, laying into the callous personalisties his alma mater has a reputation for churning out, while also recognising that such a statement doesn't absolve him entirely from being part of the problem. "I'd like it to be recognised that I'm not a willing participant in it but I'm still a participant in it to some degree," confesses Turner, when discussing the track's couruscating couplet "Guys who look like me/Run the country." "It's fucking true," he states. "Our shithead Prime Minister went to the same school as me and I don't think anybody who went to the school I went to should be allowed in any leading positions of power for obvious reasons!"
It's leaving London – something Turner vowed he would never do – which also looms large over FTHC. Now happily settled on the Essex coast with his wife and pet cat, Turner's biggest break-up ballad yet comes in the shape of the tender Farewell To My City, a psychogeographical ramble from Soho to Alexandra Palace, through the bars, flats and friends of the city that made him. Old friends are revisited too on The Resurrectionists, a where-are-they-now version of 2008's I Knew Prufrock Before He Was Famous, featuring updates on the lives of everyone from Justin Young of the Vaccines to Jay AKA Beans on Toast, as well as featuring some distinctive guest howling from Biffy's Simon Neil.
Despite the conditions of its creation, on FTHC Turner doesn't dwell on the trauma of COVID, looking instead at the positives on the upbeat, glammy stomp of The Gathering, a joyous celebration of a post-lockdown return to normality, with pile-driving drums courtesy of Muse's Dom Howard and a triumphant guitar solo from Jason Isbell. "It's about that moment when you come together in a room full of people that you know, but also people who don't know, and you lean on a stranger and sing along with the chorus and get the words wrong," he says. Thanks to FTHC, we now have a whole new bunch of songs to do just that with.
PET NEEDS
Formed by Derby brothers Johnny and George Marriott, PET NEEDS play fractured party music.

The band was born when guitarist George landed on his brother Johnny's sofa in Colchester after abandoning a job in a Midlands petrol station for the dazzling lights of north Essex. They didn't have a plan. But they had guitars. With explosive live performances of singalong anti-anthems, PET NEEDS began smashing sets on stages throughout the UK, screaming stories of disastrous job interviews, self-destruction and heading down the river on an inflatable kayak. With Jack (drums) and Rich (bass) on board, they continued throughout 2019 at a blistering pace, sharing stages and festivals with the likes of Muncie Girls, Buzzcocks, Maximo Park, PiL and The Undertones. 2020 was looking bright…

As with everyone, plans for a summer filled with festivals and shows were pulled during the lockdown and the band had to have a re-think.

On the day they were meant to be playing Berlin Arena, Johnny and George went for yet another furlough walk around a reservoir. Which is where it was decided. 2020 would instead be the year for the band to finish writing and recording their debut album, Fractured Party Music. No time like the present, eh?

After meeting at Camden Rocks 2019, friend Frank Turner came on board to mix and master the record, the one man able to harness this collision of frenetic energy stored up from months bereft of live shows. Splitting everyone's lockdown hangovers with screeching feedback, tangled wiry riffs, and sharp, cynic-baiting lyrics that are spat, chanted and hollered, this is nine months of phantom gigs pumped into 33 minutes.

Coruscating the modern malaise with sneers at pretence, musing on artistic ambition versus commercial success, and tales of creativity and failure, 'Fractured Party Music' is a topical blitz upon apathy. There's barely a moment to take a breather as drums, bass and guitars slash through simple time signatures. Songs take jaunts from folk-punk ('You Look Like You Never Bought A Scratchcard') to rambunctious freneticism blended with lamented anthemic elements and harsh grind like that of contemporaries Idles ('Outline', 'Roses') and Against Me!.
Giving rare pause for thought on 'As The Spin Cycle Span', the band produce seductive orchestral seams, while closer 'Embers' embraces the string drones and overdrive-drenched crescendos.

Uniting all of this is a preternatural talent for gripping melodies – the urge to thrust fists in the air and yell at the top of your voice is almost irresistible. Lead single 'Pavlovian' and 'Tracy Emin's Bed' are the best example of this. What's more, Frank Turner's post-production work picks out every dynamic, peak and trough, and handles the intricate mesh of melody and distortion, a throwback to his other life of playing in and being immersed in the music of chaotic, noisy bands. You can hear what you're meant to feel and vice versa. Fractured Party Music shatters expectations for what passes as intelligent rock music in the UK.

"Scrunchy melodic rock n roll... right up my street!" - Steve Lamacq, BBC 6 Music.
"Top find of Camden Rocks (2019) so far... great set!" - Frank Turner.
"Indie Shikari!" - Face Down.
Just Announced
Nashville
The Cribs
Doors: 6:00 PM /
Show: 7:45 PM
Nashville
Doors: 6:00 PM /
Show: 8:00 PM
Nashville
Vaultboy
Doors: 6:00 PM /
Show: 8:00 PM