Saturday,
October
1st
, 2022
Fontaines D.C.
Wunderhorse
Doors: 6:00 PM
/
Show: 8:00 PM
18+ Years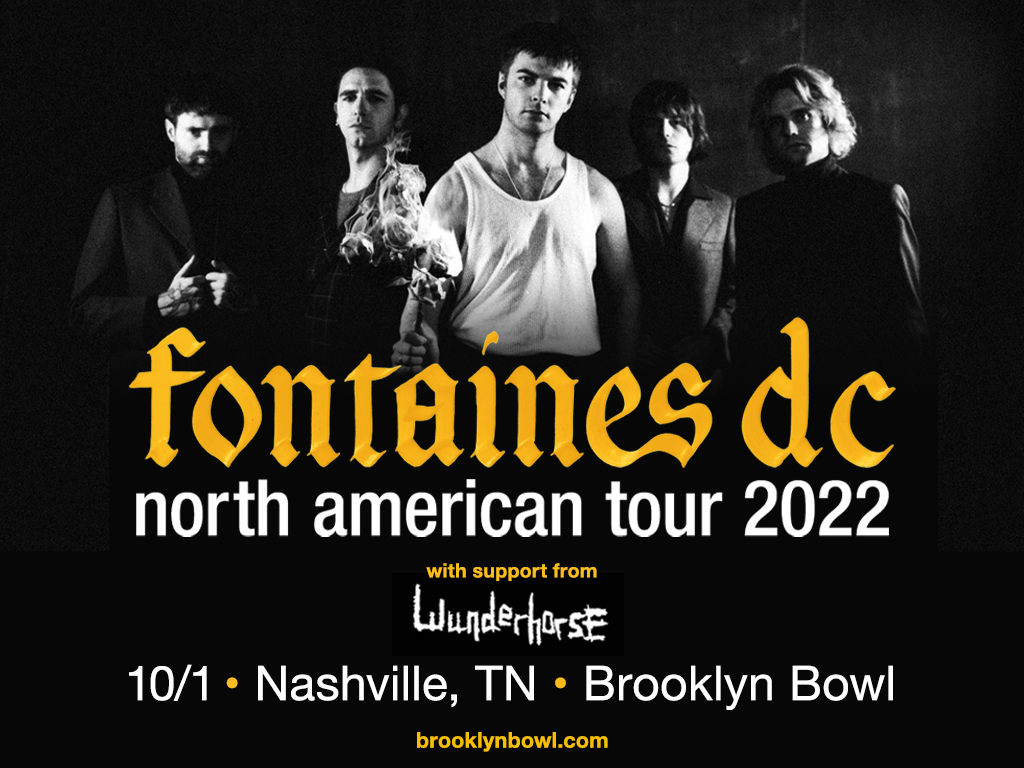 Event Info
Venue Information:
Brooklyn Bowl Nashville
925 3rd Avenue North
Nashville, Tennessee 37201
This event is 18+, unless accompanied by a parent or legal guardian. Valid government-issued photo ID is required for entry. No refunds will be issued for failure to produce proper identification.
There are no COVID-19 vaccination or test requirements for this event. An inherent risk of exposure to COVID-19 exists in any public place where people are present. By visiting our establishment, you voluntarily assume all risks related to the exposure to or spreading of COVID-19.
This ticket is valid for standing room only, general admission. ADA accommodations are available day of show.
All support acts are subject to change without notice.
Any change in showtimes, COVID-19 protocols, and other important information will be relayed to ticket-buyers via email.
Want to have the total VIP experience? Upgrade your ticket today by reserving a bowling lane or VIP Box by reaching out to nashvilleevents@brooklynbowl.com
ALL SALES ARE FINAL
Artist Info
Fontaines D.C.
'Skinty Fia,' the title of the much-anticipated third album by Fontaines D.C, translates to English as "the damnation of the deer."

"And the Irish giant deer is an extinct species," explains bassist Conor Deegan III aka Deego. "But 'skinty fia' is also used as an expletive, in the way you'd say 'For fuck's sake' if you bang your arm on a table or whatever. We just thought there was something really beautiful about that, because it's really representative of Irish culture in some sense. We were interested in the idea of something really precious or sentimental and attached to family, but also something that's been taken away from us. Which doesn't mean we can't cherish it."

Indeed, and the band's thoughts on Irish identity are crucial to 'Skinty Fia' as they have relocated from their home country. 2019's 'Dogrel' was mostly set in Dublin and was littered with snapshots of the city's characters, like the cabbie in "Boys In The Better Land" who "spits out 'Brits out!', only smokes Carroll's". By contrast, their markedly different 2020 follow-up 'A Hero's Death' was largely written on tour and documented the dislocation and disconnection the band felt from Ireland as they had new adventures around the globe. This time, they're addressing their Irishness from afar as they recreate new lives for themselves elsewhere and try to resolve the need to broaden their horizons with the affection they still clearly feel for the land and people they've left behind. "It's about being Irish and expressing that in London, and what can you take with you that makes you feel connected to home," Deego explains. "We really tried to hold on to the things that made us Irish. There's a sentimentality of sitting in an Irish pub in London, surrounded by other Irish people and it's 4am, the lights are going off and half-remembering these old songs. On the other hand, there's something dark and a little bit bleak about that."

Such new and richly maturing lyrical concerns demanded something different from the music, and the quintet have accordingly metamorphosed again. There are still echoes of 'Dogrel''s rumbustious rock 'n' roll and the bleaker atmospheres of 'A Hero's Death'. However, the third in the triumvirate is much more expansive and cinematic. New elements range from choral harmonies to drum 'n' bass-influenced percussive grooves, and Irish traditional music to electronic dance-rock. On one song the solitary instrument is an accordion. Fontaines D.C. are still primarily a guitar-based band, but they are in a state of constant evolution. This time, the result is an album of shifting moods, startling insight, maturity, and considerable emotional wallop.

"There's definitely a spiritual thread between the three albums," front man Grian Chatten considers with trademark gentle intensity, reflecting on the "huge personal growth" that has accompanied their travels. "We've now found homes, places to live, and nurtured our relationships. The songs are different because we've got greater emotional tools."

The five-piece toured 'Dogrel' - and themselves - into the ground, ending up hardly speaking due to pure exhaustion. 'A Hero's Death' was written as the band reconnected in Dublin, rediscovered the joys of being in the group, and came to terms with the previous year's dislocation and disorientation. Then suddenly the pandemic struck, meaning 'A Hero's Death' was initially delayed for two months then released as the world was locked down. "It was completely ironic that we wrote an album about feeling disconnected," reflects Deego - drily, "and by the time we got to release it, everyone was disconnected, including us."

Thus, the musicians scattered to their respective lockdowns in places such as the west coast of Ireland or - for Chatten - his parents' house in Dublin. In isolation, they all beavered away, working on home demos, and experimenting with different things until a reunion meant they had the beginnings of a third album. As guitarist Conor Curley remembers, "When we eventually got into a room together there was a whiteboard of about 24 ideas, which we started fleshing out."

Remarkable opener "In ár gCroíthe go deo" (meaning In Our Hearts Forever) was one of the first to be realised, simply "falling out" of a continuous jam session. The band had been moved by a story in The Irish Post about a woman living in England who was battling The Church Of England for permission to have the inscription on her gravestone but was told the Irish language was "provocative." After laying down the haunting opening mantra of "In ár cgroíthe go deo" that begins the song, the band emerged to hear the news that she was going to be allowed to have it on her gravestone. "It's the craziest thing," says Deego, "but had we known that beforehand I'm not sure we'd have sung it with the same conviction." Fontaines D.C. are not a band to shy away from difficult issues or uncomfortable concerns. "I Love You," which emerged from that same continuous jam, finds Chatten addressing his guilt at becoming successful and leaving Ireland. With its bittersweet address, references to Fianna Fáil and Fine Gael, and the recent scandal which unearthed eight hundred tiny skeletons ["This island' s run by sharks with children's bones stuck in their jaws."] his words dig deep. In the disturbingly infectious "Jackie Down The Line," the singer observes an abusive relationship and cycles of dysfunction, whether hereditary or behavioural. The darkness of the lyrics "I will hurt you, I'll desert you" is juxtaposed with a brighter albeit nuanced tune to dazzling effect.

Where 'Dogrel' reflected the band's daily soundtrack at the time, this time around inspiration included Primal Scream's 'XTRMNTR,' sub bass, Death In Vegas's 'The Contino Sessions' and Pixies'/Sonic Youth's 90s alt-rock. Throughout the album, guitarist Carlos O'Connell felt those influences shape his overall approach. Epic 'Skinty Fia' title track arrived after he'd been playing around with an old Death In Vegas tune, producing something sublimely simple and groovy of his own. Although Chatten is still the primary songwriter, O'Connell also came up with music and words for the big guitar-y "Big Shot." The riff and tune came to him after he'd been blasting Nirvana's 'Live At Reading' album to clear lockdown cobwebs on long "dangerously fast" drives through country roads. Where success can go to musicians' heads, the guitarist wrote the lyrics about insignificance in the greater scheme of things and the difficulty of "being in the spotlight but retreating to a place in my head where I become a spectator of the world."

A lockdown jaunt of a different nature produced the hypnotic, mantra-like "How Cold Love Is." Chatten had visited the sea and staring out at the cold raging mass brought inspiration. Returning to Dublin, he wrote about "the power we give to why we love, and the thread that can exist between a relationship and a vice, such as alcohol. They can be the same kind of thing and a cold experience." The song's repetitive, drill-like quality is deliberate: "To sound like someone jabbing at your forehead."

On "Roman Holiday," Chatten's words reflect his experiences as an Anglo-Irishman in London, the line "I don't wanna see the Queen. I already sing her song" referring to the English language. Meanwhile, the powerfully insistent "Bloomsday" is named after Ireland's James Joyce day and employs a magical, wistful melody to address the singer's romantic relationship with Dublin's "rain, bars, pints and camaraderie," but is tempered by the stark realisation that "at some point you have to realise that you're not walking in the footsteps of James Joyce."

The rapturous reception to what drummer Tom Coll - whose family used to say "skinty fia" and who named his small record label Skinty Recordings after the term - calls "the huge left turn" of 'A Hero's Death,' gave the band license to be even bolder. Experiments on the album range from a sound-generating app to a random "Yeah," which Chatten left in because he felt such unscripted moments made the record sound alive. The title track's dancier rhythm came about after Coll had been channeling Roni Size and Goldie breakbeats. The song itself explores paranoia, anxiety, and the media as Chatten confronted the idea that, with their success, strangers are having conversations about him. The song is "an attempt not to care" but laced with delicious humour: I'm not inclined towards the scandalous word but on the subject of myself I do believe what I've heard."

Perhaps the most traditional yet in a way most radical track on the album is "The Couple Across The Way," the result of Chatten getting an accordion for Christmas and observing a rowing couple in the flat opposite, bound together in a destructive relationship. It is simply heartbreakingly beautiful, laden with killer lines such as "You use voices on the phone that were once spent on me."

For all the musical and thematic disparity that lies between opener "In ár gCroíthe go deo" and the Conor Curley-penned closer "Nabokov," in which Chatten sings about a submissive relationship, the songs all hang together, reflecting what Chatten describes as producer Dan Carey's "understanding of them and how they relate to each other." Although Carey was at the helm for a third time, this time the band relocated from what Chatten warmly describes as the "organised mess" of his tiny London studio to a larger studio in rural Oxfordshire. The bigger space allowed the songs to reach their potential in ways they perhaps wouldn't have achieved in a smaller room.

The album's bigger sound and reach should also see them consolidate and broaden their impact in the USA, where 'A Hero's Death' reached No. 2 in the Heatseekers album chart, brought about the band's second performance on The Tonight Show With Jimmy Fallon and saw them become only the second ever Irish band to win a Grammy nomination (for Best Rock Album).

'Skinty Fia' is very much a product of the people that made it, the Ireland they grew up in and the country left behind. Perhaps uncommonly in these times, it's an album that begs to be listened to not a few tracks at a time but in full length sittings, as its rich, profound content reveals more with every listen.

"There's a bravery about it and it's just really expansive, musically and lyrically," considers Chatten, fondly. "The songs have more scope and are fully-realised. You might say we're all really proud of it."
Wunderhorse
Wunderhorse
In the world of music, opportunity rarely knocks twice.
On the face of it, Jacob Slater had everything he'd ever dreamed of. His band, Dead Pretties, were being talked up as one of the most exciting new groups in the country. The handful of tracks the trio had put out were a riot of punk riffs and gobby attitude, and the sweaty bedlam of their shows had record labels lining up, salivating at the prospect of signing the latest great young hopes.
Yet for Slater, all wasn't well. He'd run away to join the rock and roll circus aged just seventeen and the tolls and temptations of being the frontman of London's latest buzz band were starting to show. He found himself burnt out. Something had to give.
"That life was what I wanted, and or at least that's what I thought I wanted," recalls Slater today. "I was like, 'I'm going to be in this band and I have to have a lifestyle to match…' It just wasn't sustainable. It got dark quite quickly. I had to take myself out of that environment."
Aside from the damage he was doing to himself, on an artistic level Slater knew that the more musically rich, nuanced songs he wanted to make wouldn't fit into Dead Pretties' fuzz-toned constraints.
"I was tired of having to get up on stage and pretend I wanted to throw myself around and smash things up every night and sing these intense songs," he says. "They were good songs, but I didn't think we'd be able to transition into doing the more introspective music that I wanted to make. I thought it would just alienate people."
It was the hardest call of his life, but Slater took the decision to call time on Dead Pretties just as their ship was coming in. Fate was there, waving its cheque book and promising to make his childhood dreams come true, but Slater knew that for himself and his music, he had to walk away.
"I stopped taking drugs and I stopped the band. The two things seemed to go hand in hand. I thought if I carried on with the band, I wouldn't be able to not keep doing that to myself," he says. "There's the old myth that you need to take a load of drugs to be really creative, but I was much more creative when I wasn't taking drugs. I wanted to love that part of myself again and I wanted to fall back in love with music again."
Slater stepped away and took time out to lick his wounds, reflect and reevaluate what was important. Firstly, back to his parents in Hertford, then down to Cornwall, where he took up work as a surf instructor. The sea and the space gave him a new perspective and time to think.
"I got my values straight again," he recalls. "The reason why I started living like that in the band was because of music, because I love music. That is the most important thing to me. I decided that I'm going to not lose sight of that in the same way ever again."
It's hard to imagine listening back to Cub, but when these songs first started coming together, Slater was worried that he'd blown his one shot at making it as a musician.* Atlantis' Beatles-meets-Pixies mix of melody and crunch was the first song which, when he played it with the rest of Wunderhorse in an early rehearsal, showed him that turning his back on the music industry might not have been the act of career Hari-kari many might have thought it was.
Butterflies comes to life in a swirl of delicate, spiraling guitars before turning into into a gnarled wood of grungy psychedelia that recalls Mark Lanegan's work with Screaming Trees.
True, Leader Of the Pack, might have its origins in the dying days of Slater's old group, but its frazzled, double-jointed groove is light years ahead of any punk rock thrash. "I wrote that when I was 18, 19 but it never worked out the way we wanted," says Slater of the track, before adding with a laugh: "I think basically we needed more members to actually play it."
Three musicians certainly couldn't have done Purple's widescreen, Americana-lit sweep justice. A song that features a chorus so glorious that any stadium-filling act would sell their own grandmother to have in their arsenal.
"That was the one that when we played it I really thought we can do something with this," he recalls. "There was a feeling that, OK, this is its own thing now…"
17 is the oldest song here, its bittersweet melody reminiscent of Lemonheads. "I wrote that when I was forming Dead Pretties but it never really went anywhere says Slater. "The album is sort of documenting my adolescence, that bracket of time, so I've got that as the earliest bookend to start that process off and Epilogue, the last track on the album was written the day before we went into the studio."
The life lived between those two points has been a storied one and its scars are there in many of the songs here. Teal's Lou Reed-like street hussle, the dense psychedelic fug of Poppy or Morphine's strung-out bliss. Yet songs such as The Girl Behind The Glass's tumbling melody show multiple perspectives and viewpoints are at work within Slater's songs, his lyrics are far more complex and layered than first meets the eye.
By the time we reach Epilogue's meditation on lost innocence and the slow inevitable march towards eternity it's clear that for whatever reasons he needed to do it, Jacob Slater's decision to step away from music and remerge afresh as Wunderhorse is a gamble that has paid off in dividends. Not only for him, but most of all for us, the listeners who get to emerse ourselves in Cub.