Wednesday,
September
22nd
, 2021
Anthony da Costa's 2nd Ever
AmericanaFest FOMO Party - Presented by Bedstu
Doors: 5:00 PM
/
Show: 7:00 PM
18+ Years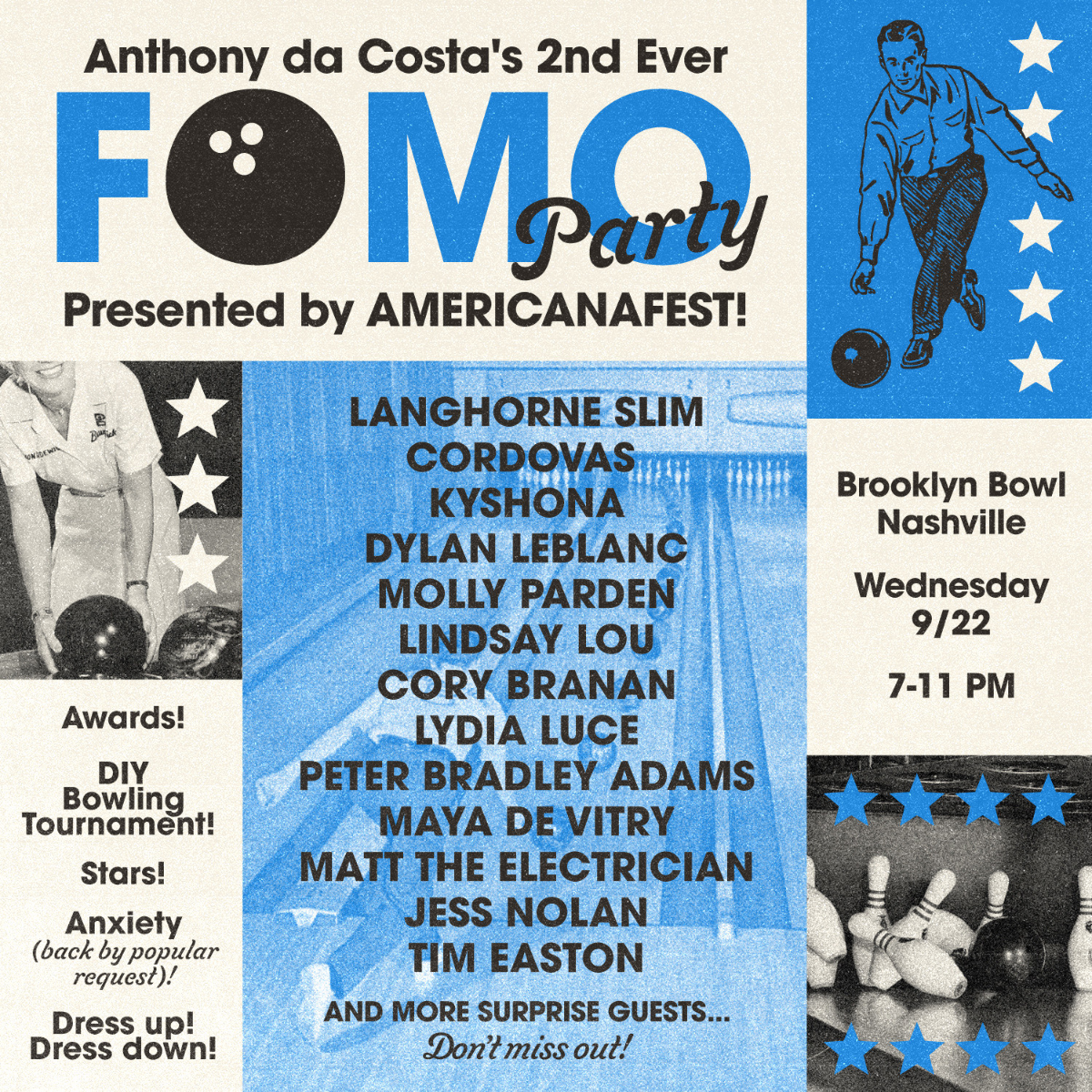 Event Info
Venue Information:
Brooklyn Bowl Nashville
925 3rd Avenue North
Nashville, Tennessee 37201
This ticket gets you entrance to Brooklyn Bowl Nashville for Wednesday, September 22nd, 2021 only. Doors are at 5pm
featuring
Langhorne Slim
Cordovas
Kyshona
Dylan LeBlanc
Molly Parden
Lindsay Lou
Cory Branan
Lydia Luce
Peter Bradley Adams
Maya De Vitry
Matt the Electrician
Jess Nolan
Tim Easton
and more surprise guests! Don't miss out!

Because of the rise in cases due to the delta variant, a special COVID protocol is required for everyone that will be in attendance for FOMO Party on 9/22/21 at Brooklyn Bowl Nashville. You, and anyone accompanying you in your party, are required to provide ONE of the following:
Proof of your vaccination record (vaccination card or picture of your card with a matching ID card), demonstrating you were fully vaccinated at least two weeks in advance of the day of show. OR proof of a negative COVID test, administered within 72 hours of the day of show, with matching ID card.
The city of Nashville is offering free testing (Monday - Friday, 8am-2pm) at 2491 Murfreesboro Pike, Nashville, TN 37217 (former K-Mart parking lot). For more information on the specific testing site, please visit this link here: https://www.asafenashville.org/test-mask-resources/.
FOMO Party and Brooklyn Bowl encourages mask wearing and encourages you to get vaccinated if you aren't already!
By purchasing a ticket you are acknowledging you will be required to show proof of vaccination or negative test result. There will be no refunds for tickets purchased, due to specific venue covid-19 protocol. If you receive a positive test before the show, please reach out to [email protected] and we will help facilitate a full refund.
If you have any questions or concerns, please reach out to us at
[email protected]
Much more information there
This event is 18+ Anyone under the age of 18 must be accompanied by a parent or guardian
Valid photo ID required at door for entry
This event is general admission standing room only.
Doors: 5:00 PM
Show: 7:00 PM
Artist Info
Dylan LeBlanc
Dylan LeBlanc knows second chances don't come around often. But neither do voices like his.
Overwhelmed by the speed at which his gift took him from Applebee's server to "the new Neil Young" in a matter of months, he walked away from an unlikely major label deal after releasing two critically acclaimed albums. He slipped into a blur of booze and self-doubt. Exhausted and damaged at just 23-years-old, Dylan came home to Muscle Shoals, Alabama to write a new life for himself.
In between the moments of clarity and a few familiar falls, he also wrote a new album, Cautionary Tale: a collection of shimmering, arresting songs with the same haunting vocals that caught the attention of Lucinda Williams and Bruce Springsteen, now with a sharpened edge honed by hastened maturity.
Langhorne Slim
Langhorne Slim didn't write a song for more than a year. A battle with clinical anxiety disorder and prescription drug abuse, which came to a head in 2019, had dimmed the light within. The man who once seemed to ooze spontaneity was now creatively adrift, stumbling along in the fog.

In December, he entered a program and, for the first time in a long time, a path toward healing began to emerge. He began to see that inner peace was possible, even with the world outside raging.

A few months later, in February, a tornado came and decimated East Nashville, his adopted hometown. Covid-19 took root just days later, changing lives forever. In the early days of his recovery, a different reality was beginning to take shape, both within and without. New worlds were being born; old worlds were dying.

Knowing he was struggling to write songs and make sense of it all, Slim was finally able to flesh out a throwaway ditty one afternoon. His close friend Mike then suggested he try penning a song a day. Slim didn't like the idea, but he gave it a shot.

To his surprise, the songs came. In a flurry of stream-of-consciousness writing, the new tunes tumbled out, one after another, like little starbursts of joy, gifts from the gods you might say. Slim was tuning out the noise and finding beauty in the madness of a world coming undone. Over the course of a couple of months from March to May, Slim penned more than twenty that were certified keepers. Out of this bumper crop came the songs that make up his new album, Strawberry Mansion, which is being released this winter on Dualtone Records.

"I wasn't sitting on the songs and I wasn't overthinking them," Slim says of the writing process of those months. "Something cracked open with the slowing down and the stillness of quarantine.

After finishing a song, whether he liked the tune or not, he'd call Mike, a videographer, and they'd record it and post it to Instagram. It was a form of therapy, he now realizes. "There was nothing precious about the process and it was a bonding thing between me and Mike as much as anything else," Slim says. "It also gave me a release and maybe some potential form of healing, and was an opportunity to not always listen to the shitty thoughts in my head. I wasn't ever thinking that I was writing songs for a new record."

Prior to this creative outburst, Slim's anxiety had grown so acute there were times when he actually feared picking up his guitar and trying to write. With the help of therapy and friends, he was now learning to confront his demons rather than run from them. So, in the midst of a panic attack one day, he picked up his guitar and the song "Panic Attack" was born. It's a raw, off-the-cuff number that rises above the dark subject matter with spirit, irony and humor. "I called a healthcare professional/ Wanna speak to someone confidentially/ Don't know just how I'm feelin'/ But I'm feelin' feelings exponentially," he sings.

Album-opener "Mighty Soul" details a world beset by Biblical-grade plagues (coronavirus, the Nashville tornado) and government malfunction. It ultimately calls for healing through community and the recognition that we can all make a difference. It functions as the album's spiritual center, a secular gospel number for all mankind.

"Morning Prayer" is inspired by the songwriter's effort to pray for the first time in his life. "It's not in the key of any one religion," Slim says of the number. "For this, I'm grateful that my guitar was unknowingly yet appropriately out of tune. It's a song to help me practice compassion, surrender, connection to nature, the spirits and beyond."

The second part of "Morning Prayer" is one of the most affecting moments on Strawberry Mansion, with the singer reaching out and offering prayers for his loved ones who are struggling, for all of humanity, really. "For my friends who suffer/ For my mother, father and brother/ For a world down on its knees/ I pray for thee," he sings with great poignancy.

The road to Strawberry Mansion, which was recorded at Daylight Sound in Nashville with longtime compadres Paul DeFigilia (Avett Brothers) and Mat Davidson (Twain), began in 2019 with Slim's decision to get sober. Even though the singer-songwriter kicked alcohol years ago, the insidious monster of addiction had crept back into his life in different guises. The last straw came during a road trip with a friend, who, at the end of the journey, let it be known that the man he knew and loved was no longer recognizable. So Slim called his manager and loved ones and soon checked into a program. That experience and his ongoing recovery program have given him a framework for grappling with the personal demons that have always skulked in the shadows, and helped him find light in the void. "It's important for me to talk honestly about these things, because I feel it gives me strength, and it might help others along the way." he says.

Strawberry Mansion is the singer-songwriter's seventh full-length album. He released his first record, Electric Love Letter, back in 2004. Since then he has graced the stages of Bonnaroo, Lollapalooza, Newport Folk Festival, and the Conan O'Brien show, winning fans over with his heart-on-a-sleeve sincerity and rousing live shows.

Born Sean Scolnick in 1980, Slim took part of his artistic moniker from his hometown of Langhorne, Pennsylvania, a place he's still very much connected to despite making his home in Nashville. Since the advent of Covid-19, he has been traveling back to PA once a month to see his mother and grandmother, and, like many Americans, finding strength in his origins and family bonds. The title Strawberry Mansion refers to the neighborhood in Philadelphia where both of his grandfathers grew up, a place he calls "dirty but sweet, tough but full of love, where giants roamed the earth and had names like Whistle and Curly." That idea of a mythical wonderland informs the new album from head to toe. Strawberry Mansion is not so much about nostalgia for the past as it is about the possibility of better days ahead in this world. These are songs that remind us we're all part of a collective "Mighty Soul," united in one journey, just like the characters in that old Philly neighborhood. It's a life-affirming album for these times.
Molly Parden
Cory Branan
ADIOS is Cory Branan's death record. Not the cheeriest of openings, but like all of Branan's mercurial work, it's probably not what you think. As funny and defiant as it is touching and sad, this self-dubbed "loser's survival kit" doesn't spare its subjects or the listener.
Not even Branan's deceased father is let off the hook. In the tender homage "The Vow" he drolly cites his father's favorite banality "that's what you get for thinking" as "probably not the best lesson for kids." For most songwriters that would be the punchline but Branan pushes through words and, in his father's actions, finds a kind of "genius in the effortless way he just 'did'."
Not all the death on ADIOS is literal mortality. "Imogene" is sung from the wreckage of a love that once "poked fun at the pain, stoked the sun in the rain" but ends with the urgent call to "act on the embers, ash won't remember the way back to fire."
The trademark lyrical agility is mirrored sonically. Never a genre loyalist, ADIOS finds Branan (much like his musically restless heroes Elvis Costello and Tom Waits) coloring outside the lines in sometimes startling shades of fuzz and twang. While unafraid to play it arrow-straight when called for ("The Vow," "Equinox," "Don't Go"), ADIOS veers wildly from the Buddy Holly-esque rave up "I Only Know" (sung with punk notables Laura Jane Grace and Dave Hause), through the swampy "Walls, MS" to the Costello-like new wave of "Visiting Hours."
The blistering punk of "Another Nightmare in America" bops along daring listeners to "Look away, look away, move along, nothing to see here" (the song is written from the point of view of a racist killer cop). And as the mourning singer on "Cold Blue Moonlight" shifts from paralysis to panic, the song's jazzy drone shifts to an almost Sabbath fury. The tonal shifts are always deliberate and not just simple genre hopping; while the turns can be jarring you can trust Branan to take you somewhere unexpected.
The 14-song album was self-produced and recorded in the spring of 2016 at Tweed Studios in Oxford, MS with a tight three piece: Branan on lead vocals and guitar (both electric and acoustic); Robbie Crowell (formerly of Deer Tick) on drums and percussion, keys, and horns; and James "Haggs" Haggerty on bass. Additionally, Amanda Shires contributes on fiddle and vocals, and Laura Jane Grace of Against Me! and Dave Hause provide guest vocals.
Cory Branan has four previous full-length releases: The Hell You Say (2002, Madjack Records), 12 Songs (2006, Madjack), Mutt (2012, Bloodshot Records), and The No-Hit Wonder (2014, Bloodshot). His music has received critical praise from the likes of Rolling Stone and Rolling Stone Country, NPR All Things Considered, Noisey, Wall Street Journal, Paste Magazine, Oxford American, Consequence of Sound, Southern Living, and many others.
Lydia Luce
Lydia Luce graduated from Berklee College of Music and has a Masters Degree from UCLA in viola performance. As an independent Americana singer/songwriter/violist she is leveraging those tools to enhance her songwriting on both viola and guitar. Her lyrically moving and professionally architected music derives deep roots from personal family, love and life experiences and she is beginning to make a mark in her new home of Los Angeles. Luce is currently touring to promote her first record "The Tides.
Peter Bradley Adams
Maya de Vitry
Matt the Electrician
Jess Nolan
Just Announced
Nashville
Free Bowling from 5pm-8pm!
Show: 5:00 PM
Nashville
Free Bowling from 5pm-8pm!
Show: 5:00 PM