Friday,
October
28th
, 2022
Foals: Life Is Yours Tour
Inner Wave - Gustaf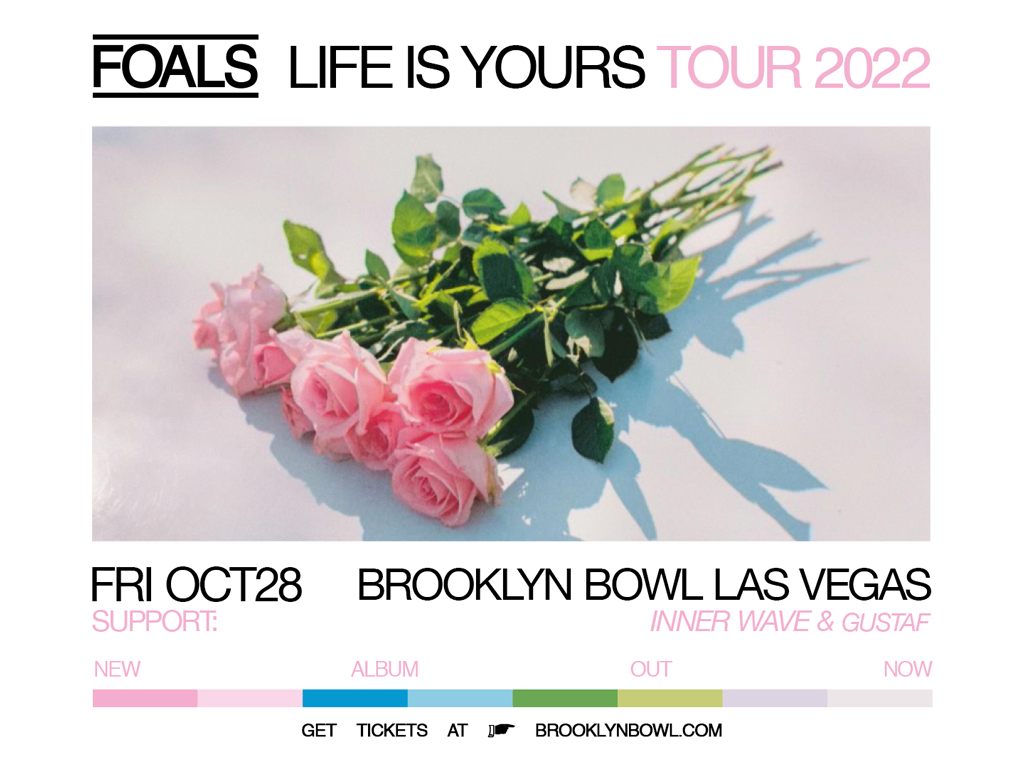 Event Info
Venue Information:
Brooklyn Bowl Las Vegas
The Linq Promenade
Las Vegas, NV
$35.00 General Admission
$37.50 General Admission (week/day of show)
$45.00 Club Level

Based on the latest local guidelines, attendees are no longer required to provide proof of negative COVID-19 test AND/OR vaccination for entry into this event. Brooklyn Bowl encourages mask wearing and encourages you to get vaccinated if you aren't already! Be sure to check our venue website for the latest updates and guidelines as entry requirements are subject to change.


An inherent risk of exposure to COVID-19 exists in any public place where people are present. COVID-19 is an extremely contagious disease that can lead to severe illness and death. According to the local health authorities, senior citizens and guests with underlying medical conditions are especially vulnerable. By visiting our establishment, you voluntarily assume all risks related to the exposure to or spreading of COVID-19.
Free Local Parking
- Residents of Clark County who purchased a ticket will receive free parking the night of the show at any Caesars Self-Parking locations. The Parking Validation Machine is located inside the Retail Store of Brooklyn Bowl.
All support acts are subject to change without notice.

All guests must have a valid government/state issued ID for entry to the venue. No refunds.

Tickets purchased in person, subject to $2.00 processing charge (in addition to cc fee, if applicable).

All general admission tickets are standing room only.

ALL TICKET PRICES INCLUDE NEVADA'S 9% LIVE ENTERTAINMENT TAX

*Advertised times are for doors -- show time not available*
Artist Info
Foals
After completing a UK headline tour which included a triumphant four-night run at London's Olympia in front of a combined audience of 40,000 people, Foals are set to take the sun-kissed sounds of their 'Life Is Yours' album to an array of major festivals this summer. As the June 17th release of 'Life Is Yours' approaches, Foals today unveil their new single '2001'.
'2001' elevates the disco and funk influences that permeate Foals' recent tracks 'Wake Me Up', '2am' and 'Looking High'. Yannis Philippakis's falsetto soars as high as the sky he references in the song's opening lyrics, accompanied by a riff that bounces with groove and precision, and a popping P-funk bassline. While '2001' finds Foals stepping boldly into the most electrifying example of their new sound, lyrically it's pure reflection.
Yannis says, "'2001' feels like a postcard from the past. We moved to Brighton around that time, we were a young band, and there was the feeling of the first taste of independence. The moment you get those freedoms, you're surrounded by temptation. The references to beachside candy and Brighton rock are symbols for drugs and hedonism. This was written in the depths of the pandemic winter, and there's an escapist desire to break out from the feeling of being cooped up, both in terms of the pandemic and adolescence."
The '2001' video transports those themes to Costa Brava, Spain to place the song's nostalgic ambience firmly in the here-and-now. Two young men lug their sofa from their apartment to soak up some rays on the beach. Other vignettes of coming-of-age experiences follow their every move, from the effortlessly cool group of young women who observe their struggle with nonchalant indifference to a couple kissing. When one of the men chews a sweet that everyone seems to be consumed by, his summer day takes on a new hallucinogenic edge.
The video's modernist nostalgia is heightened by its aesthetic – a washed out palette and Polaroid-style framing. It was directed by ESTEBAN (Arca, Peggy Gou) for the creative production company CANADA.
'2001' was written by Foals – Yannis, Jack Bevan and Jimmy Smith. The track's production is one of a number of songs on 'Life Is Yours' that benefit from an experimental approaching of mixing up different configurations of creative voices. On '2001', production was led by A.K. Paul (co-founder of the Paul Institute with his brother Jai Paul) and John Hill (Cage The Elephant, Florence + The Machine), with co-production from Miles James. It was then mixed by the ten-time Grammy Award winner Manny Marroquin (Post Malone, Kanye West, Rihanna).
'Life Is Yours' is available to pre-order HERE and is already in phenomenal demand – its beautifully realised zoetrope format sold-out its entire 5000 copy pressing in a matter of days. Another essential release for vinyl connoisseurs and Foals collectors comes with the long-awaited vinyl repress of their debut album 'Antidotes', which will be manufactured using recycled vinyl records – a process that ensures that each individual record is unique. Both 'Life Is Yours' and 'Antidotes' are also available as specially priced bundles.
Inner Wave
This September 30th marks the 15th anniversary of the first rehearsal of what we now know as LA-based band Inner Wave. Its founding trio set off as middle schoolers with a certain kind of gusto, and they've never forgotten it. Now in their 20s, Inner Wave is readying the release of a fourth LP, Apoptosis, and its members feel more musically connected and confident than ever before.

Without downplaying the difficulties—because of course, through such a long journey there's been plenty of them—it is because of a single, steadfast credo that Inner Wave has endured, and it's why the group continues to grow. They care immensely about the craft of music-making.
Over the past few years, however, that guiding premise was inadvertently compromised. Things were moving quickly; they'd toured particularly relentlessly and released heaps of singles since the popularity of 2017's Underwater Pipe Dreams. But when the pandemic hit last year, of course, a slow-down was unavoidable.
Tours supporting WYD, an EP released last spring, were canceled. As Covid-19 cases hit a terrifying high, guitarist-vocalist Pablo Sotelo contracted coronavirus. Drummer Luis Portillo was not spared, either, although thankfully, neither became gravely ill.

"We were in a position where we felt we were at a high, and then sunk to a really dark low, not knowing what's going to happen—not just with us, but with the world," Sotelo recalls.
Even without the unprecedented stress of surviving a global pandemic, Inner Wave was already off-course, scattered. The mandated hiatus and the reasons for it were frightening. But if they were to continue, Inner Wave would absolutely have to regroup and refocus.

Pablo Sotelo, Elijah Trujillo (guitar), and Jean Pierre Narvaez (bass, vox) are the founding members, but Inner Wave is actually a quintet, and now in its tightest formation yet. Drummer Luis Portillo, who's been with the band since 2017, is obsessed with his craft. Sound engineer Jose Cruz was incorporated late in 2020 as keyboardist, and his tenacity (and genius, all agree) is unparalleled.

Cruz fit right in, Trujillo notes: "He understands the type of level of musicianship that we have, and puts in the effort to take it to that next level, to go home with a notebook full of chords that he figures out and brings back the next day—without us even having to ask him."

Discipline—specifically, a commitment to lifelong learning of music-making—is a massive force in Inner Wave's flow. As kids, Sotelo, Trujillo, and Narvaez drilled and drilled, practicing for hours after school every day. This dedication remains foundational; a certain intensity of effort is essential to Inner Wave.

"Coming out of this pandemic," Sotelo says, "having gone through so much and restructuring our team, we reverted back to being very hands-on—like we were for 11 years. Now I feel very confident: we're like a musical tank."
The newly unified five-piece spent two weeks quarantined at True Sound, a recording studio where Cruz also lives. Surprisingly, this was their first-ever experience recording a full-length in a studio.

Out on September 30th, Apoptosis is a trip into the band's familiar realm of electronic, soul, and garage-rock. This time, however, the details are especially intricate, with unexpected synth accents that somehow both meld and stand out; they feel necessary, like the crevices and sharp edges of a mountain. Through these well-resolved musical moods, the intentionally ambiguous lyrics are strongly conveyed, yet left up to the listener for pondering. Apoptosis is experimental yet intentional. It is far-fetched in theory, but not out of reach in its final presentation.

"Apoptosis is a biological term for the death of cells, which occurs as a normal and controlled part of an organism's growth or development. Basically, it's when your body lets certain cells die so that new healthy cells can grow," Sotelo explains. "It was indicative of what we had just gone through this whole year, with losing a member, losing management, losing a tour, shows, losing friends, losing almost everything. And then starting from the ground up."

Today, Inner Wave is a result of all those tribulations as much as it is all the toiling toward progress done despite them.
"We finally got to have that experience where we're all in the room writing a song and we all just kind of know what we want; it's so exciting," Narvaez says. "During these times we learned to adapt and grow as individuals, and more importantly, as a unit. I feel like Apoptosis is one of our best musical works so far because of these moments. Every hardship evolves into something beautiful."
Gustaf
Inspired by the rhythmic grooves of ESG, the dopey drawl of Jonathan Richman, and manic energy of The Fall, Gustaf's live set is quick on its feet, constantly in flux, and obsessively catered to the people in the room, resulting in a sound that is emotive, androgynous, and infectiously danceable.

Comprised of Tine Hill (bass), Vram Kherlopian (guitar), Melissa Lucciola (drums), Tarra Thiessen (vocals, percussion), and Lydia Gammill (lead vocals), Gustaf got its start in 2018 when Thiessen recruited Gammill to help drive her van down to SXSW. When Thiessen's original tour fell through, Gammill suggested pulling a band together to play in their place. With little more than a name and a handful of t-shirts, they hit the ground running, playing hundreds of shows in their first two years and earning a reputation as one of New York's "hardest working…and most reliably fun bands" (Brooklyn Vegan).

Finding early champions in all quarters, they caught the attention of luminaries like Beck and Matt Shultz of Cage the Elephant – who had the band open for him at a secret loft party – and secured opening slots for buzzing indie acts like Omni, Tropical Fuck Storm, Dehd and New York no wave legends like James Chance and Martin Revv without any recordings to their name. They quickly earned acclaim from outlets such as Oh My Rockness, who touted, "Listen, if Gustaf is playing a late night basement show somewhere, or on a rickety roof, or in someone's shitty apartment, or just at some regular old music venue…you should make all the necessary arrangements and go."

Gustaf's debut full-length album, Audio Drag For Ego Slobs, out October 1st 2021 on Royal Mountain Records (Wild Pink, Alvvays, U.S. Girls), is a culmination of lessons learned on the stage and in the studio. The album is a collection of anxious affirmations, existential dread, and blind joy. Recorded at the Honey Jar Studio in Brooklyn with Carlos Hernandez (Ava Luna, Sneaks, Mr. Twin Sister) and co-produced by Hernandez and Gammill, it follows last year's Mine 7-inch, the band's first recorded material and a release that immediately garnered attention from outlets like NME and NPR who dubbed the band one of 2021's emerging artists, as well as BBC 6 Music who added the release to regular rotation.

Both tense and loose, fluid yet uptight, Audio Drag For Ego Slobs sounds simultaneously like nothing you've ever heard before while channeling the spirit and energy of the old New York scene. Feeling like a cramped and secret house party, buzzing with kinetic energy and bristling with spirit, the title is a tongue-in-cheek play on classic compilation albums such as "relaxing tunes for an enchanting evening". Lifted from the avant-garde multimedia artist Laurie Anderson, "Audio Drag" refers to Thiessen's deepened pitch shifting voice filter, while "Ego Slob" is a self-coined phrase to describe someone who does a sloppy job of translating the outside world within the context of themself.

That "sloppy" ego slob spirit translates to the album's controlled chaos, bursting at the seams—a performance of hyperbole and cathartic emotional gluttony, sonically winking at the listener lest you take them too seriously. Gammill's swaggering half-spoken vocal melodies pierce through the album's central bass groove, bleating guitars and restless drums.

After a year away from the stage, the band is eager to flex their muscles once more as a live act with plans to open for IDLES across the United States in October, as well as Pillow Queens in the United Kingdom in November, and prove why Brooklyn Vegan once said, "There are a lot of bands making arty post-punk, but very few who have a front person as magnetic, funny, and occasionally, scary as Gustaf's Lydia Gammill."