Celebrating International Women's Day
Fiona Silver (EP Release) + Francis Aud + Julia Haltigan
$1 from each ticket will be donated to Planned Parenthood
Doors: 6:00 PM
/
Show: 7:30 PM
21+ Years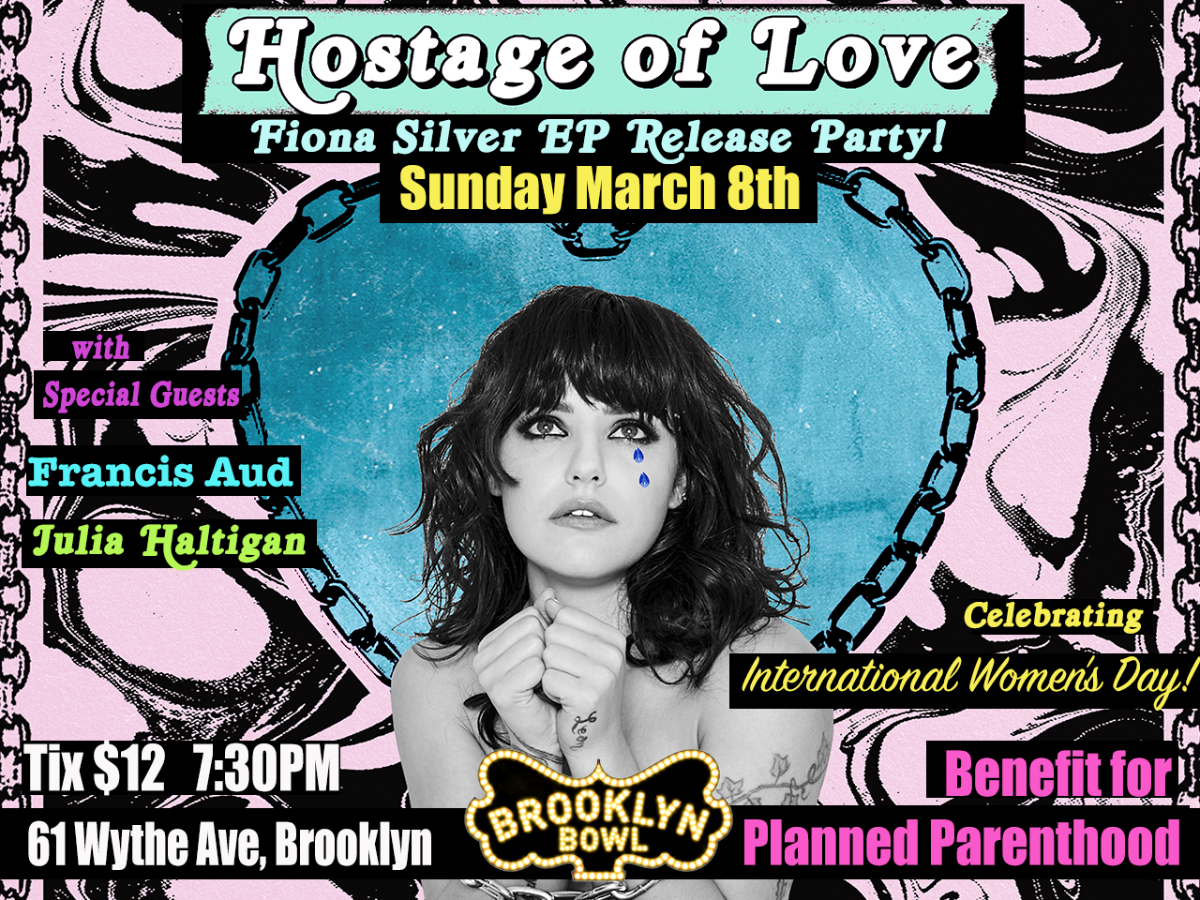 Event Info
Venue Information:
Brooklyn Bowl
61 Wythe Avenue
Brooklyn, NY 11249
Mention "bowling special" for half-off your lane starting at 6PM!

SET TIMES
7:30pm - Julia Haltigan
8:30pm - Francis Aud
9:30pm - Fiona Silver
Artist Info
Fiona Silver
Fiona Silver is a pixie-sized powerhouse, born and bred in NYC, with a take no prisoners punk ethic. Black Book calls her music "gritty and sexual". Paste Magazine states, "femme fatale, an heiress apparent to Amy Winehouse... or a modern day chanteuse given her spit and sass, Fiona Silver clearly demands immediate attention." Known largely for her powerful voice and soulful twist on gritty Rock 'N Roll, Huffington Post calls her "a force to be reckoned with." Silver melds and bends genres together to create her own sound, capturing both raw power and vulnerability. Culture Collide says, "it is her fearless experimentation with all sorts of genres that we find so cool." Word of Fiona Silver has recently stretched to the U.K. where Phoenix Magazine named her a "female pioneer smashing glass ceilings… torching patriarchal rock". Since 2018 Fiona Silver has toured extensively with Gary Clark Jr. and had the honor of sharing the stage not only with Gary Clark Jr. and Carlos Santana but also with Gwen Stefani. Silver's new EP "Hostage of Love" is her second body of work, following her debut album Little Thunder in 2017.
Francis Aud
Francis Aud is a Brooklyn-based singer, songwriter, and bandleader who writes and performs music that is almost as charming as he is.

The unclaimed love child of Al Green, James Brown, Marvin Gaye, and more contemporarily, Allen Stone, Bruno Mars, and Paolo Nutini, Francis is a modern day entertainer who writes, sings, and performs music that will make you smile, cry, and dance.

Having performed at notable venues such as: Rockwood Music Hall, Mercury Lounge, Bowery Ballroom, The Hotel Cafe, and alongside Sofar Sounds across the country, Francis has established himself as a consummate entertainer who knows how to work and wow a crowd and continues to rise in the ranks as one of New York's most fun and endearing musicians.

Francis Aud released his debut EP Tender Things in July 2017 and since then he has released a slew of FONK-driven music (a unique blend of pop and funk) that is also available to stream (ocean, river, and all bodies of water) on all platforms.

He is currently playing up and down and all around the country as a solo performer and alongside his band The Professionals in attempts to hone his live show and will be releasing a series of singles throughout 2020 in anticipation of the release of his first album titled 'FONK.'
Julia Haltigan
Acclaimed bombshell songstress Julia Haltigan embodies New York. She grew up on NYC's Lower East Side when it oozed a heady mix of danger, possibility, and art. Julia emerged from it all a sensitive badass who rides vintage Triumph motorcycles and sings primal rock n' roll with smoldering expressivity.

It has been only fitting Jameson Whiskey selected Julia for their music program representing various U.S. cities. The appointment made Julia consider her surroundings, and pen the quintessential Julia Haltigan New York musical statement. Today, she announces her new album, "Trouble", that pays tribute to the street-tough poetics and gritty rock n' roll of Big Apple icons like Television, Blondie, Suicide, Lou Reed, and, even, Beastie Boys. Trouble was produced by native New Yorker Andrew Raposo with one track produced by TV On The Radio's Dave Sitek.

There is hollowness and grit that epitomizes New York rock n' roll. The music is lean, soulful, jittery, and overflowing with vulnerability and juicy tales told with literate flair. Julia's latest collection of songs captures this vibe with an artist-in-her-natural-habitat panache. The songs were tracked in true New York fashion, during freewheeling sessions that featured a host of old friends with accomplished careers. Producer Andrew Raposo is a high school-era buddy of Julia, and he is a former member of hip-hop-influenced acts Automato and Gaijin. Currently, he is a member of dark indie-disco act Midnight Magic. TV On The Radio's Dave Sitek produced Julia when she worked with Scarlett Johansson & Kendra Morris in the band Sugar for Sugar, and, here, he makes a cameo to produce the single "Bad Habits."

Julia has toured extensively through the US, and throughout the UK and Ireland. She has performed as a part of the Varvatos Music Series, filling the store over capacity leaving a line around the block, and live on tastemaking radio personality Vin Scelsa's show Idiot's Delight. She also shared the stage with such venerated names as Judy Collins, Shannon Shaw, Steve Earle, Cory Chisel, Norah Jones, Montgomery Gentry, Rhett Miller, Nicole Atkins & Mike Scott of the Waterboys (whom she co-wrote her song How To Make A Broken heart with) among others. These days, she is part of the Jameson Whisky artist roster alongside Shannon Shaw (of the Clams), Robert Ellis, Katie Schecter, Ayron Jones, Twelve'Len, Kami, Cedrice, and Wes Watkins.

Outside of her solo career, Julia moonlights as the slinky Jessica Rabbit-inspired jazz crooner "Vivian Fairchild" in the off-Broadway hit Sleep No More. She is also a member of the fizzy pop band The Singles, alongside her buddies Scarlett Johansson, Kendra Morris and Holly Miranda. They released singles "Candy" and a cover of "Bizarre Love Triangle" for AMFARs The Time Is Now compilation. She's had songs featured in shows such as Bloodline and recently, made an acting cameo in HBO's hit series The Deuce—look for her in an episode during the show's third and final season. When not on stage or in the studio, Julia can be found practicing her figure skating moves at Sky Rink or straddling a 1970 Triumph Bonneville, cruising around NYC.

In addition to creating her own music, Julia is establishing herself in the roll of "music supervisor" for film and television. Her latest work has been for the film LIGHTS, CAMERA, UGANDA! which will be premiering in competition at SXSW 2020. She's also begun Dead Phone 13 Productions with fellow musician, artist and long time collaborator, Kendra Morris.