Wednesday,
September
29th
, 2021
Dr. Dog
Bowerbirds
Doors: 6:00 PM
/
Show: 8:00 PM
18+ Years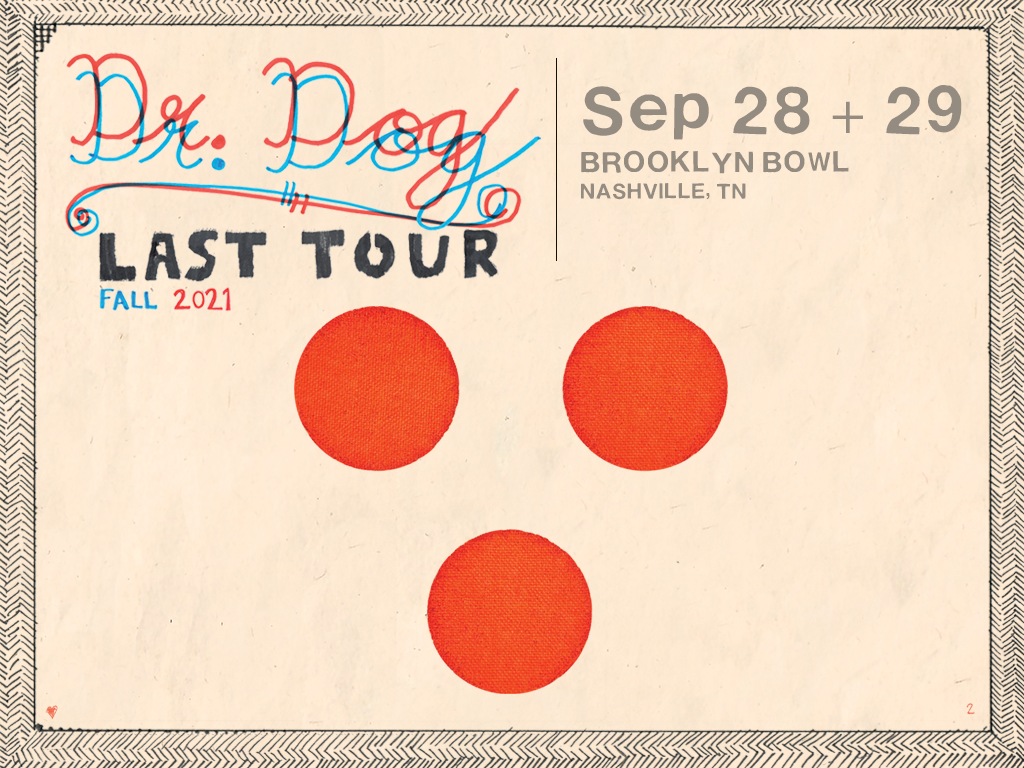 Event Info
Venue Information:
Brooklyn Bowl Nashville
925 3rd Avenue North
Nashville, Tennessee 37201
Because of the rise in cases due to the delta variant, a special COVID protocol is required for everyone that will be in attendance for Dr. Dog on 9/29/21 at Brooklyn Bowl Nashville. You, and anyone accompanying you in your party, are required to provide ONE of the following:
Proof of your vaccination record (vaccination card or picture of your card with a matching ID card), demonstrating you were fully vaccinated at least two weeks in advance of the day of show. OR proof of a negative COVID test, administered within 48 hours of the day of show, with matching ID card.
For information on free testing sites, please visit this link here: https://www.asafenashville.org/test-mask-resources/.
Brooklyn Bowl encourages mask wearing and encourages you to get vaccinated if you aren't already!
By purchasing a ticket you are acknowledging you will be required to show proof of vaccination or negative test result. There will be no refunds for tickets purchased, due to specific venue covid-19 protocol. If you receive a positive test before the show, please reach out to [email protected] and we will help facilitate a full refund.
If you have any questions or concerns, please reach out to us at [email protected].
To ensure you don't miss any of the show, please plan to arrive closer to doors to go through security and present your vaccination card or negative test. This process takes some time so please make sure you have your ID and Vaccination Card/Negative Results out and handy when going through security to expedite the process for all patrons.

This event is 18+ Anyone under the age of 18 must be accompanied by a parent or guardian
Valid photo ID required at door for entry
This event is general admission standing room only
Doors: 6:00 PM
Show: 8:00 PM
Artist Info
Bowerbirds
becalmyounglovers is as much a return as it is a farewell. Phil Moore's first Bowerbirds album since 2012 is an artifact of transition, a domino effect of doors closing and Moore stumbling headfirst into the uncertainty of what comes after a life fundamentally changes. Like a polaroid slowly swimming into focus, becalmyounglovers reconciles the memories of yourself in relation to another person, and then what's unearthed when you're left to face your identity alone – and which one of those selves is true?

Written and recorded mainly in an isolated cabin hand built by Moore and his ex-partner, out in Siler City, North Carolina, becalmyounglovers chronicles a long-term relationship's death rattle, inevitable breakup, and its immediate aftermath – and Moore's getting to understand himself better in the process. These songs don't trudge through upheaval -- instead, they float, still sanguine and light in the face of plans gone awry.

In the eight years between the Bowerbirds' last album, The Clearing, and becalmyounglovers, Moore had stopped his frequent touring and dipped into domesticity for the first time in his adult life. At home, watching the seasons change, he felt suddenly aware, and surprised, to learn that he was two types of people at the same time – a seasoned traveling musician, and a someone who enjoyed being tethered to a home base. In that time, he also had a child, spent a couple years working a 9-5, and, the main thread tying becalmyounglovers together, split with his partner of 15 years, Beth Tacular, who'd performed alongside him in Bowerbirds since the project's inception. Grappling with his identity as a singular entity in the wake of a break-up is a through line here, outlined directly on "Can U Beleeb"– "Now you're the shape that I've been molded to – but who am I? And who are you?"

"I definitely learned something about myself through being with somebody for 15 years, and then that transition into breaking, the things that were wholly me – me and my faults, me and my -isms – were more clear to me," Moore explains. "A lot of the beauty with being with somebody for so long is you become this other person, and when that changes a lot of those things stick around from the relationship, but more of yourself is allowed to show. That was quite an epiphany."

The 12 songs that make up becalmyounglovers reckon with that. The album was written and recorded in bits by Moore across six years. Moore built out the bones of the songs with help from his friends, including Bon Iver drummer Matt McCaughan, Alex Bingham (Hiss Golden Messenger, T-Gold), and Mipso multi-instrumentalist and vocalist Libby Rodenbough, with additional group vocals by Chessa Rich, Joseph Terrell (Mipso) and Wood Robinson (Mipso). Drums were recorded by Ari Picker (Dante High, Lost in the Trees) at Goth Construction Studio in Chatham County, North Carolina, and the record was mixed and mastered by Zach Hansen at April Base out in Eau Claire, Wisconsin.

Pieced together between Moore and Picker's respective strange, handmade structures out in heavily-wooded areas, becalmyounglovers offers dispatches from a distant rural universe, abuzz with the overgrowth of dreamy North Carolinian forest.

But despite coming together across a span of years, the album unfolds with immediacy and urgency. For Moore, songwriting has always been a way to process what was happening in his personal life, and becalmyounglovers chronicles him sorting it out in real time.

"Sweet Dissonance," which is spacious, with plucky guitar, was the first song Moore wrote for the album – and he felt it was a premonition track for what was to come, both in life and in the songs. Here, we run the gamut of Moore's life via impressionistic vignettes -- it's more a collage of memories than anything else. "The Party," a pop-bop driven by McCaughn's drumming, recalls a memory from a college party in the woods in Iowa, while the upswing on "Pennies" fast-forwards, a song about dating for the first time in a long time and the possibilities that come with that.

"Seems Impossible" yearns for the 'good ol' days' of a relationship, the promise of escapism, the lilting, naïve hopefulness of its doomed refrain: "Left our home in the cool of night, everything right in the world / Just the two old souls and the end of times / Everything else has to burn." And "All This Rain," the sparse, slow-burn piano-driven centerpiece of becalmyounglovers, anchors the album -- dealing with depression and isolation out in the country, Moore was asking himself, "What do you really want to do to propagate your life? To continue?" Here, Moore digs into the looming question of, "What is the point of what we're doing here?"

In that way, all of the songs on becalmyounglovers unflinchingly embrace and excavate the unknown in all of its capacities. Moore himself chalks it up to getting older, and gaining perspective – when he listens back to the album, he can hear that he's aged in the songs, and that he's grown more comfortable with the boundaries of his own life.

And, true to Moore's songwriting since the very beginning of Bowerbirds, the heaviness of the subject matter still glimmers with an innate hopefulness. becalmyounglovers is like wading deep into the psyche of a potential identity crisis, but there's no darkness here – instead, Bowerbirds plumbs the depths with the windows open, a breeze flowing in, a smattering of sunlight across the floor and the sounds of outside filtering in, the promise of a new morning right around the
corner.


Just Announced
Nashville
Free Bowling from 5pm-8pm!
Show: 5:00 PM
Nashville
Free Bowling from 5pm-8pm!
Show: 5:00 PM