Friday,
February
4th
, 2022
Dinosaur Jr. + Built To Spill
Pink Mountaintops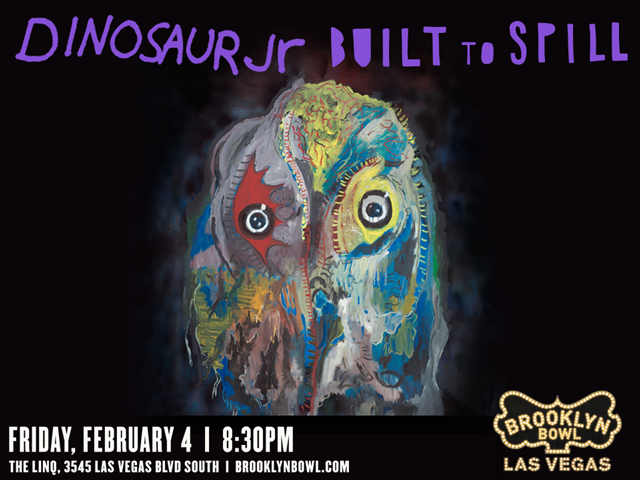 Event Info
Venue Information:
Brooklyn Bowl Las Vegas
The Linq Promenade
Las Vegas, NV
$30.00 General Admission
$33.00 General Admission (week of show)
$35.00 General Admission (day of show)



Proof of your vaccination record (vaccination card or picture of your card with a matching ID card), demonstrating you were fully vaccinated at least two weeks in advance of the day of show. OR proof of a negative COVID test, administered within 72 hours of the day of show, with matching ID card.

A negative PCR or antigen COVID-19 test will be accepted. Please be sure to bring printed or digital proof of your negative test result, dated and time-stamped. At home test will not be accepted for entry
Acceptable Vaccines include: Pfizer | Moderna | Johnson & Johnson | vaccines authorized by WHO (if vaccinated outside of the U.S.)
MASKS: In accordance with local guidelines: Until further notice, masks are required to be worn at all times for attendees, regardless of vaccination status, except while actively eating or drinking. All Brooklyn Bowl staff are fully vaccinated and must wear masks while inside the venue.


By purchasing a ticket you acknowledge you will be required to show proof of vaccination or a negative test result. There will be no refunds for purchased tickets based on non-compliance of venue COVID-19 protocols, however, if you are unable to attend a show due to a positive Covid-19 test, please reach out to vegasinfo@brooklynbowl.com and we will help facilitate a full refund.

An inherent risk of exposure to COVID-19 exists in any public place where people are present. COVID-19 is an extremely contagious disease that can lead to severe illness and death. According to the local health authorities, senior citizens and guests with underlying medical conditions are especially vulnerable. By visiting our establishment, you voluntarily assume all risks related to the exposure to or spreading of COVID-19.
For testing locations visit:
https://www.clarkcountynv.gov/top_services/covid19/testing_locations.php
All guests must have a valid government/state issued ID for entry to the venue. No refunds.
Tickets purchased in person, subject to $2.00 processing charge (in addition to cc fee, if applicable).
All general admission tickets are standing room only.
ALL TICKET PRICES INCLUDE NEVADA'S 9% LIVE ENTERTAINMENT TAX
Special room discounts via Caesars Hotels & Resorts for traveling fans. For hotel rooms use promo code: BRB15 at www.caesars.com applicable for rooms at The LINQ Hotel and the Flamingo.
*Advertised times are for doors -- show time not available*
* Venue closes between 12am - 1am unless otherwise noted*
Artist Info
Dinosaur Jr.
Here is Sweep It Into Space, the fifth new studio album cut by Dinosaur Jr.. during the 13th year of their rebirth. Originally scheduled for issue in mid 2020, this record's temporal trajectory was thwarted by the coming of the Plague. But it would take more than a mere Plague to tamp down the exquisite fury of this trio when they are fully dialed-in. And Sweep It Into Space is a masterpiece of zoned dialing.

In the decades since the release of Dinosaur Jr.'s original triptych of foundational albums, it has become clear that their sound -- once hailed as a sort of almost-tamed noise -- is/was/always-has-been fully functioning pop music of a sort. The subsequent generations of bands who grew up breathing Dino's fumes managed to tinker around with the edges of their original post-hardcore song-forms enough for listeners to realize there had always been melodies at the center of everything they did. What Dinosaur Jr.. produces is nothing but a beautiful new version of the rock continuum -- riff, power, beat and longing, created with an eye on the infinite future.

Recorded, as usual, at Amherst's Biquiteen, the sessions for Sweep It Into Space began in the late Autumn of 2019, following a West Coast/South East tour. The only extra musician used this time with Kurt Vile.

J Mascis says, "Kurt played little lead things, like 12 string one at the beginning of 'I Ran Away.' Then I ended up just mimicking a few things he'd done. I was listening to a lot of Thin Lizzy, so I was trying to get some of that dueling twin lead sound. (laughs)"

"But the recording session was pretty well finished by the time things really hit the fan. So I just ended up doing more things by myself. Like the mini digital mellotron on 'Take It Back.' Originally I'd thought I'd have Ken Mauri (who has done keyboard work for Dino in the past) come in and play piano. But when the Lock Down happened in March, that meant I was on my own. But it was cool."

Indeed, Sweep It Into Space is a very cool album. As is typical, Lou Barlow writes and sings two of the album's dozen tunes and Murph's pure-Flinstonian drumming drives the record like a go cart from Hell. Lou's songs here are as elegant as always. "Garden" is a mid-paced ballad with genteel guitar filigree giving it a '60 Brit feel in spots. And the album's closer, "You Wonder," is a strangely excellent answer to the question -- "How would Blue Oyster Cult handle a country tune?"

J's tracks flow and flower in the different directions he often follows. Some are guitar howlers, like "I Met the Stones," with a string sound midway between Hendrix and Asheton. Some are power ballads, like "And Me," its lyrics atomized in a manner invented by Mascis, then famously borrowed by Kurt Cobain. And there are anomalies, like "Take It Back," which starts with a blue-beat rhythm putting one in mind of Keith Richards' Jamaican explorations (at least for a little bit.)

But there are very few moments where you wouldn't know you were hearing Dinosaur Jr.. in blindfolded needle drop. They have a signature sound as sure as the Stooges or Sonic Youth or Discharge ever did. They continue to expand their personal universe with Sweep It Into Space, without ever losing their central core.

So if you ever do find yourself swept into space (hey, who knows?), I just hope these tunes are on your playlist.
--Byron Coley
Built To Spill
New built to spill lineup features Melanie Radford and Teresa Esguerra.
Pink Mountaintops
The "trippy country meets stoner rock" of Vancouver's Pink Mountaintops is the brainchild of Stephen McBean, who is also the singer/songwriter/guitarist for Black Mountain, which was formerly known as Jerk with a Bomb. McBean's solo project was also known by another name, One Easy Skag. He began playing with Jerk with a Bomb in the late '90s, and the band issued three albums and a 7" under that name. By late 2003, both Jerk with a Bomb and One Easy Skag were rechristened with their mountainous names, and in the summer of 2004, the Pink Mountaintops' self-titled debut album arrived. While the album became one of 2005's most prominent indie rock releases, McBean brought Pink Mountaintops back the following year with Axis of Evol. The well-received Outside Love arrived in 2009, followed by a pair of Black Mountain releases (In the Future and Wilderness Heart). The group's fourth studio album, Get Back, dropped in early 2014