Wednesday,
October
6th
, 2021
Lightning 100 Presents - The Harmony House Tour
Dayglow
Hovvdy
Doors: 6:00 PM
/
Show: 8:00 PM
All Ages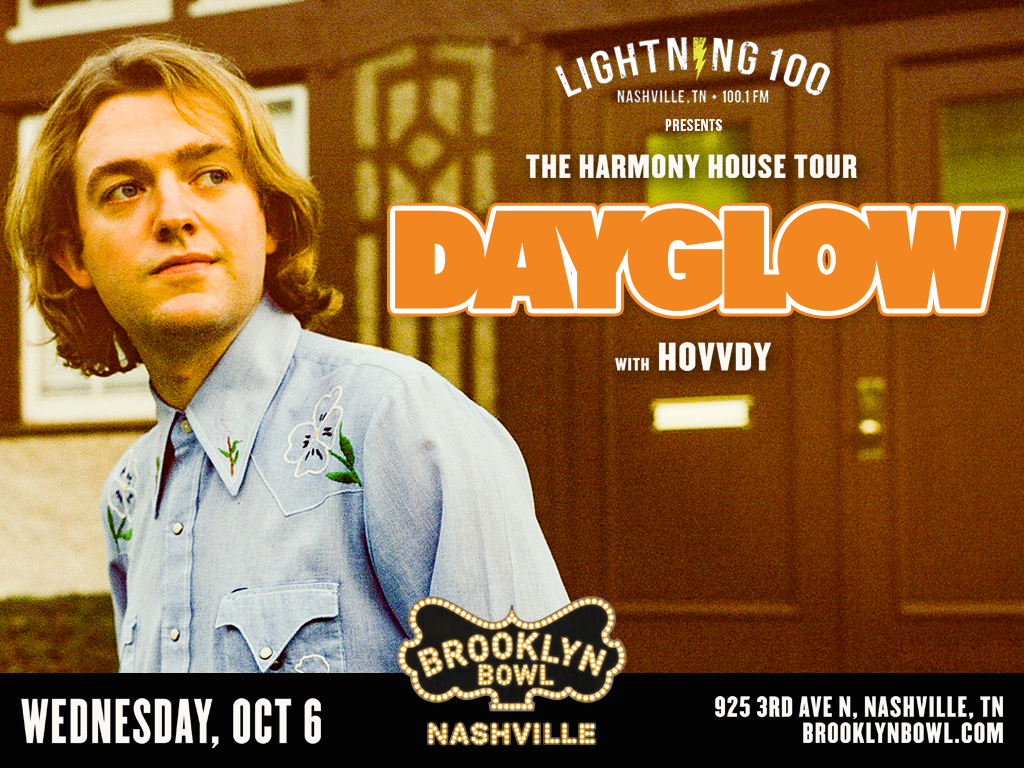 Event Info
Venue Information:
Brooklyn Bowl Nashville
925 3rd Avenue North
Nashville, Tennessee 37201
Because of the rise in cases due to the delta variant, a special COVID protocol is required for everyone that will be in attendance for Dayglow on 10/6/21 at Brooklyn Bowl Nashville. You, and anyone accompanying you in your party, are required to provide ONE of the following:
Proof of your vaccination record (vaccination card or picture of your card with a matching ID card), demonstrating you were fully vaccinated at least two weeks in advance of the day of show. OR proof of a negative COVID test, administered within 72 hours of the day of show, with matching ID card.
For information on free testing sites, please visit this link here: https://www.asafenashville.org/test-mask-resources/.
Brooklyn Bowl encourages mask wearing and encourages you to get vaccinated if you aren't already!
By purchasing a ticket you are acknowledging you will be required to show proof of vaccination or negative test result. There will be no refunds for tickets purchased, due to specific venue covid-19 protocol. If you receive a positive test before the show, please reach out to [email protected] and we will help facilitate a full refund.
If you have any questions or concerns, please reach out to us at [email protected].
To ensure you don't miss any of the show, please plan to arrive closer to doors to go through security and present your vaccination card or negative test. This process takes some time so please make sure you have your ID and Vaccination Card/Negative Results out and handy when going through security to expedite the process for all patrons.
Valid photo ID required at door for entry
This event is general admission standing room only
Doors: 6:00 PM
Show: 8:00 PM
Be sure to sign up for the Dayglow newsletter at
www.dayglowband.com
!
Dayglow VIP Storytellers Package
-One general admission ticket
-Early entry into the venue
-Intimate storytellers style Q&A session with Dayglow
-Custom Dayglow
Harmony House
button set
-Exclusive tour poster, autographed
-Official VIP laminate
-Limited availability
An inherent risk of exposure to COVID-19 exists in any public place where people are present. COVID-19 is an extremely contagious disease that can lead to severe illness and death. According to the local health authorities, senior citizens and guests with underlying medical conditions are especially vulnerable.
By visiting our establishment, you voluntarily assume all risks related to exposure to COVID-19.
Help keep each other healthy.
Artist Info
Dayglow
Picture it: A soft-focus shot of a bungalow on a leafy residential street. The single-storey house is painted robin's egg blue and there's a young man in a plaid suit standing outside the front door in his bare feet. He waves at the camera as the title appears across the lower third of the screen: Harmony House. It stars the lovable one-man-band Sloan Struble, and though you've never watched this TV show before, it feels comforting. With that wave, Struble invites you into his world—and his new album.
Struble, who records music as Dayglow, explains that his sophomore album began life as an imaginary sitcom. He'd begun writing new music after the release of his runaway 2018 debut Fuzzybrain, and found himself drawn to piano-driven soft rock from the late '70s and early '80s. He was also watching a lot of Cheers, the long-running sitcom that took the viewer to a place where, as the theme song goes, "everybody knows your name." "At the very beginning, I was writing a soundtrack to a sitcom that doesn't exist," he says. The music would generate a kind of impossible nostalgia for something that had never been real.
Much of Harmony House is about growing up and coping with change; after Fuzzybrain, he left university and decided to fully commit to being a musician. During this time he found a collection of poetry in his family's house that had been a favorite of his great-grandmother's. A line of verse there became a lyric on "December," his favorite song on the album: "So my friend, just remember every year has a December."
"Harmony House is about dealing with change and realizing that change is ok, that everything changes and it doesn't have to be overwhelming," Struble says. In a perfect coincidence, an inscription in the front of the book indicates that it was a gift to his great-grandmother from a friend. Now the song is a gift to listeners around the world who might need a reminder that change is a necessary part of life's journey. Like the gifted book of poetry, "December"—and Harmony House as a whole—is an act of kindness.
Struble was born and raised in Texas, and wrote the first song he recorded for Harmony House, "Medicine," while still in his dorm room. After Fuzzybrain, which he wrote mostly on guitar, he decided to write for piano. At 21, he's now out of school, but as he did on his debut, he writes, produces, records, and mixes all of his music himself—in his bedroom, no less.
"I tried to compose these songs in a way that you could just sit down at a piano and play them," he explains. "That's the sign of a good song, when it can live on its own musically."
That sort of sturdiness he strives for in his writing makes for timeless music, a quality Harmony House exudes. Even when he's writing about the sometimes overwhelming experience of contemporary life as it's lived both digitally and IRL, as he does on the opener "Something," the melodies are welcoming. In fact, there's a recurring melody introduced on that first track that appears on every subsequent song. You might not catch it on the first listen, but it's there anyway, like a gentle hand on your shoulder.
Beyond reassurance, the album also encourages you to get up and dance with its single "Close to You," Dayglow's first single in over a year and the gateway to Harmony House. Indebted to '80s anthems about shy feelings of love, like Whitney Houston's immortal "How Will I Know," "Close to You" is like a duet between Struble and his feelings of self-doubt. But the synth's propel him forward (and you to the dancefloor).
Harmony House is a finely calibrated, carefully fussed over expression of encouragement for anyone who needs it. The album ends with "Like Ivy," a mellow return to the melodic theme introduced on the opening track that describes "growing up like ivy" and the mysterious passage of time. Struble's boyish and gentle tenor explores its upper limits as he sings the big idea of Harmony House: "I'm learning to grow." It's a lesson that never ends.
Just Announced
Nashville
Free Bowling from 5pm-8pm!
Show: 5:00 PM
Nashville
Free Bowling from 5pm-8pm!
Show: 5:00 PM