Clutch
EyeHateGod - Tigercub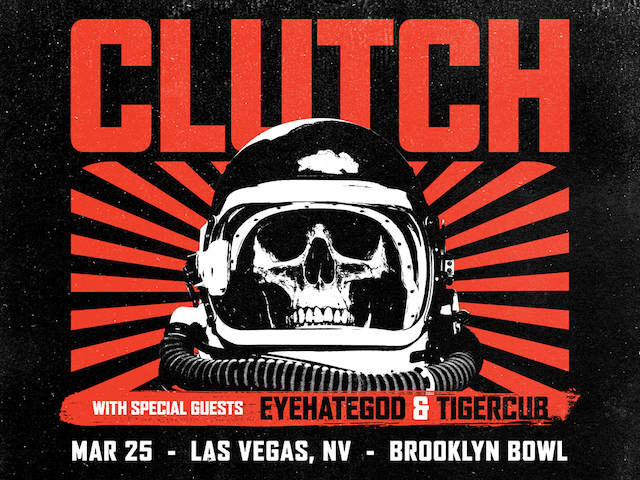 Event Info
Venue Information:
Brooklyn Bowl Las Vegas
The Linq Promenade
Las Vegas, NV
$35.00 General Admission
$37.50 General Admission (week/day of show)
$45.00 Club Level (General Admission)

BBLV Presale: Thursday, Jan 20th @ 10am PST
On sale: Friday, Jan 21st @10am PST


Based on the latest local guidelines, attendees are no longer required to provide proof of negative COVID-19 test AND/OR vaccination for entry into this event. Brooklyn Bowl encourages mask wearing and encourages you to get vaccinated if you aren't already! Be sure to check our venue website for the latest updates and guidelines as entry requirements are subject to change.


An inherent risk of exposure to COVID-19 exists in any public place where people are present. COVID-19 is an extremely contagious disease that can lead to severe illness and death. According to the local health authorities, senior citizens and guests with underlying medical conditions are especially vulnerable. By visiting our establishment, you voluntarily assume all risks related to the exposure to or spreading of COVID-19.
Free Local Parking
- Residents of Clark County who purchased a ticket will receive free parking the night of the show at any Caesars Self-Parking locations. The Parking Validation Machine is located inside the Retail Store of Brooklyn Bowl.
All support acts are subject to change without notice.

All guests must have a valid government/state issued ID for entry to the venue. No refunds.

Tickets purchased in person, subject to $2.00 processing charge (in addition to cc fee, if applicable).

All general admission tickets are standing room only.

ALL TICKET PRICES INCLUDE NEVADA'S 9% LIVE ENTERTAINMENT TAX

Special room discounts via Caesars Hotels & Resorts for traveling fans. For hotel rooms use promo code: BRB15 at www.caesars.com applicable for rooms at The LINQ Hotel and the Flamingo.

*Advertised times are for doors -- show time not available*
Artist Info
Clutch
Formed in 1991 in Germantown, MD, Clutch features Neil Fallon (vocals), Tim Sult (guitar), Dan Maines (bass), and Jean-Paul Gaster (drums).

The band built a local following through constant gigging. After releasing the classic 7" single "Pitchfork," the band caught the attention of Earache Records. Earache released the legendary Passive Restraints EP. Shortly after the release of Passive Restraints, EastWest Records signed the band. Their debut LP, Transnational Speedway League..., followed in 1993.

A self-titled album appeared two years later on Atlantic Records and afforded Clutch their first mainstream exposure, as the label released a trilogy of psychedelic-tinged singles, "Big News," "Spacegrass," and "Escape from the Prison Planet."

A lengthy and very successful North American tour with Marilyn Manson put an exclamation point on this early part of Clutch's career.

The band jumped to the larger Columbia label for 1998's Elephant Riders.

Clutch re-joined the Atlantic ranks in 2001 for their 4th studio album, the six-figure selling Pure Rock Fury. The band enjoyed their first Top 40 single, "Careful With That Mic." A year later, however, the band was tortured with label problems, and it was three years before the sonically brilliant Blast Tyrant was released by indie label DRT Entertainment.

In the meantime, the band had self-released the studio album Jam Room, and their first concert release Live at the Googleplex on their own River Road Records. These two pieces would eventually see the surface through Megaforce Records a few years later.

The 36-month period from 2004 to 2007 saw heavy, non-stop touring of North America and England, mainland Europe, the Scandinavian territories, and Australia. The band was now in top playing shape and writing the most challenging material of their career. With a decade of experience behind them, Clutch was now passing or outlasting most of their mid/late 90's contemporaries.

Clutch's 7th studio album, 2005's Robot Hive/Exodus (DRT), produced by J. Robbins, was another breakthrough release, showcasing a diversity most rock bands could never dream of pulling off.

2007's From Beale Street to Oblivion took off where RH/E's final track "Gravel Road" left off. A hardened, simple blues approach with power took the former Germantown High School compatriots to the next level. The album's lead single, "Electric Worry," wasn't just another successful Top 40 rock single, with its anthem-like chorus and high energy guitar jam/drum solo climax making it an instant Clutch classic.

In 2008 the four band members and longtime manager Jack began forging plans for the Clutch owned and operated label, Weathermaker Music. Initially self-distributed, Weathermaker Music quickly found a home at Sony/RED Distribution. Since 2013 the label has been distributed via Rough Trade Distribution/Believe and its sub-distributors in Europe.

Clutch's 9th studio album, Strange Cousins From the West, was released in 2009. It debuted at No. 37 on the Billboard charts, initially becoming the best-selling Clutch release of their storied career.

In 2013 Weathermaker Music released Earth Rocker, which went straight to No. 1 in the Billboard Top Hard Rock Albums, No. 6 in the Billboard Top Rock Albums, and No. 15 in the Billboard Top 200. "Earth Rocker" has been described as heavier and faster than the preceding albums.

Clutch released their 11th studio record, Psychic Warfare, in 2015 via Weathermaker Music. The album reached No. 11 on the Billboard 200 and No. 1 on both the Hard Rock and Rock charts.

On September 7, 2018, Weathermaker Music released the 12th Clutch album, Book of Bad Decisions. The album charted No. 1 on the Billboard Hard Rock Charts and came in at No. 16 on the Billboard 200. Simultaneously the album entered various European and Australian charts. Rolling Stone described Book of Bad Decisions as "bathed in the grit and liberal fuzz tone that have made their live shows legendary." Clutch had become recognized as one of the best rock acts of the modern era.

Decades of global touring have been one of the main drivers of Clutch's success. Whether in club shows around the world, or big festival appearances on several continents, fans love and continue to support this band. The global pandemic may have halted the band's live appearances over the last 21 months, but Clutch is now back on the road, with a new album expected for 2022. Stay tuned.
EYEHATEGOD
Back in 2017, all that veteran hardcore/doom-slingers Eyehategod wanted to do was tour, and for about three years that's all they did. They even back-burnered plans to finish the follow-up to 2014's incendiary Eyehategod album in order to storm stages across the U.S. and play exotic nations they'd never visited such as Indonesia, South Korea, Vietnam, Thailand, Israel, Tasmania and more. They played and toured with some of their favorite bands, such as OFF!, Negative Approach, Sheer Terror, Corrosion of Conformity, AntiSeen and the Obsessed.
"To be able to play with these bands and have them as our peers is really great. We were touring with these people and exchanging war stories, and at the same time I knew they supported and dug what we were doing."
Eyehategod's new album, A History of Nomadic Behavior, is a reflection of the chaos and euphoria the band experienced over the past three years of touring crossed with the past two years of political turmoil, pandemic terror and remorseless hypocrisy.
"We're not a political band, but it was hard not to be affected by the news from the past year," Williams says. "During this recording, I thought a lot about how stupid humanity has become and how America is now completely divided with these people who don't believe in science and blindly follow liars and nonsensical ideologies. Some of those feelings maybe found their way into these songs, but it is mostly subliminal."
Like Eyehategod's best albums, including 1993's Take as Needed For Pain, 1996's Dopesick and 2014's comeback Eyehategod, the band's first new full-length in seven years, A History of Nomadic Behavior, is a blowtorch-distortion and blues-saturated combination of mostly mid-paced songs pierced with scarring pain and disconsolate fury.
The first release from the album, "High Risk Trigger," encapsulates the filth and damaged beauty of Eyehategod. The song starts with a chugging groove reminiscent of SST-era Soundgarden before erupting into a doomy minor pentatonic passage that wouldn't sound out of place on an '80s Saint Vitus album. Lyrically, the song -- like most Eyehategod ditties – is cryptic and abstract, but it touches on the all-pervasive fears bred by an invisible germ storm sweeping through the nation and a society sickened by police brutality. ("Infection is the way, disruptive crowd takes aim/ Burn down the rail yard house, destroy the U.S.A.").
"These songs don't tell any stories, but there are a few themes in there that people can figure out if they listen closely," Williams says. "The riots and the elections and COVID were all happening and all that was in the back of my mind when I did the vocals for the record."
Another highlight of A History of Nomadic Behavior is the jarring "Fake What's Yours," which begins with a low-frequency buzz before shifting into an off-kilter start-stop riff that leads into the spoken line, "Silence was their trademark/won't say it, never talk."
"That's another one that has some ideas about the current situation in the lyrics, with a line like, 'Post-death ballot box/ Hands off stabbing block,'" says IX. "Having said that, once again, we're not a political band, it's not like I ever sit down and say, 'Okay, now I'm going to write a song about a certain subject.' For me, I just write down these phrases and ideas over time and then I use a William Burroughs style kind of cut-up method. I randomly mix everything up and put them back together so they're inherently strange, but start making sense in other ways."
If the three-year Eyehategod tour period that preceded A History of Nomadic Behavior was a wild ride down desolation lane, it was also a grim affirmation of the present and a foreshadowing of the future. The band started the tour with a birthday celebration in Detroit for Michael on April 14, 2017. The revelry was especially sweet; just four months earlier he was confined to a hospital bed, weak from liver failure.
"Death is a part of life, it's a roll of the dice. Sometimes you take life as it comes, other times you fight to stay alive. I was hospitalized for three months while I waited for a donor. I was a goner and it was definitely a close call, but I made it out safe."
Literally reborn and feeling healthier than he had in years, Williams was excited to embark on a lengthy international road trip. In addition to proving he could still barrel his way through a fierce hardcore set, he and the band played to audiences overseas that had not yet seen Eyehategod. However, of course the group won over the crowds. That doesn't mean there weren't moments when Eyehategod found themselves wishing they could communicate with the locals while experiencing a longing for the comforts of home and feeling sensory overload and exhaustion. Eyehategod have learned over the years that misery loves company.
"To a certain extent, we thrive on being miserable," Williams admits. "Sometimes you just hate everything and for some strange reason we're motivated by that vibe."
During the time Mike IX was ill, his bandmates wrote songs that were a natural extension of what they had done for the eponymous Eyehategod album, but more structurally complex. At one point, they thought they were finished with the album, but then they listened back to it and decided it didn't live up to their standards. So, they kept working, recording between tours, adding parts and removing others. They also recorded some brand-new songs. Finally, all they needed were vocals, but Williams wasn't ready to head directly into the studio when they had a bit of time off, opting instead to relish the little time he had. "Having a small break like that, I needed to decompress, breathe and let it all sink in, I knew I would get it done when the time was right and that was what happened."
"We toured our asses off for three years and that's where A History of Nomadic Behavior basically comes from," he says. "We were living in vans, hotel rooms, back stages and tour buses constantly, and we survive like that. We love to tour even though it can get really tense when you're living so close together for so long. But everybody in the band has got a tinge of mental illness, which makes us work together really well. The dysfunctional family syndrome. There can be tension there, and I think that push and pull works for us in the songs and at live shows, when we're onstage."
As with many albums composed in the COVID-19 era, A History of Nomadic Behavior was fraught with challenges. The first, and most significant complication, hit in the middle of the night when the band was in the heart of Eastern Europe doing a few headline gigs after a full tour with Napalm Death. Everyone was abruptly awakened at 3 a.m. while in Kiev, Ukraine and told that the borders were being closed due to the pandemic and they should probably immediately leave the country to guarantee the band weren't stuck overseas for an additional 30 days.
"We called to get tickets back to the United States and some airports weren't letting people change planes in certain countries, so there were limited ways to get home," Mike recalls. "The tickets shot up to thousands of dollars within minutes. It was pretty insane. Luckily, we got someone at the airport to help us and she got me routed through Istanbul, Turkey and back to America"
Fortunately, Jimmy Bower, drummer Aaron Hill and bassist Gary Mader were done with all the basic music by the time the music industry shut down. In July 2020, in full social distancing mode, Williams flew to producer Sanford Parker's Hypercube Studio in Chicago and tracked all of his vocals in eight days. While Williams wrote some of the album lyrics in advance, others were written on the spot or rewritten right before they were recorded.
"Different things came from all over the place," he says. "But it flowed pretty well, and if I came to a point where something wasn't working and I couldn't figure out what to do next --which does happen when you're recording – Sanford [Parker] helped me out. I'm in another band with him, Corrections House, so we work well together."
The disjointed assembly process for A History of Nomadic Behavior may have led to the unsettling, chaotic tone of the album. Or maybe Eyehategod have simply taken their next step towards complete creative nihilism by following their self-titled release with another scathing, scabrous slab of cacophonous physical stress. At the same time, there's no question that the band members have evolved musically.
"It's an obvious word to use here, but we've matured as a band," Williams says. "Whether we knew it or not and, whether it's what we even wanted, we somehow became more professional. But we're still keeping it raw at the same time and that's satisfying."
In keeping with the longtime aesthetic of the band, songs like "Built Beneath the Lies" and "Circle of Nerves" confront the thrall of negativity through fiercely aggressive and inventive sounds, riffs and lyrics. But there are glimmers of light between the blackened filth; Eyehategod expose ugliness and brutality to offer therapeutic release.
"Some people think Eyehategod is completely negative 24 hours a day," Williams agrees. "And we definitely give off those negative vibes when we play. But really, this band was always meant to be fun for us and it still is fun. Back in the '90s, when I didn't know if I was going to make it another day due to excessive chemical and alcohol abuse, I enjoyed life on the edge and living day by day..., however this is better. I'm actually loving being alive."
"I hate to use the word positive, but I kind of think what we do is about clawing through the misery of life and making it to the next day," he says. "And there are definitely exciting
positive moments along the way. Me and Jimmy always said when it stops being fun that's when we're done. And after 33 years in the band, it's still fun."
Tigercub
Tigercub have firmly displayed their ability to lacerate the surface with ease with thundering "I.W.G.F.U.", the band's first new material since their second album "As Blue As Indigo" landed at the start of summer. Produced by the band's front man Jamie Stephen Hall and mixed by Tom Dalgety (Pixies, Ghost, Royal Blood), the latest cut from Tigercub further establishes Hall's talent for pairing woozy melody to infectious, contorting riff-work. Hooky and immediate, "I.W.G.F.U." is another statement from a band clearly on an ascent, quickly following up their releasing their sophomore album, As Blue As Indigo
As Blue As Indigo to rave reviews from metal, rock and alt press internationally. The record, that Upset calls one to "cement them at the top of the food chain", was written and produced by the band's own Jamie Stephen Hall, engineered and co-produced by Adrian Bushby (Foo Fighters, Muse) and mixed by Tom Dalgety (Pixies, Ghost, Royal Blood). Written over two years, "As Blue As Indigo" champions introspection drawing on the subjectivity of colour, paired with masterclass songwriting, mind-bending arrangements constructed with boundary-pushing production, "One of the best rock records of the year," claims Under The Radar Magazine.
The band's Jamie Hall had the following to say about the single:
"I wanted a party song to kick off our first headline tour in four years. I.W.G.F.U is that song, it's a thrill ride, start to finish, it journeys through the dynamic spectrum at breakneck speed and I think lands harder than anything we've ever done."
"It's about drinking, and that moment when despite my best efforts to abstain, my impulse always takes over and I say: "fuck it" let's go big."
Jamie Stephen Hall, who stands 7 foot tall and is the band's sole songwriter, claims the creative fire for "As Blue As Indigo" was sparked by colour theory and the notion that what each human eye sees as colour could be totally subjective. That idea led him to explore his own personal issues through a similar prism, exploring topics including anxiety, depression, toxic masculinity, the death of his grandmother and the recent suicide of a close friend; and in turn began spinning the lyrical thread that ties the entire record together. Putting himself under the microscope was to become key:
"I never really felt in the past that I could talk about really personal things. I'd always used a mask. It's quite easy to do that because you're not exposing yourself in anyway. I'd always subconsciously tried to shy away from talking about myself," he notes. "I didn't want to do that anymore. I wanted this to be about me and process my emotions for the first time. I think that's made us more genuine and authentic as a band"
As Blue As Indigo is as colourful a journey as the vivid title suggests, its ten tracks span the progressive to the immediate, the gentle to the monolithic, and most of all fulfill the significant potential the band have always promised. As Blue As Indigo is an album that looks set to cement their place at the top table of British rock acts in 2021.