Saturday,
December
11th
, 2021
CHVRCHES with special guest Donna Missal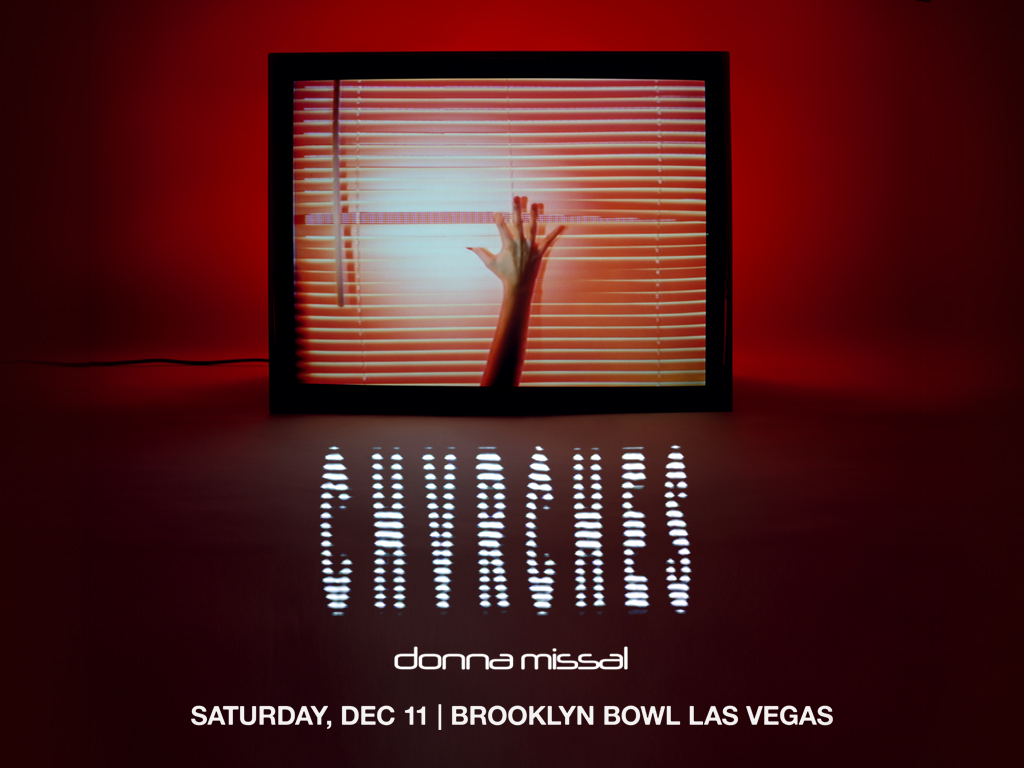 Event Info
Venue Information:
Brooklyn Bowl Las Vegas
The Linq 3545 S Las Vegas Blvd
Las Vegas, NV
$31.00 General Admission
$34.00 General Admission (week of show)
$36.00 General Admission (day of show)
$51.00 Club Level



Please note this show is requiring all fans to provide proof of a negative COVID-19 test within 72 hours of the event OR full vaccination for entry.
All fans must have received a negative COVID-19 diagnostic test within 72-hours before entry to the facility and provide printed proof of a negative result prior to entering the venue. Or, be fully vaccinated against COVID-19 (at least two weeks after final dose) and provide proof of vaccination - either the original vaccination card or a printed copy of the vaccination card.

Clark County, the Southern Nevada Health District, and Nevada National Guard are offering free drive-thru COVID-19 testing and vaccination services at UNLV Stan Fulton Parking Lot, 801 E. Flamingo Road (off Paradise Road). For more information on testing locations, please visit this link here: https://www.clarkcountynv.gov/top_services/covid19/testing_locations.php

There will be no refunds for tickets purchased, due to specific venue covid-19 protocol. If you receive a positive test before the show, please reach out to [email protected] and we will help facilitate a full refund.

If you have any questions or concerns, please reach out to us at [email protected].


All guests must have a valid government/state issued ID for entry to the venue. No refunds. All general admission tickets are standing room only.

ALL TICKET PRICES INCLUDE NEVADA'S 9% LIVE ENTERTAINMENT TAX
Tickets purchased in person, subject to $2.00 processing charge.
*Advertised times are for doors -- show time not available*
* Venue closes between 12am - 1am unless otherwise noted*
Special room discounts via Caesars Hotels & Resorts for traveling fans. For hotel rooms use promo code: BRB15 at www.caesars.com applicable for rooms at The LINQ Hotel and the Flamingo
Artist Info
CHVRCHES
If you love driving fast with the windows rolled down playing top 40 radio at full volume and you play in a band, you usually have one goal: get your songs out of your garage and into the worlds' collective car speakers as soon as humanly possible. Lauren Mayberry, Iain Cook, and Martin Doherty certainly fit this bill. They unabashedly adore music of the wind-in-your-hair variety. And, of course, they play in a band, the Scottish synth pop group, CHVRCHES.
And yet … Since emerging in 2013 with the glistening brightness of their breakthrough single, "Recover," CHVRCHES have always projected an insularity, a subtle but unmistakable wariness about leaning into their obvious Hit Song of the Summer-writing potential. At their core, CHVRCHES are true blue Glaswegian punks. They've wanted to protect themselves, and protect that undercurrent of melancholy that gives depth to their sunniness.
To this end, the band members have always kept their creative process close and tight. They've been diligent to the max about managing the way their band is portrayed. And, of course, they have historically produced every piece of music themselves, including their 2013 debut, The Bones of What You Believe, and 2015 follow-up, Every Open Eye. "Certainly not," was their go-to response, Martin recalls laughing, when asked to consider collaboration. "We knew that if you get led down the wrong path it can completely derail your career." But if there's a theme in CHVRCHES' world as they prepare to release their third record, Love Is Dead, it's willful, determined openness, both ideologically - more on that in a minute – and in terms of actual creative process.
Donna Missal
On her debut album This Time, L.A.-based singer/songwriter Donna Missal shows the elegant collision of elements at play in her music: a poet's command of tone, a soul singer's boundless intensity, a bedroom musician's willful embracing of intimacy and experimentation. Along with channeling the raw passion she first ignited by playing in rock bands in her homeland of New Jersey, This Time expands on the melodic ingenuity displayed in recent singles like "Driving" and "Thrills." Above all the album is a testament to the sheer force of Missal's voice, a dynamic but delicate instrument that achieves a beautifully nuanced expression even as she belts her heart out.

With its title taken from a track Missal co-wrote with her frequent collaborator Sharon Van Etten, This Time is an uncompromisingly honest look at living entirely on your own terms. "I've spent most of my life being hyper-focused on time, which I think is something that a lot of women obsess over," says Missal. "We're in such a rush to make things happen, when really we should take the time to figure out what we actually want out of life. And even though it's so fucking hard to have that kind of patience, I think it's so important to believe in yourself enough to let things develop in a way that feels right to you."

Produced by Tim Anderson (Solange, BANKS, Halsey), This Time matches that defiant spirit with a sound inspired by the rule-bending sensibilities of mixtape culture. Blending elements of soul and hip-hop and rock-and-roll, Missal shaped This Time's sonic landscape partly by laying live recordings down on tape, then sampling those recordings to imbue her songs with a fresh yet timeless energy. Much of that live recording took place at the iconic Different Fur Studios in San Francisco, with the sessions headed up by Missal and Nate Mercereau (a musician known for his work with Leon Bridges). "I really wanted this album to reference my history of playing in bands," Missal points out. "It's all these very pure, talented musicians playing together in a room, but then we took that and sampled it and altered in a way that creates something totally new."

Throughout the album, Missal brings her time-warping but gracefully arranged sound to songs that capture the most specific of emotions. Crafting her lyrics with the kind of idiosyncratic detail that instantly etches each line onto your heart, Missal explores self-empowerment on tracks like "Transformer"—a fiercely charged anthem about "having the courage to take what you want from life, without apology." On "Thrills," with its softly swaying groove and dreamy guitar tones, Missal's voice soars and shatters as she muses on self-love and sexual confidence. "'Thrills' is about owning what makes you real," says Missal. "There is a shift happening in our societal standards of beauty and sexuality, and the more we embrace our flaws the closer we become to effecting real change. I'd love for people to hear the song — and not just women, but anyone who feels disenfranchised— and remember that being sexy and confident comes from self-acceptance."

Elsewhere on This Time, Missal infuses social commentary into songs like "Girl": a stripped-back yet intricately textured track that unfolds with both gentle playfulness and piercing vulnerability. "I wanted to address this idea that women need to be pinned against each other in order to succeed, or need to point out the flaws in other women just to feel good about themselves," says Missal. "That kind of thinking has been around forever, and it doesn't feel like it's going away—but the more we talk about it, the better it's going to get." And on "Driving," Missal delivers one of the album's most mesmerizing moments, with her flowing melody, hypnotic rhythms, and ethereal vocals merging with a quiet grandeur that's simultaneously escapist and inspiring. "'Driving' is about being on the precipice of taking control over your life—that feeling of seeing something you want in the distance and making the decision to go for it," says Missal. "It's about saying 'Even if it takes a long time, or I hit some bumps along the way, it's all okay because I'm the one behind the wheel.'"
From song to song on This Time, Missal shows a natural musicality she credits to her father, a former session drummer and songwriter who ran his own studio in Manhattan. Born in New York, Missal moved with her family to New Jersey as a kid, and grew up playing with the vintage microphones and 16-track tape machine her dad kept in the basement. "Every year he'd have us make Christmas albums for my grandparents," recalls Missal, who's one of six children. "We'd go out and buy these instrumental CDs of Christmas songs and he'd record us singing over it, and as we got older we moved onto making our own arrangements and playing the instruments ourselves," says Missal. "It was my first experience in singing and I just fell in love with it."


When Missal was 10, her parents enrolled her and her siblings in a summer program at a local community theater, mainly as a way for the home-schooled family to interact with other kids. That program immediately sparked a love of performance in Missal, and helped her to develop the remarkable vocal range that now gives her music so much vitality. During her high school years she joined a theater program at a vocational school in a nearby town, but decided against furthering her education at a conservatory. "I was looking at all these schools that cost up to 40 thousand dollars a semester, and it just didn't feel right," Missal says. "Senior year I told my teacher that I didn't think that was my path, so he graduated me four months early, and then I joined a rock band."

Missal stuck with her band for several years, first playing basement shows around New Jersey and later booking gigs in Manhattan. As the band's lyricist, she discovered a deep love of songwriting, and dedicated herself to honing her craft. Eventually moving to Brooklyn, Missal balanced her time between bartending and writing, and soon came up with "Keep Lying"—a soulful slow-burner showcasing her full-throated vocal delivery. "At the time I was struggling to understand what I wanted to do with my music," says Missal. "I didn't have the confidence yet to stand behind my vision, so I thought I could get other artists to cut my songs and just thrive that way." Although she'd initially planned to use "Keep Lying" as part of her effort to score a publishing deal, Missal ultimately self-released the demo and landed it in the hands of Zane Lowe, who premiered it on Beats 1 (and, in turn, helped push the demo to the top of Spotify's Viral charts).

While record companies quickly came calling, Missal decided to focus on refining her vision, in part by working with a series of co-writers and producers. After finding a strong creative chemistry with Tim Anderson, she moved to L.A. and brought This Time to life by way of a deliberately unhurried process. "I allowed myself a lot of time to figure out what I wanted to say and how I wanted to say it, and because of all that I ended up making a record that really reflects who I am," she notes.

Having signed her deal with Harvest Records in early 2018, Missal has also recently appeared as a featured artist on Macklemore's GEMINI, written songs for the Netflix original series The Get Down, and supported K.Flay at a pair of sold-out shows. And with the release of This Time, one of her greatest hopes is for the album to impart the same sense of self-discovery that informed its creation. "This isn't a record about love and loss and relationships," Missal says. "It's about taking chances for yourself, figuring out who you are and really standing behind that. I made a point of putting myself out there as a real person navigating this life at this moment in time, because I want to do whatever I can as an artist to help people feel more confident in navigating their own lives. I'd love for the listener to receive the message that you can take your time to learn and love yourself. That's been the most important discovery that I want to share with this album."
Just Announced
Las Vegas
A smooth sailing party through 70s & 80s soft rock
Doors: 8:30 PM