Thursday,
April
2nd
, 2020
Brent Cobb & Them with special guest Erin Rae
Doors: 6:00 PM
/
Show: 8:00 PM
18+ Years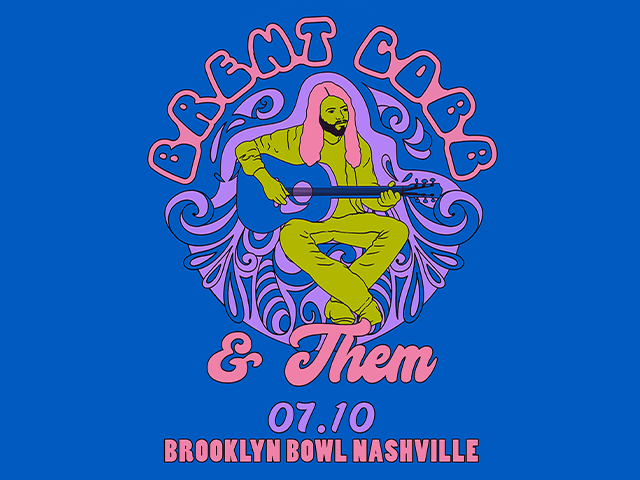 Event Info
Venue Information:
Brooklyn Bowl Nashville
925 3rd Avenue North
Nashville, Tennessee 37201
General onsale Friday, December 20th, 2019 @ 12:00pm CT
Artist Info
Brent Cobb
With a GRAMMY nomination under his belt and two major label albums to his credit, Brent Cobb is announcing his biggest headlining show to date. With the opening of Brooklyn Bowl Nashville, he is slated in the initial roll out announcement to launch the new venue. Cobb had previously announced an acoustic run of shows in February and March that give the fans the opportunity to hear his songs showcased the way he wrote them. For the Brooklyn Bowl Nashville show and two others in Birmingham, AL and Decatur, AL, he is performing fully plugged in with his band Brent Cobb and Them.

Cobb's songwriting career does not begin and end with his solo accomplishments. Brent has also secured cuts with Luke Bryan, Kenny Chesney, Miranda Lambert, Little Big Town, and Lee Ann Womack, and toured with artists like Chris Stapleton and Margo Price. He received a Grammy nomination for Best Americana Album for 2016's Shine On Rainy Day, and issued his most personal album yet, 2018's Providence Canyon.

As 2019 was winding down, he dropped the single "Feet Off the Ground" with Jade Bird, released a three-part video series called Come Home Soon, and completed his headlining Sucker for a Good Time Tour.

He credits his touring history for inspiring the quicker pace of the material on Providence Canyon. "I've always liked the funkier side of country and the funkier side of rock," he explains. "Those influences have been a part of me for years, but they're really coming to the forefront now. When you're touring with Chris Stapleton, and you're performing to a crowd of 10,000 people before he hits the stage, you find yourself wanting to play something upbeat."

If Shine On Rainy Day felt like a laidback country album for front-porch picking sessions, then Providence Canyon is built for something bigger. This is music for juke joints, pool halls, and roadhouses, filled with electric guitar (performed by Cobb's touring bandmate, Mike Harris), B3 organ, percussive groove, and co-ed harmonies. Each song was captured in a small number of takes, with Brent and Dave Cobb relying on instinct and spur-of-the-moment ideas.

"It's in the blood," Brent says of his connection to his cousin, who has overseen award-winning records for Jason Isbell, Sturgill Simpson, and Chris Stapleton, as well as Shine On Rainy Day and Providence Canyon. "We didn't grow up together, but we're so similar in our approaches. It's important to me to do this with him, because these songs are about the places I'm from, the places I've visited, and the people who've taken me there. My family is all over these songs."

Cobb doubles down on his commitment to his wife and daughter with "Ain't a Road Too Long," whose mix of Bible Belt boogie-woogie and Southern rock channels influences like the Band. On the drawling, guitar-driven "Mornin's Gonna Come" and "Sucker for a Good Time," he battles against the temptations of the road, where the drinks are free and the nights are long. Then, on the album's breezy title track, he casts his mind back to his teenage years and trips to Providence Canyon, a 150-feet gorge in the sandy clay of southwest Georgia, less than an hour's drive from Cobb's hometown.

"Growing up, I didn't know the definition of 'providence,'" he admits. "I looked it up in my early 20s, and the definition is something like 'the protective power of God—or nature—as a spiritual power.' When I read that, it inspired the whole song. I was 23 at the time, and I missed the old days and the freedom of youth. Years later, I still try to keep my music honest and somehow sacred."

Erin Rae
Gifted with a unique ability to fuse musical genres and influences to craft songs that feel fresh and wholly her own, with her new album Putting On Airs (2018, Single Lock Records), Erin Rae has thrown down a direct challenge to the stereotype of what a Southern singer should be. Both lyrically and sonically, she strikes a fiercely independent chord, proudly releasing a deeply personal record that reflects her own upbringing in Tennessee, including the prejudices and injustices that she witnessed as a child that continue to impact her life to this day. According to Rae, "this album was born out of a need to do some healing work in my personal life, in order to address some fears and patterns of mine to allow my true feelings to come to the surface."

Recorded in the dead of winter in an old Franciscan monastery on Wisconsin's Fox River, the isolated environment created the perfect setting for Rae and her bandmates to track these genre-busting songs, using the chapel and other unique spaces within the cavernous building to explore new sonic boundaries, all while continuing to showcase the hypnotic vocals and song-serving restraint that have become her trademark.