Beach Bunny
Wednesday, Ky Voss
Doors: 6:00 PM
/
Show: 7:30 PM
All Ages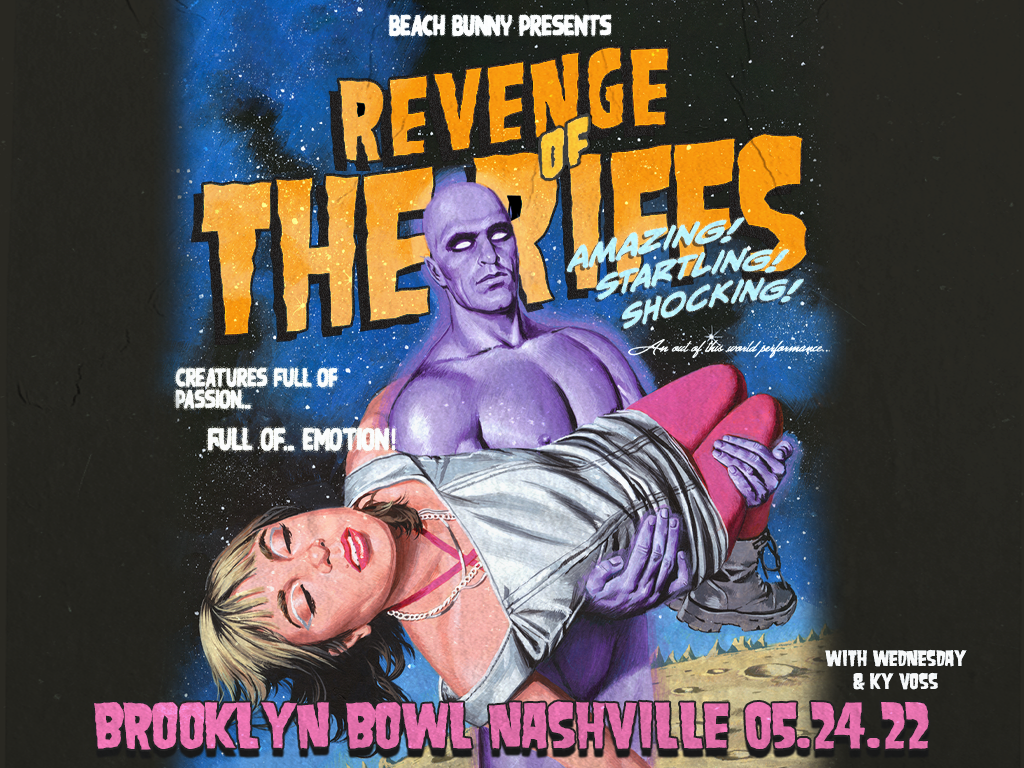 Event Info
Venue Information:
Brooklyn Bowl Nashville
925 3rd Avenue North
Nashville, Tennessee 37201
Because of the rise in cases due to the variants, a special COVID protocol is required for everyone that will be in attendance for this show at Brooklyn Bowl Nashville. You, and anyone accompanying you in your party, are required to provide ONE of the following:
Proof of your vaccination record (vaccination card or picture of your card with a matching ID card), demonstrating you were fully vaccinated at least two weeks in advance of the day of show. OR proof of a negative COVID test, administered within 72 hours of the day of show, with matching ID card.
We recommend uploading your vaccination card or negative COVID test information to the Bindle app — available for free on the Apple App Store or Google Play Store. This is a secure and private app that will allow you to quickly display your information, ensuring timely entry into the venue. For more information, visit joinbindle.com.
Brooklyn Bowl encourages mask wearing and encourages you to get vaccinated if you aren't already!
By purchasing a ticket you are acknowledging you will be required to show proof of vaccination or negative test result. All Sales are Final.

If you have any questions or concerns, please reach out to us at nashvilleinfo@brooklynbowl.com.
To ensure you don't miss any of the show, please plan to arrive closer to doors to go through security and present your vaccination card or negative test. This process takes some time so please make sure you have your ID and Vaccination Card/Negative Results out and handy when going through security to expedite the process for all patrons.

Valid photo ID required at door for entry
This event is general admission standing room only.
Artist Info
Beach Bunny
Few artists can pinpoint an emotion as clearly and honestly as Beach Bunny's Lili Trifilio. The Chicago artist writes songs about love and sadness that are so immediate it's pretty much universal. On Honeymoon, the excellent debut album from Trifilio's songwriting project and band, it's as if she's singing about things everyone has felt before but never had the courage to put in words themselves. When she sings, "Part of me still wants you, part of me wants to fall asleep" on the anthemic opener "Promises," it's vulnerable but it's also defiant and wholly relatable.
Beach Bunny started in 2015 as a solo outlet for Trifilio to process her feelings about a budding relationship. Her early recordings were spare, lo-fi and home-recorded, delicately tackling heartbreak and loss across EPs like 2015's Animalism, 2016's Pool Party, and 2017's Crybaby. "When I started writing, I just needed to get out what I was feeling somehow. It was definitely a very therapeutic process," says Trifilio. Her performances at countless house shows and venues around the city quickly earned her music a fervent local audience
In 2017, the project became a full band with Matt Henkels (guitar), Anthony Vaccaro (bass) and Jonathan Alvarado (drums) joining on. With 2018 single "Sports" and their breakout 2018 EP Prom Queen, Beach Bunny is now one of Chicago's most exciting indie rock bands. Their infectious and muscular new musical palate perfectly translated to a raucous, sing-along heavy live show. Though Trifilio's songwriting remained just as resonant and intimate as her earliest efforts, having her self-described "family unit" backing her has brought a new vitality to these songs. Tracks like "Prom Queen" have earned them millions of streams and their obvious onstage chemistry charmed on tours with bands like PUP and Remo Drive.
Honeymoon is the stunning culmination of Trifilio's evolution as a songwriter and artist. Recorded at the iconic Chicago studio Electrical Audio with producer Joe Reinhart (Hop Along, Algernon Caldwaller), the nine songs on the LP burst with energy. "Joe really pushed us to experiment. With our older songs, our setup was really bare bones. But here we decided to really play around, winging harmonies and trying out so many guitar tones," says Trifilio. Take a song like the wiry and driving "Colorblind," which boasts one of the biggest choruses the band's ever tackled. The record captures the life-affirming and communal intensity of their live show.
"My goal going into this album was touch upon all the themes someone might go through when exiting the honeymoon stage of a relationship," says Trifilio. She adds, "If you heard it, you could think that this is a breakup album but it's really focusing on those times where you're just not really sure where the relationship is headed and things are getting kind of shaky." This is an LP for the comedown after a whirlwind fling, where doubt and confusion sets in and big breakup-or-don't decisions have to be made. When she sings on the rocker "Ms. California,"I need to let go of everything / It's getting hard to fight the feeling" she captures the insecurity perfectly. Honeymoon shows that it can be an uncertain and scary time but it can also be thrilling to commit to love.
This excitement really hits on the swooning lead single "Dream Boy." Possibly the most upbeat number in Beach Bunny's entire catalog, Trifilio's lyrics match the song's winking positivity with lines like, "If you're gonna love me make sure that you do it right / I'll be under your window in the moonlight." She says of the track, "This was one of the earlier songs I wrote in the album that came so easily. I wrote it in an hour. It touches on being in love with someone but sometimes they irritate you." The timeless closer "Cloud Nine" is even more optimistic, full of jangly riffs and blasting power chords. She sings, "But when he loves me I feel like I'm floating / When he calls me pretty I feel like somebody." It's easy to find the good even when things are tough.
Unlike Beach Bunny's self-released EPs which were largely written in a single month, Honeymoon came about patiently, over the course of nine months. The result is a more confident and clear-eyed band, one that still can hone in so vividly on the ups-and-downs of being in love. Says Trifilio, "As a band, after taking our time we got tighter as friends and musicians. We've learned how to jam more and just be ourselves." Josh Terry September 30, 2019 Chicago, IL
Wednesday
In a long and emotionally exhausting year of being inside (alone, in my case,) I have found myself thinking about mirrors. How to avoid spending too much time in them, most days. Taking inventory of the real, physical self is difficult work, work that I'm not entirely opposed to but work that became immediately more treacherous for me when I had to witness the very real toll that time, modern anxieties, isolation, and boredom were taking on me. It was easier, it seemed, to spiral into a not-so-distant glorious past, to use memory as a tool of both excitement and healing.

But, speaking of excitement, I like to stumble towards a band with no agenda, no purpose, uncovering sound almost on accident. This is how I first heard Wednesday. The band came to me and I don't remember how, or why. They simply arrived, as if we'd been traveling toward each other our whole lives. I Was Trying To Describe You To Someone soaked into my summer of 2020, and in sound, in spirit, in central concerns and the execution of them, it took me back to an era before the current era, which I'd needed at the time. The past can feel less hellish than the present if we are, sometimes, not fully honest with ourselves.

There is the trick of nostalgia that I spend a lot of time playing with in my own writing, and somewhat tormented by in my own living. The very real idea that nostalgia is both a useful tool and also a weapon if it isn't paired with something that approaches a type of rigorous honesty. Which is hard to do, sometimes. My memories flare and fire with only the finest aesthetics of a past that I was certainly in, but I often deem myself as only a secondary character, if even that. Which, of course, lets me off the hook in the name of fluorescence and flourish, in the name of sound and sight.

I love Twin Plagues first for its songs, plainly. If you, listening to Wednesday for the first time around or even the second time around, stumble onto this album, I promise you the songs will be what grab you first, beyond any of my foolish high-level emotional theorizing or projections. Every band that loves the pursuit of their craft the way this band does is one to follow, because getting to sit on the sidelines and watch them level up is a real generosity. Twin Plagues is overflowing with hooks, but what most delighted me about the band from the start has taken a leap: they have managed, somehow, to get even better at structuring their noise from one movement of a song to the next. The idea of the "song" itself is flexible in their hands, so much so that each song holds two, or three songs within. This, again, generosity. "Cody's Only" is a ballad until it begins to threaten a storm of volume, and then, in its final act, it becomes something else altogether. "One More Last One" is a shoegaze-y trip that swells and swells until it overflows, but it doesn't stop. It keeps offering and offering and offering. I say "noise," and never in a dismissive sense. Everything has a place, and so much of its place is to serve the true heart of this album, and the true heart of Wednesday's music, which is allowing cracks through which tenderness can enter and exit as needed. Tenderness that, it seems to me, is always wrestling underneath whatever else might be happening on a song's surface.

But if I may go back to all of these ideas of nostalgia and our old, tricky, past selves that are, indeed, a part of the house of bricks that make up our present self, what I also hope you, listener, might adore about this album is the exact moment at the start of "The Burned Down Dairy Queen" when Karly sings I was hiding in a room in my mind / and I made me take a look at myself. Because if you, like me, have been avoiding mirrors – both metaphorical and real – this is where the album becomes a lighthouse, echoing bright across the darkness of my otherwise dark and empty chambers. So much of these songs meditate on the past in far less romantic ways than I have found myself meditating on the past, and I was desperate for the recalibration that this album provided. I was desperate for making myself less blurry in my own memories and reckoning with my full, multitudinous self. The self that was once unkind, or less gentle, or less curious than I am now. I needed this album to remind me to embrace the fullness of my unfinished nature, the years I have lived and – with any luck – the years I have to go.

So, yes, the songs are good. You will maybe roll down your windows on a comfortable day on the right stretch of road in a warm season and turn the volume up when "Birthday Song" gets good and loud and sing-along-able. You might sit atop a rooftop at night, closer to the moon than you were on the ground, and let "Ghost Of A Dog" churn and rattle you to some nighttime realization that you couldn't have had in silence.

But, even on top of all of this, on top of all the pleasures and the mercies that the sounds on this album might afford. I hope and think, too, that it will remind anyone who listens that we are a collection of many reflections. All of them deserving patience.

— Hanif Abdurraqib
Ky Voss