Saturday,
October
16th
, 2021
Bad Religion & Alkaline Trio
with War on Women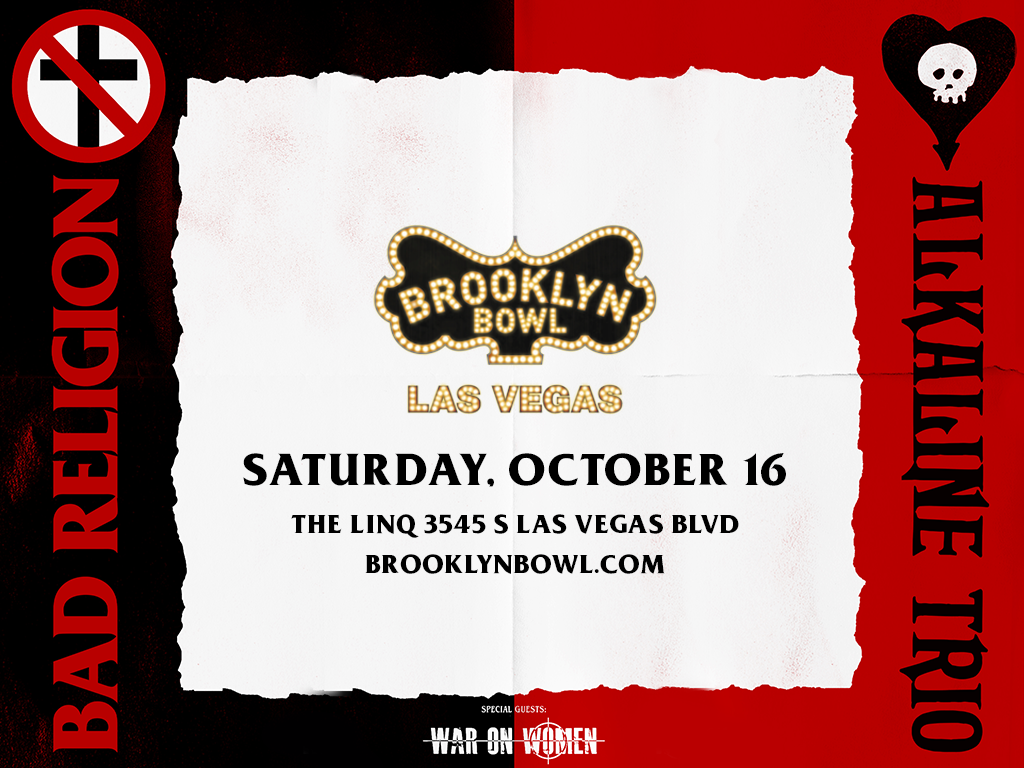 Event Info
Venue Information:
Brooklyn Bowl Las Vegas
The Linq Promenade
Las Vegas, NV
$38.00 General Admission
$40.00 General Admission (week of show)
$42.50 General Admission (day of show)
$55.00 Club Level


Please note this show is requiring all fans to provide proof of a negative COVID-19 test within 72 hours of the event OR full vaccination for entry.
Proof of your vaccination record (vaccination card or picture of your card with a matching ID card), demonstrating you were fully vaccinated at least two weeks in advance of the day of show. OR proof of a negative COVID test, administered within 72 hours of the day of show, with matching ID card.

A negative PCR or antigen COVID-19 test will be accepted. Please be sure to bring printed or digital proof of your negative test result, dated and time-stamped. At- home test will not be accepted for entry
Acceptable Vaccines include: Pfizer | Moderna | Johnson & Johnson | vaccines authorized by WHO (if vaccinated outside of the U.S.)
MASKS: In accordance with local guidelines: Until further notice, masks are required to be worn at all times for attendees, regardless of vaccination status, except while actively eating or drinking. All Brooklyn Bowl staff are fully vaccinated and must wear masks while inside the venue.


By purchasing a ticket you acknowledge you will be required to show proof of vaccination or a negative test result. There will be no refunds for purchased tickets based on non-compliance of venue COVID-19 protocols, however, if you are unable to attend a show due to a positive Covid-19 test, please reach out to vegasinfo@brooklynbowl.com and we will help facilitate a full refund.

An inherent risk of exposure to COVID-19 exists in any public place where people are present. COVID-19 is an extremely contagious disease that can lead to severe illness and death. According to the local health authorities, senior citizens and guests with underlying medical conditions are especially vulnerable. By visiting our establishment, you voluntarily assume all risks related to the exposure to or spreading of COVID-19.
Clark County, the Southern Nevada Health District, and Nevada National Guard are offering free drive-thru COVID-19 testing and vaccination services at UNLV Stan Fulton Parking Lot, 801 E. Flamingo Road (off Paradise Road). For more information on testing locations, please visit this link here: https://www.clarkcountynv.gov/top_services/covid19/testing_locations.php

ALL TICKET PRICES INCLUDE NEVADA'S 9% LIVE ENTERTAINMENT TAX
Tickets purchased in person, subject to $2.00 processing charge.
*Advertised times are for doors -- show time not available*
* Venue closes between 12am - 1am unless otherwise noted*
Special room discounts via Caesars Hotels & Resorts for traveling fans. For hotel rooms use promo code: BRB15 at www.caesars.com applicable for rooms at The LINQ Hotel and the Flamingo
ALL SALES ARE FINAL. NO REFUNDS OR EXCHANGES
Artist Info
Bad Religion
Acclaimed Los Angeles punk rock band Bad Religion's new album entitled Age of Unreason is out now on Epitaph Records. Since the group's formative years they have steadfastly advocated for humanism, reason, and individualism. Now, when these values are in decline and nationalism and bigotry are on the rise, Bad Religion's message has never been more essential. Age of Unreason delivers a powerful and inspired response - a political and deeply personal treatise on all they believe in.
"The band has always stood for enlightenment values," co-songwriter and guitarist Brett Gurewitz explains. "Today, these values of truth, freedom, equality, tolerance, and science, are in real danger. This record is our response."
The songs on Age of Unreason are both furious and meticulously crafted. There are references to contemporary events; racist rallies, Trump's election, the erosion of the middle class, Colin Kaepernick's protest, alternative facts, conspiracy theories, and there are homages to the literary and philosophical works that have long inspired the band.
The track "Chaos From Within" uses the band's iconic fast, powerful and melodic sound to examine the current border wall controversy with the lyrics, "Threat is urgent, existential / with patience wearing thin / but the danger's elemental / it's chaos from within." As co-songwriter and lead singer Greg Graffin says, "Throughout history, walls have been used to keep the barbarians out, But it seems to me that the truly barbaric aspect of a civilization is the chaos that comes from within."
Age of Unreason is Bad Religion's 17th studio album and was co-produced by Carlos de la Garza. It is a timely work of immense power and one of their very best. Society's step backwards has propelled the legendary band decidedly forward. There is an elevated craft in the way the song "Candidate" vividly evokes the current president, "I am your candidate / I am bloody lips and makeup /I'm your caliphate, opioids and mutilation / a celebrity and my name is competition." Another track, entitled "The Approach," addresses the possible demise of democracy with the lyrics, "There's a moral and intellectual vacuum / and you're right to be lookin' askance / philosophically moribund, revolution hasn't a chance."
This record is both a dire warning and testament to resilience. The overall message being - seek truth about the world and oneself. As Graffin, who holds a PhD in the history of science, says, "When I saw all these headlines about how terrible our world had become, I started doing a lot of reading. I read about the French revolution, the American Revolution, the Civil War, and I started to recognize that this is a pattern of history and something we should never venture into. There are ample warnings against it. Every school child should know this but it's hard to get people to read about these things. Maybe this album can help. Because right now, with social media, we are just playing a version of kill the guy with the ball."
Alkaline Trio
Alkaline Trio's new album Is This Thing Cursed? is available now. This is the band's 9th studio release and their first new music in 5 years.
Produced and mixed by Cameron Webb, Is This Thing Cursed? is the first Alkaline Trio album written almost entirely in the studio. It's when the songs began to come together that the band noticed the new material forming parallels with Maybe I'll Catch Fire. According to the band, Is This Thing Cursed? is a cousin or sibling to Fire. Co-lead vocalist and bassist Dan Andriano explains, "the songwriting process is almost like what it was back in the day. We would just kind of write a song, be excited about it, then move on. We wrote in that spirit in the studio. I really feel like we made a record that the old school fans are going to dig."
War On Women
War On Women is a co-ed feminist hardcore-punk band. Formed in Baltimore, MD in 2011, W.O.W. use driving riffs and in your face vocals that attack the listener both sonically and lyrically, penning catchy and confrontational songs that touch on rape culture, street harassment, the gender wage gap, transphobia, and other vitally pertinent social issues.
Riff-fueled manifestos are nothing new for War On Women. The co-ed feminist punk troupe has been tackling injustice one song at a time since their 2010 inception. Storming out the gate with teeth gnashing and spitting venom, War On Women's self-titled 2015 debut crossbred riot grrrl ferocity with the nimble aggression of thrash. Hailed for their crystalline jabs at societal ills, War On Women prove that hardcore can incite change that ripples far beyond the parameters of the stage.
War On Women are neither a crew of young bucks nor a contagion of seasoned legends. They don't fit neatly into metalloid machismo or hulking hardcore tropes. They have nothing to prove, and there's nothing more delightfully dangerous than that.