Thursday,
July
28th
, 2022
Anthrax & Black Label Society
Hatebreed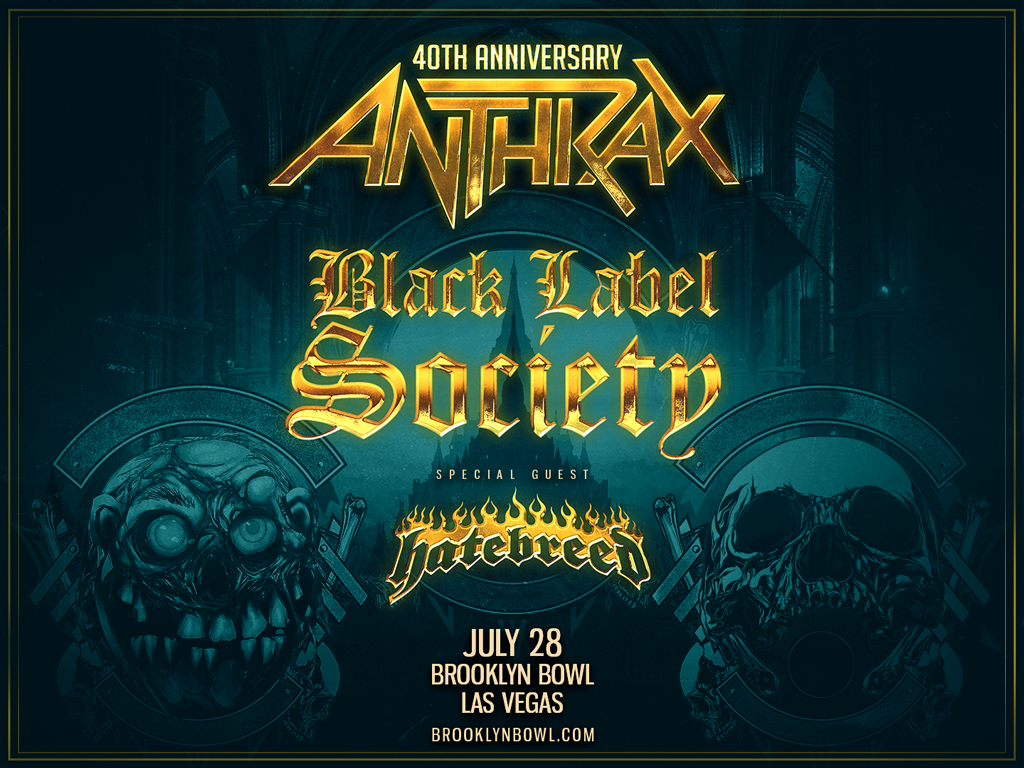 Event Info
Venue Information:
Brooklyn Bowl Las Vegas
The Linq Promenade
Las Vegas, NV
$45.00 General Admission
$47.50 General Admission (week of show)
$49.50 General Admission (day of show)
$65.00 Club Level

Citi Presale: Monday April 18th @ 9am PST
Live Nation Presale: Tuesday April 19th @ 10am PST
Spotify Presale: Tuesday April 19th @ 11am PST
Ticketmaster Presale: Wednesday April 20th @ 7am PST
Blabbermouth Presale: Wednesday April 20th @ 7am PST
Knotfest Presale: Wednesday April 20th @ 7am PST
Anthrax Fan Presale: Thursday April 21st @ 10am PST
Black Label Society Fan Presale: Thursday April 21st @ 10am PST
BBLV Presale: Thursday April 21st @ 10am PST
Public On Sale: Friday April 22nd @ 10am PST

** Tickets will be delivered via email 3 days prior to the event**


Based on the latest local guidelines, attendees are no longer required to provide proof of negative COVID-19 test AND/OR vaccination for entry into this event. Brooklyn Bowl encourages mask wearing and encourages you to get vaccinated if you aren't already! Be sure to check our venue website for the latest updates and guidelines as entry requirements are subject to change.


An inherent risk of exposure to COVID-19 exists in any public place where people are present. COVID-19 is an extremely contagious disease that can lead to severe illness and death. According to the local health authorities, senior citizens and guests with underlying medical conditions are especially vulnerable. By visiting our establishment, you voluntarily assume all risks related to the exposure to or spreading of COVID-19.
Free Local Parking
- Residents of Clark County who purchased a ticket will receive free parking the night of the show at any Caesars Self-Parking locations. The Parking Validation Machine is located inside the Retail Store of Brooklyn Bowl.
All support acts are subject to change without notice.

All guests must have a valid government/state issued ID for entry to the venue. No refunds.

Tickets purchased in person, subject to $2.00 processing charge (in addition to cc fee, if applicable).

All general admission tickets are standing room only.

ALL TICKET PRICES INCLUDE NEVADA'S 9% LIVE ENTERTAINMENT TAX

*Advertised times are for doors -- show time not available*
Artist Info
Anthrax
Twenty-twenty-one marks Anthrax's 40th anniversary, during which time the band has released 11 studio albums, been awarded multiple Gold and Platinum certifications, received six GRAMMY nominations, and a host of other accolades from the media, the music industry, and fans. In 1991, the band helped break down race and genre barriers when they collaborated with Public Enemy on the track "Bring The Noise," and was the first metal band to have its music heard on Mars when NASA played "Got The Time" to wake up the Mars Rover in 2012. Along with Metallica, Slayer, and Megadeth, Anthrax is a card-carrying member of The Big Four, the four bands that defined the speed/thrash/metal genre. Anthrax has also introduced a series of now sold-out signature whiskeys and bourbons and partnered with the Stockholm-based NEZUMI Studios for a high-end, limited-edition Baleine dive watch. Twenty-twenty-one has seen the release of Z2 Comics' "Among the Living" graphic novel with a track-by-track storyline inspired by Anthrax's iconic 1987 album, Among The Living. The book pulls together a "who's who" of names from the worlds of comics and music who created "bubble dialogue" and original artwork to express what the songs meant to them. Taking advantage of COVID-19's prohibition of concert touring, the band has been hard at work writing the next Anthrax album.

Starting May 3, 2021, Anthrax counted down the days to their official July 18 anniversary, first with a three-times-a-week, 40-episode, guest-filled web series that included testimonials from friends such as Chuck D, Kerry King, John Carpenter, Slash, Tom Morello, Rob Zombie, Robert Trujillo, Dave Grohl, Keanu Reeves, and many more. The celebration culminated on July 16 with a global livestream event that offered a set list that spanned the band's entire career.
Anthrax is: Scott Ian/guitars, Frank Bello/bass, Charlie Benante/drums, Joey Belladonna/vocals, Jonathan Donias/guitars.
Hatebreed
With unflinching tenacity, the impenetrable heavy metal hardcore factory that is HATEBREED has brought forth yet another iron cast, sonic weapon with Weight Of The False Self. It comes as no surprise that their eighth, full length album is the result of the usual sweat and blood that have cemented HATEBREED's unique niche in the world of music for over two decades. Renowned for their ability to provide an intense and cathartic release for their fans, HATEBREED challenged their writing style through this album cycle in order to produce material that is exceptionally relatable in a contemporary world flooded with overstimulation, emotional dampening, and lack of social patience. "Weight Of The False Self' is a perfect representation of HATEBREED in 2020, a fresh onslaught of soon to be classics with all the elements that led you here since day one," explains guitarist Frank Novinec.
A metaphorical weight is carried by almost every individual in regards to their emotional construct. Our experiences shape who we become and over time, gradually produce a heavy burden that we continue to lug along. For many of us, the weight becomes so much that we struggle to get out from underneath, let alone move. It is these struggles that are translated throughout Weight Of The False Self.
"
Seen or unseen, everyone is carrying a burden. The music we love helps us bear the weight
" proclaims vocalist
Jamey Jasta
. Tracks like "
Cling To Life
" supply a play on words that usually mean to desperately cling to those last breaths, but here, these words display that in the wake of true loss and mourning, to cling to the idea of happiness and future can bring sincererelief. On the other end of the philosophical spectrum, the first single "
Instinctive (Slaughterlust)
" not only presents a fresh vocabulary word, but screams about the power that comes from our defense mechanisms when backed into a corner. When someone is being pursued by their past, another person, or just defending their own territory, it's only a matter of time and distance before they can explode into a savage, primal beast. "
It should be illegal to make a song this heavy,
" describes bassist
Chris Beattie
.
The song "Wings Of The Vulture'' is a metaphor for all the negative forces of nature, fate, and humanity that hope to prey upon us during some of our weakest moments; waiting for the death of something meaningful. "A Stroke Of Red," contrary to what it may seem at first, touches on the concept of having the choice to harm yourself or others. "It's an eye for an eye, but that leaves everyone blind. Once you go down that dark, violent path, there is no turning back. This song is a dark canvas; leaving my body to exact terrible things on a different plane, and coming back to myself in order to learn from it so that you don't ever give in to that dark, carnal desire," explains Jasta.
Album artwork by renowned heavy metal artist Eliran Kantor depicts a man chiseling away at the massive sculpture of a stone bust. In Kantor's classic painting style, cracking through the clay of turmoil and sadness, a light is beginning to shine through the rock as the sculptor turns his face from the blinding beams of healing. The image visually combines the album's themes of emotional struggle and managing to overcome pain after layers of depression, anxiety, betrayal, and heartbreak have hardened atop a person's soul.
Over the course of over 20 years and 8 albums, the writing process for a band like HATEBREED has stayed safe in its roots, but still reached out and grabbed for crisp and compelling pieces of progressive sound to add to the mix. There are waves of fresh sounds while the massive foundation that houses HATEBREED remains strongly held in place. "On this album I really pushed myself; made myself rewrite things until they were better, until it clicked. I pulled myself out of that comfort zone. In the age of legacy bands having to play so many hits from their catalogue at shows, we love to hear fans request new songs when we're playing live," explains Jasta, "we've really played into our strengths with this one."
"There's no shortage of beefy-riffs and adrenaline-fueled-drums on this record. I'm proud to say that we will consistently provide a soundtrack to which you can mosh in your living room and destroy your apartment," details drummer Matt Byrne.
Recording the album once more with the help of ZEUSS, the band experienced a sense of challenge and breakthrough that enabled them to obtain a new level of sound. After working with the band for several years, and while normally spending his time with bands that have a fairly different sound, Zeuss is able to test HATEBREED and expand their already infamous vibration. "It was really great working with Zeuss again on this one. Love the way the guitars sound," comments guitarist Wayne Lozinak. As time goes on, the quality of production technology only seems to get better and better, creating a safe and productive nest in which albums can evolve and end up with a much cleaner sound; Weight Of The False Self brings early 2000's era HATEBREED into the new decade.
Due to be released on November 27th, 2020 via Nuclear Blast Records, Weight Of The False Self will likely be noted as one of HATEBREED's strongest, and most memorable albums.