Friday,
August
25th
, 2023
WATERFRONT JAZZ FESTIVAL
Presented by Brooklyn Bowl Philadelphia
Doors: 6:00 PM
/
Show: 7:30 PM
ALL AGES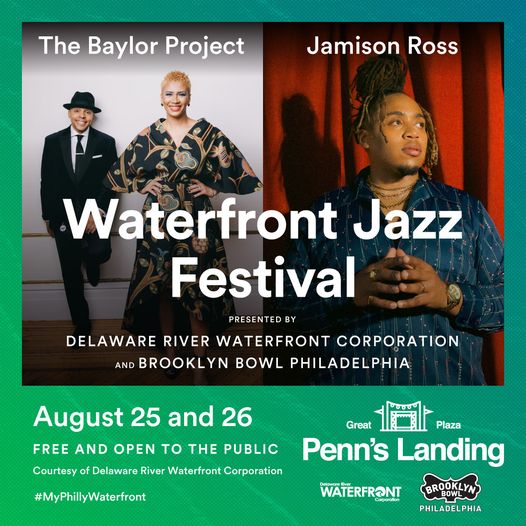 Event Info
Venue Information:
Brooklyn Bowl Philadelphia
1009 Canal Street
Philadelphia, Pennsylvania 19123
Join us at the Waterfront Jazz Festival presented by DRWC and Brooklyn Bowl Philadelphia on August 25 and August 26 at the Great Plaza at Penn's Landing featuring six-time Grammy-nominated and NAACP Image Award Winner, The Baylor Project, and Grammy-nominated soul artist Jamison Ross.

This two-day festival is free and open to the public. All ages are welcome.
Enjoy a full lineup of amazing performances that also include Snacktime, a 7-piece, brass-heavy band known for their soul-energizing street performances, as well as the O2001 Jazz Ensemble.
Schedule
Friday, August 25
6 pm: Doors Open
7:30 pm: The Baylor Project
Saturday, August 26
2 pm: Doors Open
3 pm: Orchestra 2001 Jazz Ensemble
5 pm: Snacktime
7:30 pm: Jamison Ross
About The Baylor Project
The Baylor Project, featuring husband and wife Jean Baylor and Marcus Baylor, is an enticing collaboration steeped in the heart and soul of jazz. As the children of Pastors, Marcus' and Jean's musical roots were planted deep within the church, and it was there that the road was paved for the influence of jazz, gospel, blues, and soul to make its mark. Their debut CD "The Journey," was released on their own label, Be A Light, topped the Billboard Jazz Chart at Number 8 in 2017, and a year later garnered two GRAMMY® Nominations for Best Jazz Vocal Album and Best Traditional R&B Performance. Two years later during one of the most challenging years in recent history, The Baylors released their single, "Sit On Down" in 2020 which earned a third GRAMMY® Nomination for Best Traditional R&B Performance, solidifying The Baylor Project as an undeniable force. Their second album, "Generations," released in 2021 earned the duo its first NAACP Image Award win for Outstanding Jazz Album-Vocal and its fourth GRAMMY® Nomination for Best Jazz Vocal Album. "Generations," a cultural anthology rooted in everyday life experiences, became the #1 jazz vocal album on the JazzWeek radio charts, and the standout song "We Swing (The Cypher)" was named among NPR Music's 100 Best Songs of 2021.
About Jamison Ross
Jamison Ross is an artist whose music emanates from the intersection of R&B, gospel, and blues supported by modern production – contemporary Soul. Jamison's most recent project is his first Affective Music release and is influenced by some of history's greatest Soul singers, including Marvin Gaye, Rance Allen, and Al Green. A native of Jacksonville, FL, Jamison honed his talent studying at Douglas Anderson School of the Arts, before attending Florida State University and then on to the University of New Orleans, where he earned a Master of Music. Shortly after graduating, Jamison released his debut album, Jamison (2015), earning his first GRAMMY nomination. In 2019, Jamison and business partner, David S. Hargrett founded Affective Music, a Soul music-focused record label and management company dedicated to defining the sound of Soul for this era. Later that year, the label released Mykal Kilgore's debut single, Let Me Go, produced by Jamison, earning his second GRAMMY nomination. Jamison's unique ability to marry smooth vocal melodies with soulful production is sure to take audiences on a listening experience like never before. In the current state of music, Jamison Ross is a refreshing treat to true music lovers.