Saturday,
February
4th
, 2023
WXPN Welcomes
The Hold Steady
Friendship
Doors: 7:30 PM
/
Show: 8:30 PM
21+ Years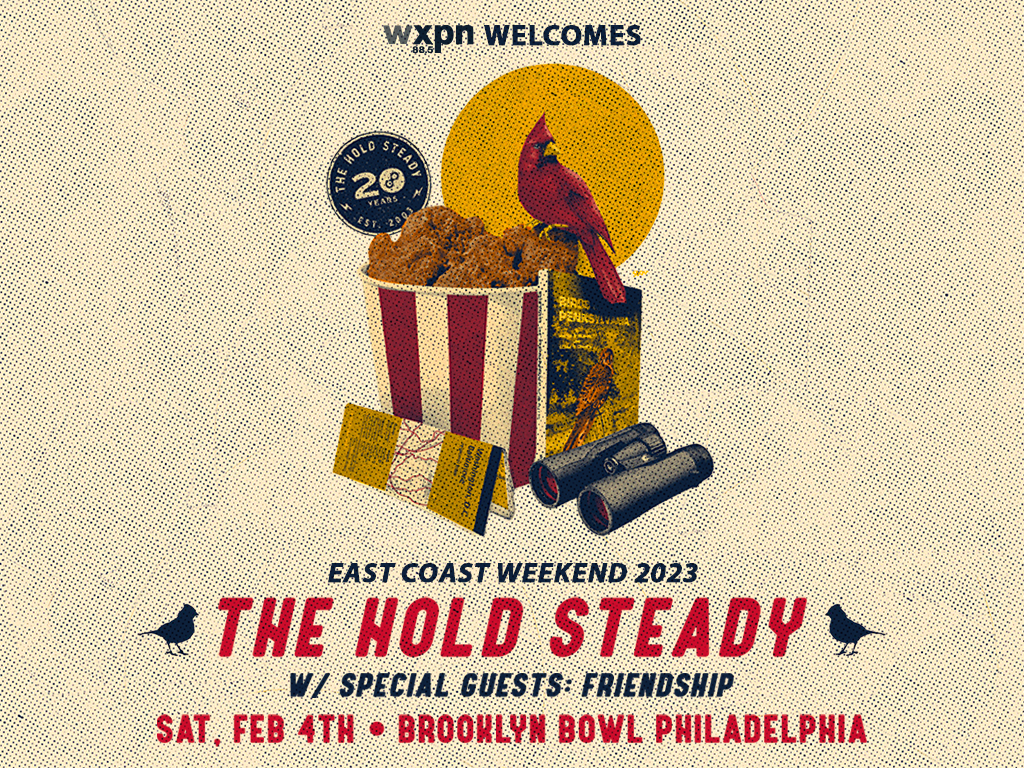 Event Info
Venue Information:
Brooklyn Bowl Philadelphia
1009 Canal Street
Philadelphia, Pennsylvania 19123
Based on the latest local guidelines, attendees are no longer required to provide proof of negative COVID-19 test AND/OR vaccination for entry into Brooklyn Bowl. Policies are subject to change for individual performances, please refer to individual event pages for specific entry requirements.

An inherent risk of exposure to COVID-19 exists in any public place where people are present. COVID-19 is an extremely contagious disease that can lead to severe illness and death. According to the local health authorities, senior citizens and guests with underlying medical conditions are especially vulnerable. By visiting our establishment, you voluntarily assume all risks related to the exposure to or spreading of COVID-19.
Valid photo ID required at door for entry.
This event is general admission standing room only.
Artist Info
The Hold Steady
Formed in 2003, The Hold Steady have released eight albums, numerous singles and have played over a thousand shows.

The Brooklyn-based band has performed in all 50 states in the USA and throughout Canada, Europe and Australia. The Hold Steady's music has appeared in movies, advertising and TV, including on Game Of Thrones and Billions. In addition, that band has written original material for the Seth Meyers cartoon The Awesomes and Meyers' 2019 stand-up special Lobby Baby.

Released in early 2021, The Hold Steady's most recent record Open Door Policy, achieved the band's highest chart position of any album, debuting #6 on the Billboard Current Album Chart. Vulture gushed the record "expands their horizons," and "gives the Hold Steady new heft and variety without undercutting the sharpness of the hooks or singer-guitarist Craig Finn's heart-wrenching novelistic lyricism."

2023 marks the 20th Anniversary of The Hold Steady and will see an expanded collection of music and activities to celebrate the milestone with their fans. The band's 9th album, The Price Of Progress, will be released March 31, 2023 on their own Positive Jams record label via Thirty Tigers.

On January 28, 2023 the band will play a special 20th Anniversary Show at the Williamsburg Music Hall, which stands at the site of former club North Six, where The Hold Steady played their debut show in January 2003.

A weekend of East Coast shows will follow, with dates in Baltimore, Washington D.C. and Philadelphia February 2-4/

Year five of The Weekender, The Hold Steady's annual three show stand in London, occurs March 10-12, 2023.

In April, the band will visit Portland, OR for three shows April 27-29 before playing at the WFUV Highline Bash in NYC on May 12, followed by two shows in Boston May 13-14.

June 30-July 2 will see THS return to one of their biggest markets, Chicago, for two special shows at the new Salt Shed (June 30-July 1) with Mountain Goats and Dillinger Four, before closing out the weekend at The Empty Bottle July 2.

The Hold Steady returns to Minneapolis-St. Paul September 2, followed by shows in Jersey City, NJ (September 22) and Philadelphia (September 23), and Las Vegas (October 7).

The band will finish the year with the annual four-night Massive Nights celebration at Brooklyn Bowl in Brooklyn, NY from November 29 through December 2.

The Hold Steady is: Bobby Drake (drums), Craig Finn (vocals), Tad Kubler (guitar, vocals), Franz Nicolay (keyboards, vocals), Galen Polivka (bass), and Steve Selvidge (guitar, vocals).
Friendship
Friendship's Merge debut, Love the Stranger, moves like a country record skipping in just the right spot, leaving its fellow travelers longing for a place they've only visited in their dreams. Guitarist Peter Gill, drummer Michael Cormier-O'Leary, bassist Jon Samuels, and hawkeyed balladeer Dan Wriggins map out the group's particular, breathtaking landscape and invite the listener to share in its glory.

Love the Stranger's invitation is all the more wondrous because its characters have clearly been hurt before. "I need solitude and I also need you," Wriggins reckons in "Ugly Little Victory." Wide awake, vulnerable, and gimmickless, Friendship won't hesitate to confide in us, or even ask for help when the moment calls, like on the lyrical centerpiece of "Alive Twice":

Under your eyeball spell, I was losing myself/ Not in the good way you used to talk about/ I remember a day, Cedar Park Cafe/ I was in a bad place and you set me straight/ With your on-the-nose advice

Between instrumental pit stops at "Kum & Go" and "Quickchek," local references in Love the Stranger create a catalog of human perception, presented as roadside attractions. From grape jelly residue ("Ramekin") to the site of a demolished cathedral ("St. Bonaventure") to King of the Hill quotations ("Smooth Pursuit"), the record's images craft a symbolic language of high and low Americana, both evocative and consistently accessible. Spending time with Love the Stranger creates a community—one in which the window between the listener and the music-maker shatters in full, until all that remains are the fragments you decide to pick up together.

Like its sprawling lyrical references, Love the Stranger's production is both familiar and capacious enough for pedal steel, synth strings, airy folk guitar field recordings, and MIDI pad exploration to work in vital harmony. Influenced by Friendship's punk and indie peers as much as road-star forebears like Lucinda Williams and Lambchop, Wriggins says of the recording sessions: "We all got to stretch out, chase our personal musical fixations, and build on each others' work. Bradford Krieger, our engineer at Big Nice Studio, has a mind-blowing creative energy and hundreds (thousands?) of instruments." He recalls further: "I wanted the album to sound like Emmylou Harris and the Hot Band in the '70s. Pete wanted it to sound like a semi full of spent fuel rods, barreling towards a runaway truck ramp. Jon kept reminding us that the studio is an instrument, and Michael wanted it to sound like the breakdown two-and-a-half minutes into Shuggie Otis' 'Strawberry Letter 23.'"

Some breakdowns, however, are irreparable. Wriggins, a manual laborer and poet, calls "Hank" "a song about when you go to fix something that's broken and realize the tools you're supposed to fix it with are also broken." Form follows function on the mesmerizing outro of the single, which buzzes with the sound of a shoddy Craigslist guitar from Woonsocket, RI (incidentally, the home of the Museum of Work & Culture) getting chainsawed in two.

Friendship is probably already your favorite band's favorite band, a long-revered IYKYK of DIY with a devoted cult following from Wawa to In-N-Out. With Love the Stranger, the Friendship universe only continues to expand and grow more open-hearted, more inviting, with every passing note. It's a record that locates the listener exactly where the listener is, and wherever that may be, makes a friend out of them, too. All said and done, the age-old maxim of "Mr. Chill" holds true: "You be real with me and I'll be real with you."