The Halo Effect
Doors: 6:00 PM
/
Show: 7:00 PM
All Ages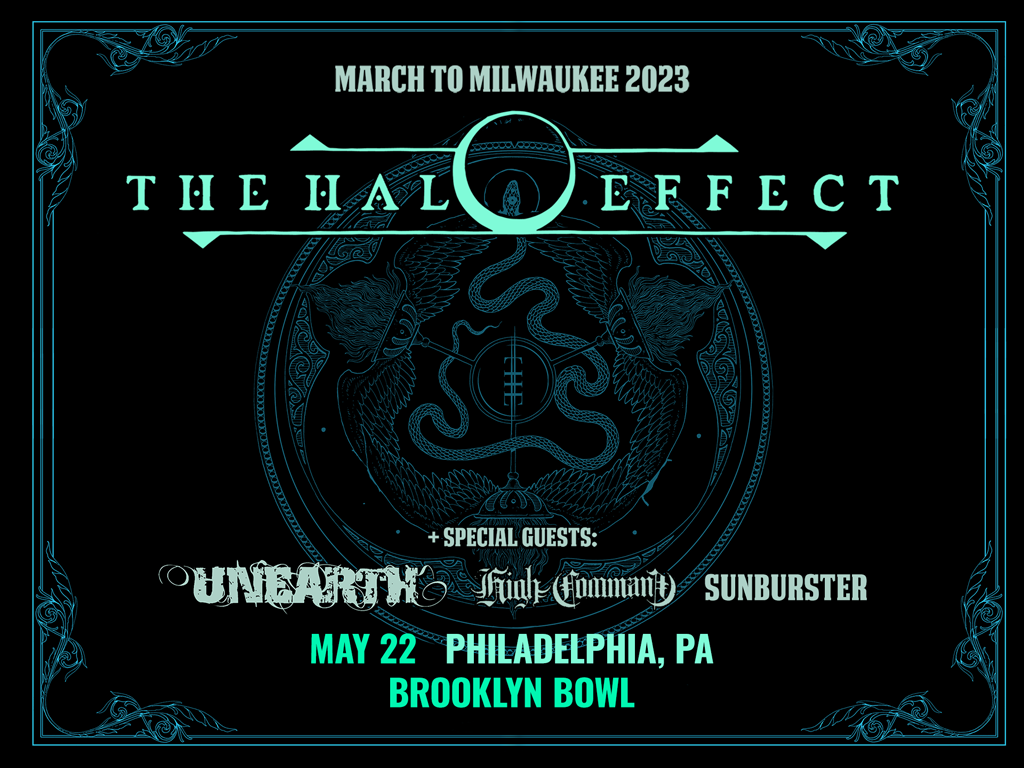 Event Info
Venue Information:
Brooklyn Bowl Philadelphia
1009 Canal Street
Philadelphia, Pennsylvania 19123
Based on the latest local guidelines, attendees are no longer required to provide proof of negative COVID-19 test AND/OR vaccination for entry into Brooklyn Bowl. Policies are subject to change for individual performances, please refer to individual event pages for specific entry requirements.

An inherent risk of exposure to COVID-19 exists in any public place where people are present. COVID-19 is an extremely contagious disease that can lead to severe illness and death. According to the local health authorities, senior citizens and guests with underlying medical conditions are especially vulnerable. By visiting our establishment, you voluntarily assume all risks related to the exposure to or spreading of COVID-19.
Valid photo ID required at door for entry.
This event is general admission standing room only.
Artist Info
The Halo Effect
2020. The year of the corona-pandemic, when the world was forced into a standstill, five old friends put in motion an old idea that had been lingering - and what eventually was to become a new band: The Halo Effect.
The members of The Halo Effect are masters of their domain, pioneers of the Gothenburg melodeath scene. Lead guitarists and melodic death-slingers Niclas Engelin and Jesper Strömblad, lead singer and lyricist Mikael Stanne, supported by the solid backbone and foundation of bassist Peter Iwers, and his partner in crime for twenty plus years, hard-hitting drummer Daniel Svensson.
Having known each other from an early age back in the late 80's, the members started playing together in various projects during the 90's, before forming In Flames and Dark Tranquility, two truly iconic bands who would go on to dominate the Gothenburg scene. Both bands were notably major forces behind the melodeath monicker: The Gothenburg Sound. A sound that would echo far and wide across the world and influence countless metal bands during the 90's and early 2000's.
This was also the initial thought behind The Halo Effect - to go back to the roots and explore what groundbreaking metal sounded like then, before adding the experience and skill of what the members could bring to the table now. The result is an exceptional album and real tour de force to fans of melodeath where the echoes of the Gothenburg Sound is evident. The Halo Effect delivers the goods in a brutally efficient display of heart pounding beats, melodic mayhem and furious growling at its best. Raw, yet melodic, and in your melted face.
Guitarist Niclas Engelin explains: "There was no exceptional plan or overthinking when it came to the creation of the music, except for being ourselves and to play like we always do, let it all come naturally and have fun while doing it. And I think we had just that - fun!! We all really love playing together and after nearly 3 decades of full on Riffage & Thunder in the name of Gothenburg Sound/Death Metal we still feel it!"
This labor of love started out at Peter´s place. He had the haunting opening part of "Gateways" going, a section that yearned for a huge chorus, which provided the perfect foundation for a song. "Gateways" was like opening a jar of magic, and the rest came naturally, songs like "Shadowminds", "Days Of The Lost" & "Feel What I Believe" started to take form. The key to their songwriting process is based on a trust that allows them to have fun while creating something that they find exciting.
They don't interfere in each other's playing - the magic has to come from the heart, it has to be honest and fun. Once the song was demoed, it was time for everyone else to add their own flair, from Daniel's dynamic drum grooves and Peter's direct and thunderous bass playing to the undeniable riffing of Jesper and Niclas. It didn't take long for this to become something glorious.
Niclas and Jesper had been trading riffs and song structures back and forth as they had the privilege of Crehate Studios & Oscar Nilsson (studio owner/producer) at their service day & night, that made it easy for them all to record and keep the process flowing at any given time of the day. After the magic touch from Jens Bogren and Fascination Street Studios, they had created an album that was true to their legacy whilst maintaining a crisp and modern sound.

The focus and goal of the album was to go for the vibe of how it was when they started out way back in the early 90´s, being total Metalheads and misfits in a world dominated by Alternative Rock. That attitude of "Fuck you, we do what we want to do" was essential to them and still is to this day! It's really important for them to have a focus and a goal when they are writing an album and when everyone is locked in on the ideas, that is when something truly great can happen.
Mikael was committed to the cause, dedicating months on end into his lyric writing, to ensure that every word carried the weight that they should. There are vocal hooks in almost every line, the sign of a master at work.
For the special guest on this album, the band chose their mutual friend and Gothenburg metal afficionado Matt Heafy from Trivium. His love for the genre and his passion for all things melodic death is beyond evident. It was a great experience for the band, collaborating on this song with Matt and he did an incredible job.
Seeing the artistic interpretation of their music through the eyes of incredible artist Adrian Baxter (singles and album covers) was as seeing their creation come to life in multiple dimensions.
This album is a work of a team of friends who share the same love for music and have been through Heaven & Hell while living it throughout the years. This is how they do it - without any compromises or overthinking - this is The Halo Effect in all it's glory.