Friday,
October
13th
, 2023
The Aces - I've Loved You For So Long World Tour
Carol Ades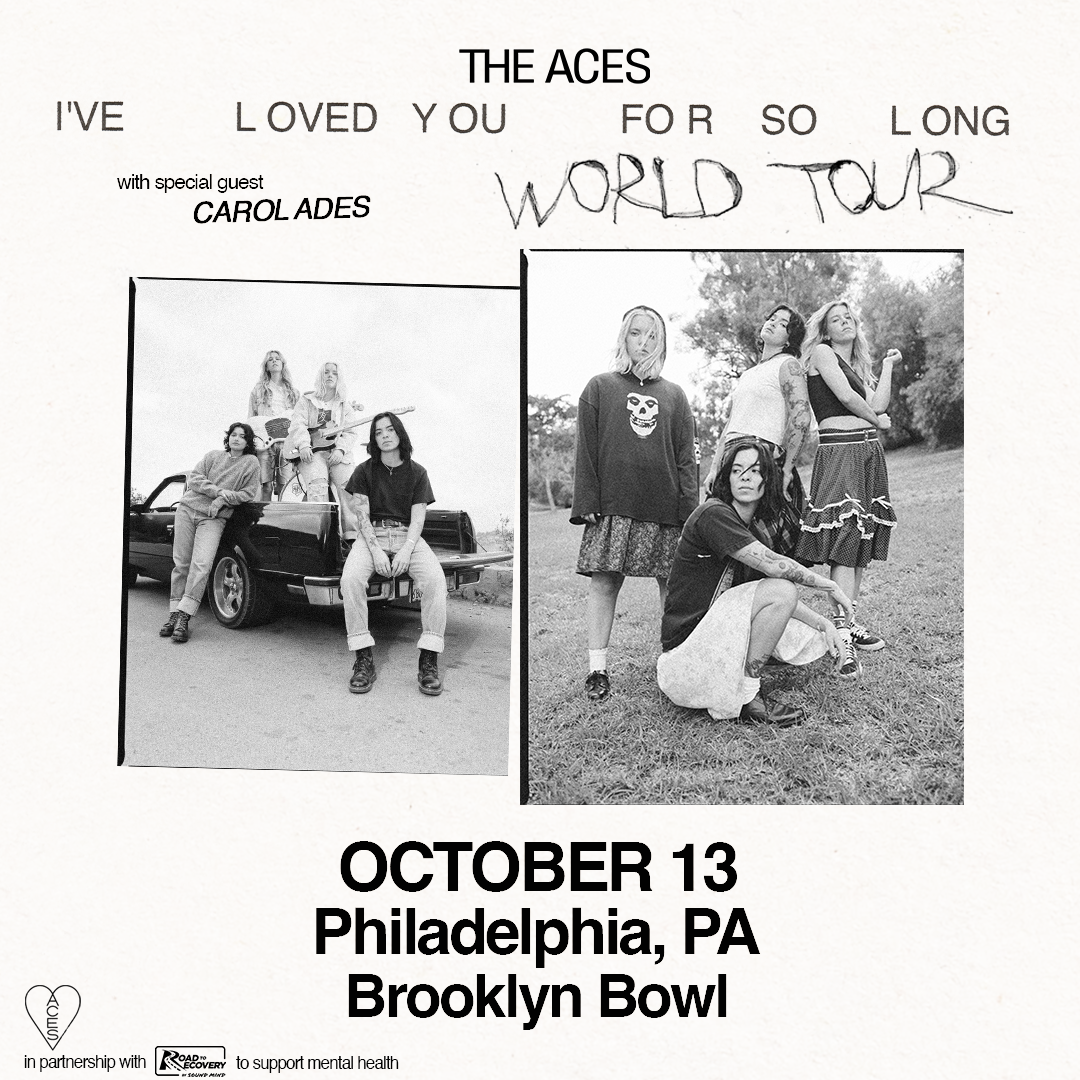 Event Info
Venue Information:
Brooklyn Bowl Philadelphia
1009 Canal Street
Philadelphia, Pennsylvania 19123
This event is open to all ages. Valid government-issued photo ID is required to purchase and consume alcohol. VIP Viewing Deck tickets and VIP Bowling Lanes are restricted to 21+ ONLY. No refunds will be issued for failure to produce proper identification. This ticket is valid for standing room only, general admission. ADA accommodations are available day of show. All support acts are subject to change without notice. Any change in showtimes, safety protocols, and other important information will be relayed to ticket-buyers via email. ALL SALES ARE FINAL

Doors: 7:00 PM Show: 8:00 PM
Artist Info
The Aces
In the years since The Aces released their acclaimed sophomore album, Under My Influence in 2020, the band has been on a journey of self-discovery. Faced with the realities of a global pandemic, sisters Cristal and Alisa Ramirez (lead vocals/guitar and drums, respectively), Katie Henderson (lead guitar/vocals), and McKenna Petty (bass) used quarantine as a time to reflect, confronting personal mental health issues as well as processing experiences they'd had growing up together in Provo, Utah, as part of the Mormon church. When The Aces returned to the studio, their vision - and the honesty and trust between them - felt stronger than ever.
The result of this growth period is I've Loved You For So Long, the band's third LP. Written and executive-produced by the group (along with Keith Varon, the sole collaborator on the project), the album is a sparkling indie-rock record that's by far their most personal and self-assured work to date.
From tracks that ruminate on mental health and self-sabotage to searing anthems about love, longing, and heartbreak, I've Loved You For So Long is a record that'll work its way into your head and heart - and will have you singing along all the way through.
I've Loved You For So Long is also an opportunity for The Aces to reach new heights and build on their many previous successes. To date, the group has earned over 205 million career streams; Under My Influence alone garnered more than 75 million (including 35 million on its lead single "Daydream").
The album also appeared on numerous charts, including #53 on Billboard's Top Albums list. Further, The Aces have toured with the likes of 5 Seconds of Summer, X Ambassadors, The Vamps, and COIN, and have played at festivals all over the world, including NY Pride, Lollapalooza, Firefly, Bonnaroo, OUTFEST, and more.
Carol Ades
Emotions make a mess. It's not the kind of mess you can just shove under the bed either. Carol Ades isn't here to help you scrub out the mess until you can't see it anymore. Instead, she's here to help you celebrate it, learn something from it, and move on confidently because of it. The New Jersey-born and Los Angeles-based artist, singer, and songwriter wants to empower you, but she's going to keep it real too. Carol dedicated her whole life to music and even had a few brushes with major success on stage and behind-the-scenes. Following a bad breakup, she turned inward and wasn't afraid to get raw in 2018. Under the influence of everything from the series Fleabag, Greta Gerwig, Elizabeth Gilbert, and Glennon Doyle to Japanese House, MUNA, and Phoebe Bridgers, she began to write her own "coming of age" story. Ironically, the first song of this phase ended up in the hands of two other artists, becoming "Past Life" for Trevor Daniel and Selena Gomez. With the onset of quarantine, she wrote for herself at a prolific pace, making emotional lyric-driven songs "you can scream to or sob to in your car." You'll find she's a lot like the friend who lets you cry on her shoulder, but still tells it like it is when you need to hear it the most, holding your hand through the mess with timeless music of her own.