RJD2 (Live Band)
Quarter Water
Doors: 8:00 PM
/
Show: 9:00 PM
21+ Years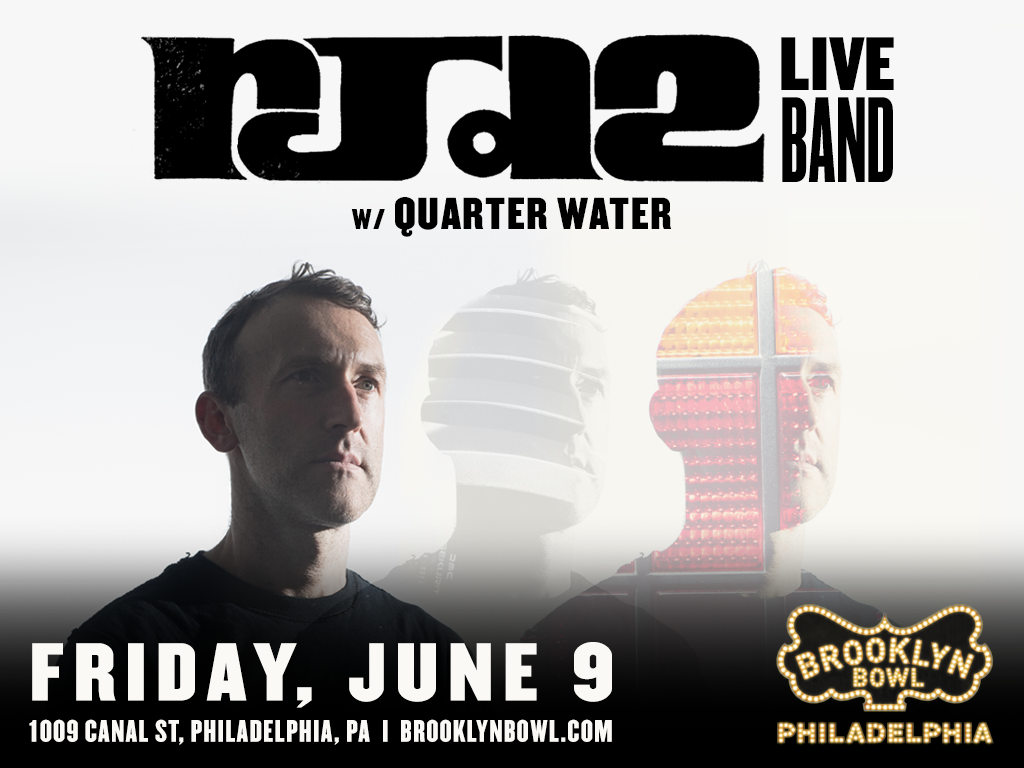 Event Info
Venue Information:
Brooklyn Bowl Philadelphia
1009 Canal Street
Philadelphia, Pennsylvania 19123
This event is 21+. Valid government-issued photo ID is required for entry. No refunds will be issued for failure to produce proper identification.
This ticket is valid for standing room only, general admission. ADA accommodations are available day of show.
All support acts are subject to change without notice.
Any change in showtimes, safety protocols, and other important information will be relayed to ticket-buyers via email.
ALL SALES ARE FINAL
Artist Info
RJD2
Dame Fortune is the deliciously eclectic sixth album from veteran producer and crate digger extraordinaire RJD2, out March 25th on RJ's Electrical Connections. It's a wondrous beast, recorded over the past year while living in Philadelphia, before returning to his hometown of Columbus, Ohio. Streaked with Philly's rep for deeply felt soul music while maintaining a playful sense of adventurousness, Dame Fortune features guest vocalists Son Little (aka Aaron Livingston) and frequent collaborator Phonte, while also presenting the bombastic hip-hop sound that marked RJD2's breakthrough album, Deadringer, and even an orchestral composition for the societal unrest experienced in this day and age (called "PF Day One."..the PF standing for "Post Ferguson").

"Living in Philly provided a context for a lot of soul music that I had liked," RJD2 says on the city's influence on Dame Fortune's sound. "I didn't have any cultural context for this music that I liked -- it was just music that I had stumbled across as a beat making nerd. Philly was a place where there were enough people who had the same musical vocabulary that I did, which made the music more than something I had just discovered on my own."

The debut single, "Peace of What," features Jordan Brown and draws inspiration from 1990s rap legends Main Source's 1991 single "Peace Is Not the Word to Play." "When I hear people talk of peace in America, the discrepancy between our words and our actions can get fatiguing," he says on the inspiration behind the song. "I was trying to reflect the experience of people I know, which often feels like 'We're not ACTUALLY trying to do anything about this problem in our country.'"

Thought-provoking and undeniably entertaining all at once, this latest exhibition of musical virtuosity is a crystal-clear reflection of RJD2's cinematic aspirations, reminding listeners that it's always rewarding to expect the unexpected. RJD2 will tour throughout 2016 in support of Dame Fortune and his 20-year-plus-career.
Quarter Water
Quarter Water is a five-piece hip hop band based in NYC. Combining raw and eccentric lyricism with improvisational and textural grooves, Quarter Water creates a sound that draws from a breadth of jazz, R&B, and hip hop influences but is truly their own. Quarter Water is fronted by vocalist Googie, and features Leland Baker on saxophone, Bennett Eiferman on drums, Jack Redsecker on keyboard, and Gabe Leader-Rose on bass.