Monday,
October
16th
, 2023
Barns Courtney
YONAKA, James Bruner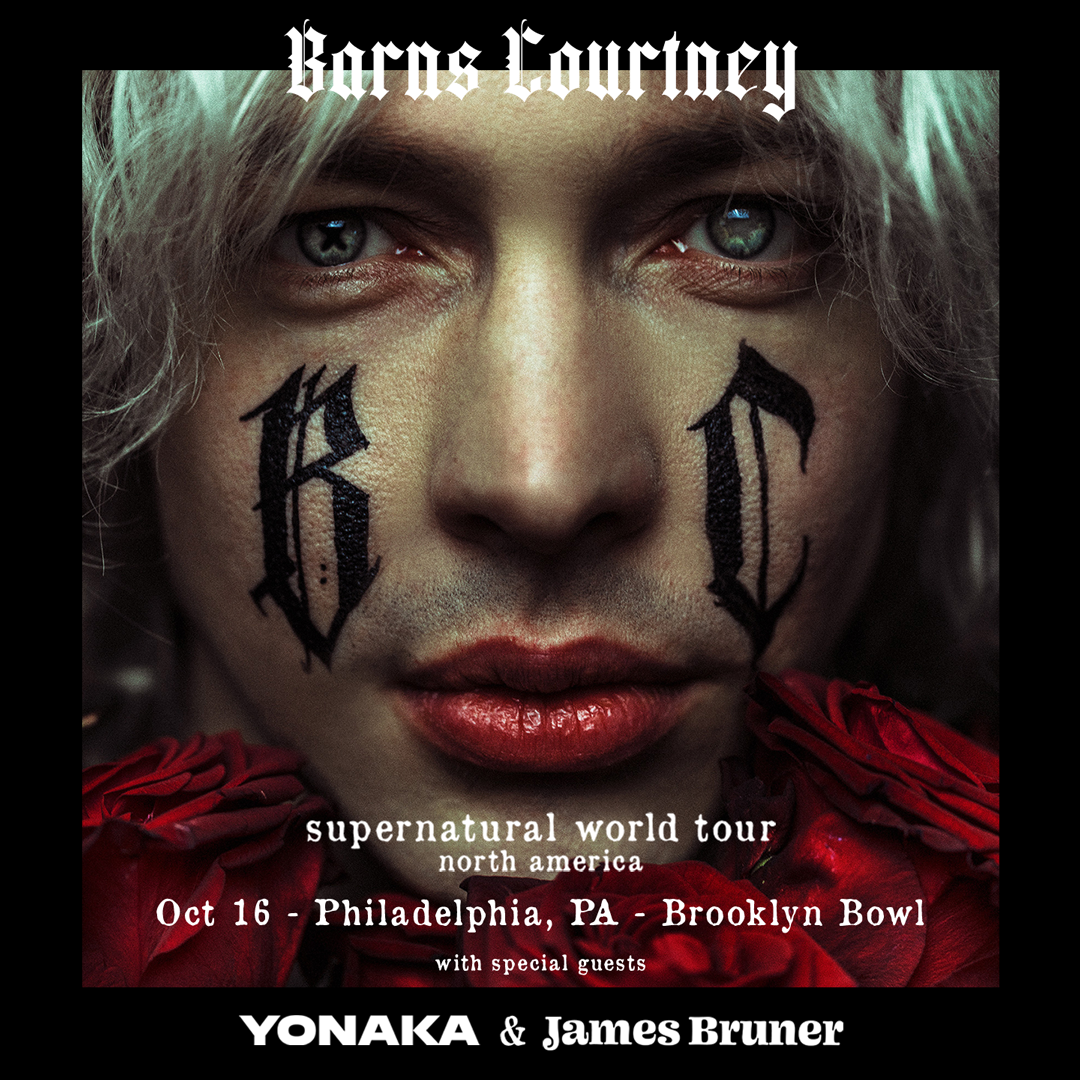 Event Info
Venue Information:
Brooklyn Bowl Philadelphia
1009 Canal Street
Philadelphia, Pennsylvania 19123
This event is open to all ages. Valid government-issued photo ID is required to purchase and consume alcohol. VIP Viewing Deck tickets and VIP Bowling Lanes are restricted to 21+ ONLY. No refunds will be issued for failure to produce proper identification. This ticket is valid for standing room only, general admission. ADA accommodations are available day of show. All support acts are subject to change without notice. Any change in showtimes, safety protocols, and other important information will be relayed to ticket-buyers via email. ALL SALES ARE FINAL

DOORS: 7:00 PM | SHOW: 8:00 PM
Artist Info
Barns Courtney
Barns Courtney is heavy on stomp and swagger, bringing to mind the primal thump of The White Stripes, the punk rock energy of the Sex Pistols, and a good dose of indie-rock edge and gospel. A vaguely grimy feel to the production, recalls the seedy but glittery intrigue of The Velvet Underground. "Even if the name Barns Courtney doesn't spark recognition, his 2015 song "Fire" might. A blues-leaning rock song that evoked both Ennio Morricone and Kanye West's "Black Skinhead," it was a crossover radio hit and was licensed for Volkswagen, Bose and the Bradley Cooper film Burnt. At the center is Courtney's world-weary voice, a chameleonic instrument showcasing range (and a few bars) on this year's full-length debut, The Attractions of Youth. Youth combines "Fire" and other early singles with a slate of newer genre-splitters like the psychedelic "Golden Dandelions," and an overt hip-hop turn on "Hobo Rocket." Here and there, an occasional vocal flourish hearkens back to his more-polished, pop-punk past. "[The album is] about the naive, seemingly indomitable passion for music that burned in my gut since I can remember," he says. Just a few years back, a previous record deal fizzled out, and he was left wondering if a career in music would still be possible. As his luck changed, Courtney landed slots opening for the Who, Blur, Ed Sheeran and more. While he's enjoying his success, he admits, "I find it harder to write songs when I feel happy."