Friday,
September
23rd
, 2022
WXPN Welcomes
Yola
Jac Ross
Doors: 7:00 PM
/
Show: 8:00 PM
21+ Years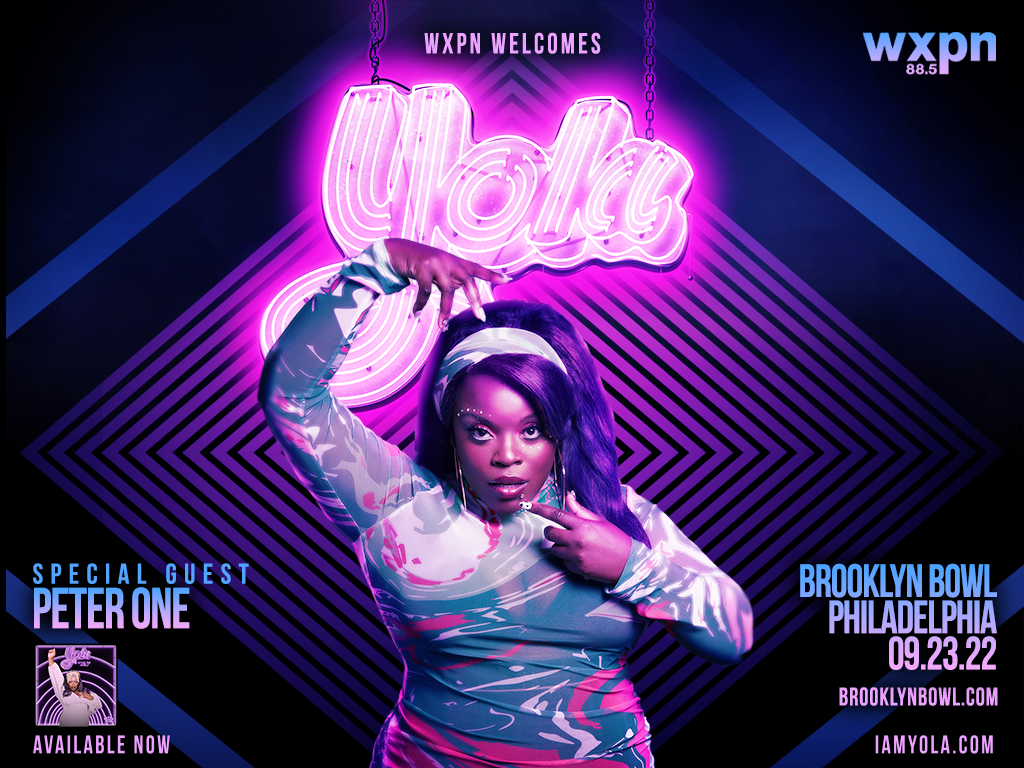 Event Info
Venue Information:
Brooklyn Bowl Philadelphia
1009 Canal Street
Philadelphia, PA 19123
PURCHASE VIP LANE RESERVATIONS HERE
Based on the latest local guidelines, attendees are no longer required to provide proof of negative COVID-19 test AND/OR vaccination for entry into this event. Be sure to check the venue website for the latest updates and guidelines as entry requirements are subject to change.

An inherent risk of exposure to COVID-19 exists in any public place where people are present. COVID-19 is an extremely contagious disease that can lead to severe illness and death. According to the local health authorities, senior citizens and guests with underlying medical conditions are especially vulnerable. By visiting our establishment, you voluntarily assume all risks related to the exposure to or spreading of COVID-19.
Valid photo ID required at door for entry.
This event is general admission standing room only.
Artist Info
Yola
Stand for Myself is the anthemic new album from Yola. Produced by Dan Auerbach, the record is a timeless masterpiece marking an idiosyncratic sonic shift, which will defy all expectation. A sophisticated and diverse sonic mix of symphonic soul and classic pop, tracing an expansive musical thread to Yola's most eclectic musical inspirations. Yola's inimitable vocals share nuanced stories of allyship, black feminine strength through vulnerability, collective awakening and loving connection from the sexual to the social. Yola declares that it is only when we stand for ourselves, and acknowledge our complexity, that we can be truly alive. For Yola, living is more than merely surviving.
Jac Ross
In a time when change is needed more than ever, the enigma Jac Ross emerges carrying enough pain to incite cultural change and the love to remind us we're all the same. For Jac Ross, his soul-stirring vocals are deeper than the ears that hear them. The sounds of his voice tell the stories of struggle and success, but most importantly impress a glimmer of hope in the hearts of those who witness his silky and powerful harmonies. Jac Ross embodies the iconic voices that shifted culture with songs such as "What's Going On?", "Change Is Gonna Come", "Strange Fruit", "Fight The Power" and "The Blacker The Berry". Singing upbuilding lyrics that advocate for cultural, social, and political issues, the vocal agent of change draws from the struggle of his own life experiences, almost like a Ta-Nehisi Coates-esque novel to deliver riveting engaging music that represents his community. Raised in the small town of Live Oak, FL, Ross' adoration for music emanated from a bevy of factors. Exposed to an array of iconic soul and r&b singers, paired with the influence of his father's career as a preacher, Ross' precocious talent was nurtured at the early age of five. Though he came from a very strict household, Ross' parents skillfully cultivated his talents by allowing him to dictate his own pace and tempo as a musician. As the self-taught pianist was polishing his craft in high school, he later bloomed finding interest in basketball, earning some attention to play on the collegiate level. Ross' decision to decline those offers was due to his faith, love and confidence in his musical prowess. After completing high school, the determined musician gave himself seven years to make it in the music industry. During his seven-year climb, Ross' journey was an arduous one. Ross' hardships included recording in the dining room of his house, his child being born with a paralyzed arm — to his family being evicted to pay for their daughter's surgery. Still, despite those colossal setbacks, Ross' unwavering faith served as the vehicle to his glorious comeback. The self-proclaimed "Faith Dealer" noticed his luck changing when his co-writer Mezo, encountered R&B savant, Rodney "Darkchild" Jerkins at a mall in Florida. After an exchange of emails, Jerkins fortuitously opened the one which included Ross' song "Gotta Be Mine." Mesmerized by Ross' spellbinding vocals, Jerkins asked for the rising singer to come visit him inperson for a meeting at his Orlando home. There, Ross delivered a riveting rendition of Sam Cooke's "A Change Is Gonna Come" and an original song he crafted called "Freedom." Enthralled by Ross' musical makeup, Jerkins elected to sign the singer to his label Darkchild Records and work with him on his debut EP. After recording a whopping 88 songs, he and Jerkins began shopping around at different labels in hopes of finally finding a home. In 2019, Darcus Beese, President of Island Records personally signed the singer and now, Ross looks to shake the world with his debut project in 2020. Off to a speedy beginning, the emerging talent has already captured the attention of Ms. Cathy Hughes, founder and chairperson of Urban One Inc., who handpicked the crooner to open Urban One Honors, a televised special. The standing ovation received from cultural heavy hitters such as, Jamie Foxx, Billy Porter, Missy Elliott, Brandy, Chance the Rapper and others on his debut tv performance— speaks to Ross's unique ability to capture audiences and his music that uplifts people of all ages. With more to come from Jac Ross, he has already begun to cement his place as the premier artist to watch going into the next decade.