Friday,
January
24th
, 2020
Too Many Zooz
Birocratic
Doors: 6:00 PM
/
Show: 8:00 PM
21+ Years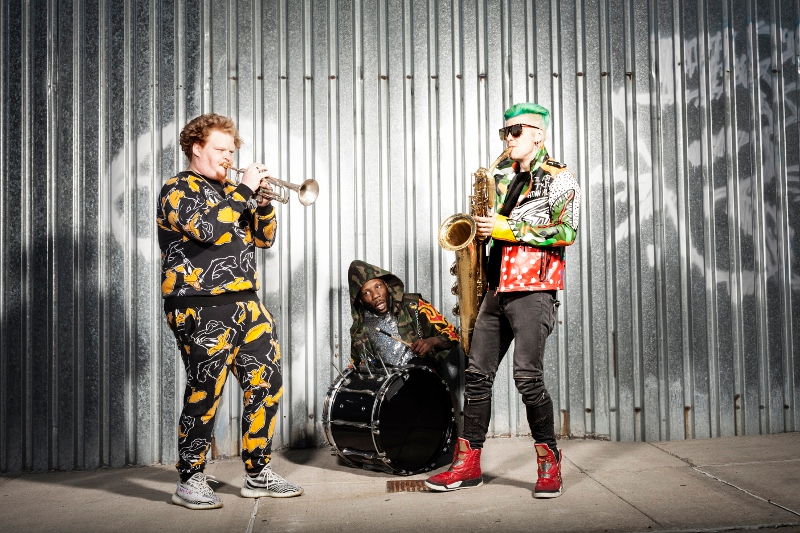 Event Info
Venue Information:
Brooklyn Bowl
61 Wythe Avenue
New York, NY 11249
For all tickets purchased prior to October 1 on TicketFly, those tickets are still valid and able to be scanned at the door upon entry. Just pull up your ticket on your phone or bring your print-out. Starting October 1 all Brooklyn Bowl tickets will be available on TicketWeb.
Artist Info
Birocratic
Brandon Rowan, aka Birocratic, is a 24-year-old producer and multi-instrumentalist hailing from central New Jersey. After playing in & recording friends' bands in high school, a decidedly non-traditional career path over the past five years has taken him directly into the heart of Brooklyn as a key player in the emerging local underground hip-hop / electronic scene. His penchant for combining of heady, jazzy sample chops, melodic bass lines, and vibrant drums proves instantly recognizable. With some key collaborators like the streaming phenomenon Chillhop Records, as well as Atlantic's Big Beat imprint, Birocratic has become a staple of instrumental hip-hop and the thriving online beat-scene writ large.

As a teen learning production at NYU's Clive Davis Institute, Rowan first released a series of short dorm-room beat-tapes via Soundcloud and Bandcamp; these quickly found their way to virally nascent YouTube channels (e.g., BuzzFeed, Casey Neistat) in a landscape that was, at the time, fairly barren; these placements quickly helped Rowan reach tens of millions of ears while enabling him to build a career around the growing opportunities for licensing his unique tunes online.

Throughout these years, Biro has remained committed to independently releasing his music, a strategy that has proven quite successful—recently enabling him to forgo his side job of serving tables in order to pursue music full-time (a lifelong dream of his). Alongside his numerous releases—clocking in at four beat-tapes in the Beets series, two Leftovers tapes, and an experimental jazz EP called Replaced—Biro has seen extensive time on stage at many premiere Brooklyn venues, including providing direct support for Mndsgn to a sold-out crowd at Baby's All Right. His many live appearances (complete with live bass guitar, keyboards, and finger drumming) in NYC have afforded him a bird's-eye view of the landscape as he signs with Rogue Agency and readies himself to tour North America in 2018.

~ ~ ~

Birocratic, 24, is an instrumental electronic producer & multi-instrumentalist based in Brooklyn. Tackling the traditions of choppy, sample-based hip hop with his zesty electric bass lines & synth flourishes, Biro brings a musicality not often heard in the genre, with a playful attitude and dance-focused rhythm. Biro's past releases include six beat tapes and an experimental jazz EP, Replaced, all released independently. He's not limited to the studio: Biro's live set features a mix of real and electronic instruments: bass guitar, synth, and finger drumming; all played while live-remixing his own work.

While studying at NYU's music program, those self-released dorm-room beat tapes traveled from the depths of Bandcamp to YouTube's early pantheon of explosively-growing channels—reaching tens of millions of curious ears, topping Bandcamp's hip-hop charts, and beginning his devoted following. With some key collaborators in streaming phenomenon Chillhop Records, as well as a hearty co-sign from Atlantic Records' Big Beat imprint, Birocratic and his brand of off-kilter, funky beats have organically become a staple of the thriving online beat-scene on Spotify, Youtube, and beyond.
Too Many Zooz
The curious thing about being a fan of brasshouse? You're pretty much talking about being into one solitary but extremely unforgettable band: the amusingly monikered Too Many Zooz.

The musical style was "branded" by drummer King of Sludge, who recognized that there was no worthy existing classification for the New York trio, whose other two members are the equally unclassifiable Leo P (saxophone) and Matt Doe (trumpet).

"Brasshouse is a high energy musical conversation," Matt insists. "Though I honestly don't think there is a good way to describe it in words. It's about many different feelings and sounds and emotions."

Or as KOS so decisively puts it, "I don't really care about what's happening in music -- I just make art that I enjoy making."

It's exactly this indifference to convention and trend that has garnered Too Many Zooz a fanbase that KOS describes as "wide-ranging and fanatical." One of those fans? In 2016, Beyonce asked them to perform with her at the Billboard Music Awards...and it's quite possible they got just as much attention as did she.

After two years, a gazillion live performances and four EPs, their debut album Subway Gawdz (an unsubtle reference to their birth in the underground stations of NYC), was released to enthusiastic acclaim in 2016. Its sound was truly like nothing else, with inescapable grooves that take in dub, soul, funk and ska, utterly exhilarating horn blasts that shoot right up your spine, and, of course, equal doses of fun and attitude.

And right now, TMZ are riding higher than ever, surely poised for the leap into genuinely widespread international recognition that was likley inevitable since they first set foot in an NYC subway station. Indeed, following a deal with Ministry of Sound, their single "Warriors" racked up major play on Radio One (if you think you haven't heard it, when you hear it, you'll quickly realize you already have), followed by high-profile remixes from the likes of Armand Van Helden and KDA.

Then, UK sensation Jess Glynne penned lyrics and added vocals to morph the song into "So Real (Warriors)," which has been generating massive buzz while climbing the European charts. In the meanwhile, a live video for "Car Alarm" has furtively racked up more than 500K views in one week.

But surely signaling their mainstream "arrival"? A Canadian KFC commercial featured the band and their songs -- so don't be surprised if listening to their music suddenly makes you hungry.

Though they've also been up to more serious matters. Leo, in fact, was asked to play at the BBC Proms Charles Mingus tribute at a sold-out Royal Albert Hall in August 2017 -- certainly no small honor.

Yet for all this, the forward plan for Too Many Zooz, is, as ever, constant touring. The reason is simple: it's their outrageous, electrifying live performances that consistently continue to add the numbers to their growing worldwide legion of fans. Autumn 2018 will take them coast to coast, from Seattle to Houston to Philadelphia, and across Europe, with stops in Krakow, Strasbourg and Marseille, amongst others.

"I don't think there's any recording that can do a live performance justice," reckons Matt. "You'll see people of all different colors, creeds, genders, ages, sexuality at our shows. I really can't find a constant between them...besides liking our music -- haha."

But for everything that's happened in the last couple of years, the trio aren't actually all that surprised by their success.

"I always knew we had something special," Leo enthuses. "Thousands of people everyday loved our music...and I knew it would just continue to spread."