Saturday,
November
23rd
, 2019
The Speed of Light Tour
The Motet
High & Mighty Brass Band
Doors: 6:00 PM
/
Show: 9:00 PM
21+ Years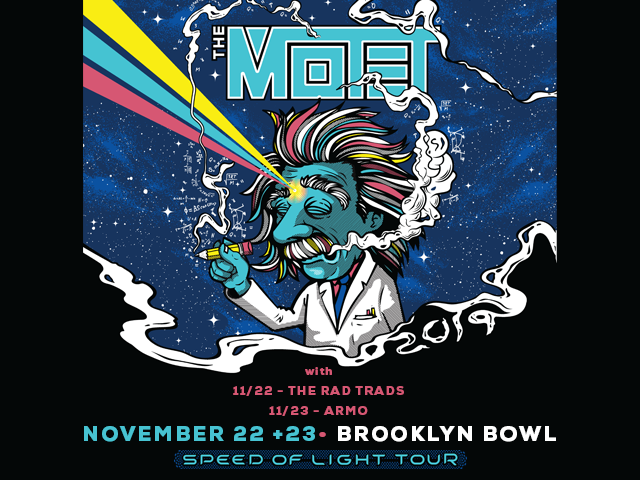 Event Info
Venue Information:
Brooklyn Bowl
61 Wythe Avenue
New York, NY 11249
For all tickets purchased prior to October 1 on TicketFly, those tickets are still valid and able to be scanned at the door upon entry. Just pull up your ticket on your phone or bring your print-out. Starting October 1 all Brooklyn Bowl tickets will be available on TicketWeb.
Tickets for
11/22 here!
Artist Info
The Motet
Dave Watts (drums)
Joey Porter (keys)
Garrett Sayers (bass)
Ryan Jalbert (guitar)
Lyle Divinsky (vocals)
Drew Sayers (sax)
Parris Fleming (trumpet)

Throughout history, unity starts on the dancefloor. From ancient tribal cultures to neon night clubs, beats bring bodies together. Once grinding and grooving in unison, the movement generates friction, sparks, and light. That might just be the purest form of energy on the planet. The Motet harness such energy on their ninth full-length, Death or Devotion. In fact, the Denver septet—Dave Watts [drums], Joey Porter [keys], Garrett Sayers [bass], Ryan Jalbert [guitar], Lyle Divinsky [vocals], Drew Sayers [sax], and Parris Fleming [trumpet]—encode a message in their energetic mélange of boisterous badass funk, swaggering soul, and thought-provoking pop.

In the process, they challenge convention and arrive with a dynamic, diverse, and definitive statement.

"The essence is always going to be the groove, but we wanted to expand the idea of what a funk album could be," says Lyle. "Of course, you want a driving backbeat. However, with the division that's going on in this country and the world, I think it's every artist's responsibility to create a conversation. That conversation doesn't have to be political either. It can be about love or an introspective journey. I think the commentary should be on what it's like to be alive today. By drawing on funk, we create a fun, palatable musical vehicle for the message to go down. Our goal is for you to recognize we're all dancing on the same dance floor—even though our steps may look a little different."

Death or Devotion earmarks an important point in the band's own journey. Since emerging in 1998, the boys have cooked up eight full-length albums and entranced countless crowds. 2016's Totem saw them welcome Lyle behind the mic and Drew on sax. Shortly after, they kicked off what has become an annual tradition by selling out the legendary Red Rocks Amphitheater for the first time. "It was my six-month anniversary and first show for a hometown crowd," recalls Lyle. "I've got 10,000 people looking at me like, 'Who the hell is that?'," he laughs.

That night would be chronicled on the fan favorite Live at Red Rocks. In the meantime, the group maintained a prolific pace of 100 shows per year in support of Totem. Along the way, The Motetstarted recording Death or Devotion during intermittent sessions at Scanhope Sound in 2017.

For the first time, Lyle, Drew, and Parris (who joined in 2018) worked on a Motet record together from start-to-finish.

"On Totem, the train was already moving, and I was just a train hopper," says Lyle.

"Drew, Parris, and I came onboard within the same year. Now, we're all bringing our pieces to the puzzle. For me, I brought that R&B style. Funk is the common ground, but the music is a result of different inspirations: namely Drew's hip-hop and reggae knowledge, Ryan's psychedelic jamming, Dave with the worldbeat, Joey with his encyclopedic understanding of punk, and Garrett being the best bass player to exist. We found a really cool balance between the funkiness and songs that challenge your emotional headspace more than typical pop."

The first single "That Dream" showcases the myriad of musical flavors from all seven members. Clean palm-muted guitars bristle against a swaggering beat as the horns enliven each verse, while a vocal call-and-response relays a head-spinning tale.

"I took a nap, and I had the craziest dream I've ever had," he recalls. "In the dream, I'm heartbroken from a nonexistent relationship, so I go out to a bar. I get seduced by this beautiful woman who serves me a glass of wine with poison. I wake up handcuffed and she's stealing from me and torturing me. It was so dark, but I woke up and thought, 'That would be a crazy subject to write a party song about!'"

Elsewhere, "Highly Compatible" hinges on an unshakable riff and raucous refrain upheld by sizzling sax. "It's like that beautiful moment of falling in love where you recognize something as supremely real-life magic," Lyle goes. "Harry Potter couldn't conjure a better spell. It's the magnetic nature of the chemistry. We captured that chemical recognition."


From the infectious hooks of "Contagious" to the instrumental fireworks on "Speed of Light," The Motet ultimately propose an important question at the heart of Death Or Devotion.


"What are you going to bring to yourself and the world?", Lyle leaves off. "Are you going to bring death, or are you going to bring devotion? The choice is yours. When you listen to this record, I'd love for you to walk away feeling a little bit more connected, whether it be to yourself, to your friends, or to your community. Being able to drop all of the vision for a minute, be present, smile, and dance reminds us we're all going through this together."
High & Mighty Brass Band