Friday,
November
22nd
, 2019
The Speed of Light Tour
The Motet
The Rad Trads
Doors: 6:00 PM
/
Show: 9:00 PM
21+ Years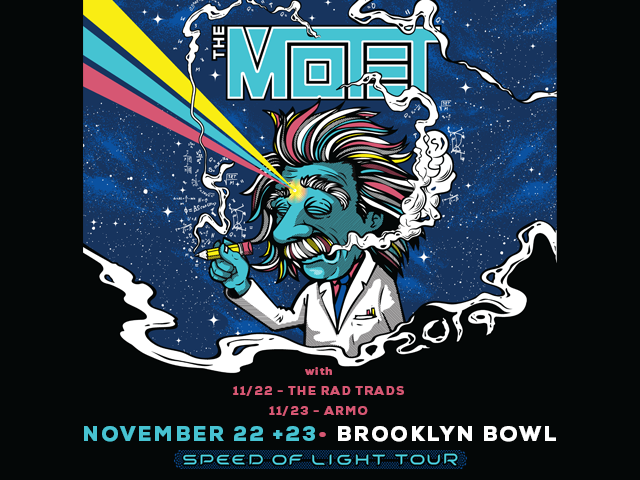 Event Info
Venue Information:
Brooklyn Bowl
61 Wythe Avenue
Brooklyn, NY 11249
For all tickets purchased prior to October 1 on TicketFly, those tickets are still valid and able to be scanned at the door upon entry. Just pull up your ticket on your phone or bring your print-out. Starting October 1 all Brooklyn Bowl tickets will be available on TicketWeb.
Tickets for
11/23 here!
Artist Info
The Motet
Dave Watts (drums)
Joey Porter (keys)
Garrett Sayers (bass)
Ryan Jalbert (guitar)
Lyle Divinsky (vocals)
Drew Sayers (sax)
Parris Fleming (trumpet)

Throughout history, unity starts on the dancefloor. From ancient tribal cultures to neon night clubs, beats bring bodies together. Once grinding and grooving in unison, the movement generates friction, sparks, and light. That might just be the purest form of energy on the planet. The Motet harness such energy on their ninth full-length, Death or Devotion. In fact, the Denver septet—Dave Watts [drums], Joey Porter [keys], Garrett Sayers [bass], Ryan Jalbert [guitar], Lyle Divinsky [vocals], Drew Sayers [sax], and Parris Fleming [trumpet]—encode a message in their energetic mélange of boisterous badass funk, swaggering soul, and thought-provoking pop.

In the process, they challenge convention and arrive with a dynamic, diverse, and definitive statement.

"The essence is always going to be the groove, but we wanted to expand the idea of what a funk album could be," says Lyle. "Of course, you want a driving backbeat. However, with the division that's going on in this country and the world, I think it's every artist's responsibility to create a conversation. That conversation doesn't have to be political either. It can be about love or an introspective journey. I think the commentary should be on what it's like to be alive today. By drawing on funk, we create a fun, palatable musical vehicle for the message to go down. Our goal is for you to recognize we're all dancing on the same dance floor—even though our steps may look a little different."

Death or Devotion earmarks an important point in the band's own journey. Since emerging in 1998, the boys have cooked up eight full-length albums and entranced countless crowds. 2016's Totem saw them welcome Lyle behind the mic and Drew on sax. Shortly after, they kicked off what has become an annual tradition by selling out the legendary Red Rocks Amphitheater for the first time. "It was my six-month anniversary and first show for a hometown crowd," recalls Lyle. "I've got 10,000 people looking at me like, 'Who the hell is that?'," he laughs.

That night would be chronicled on the fan favorite Live at Red Rocks. In the meantime, the group maintained a prolific pace of 100 shows per year in support of Totem. Along the way, The Motetstarted recording Death or Devotion during intermittent sessions at Scanhope Sound in 2017.

For the first time, Lyle, Drew, and Parris (who joined in 2018) worked on a Motet record together from start-to-finish.

"On Totem, the train was already moving, and I was just a train hopper," says Lyle.

"Drew, Parris, and I came onboard within the same year. Now, we're all bringing our pieces to the puzzle. For me, I brought that R&B style. Funk is the common ground, but the music is a result of different inspirations: namely Drew's hip-hop and reggae knowledge, Ryan's psychedelic jamming, Dave with the worldbeat, Joey with his encyclopedic understanding of punk, and Garrett being the best bass player to exist. We found a really cool balance between the funkiness and songs that challenge your emotional headspace more than typical pop."

The first single "That Dream" showcases the myriad of musical flavors from all seven members. Clean palm-muted guitars bristle against a swaggering beat as the horns enliven each verse, while a vocal call-and-response relays a head-spinning tale.

"I took a nap, and I had the craziest dream I've ever had," he recalls. "In the dream, I'm heartbroken from a nonexistent relationship, so I go out to a bar. I get seduced by this beautiful woman who serves me a glass of wine with poison. I wake up handcuffed and she's stealing from me and torturing me. It was so dark, but I woke up and thought, 'That would be a crazy subject to write a party song about!'"

Elsewhere, "Highly Compatible" hinges on an unshakable riff and raucous refrain upheld by sizzling sax. "It's like that beautiful moment of falling in love where you recognize something as supremely real-life magic," Lyle goes. "Harry Potter couldn't conjure a better spell. It's the magnetic nature of the chemistry. We captured that chemical recognition."


From the infectious hooks of "Contagious" to the instrumental fireworks on "Speed of Light," The Motet ultimately propose an important question at the heart of Death Or Devotion.


"What are you going to bring to yourself and the world?", Lyle leaves off. "Are you going to bring death, or are you going to bring devotion? The choice is yours. When you listen to this record, I'd love for you to walk away feeling a little bit more connected, whether it be to yourself, to your friends, or to your community. Being able to drop all of the vision for a minute, be present, smile, and dance reminds us we're all going through this together."
The Rad Trads
The Rad Trads – On Tap – Hornblow Recordings – Out Now The gentlemen comprising the Brooklyn-based five-piece The Rad Trads distinguish themselves in ways few bands can. Already drawing lines around the block at home, the globe-trotting group's singular take on rock n roll mixes punk rock energy, horn drenched soul, and jazz precision, all with a lighthearted but sincere delivery. It's a sound and show that is gaining steam world over as The Rad Trads continue to tour in support of On Tap, out now from Hornblow Recordings. Challenging but humorous, at times The Rad Trads bring to mind Springsteen and his "Big Man" Clarence Clemons, Dylan's Blood On The Tracks-era vocal style, and Wilco's epic guitar breakdowns. All of this sonic goodness is only upstaged by the fact that the guys in The Rad Trads manage to exist as five distinct songwriters and singers in a band that still sounds powerfully egoless, familial, and cohesive. And none of them even planned on being vocalists! Meeting at New York University in 2012 as conservatory-trained instrumentalists looking to play with NYC's best musicians, twin brothers John (Drums, Vocals) and Michael Fatum (Trumpet, Vocals), Michael Harlen (Bass, Vocals), Alden Harris-McCoy (Guitar, Vocals), and Patrick Sargent (Keys, Saxophone, Vocals) were, at that time, just "a bunch of buds looking to play the bars and drink for free," according to John Fatum. "The Rad Trads started off with a bastardized jazz repertoire that was modified, on stage, into whatever seemed to get the audience moving." The band quickly developed a loyal connection with its audiences. Michael Fatum agrees: "It felt amazing." It was at this time that each band member's individual forays into original songwriting began, coinciding with the discovery that what its followers were enjoying most was the band members' personal connections with each other. This, even more than the music itself, was making crowds come back for more. As the band's live sets began to be filled more and more with original songs which all stuck to the "if you write it, you sing it" formula, the fans remained enthusiastically engaged. With all of that energy flying around, The Rad Trads could have simply been perceived as just a party band, but the band's booking agent realized that with those expert chops, there might also be a niche within the jazz festival scene for The Rad Trads, and he was right. Harlen explains, "It turns out that every jazz festival in the world needed a fun band to hold down the late night parties, and so we went to Europe for the first time." This initial excursion has turned into nearly ten trips to Europe for The Rad Trads, in addition to performances on four continents, in 15 countries, 41 states, and as of this writing, a string of dates in China. The diverse list of artists that the band has performed with in that time includes Lake Street Dive, Charles Bradley, Buddy Guy, Taj Mahal, and The Lone Bellow, among others. "We've loved every second of traveling and seeing the world," John Fatum says. Fatum is the composer and vocalist of "On Tap" album opener "Good Luck Unto Ya," a soaring anthem with wall of sound-level overdubs, recently described by American Songwriter as a "funky kissoff track with a killer guitar solo and plenty of horns." It's a stunning way to jump start the record, and for the uninitiated, will quickly bring to mind visions of what The Rad Trads' race-out-of-the-gate live show must be like. The album is bookended by closing number "Wishing Well," which is, incredibly, the first song that Sargent ever wrote. "We played the song live for almost a year before recording it, so it had a chance to evolve organically before being put to tape," he explains to MAGNET Magazine, which in its fullthroated praise of The Rad Trads, also asserts, "We've been racking our brains trying to think of another band that has five leader singers, but we couldn't come up with any." Obviously, while the songs on On Tap are exceedingly original, the band's story is, too. Or maybe surviving the story is what's most fascinating. As a group comprised of conservatory trained instrumentalists, it's actually five individual writers and singers that glue The Rad Trads together, the sound of five artists that have found a common voice. "Our unconventional process keeps The Rad Trads fresh for us, always," Harris-McCoy explains. "The fact that our egos have not taken us down is somewhat of a modern miracle!" On Tap by The Rad Trads is out now from Hornblow Recordings. Look out for new music videos for album tracks "My Place" and "Thumbtack," coming soon. The Rad Trads will continue to tour throughout 2019.