Saturday,
December
11th
, 2021
Jill Newman Productions Presents
The God MC Rakim
DELL-P, Khemist
Doors: 7:00 PM
/
Show: 8:00 PM
21+ Years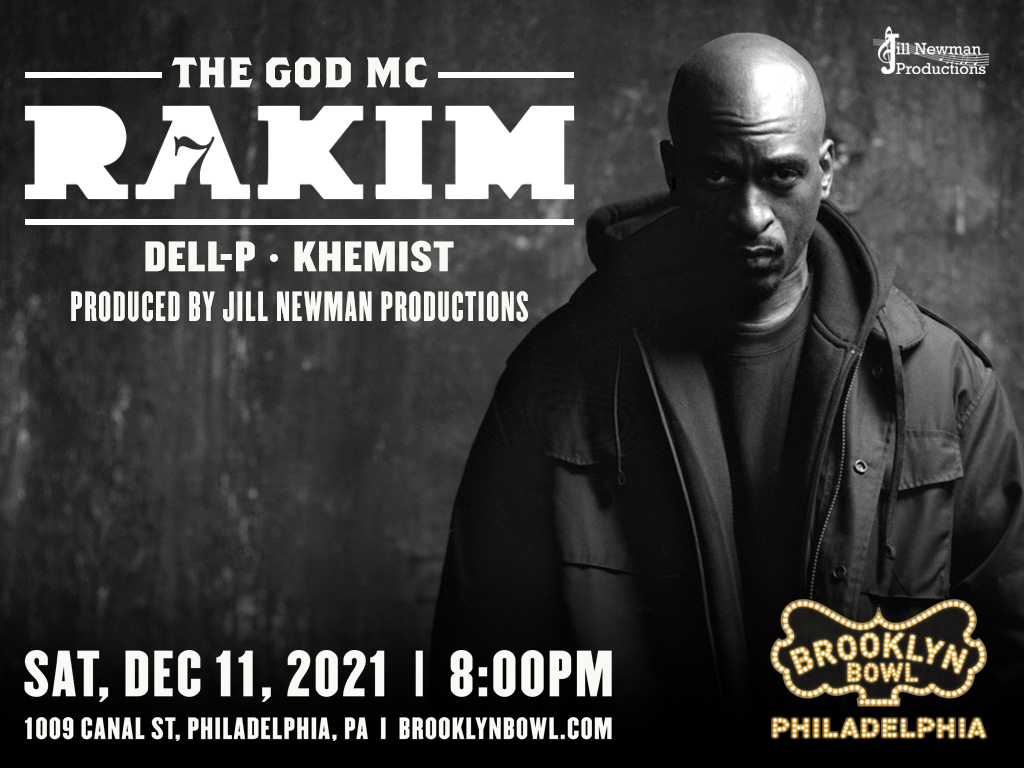 Event Info
Venue Information:
Brooklyn Bowl Philadelphia
1009 Canal Street
Philadelphia, Pennsylvania 19123
In accordance with the the City of Philadelphia's COVID-19 vaccine and mask requirement, Brooklyn Bowl Philadelphia's COVID-19 Policy is as follows:
MASKS
In accordance with local guidelines: Until further notice, masks are required to be worn at all times for attendees, regardless of vaccination status, except while actively eating or drinking. All Brooklyn Bowl staff are fully vaccinated and must wear masks while inside the venue.
VACCINES / TESTING
You, and anyone accompanying you in your party, are required to provide ONE of the following:
Proof of your vaccination record (vaccination card or picture of your card with a matching ID card), demonstrating you were fully vaccinated at least two weeks in advance of the day of show. OR proof of a negative COVID test, administered within 72 hours of the day of show, with matching ID card.
A negative PCR or antigen COVID-19 test will be accepted. Please be sure to bring printed or digital proof of your negative test result, dated and time-stamped. At-home COVID-19 test results will only be accepted if there is a link to results you can print or provide from a medical platform, dated and time-stamped.
The City of Philadelphia is offering free testing at a number of locations. For more information please visit https://www.phila.gov/covid-testing-sites/.
ACCEPTABLE VACCINATIONS INCLUDE:
By purchasing a ticket you acknowledge you will be required to show proof of vaccination or a negative test result. There will be no refunds for purchased tickets based on non-compliance of venue COVID-19 protocols, however, if you are unable to attend a show due to a positive Covid-19 test, please reach out to phillyboxoffice@brooklynbowl.com and we will help facilitate a full refund.
An inherent risk of exposure to COVID-19 exists in any public place where people are present. COVID-19 is an extremely contagious disease that can lead to severe illness and death. According to the local health authorities, senior citizens and guests with underlying medical conditions are especially vulnerable. By visiting our establishment, you voluntarily assume all risks related to the exposure to or spreading of COVID-19.
Help keep each other healthy.

Valid ID Required for entry.

General Admission - standing room only
Artist Info
Rakim
In the history of the Hip-Hop, few artists have had as great an impact on the development and progression of the art forms lyrical style as Rakim Allah. Universally referenced as one of the Masters of the Microphone and an influence and inspiration to his peers and followers alike, Rakim first exploded onto the scene with the release of iconic Eric B. is President in 1986 with long time collaborator Eric B. The single marked a turning point in the Rap world – raising the bar for future emcees and revolutionizing the way rhymes are delivered to this day. No serious discussion of the music's greatest performers is held without a deferential accounting of his achievements, and no serious rap artist grips a microphone without channeling some of his legend.

Rakim's intricately intellectual lyrics draw their force from his worldly experience, inner faith and progressive contemplation; his liquid and seemingly effortless delivery – often imitated but still unrivaled – from a fire fueled by a deep understanding of not just Hip-Hop, but also the Jazz and R&B influences that have surrounded his family since his youth. His recordings – including the all-time classics Paid In Full, Follow the Leader and The 18th Letter - have sold in the multi-millions worldwide. Billboard, Rolling Stone, MTV and a host of others consistently refer to Paid in Full as "the greatest Hip-Hop album of all time" – a claim that often repeated in audience polls. These Platinum albums line the walls of the Broadway, MCA and Universal labels and, with a Rakim appearance near guaranteeing an explosion of sales, he has been recruited to add his star talents to projects for Alicia Keys, Jody Watley, Damian Marley, Jay-Z, Dr. Dre, Mobb Deep, Lloyd Banks, Limp Bizkit, Gang Starr and Truth Hurts among many others.

Rakim's uncanny innovation was the focal point of the critically acclaimed recreation of Bob Marley's Concrete Jungle and has helped propel movie soundtracks such as Juice, Brown Sugar, the Rugrats, American Psycho and 8 Mile to Best Seller status. His role model status has led world famous brands such as Reebok, The Coca Cola Company, LVMH, Ecko and Sean Jean to choose him as spokesperson.

Now with twenty-five years at the top of Hip-Hop's Greatest list, the Long Island, NY native not only continues to record for himself, but also works with young artists signed to his own record imprint, Ra Records. With recent tributes in 2012 such as being named the #1 Lyricist of All Time by The Source magazine, receiving the coveted BET Lifetime Achievement Award and being nominated to the Rock and Roll Hall of Fame, two original music projects, his first feature film role and sold-out international tours keeping the world's eye on the one many call The GOD EmCee, Rakim Allah continues to lead where others just follow.
Dell-P
Dell-P has been called "the best kept secret of hip hop" by XXL Magazine. But, as more people hear his music, he won't be a secret for long.
A West Philadelphia native who isn't afraid to create his own lane and refuses to conform to the new wave, Dell-P has a lot of great things currently happening for him, as well as on the horizon.
Already, Dell-P is the 2017 Philly Hip Hop Awards Album of the Year Award winner, the 2017 PHL Live Hip Hop Artist Of The Year, a 2017 Black Gala Award winner, a 2017 Black Power Music Award nominee, a 2018 dual Spiral Award winner (Album Of The Year and Artist Of The Year), the 2020 Spiral Award winner (Artist Of The Year), and 2020 Indie Music Award winner for Album Of The Year and Single Of The Year. He's also been named one of hip-hop's Hottest Independent Artists of 2020 by Source Magazine.
In addition, he's been co-signed by hip-hop legends such as Chuck D, Black Thought, Wise Intelligent, Arrested Development, EPMD, Wyclef Jean, David Banner, Jay Electronica and more.
He's been considered seven times for a Grammy – including three for Best Rap Album and once for Best Rap and Song Performance.
Khemist
Philadelphia-bred songwriter, MC, guitarist and prolific musician, Khemist is an award-winning, critically-acclaimed artist and bonafide lyrical force to be reckoned with. Hailing from Philly's Logan Valley, Khemist's eclectic body of work reflects his bittersweet upbringing amidst the blighted streets of the hardscrabble city, yet defies falling into stereotypical music categorizations.
Influenced by greats, such as Sonia Sanchez, Ta-Nehisi Coates, Black Ice, Mums Da Schemer, Nas, Toni Morrison, Robert Browning, Nikki Giovanni and Octavia Butler, Khemist's layered lyrics speak of survival and self-reliance, loss and longing, with a razor-sharp delivery that resonates with his legions fans, including Lauryn Hill, Black Thought, Bilal, and Pharoahe Monch.
Ironically, it was years of not speaking during his childhood -- from fifth to eighth grade -- that Khemist credits with leading him to a career as a journeyman lyricist. While at the playground, Khemist came across an injured bleeding man facing certain death. An older man told Khemist to keep his mouth shut about the shocking scene he just witnessed -- and that is exactly what he did. In an instant, Khemist was robbed of his innocence by a death he never actually saw, but could not unsee. Coupled with the trauma of the subsequent loss of friends to senseless crime and the American carceral system, Khemist became desensitized to violence, yet determined to serve as a voice for the voiceless.
A former workshop leader for the Philadelphia Youth Poetry Movement, Khemist cut his teeth writing poetry, listening to "The Come Up Show with DJ Cosmic Kev," watching HBO's Def Poetry Jam and battling on rap DVDs. Later, he would be honored, to finally be featured on Def Poetry.
Recording with leading producer Anwar Marshall, Khemist graduated from spoken word poetry and marathon freestyle rap to picking up a guitar at age 22. His willingness to embrace this new challenge and discomfort facilitated substantial artistic growth and liberated him to become more than an emcee. Pairing lyrical prowess with diligent musicianship, he developed a sound that reflects his encyclopedic-like knowledge of Black American musical folkways , as well as the vast, ambitious nature of his progressive sounds. It is this music that he believes to be the most important of his life.
Like Khemist, this is not just rap.
Khemist first made waves on the Puzzle Pieces mixtape. He followed with Death 2 Wack Rappers, hosted by Black Thought, and the Khemist x Aktive mixtape, featuring DJ Aktive. Khemist's spoken word project, Lornda & Poems, is a heartfelt ode to his grandmother. Virginia radio fixture and Pusha T affiliate, DJ Rick Geez, joined Khemist on Scrap Metal. Written and recorded in one day, All In A Day's Work, dials up the lyrical showmanship of Philadelphia rap lore. Khemist later connected with Zaytona on Wolves.
In 2019, Khemist caught the attention of musicheads and fans all over with his music video, "I Been on a Budget", as well as his live performance videos. A year later, he gained an even broader audience when he appeared on NPR Music as a guest performer with saxophonist, Teodross Avery, and received a Lennon Award for Songwriting for his song, Upright.
After countless hours logged in the studio, Khemist's forthcoming Khemtrails EP and impending full-length studio album are the culmination of his previous releases. He has moved into a new realm with his music on his EP, Khemtrails (Black Baby Digital). His "most honest music" to date and one where he "took ownership over each component of the music," Khemist says that with Khemtrails he is living in his purpose.
Stream Khemist's latest EP, Khemtrails (Black Baby Digital), released on June 19, 2020 in honor of Juneteenth. Khemist is currently working on a full length LP for a 2022 release. For new music releases and tour dates, follow Khemist on social media, at @khemist_LV, or go to
https://linktr.ee/Khemist
.