Saturday,
April
23rd
, 2022
Dogfish Head Presents
The Darkness – Motorheart US Tour 2022
with special guests The Dead Deads
Doors: 7:00 PM
/
Show: 8:00 PM
All Ages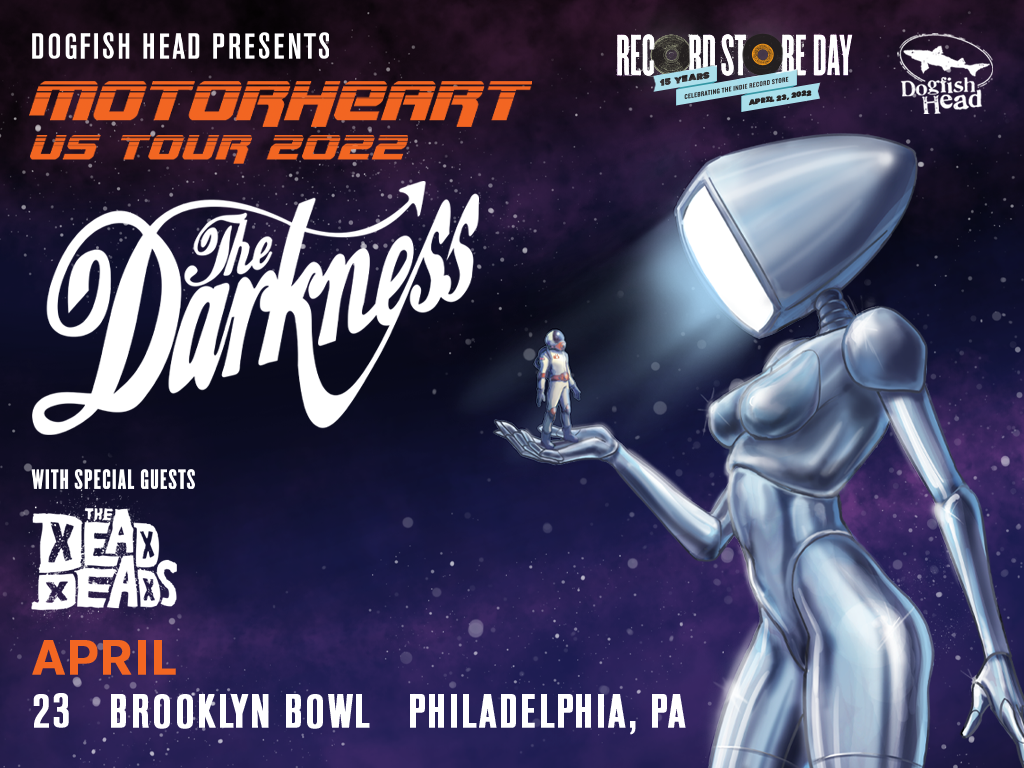 Event Info
Venue Information:
Brooklyn Bowl Philadelphia
1009 Canal Street
Philadelphia, Pennsylvania 19123
PURCHASE VIP LANE RESERVATIONS HERE
Based on the latest local guidelines, attendees are no longer required to provide proof of negative COVID-19 test AND/OR vaccination for entry into this event. Be sure to check the venue website for the latest updates and guidelines as entry requirements are subject to change.

An inherent risk of exposure to COVID-19 exists in any public place where people are present. COVID-19 is an extremely contagious disease that can lead to severe illness and death. According to the local health authorities, senior citizens and guests with underlying medical conditions are especially vulnerable. By visiting our establishment, you voluntarily assume all risks related to the exposure to or spreading of COVID-19.
Valid photo ID required at door for entry.
This event is general admission standing room only.
Artist Info
The Darkness
The Darkness are a riff machine like no other, forged in Suffolk and London, UK.

Four top ten albums, two hundred million streams on Spotify, five top ten singles, numerous industry awards, and over three million concert tickets sold around the world… with a back catalogue overflowing with sonic gold and a live reputation that most bands can only dream of attaining, The Darkness have established themselves as one of the most loved and important British rock bands of our time.

They have toured with giants including Queen, Guns'n'Roses, Lady Gaga, Black Sabbath, Def Leopard, KISS and Ed Sheeran and their new album, Motorheart, is packed with the kind of joyous bombast that has carved their place in rock and roll history.

Justin Hawkins comments on the tour announcement: "You there, in the Americas - hear me, and hear me well: The Darkness know your pain, know that you have cried yourselves to sleep every night, bereft of quality English rock music. Well, desist from weeping and pull up your fully grown adult pants - salvation is upon you! As doctors, we UNDERSTAND the healing power of rock music and we have instructed our minions to make arrangements for us to visit your moderately distant shores. The cryogenically sealed Tupperware box of roadies has been set to "Thor" and the mighty winged chariot has been dusted off. Remember - one lick of Darkness sweat and you will be cured - you will literally walk again, without Covid or anything! But what price freedom and eternal life, I hear you ask? To you sir, about thirty bucks (plus local taxes and booking fee). Now get the fuck in!"
The Dead Deads
Nashville-based rock band The Dead Deads are cherry-picking everything good about grunge, hard rock, indie, classic metal and punk, and creating memorable and fun alternative music for rock fans across generations and genres. They are that "up-and-coming" band that touring artists have known and loved at first sight. They've been named by many of their own heroes including Paul Stanley and Eric Singer (KISS), Lzzy Hale (Halestorm), Tom Petersson (Cheap Trick) Corey Taylor (Stone Sour/Slipknot), and Shaun Morgan (Seether) as one of the most refreshing new bands touring today, and they have conjured a wildly engaged fan club—The Dead Corps. With X's painted over their eyes, the band and fans conjure a rebellious return to fun, freedom and true fandom.
McQueen on drums, Daisy on bass and Meta on guitar are a power trio with monster tone and raw rock energy. Heads bang as classic metal and grunge riffs are coaxed into pop hooks. Innocent child-like vocals are interrupted by screams and the occasional brutal growl, as finely crafted wordplay forces unexpected stops and odd time signatures into submission. The unexpected becomes the earworm.
The Dead Deads explore sounds from 90's bands like The Pixies and Sonic Youth, to modern rock like Cage the Elephant and The Killers, all while keeping their grunge/punk rock roots. They name Failure, Bjork, Led Zeppelin, Blue Oyster Cult, NOFX, Pavement, Pink Floyd, Queen, Weezer, Helmet, Cream, Beck and The Pixies in amongst their hugely diverse list of influences.
In a relatively short time, the band has played 4 cruises, done over a dozen US tours, two Canadian tours, and enlisted thousands of faithful Dead Corps fans. Seether, Bush, Chevelle, Stone Sour, Halestorm, Skid Row, KISS, 10 Years, and many others have invited The Dead Deads on tours as support.
The band is currently promoting the singles from their forthcoming full-length due out in August 2021. Notable past releases include both a live and a studio album, and 7″ split. The live album called The Dead Shall Dance, was recorded at The Cowan in Nashville, TN creating such buzz that Dead Corps flew in from all over the world to have their voices heard on the record which turned out to be the best example to date of the range, skill and growth of one of the touring world's favorite rock bands.
Also of note is their studio record Sketches and Animation released in early 2018. This double EP includes five fully-produced bangers with Matt Mahaffey (sElf) on the controls, as well as stripped-down acoustic versions of the same songs produced by Brian Carter. Easter eggs for fans abound in this inventive sampler. The single "Ghosts" was added to Spotify's New Rock playlist.
Named by The Nashville Scene as a band to watch, they've stayed busy in the southeast as well. They christened the new Nashville venue, Basement East, played a live on-air gig for WRLT at legendary listening room 3rd & Lindsley, broke crowd number records at Riverbend Festival in Chattanooga, played a sold-out hometown show with Evanescence on their triumphant return, and headlined Murfreesboro Pride Festival.

In the fall of 2020, while the world was deep inside a pandemic, The Dead Deads began turning heads with the release of their first single, "In For Blood" from their forthcoming album, "Tell Your Girls It's Alright". The song landed them on the cover of "New Noise" Editorial Playlist on Spotify, as well as being featured on multiple other editorial playlists including the "Rock This presents The Best Rock Songs of 2020". Their follow-up singles, "Hey Girlfriend (feat. Julia Lauren of The Foxies)" & "Deal With Me" were released just a few short weeks after and have accumulated the band more 3 million streams collectively.

As the summer approaches, the next single featured from their album, "Murder Ballad II" featured Slipknot / Stone Sour front man, Corey Taylor, who co-wrote the song with the band. If that wasn't enticing enough, Corey was also featured in the music video with the band, which premiered on May 21st 2021. The single gained multiple editorial playlist placements, features in Kerrang!, Revolver, Loudwire, Blabbermouth, among several others.
The band's new album, "Tell Your Girls It's Alright" is set for release on September 10th 2021 which will feature a string of headlining shows around the southeastern US.