Sunday,
September
26th
, 2021
The Bottom Dollars (10th Anniversary Show!) + Apollo's Ghost + NO ICE
Doors: 6:00 PM
/
Show: 8:00 PM
21+ Years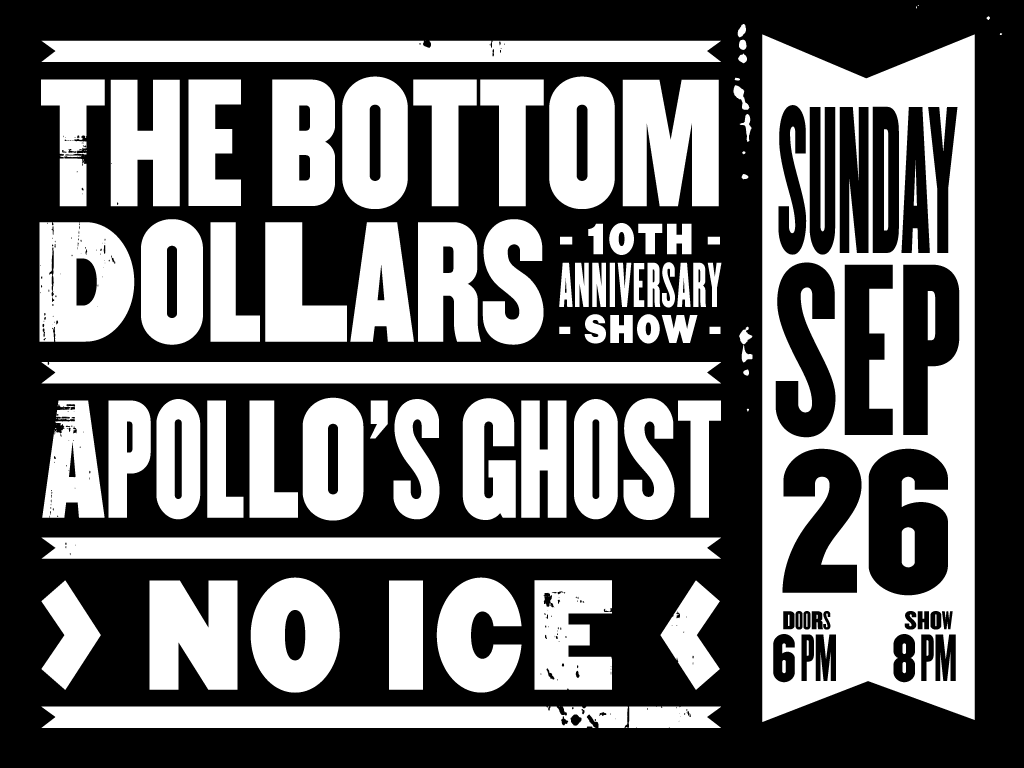 Event Info
Venue Information:
Brooklyn Bowl
61 Wythe Avenue
Brooklyn, NY 11249
Valid photo ID required at door for entry

Doors: 6:00 PM
Show: 8:00 PM

Evolving health and safety guidelines regarding COVID-19 may cause changes to the venue's capacity, admission prerequisites and other health and safety protocols. Brooklyn Bowl reserves the right to cancel your ticket and provide a full refund if our venue capacity is reduced.
Artist Info
Apollo's Ghost
Apollo's Ghost is a three piece instrumental band hailing from Brooklyn, NY. Ben Curtis on guitar, Ray Mazza on drums, David Sutkin on bass. The band's music is like hot lava. From the moment the songs take shape, that shape is taking a different shape. Confused? Don't worry. The band's genre defying style of rock is in part due to the fact that there is no front man. Instrumental music at it's core is hard to define but Apollo's Ghost begs you to ask yourself the question, "what's your motivation for ticking a box?" Their music pulls from decades of influences including 70's icons like Zeppelin, and early Police to early U2. 90's rock is on full display as well citing bands like Swervedriver, Jawbox, Failure, Fugazi etc. Some of their textures have been likened to Radiohead as well. All that being said, there's room for you to find a home within the tight, frenetic stylings of this impressive rock outfit.
In early 2018 the band released a five song self titled EP and is fast awaiting their first full length album called "Second Summer" out October 23rd on all digital platforms. They've been honing their unique sound over the past two years playing all over the greater New York area. If you're lucky enough to catch a live show you will not be disappointed!
The Bottom Dollars
What if Paul Westerberg fronted The Band?
What if Joe Strummer formed Spiritualized? What if they played guitar like David Gilmour?
What if?
Propelled by the smoky, earnest vocals and absolutely fascinating songwriting of Brian "Cherch" Cherchiglia, The Bottom Dollars have grown into a true powerhouse of a project. During their formative years as Brooklyn's go-to closers, this collective of accomplished multi-instrumentalists became synonymous with explosive live performance; eschewing machismo and bravado to deliver honest grit and unabashed dynamism.
They've earned accolades from NPR, Paste Magazine, Village Voice, The New Yorker, and countless others. They've been aptly dubbed "professional sonic assassins" (CMJ), "the [sonic] equivalent of a worn-in leather jacket" (Pancakes & Whiskey) and "smoldering" (The Deli). The most dangerous aspect? They've aged surprisingly well. Daresay, matured?
After a decade, The Dollars are still very much the bombastic, fearless act that reliably cemented itself one late-night set at a time. The Bottom Dollars are a band seasoned enough to meet any stage with sincerity, evocative enough to challenge your ideals, artful enough to interlace their compositions with enough $3 words to buy your drinks and humble enough to help you clean the floor once you've dropped yours.
In 2020, they ended their hiatus with the release of their second LP, Marvelous, produced by Tim O'Sullivan (Childish Gambino, Anderson Paak, Rayland Baxter) and mastered at Capitol Studios. Marvelous, which Pancakes & Whiskey deftly described as "exactly that," is now available worldwide.
—
"The Bottom Dollars go ALL NIGHT!" - Village Voice
"The sonic version of a worn-in leather jacket" - Pancakes & Whiskey
"Classic NYC indie garage style" - BTR Today
"It's having a flask tucked, at all times, inside the pocket of any coat that's ever been worn. It's keeping that flask healthily full with something that coats." - Paste
"Smoldering" - The Deli
"Professional sonic assassins" - CMJ
"These dudes would makes Jake and Elwood proud" - NYLON
NO ICE
NO ICE is a Brooklyn, NY guitar pop rock n' roll band, active since 2014. They play romantic and cathartic songs by singer/guitarist Jamie Frey as a wall of sound ensemble that can extend to a seven piece and beyond. NO ICE's second full length ALL NIGHT was released in 2021 and features diverse styles and influences including Post-Punk, Disco, Synth pop, Rhythm & Blues, Krautrock and the Great American Songbook. "With the band's second full-length release ALL NIGHT — the band builds upon the Springsteen, Costello and Westerberg influences of their first album Come on Feel the NO ICE incorporating dance rhythms and bleary synths. The whole thing perfectly encapsulates the feeling of wandering the streets of Brooklyn in search of the next bar after the gig is over."- Ears To Feed "life-affirming rock 'n' roll for the world weary everyman" - Oh My Rockness "Feel-good melodies and catchy hooks filtered through a fuzzy lo-fi warmth that sound like a blurry summer night, covered in sweat and lukewarm cheap beer"- Village Voice "Somewhere Lou Reed is listening to this and smiling and saying, uh huh." - New York Music Daily
Just Announced
Brooklyn
Rock&Roll Playhouse ticket required for entry before 12:30pm
Show: 12:30 PM
Brooklyn
Doors: 6:00 PM /
Show: 7:30 PM