Friday,
September
16th
, 2022
Talib Kweli LIVE with Full Band!
Khemist
Doors: 8:00 PM
/
Show: 9:00 PM
21+ Years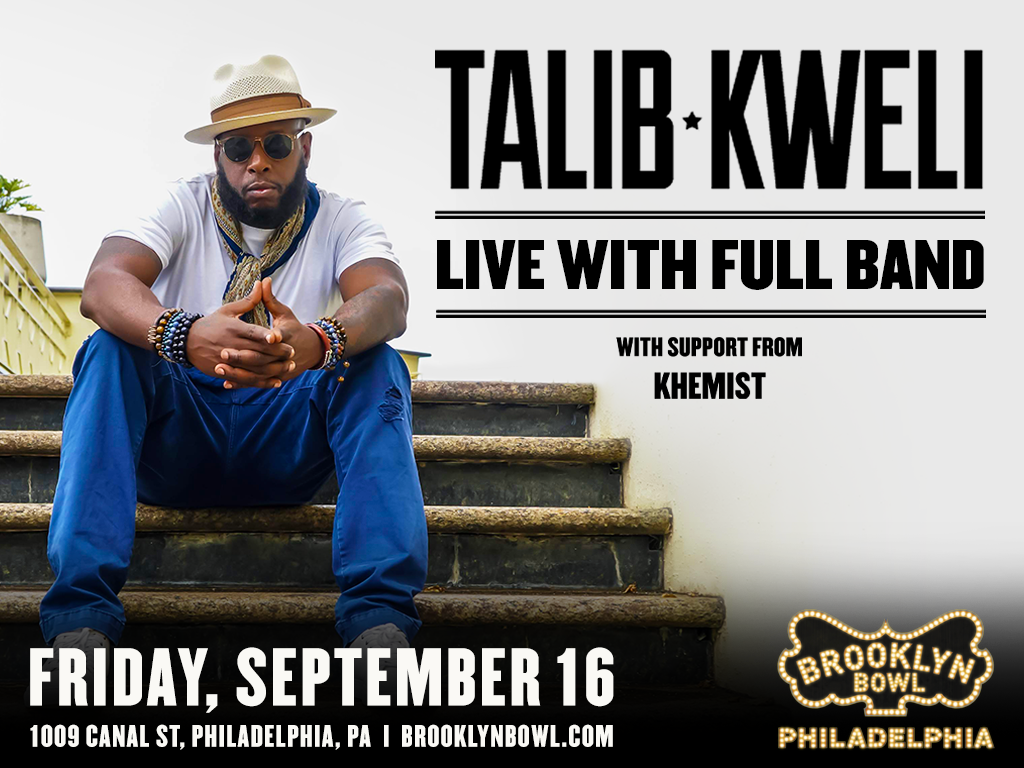 Event Info
Venue Information:
Brooklyn Bowl Philadelphia
1009 Canal Street
Philadelphia, PA 19123
PURCHASE VIP LANE RESERVATIONS HERE
Based on the latest local guidelines, attendees are no longer required to provide proof of negative COVID-19 test AND/OR vaccination for entry into Brooklyn Bowl. Policies are subject to change for individual performances, please refer to individual event pages for specific entry requirements.

An inherent risk of exposure to COVID-19 exists in any public place where people are present. COVID-19 is an extremely contagious disease that can lead to severe illness and death. According to the local health authorities, senior citizens and guests with underlying medical conditions are especially vulnerable. By visiting our establishment, you voluntarily assume all risks related to the exposure to or spreading of COVID-19.
Valid photo ID required at door for entry.
This event is general admission standing room only.
Artist Info
Talib Kweli
The Brooklyn-based MC earned his stripes as one of the most lyrically-gifted, socially aware and politically insightful rappers to emerge in the last 20 years.

"I'm a touring artist. I'm an artist that's internationally known. I'm not just a local artist at this point in my career. I'm cognizant of the fact that what I do is beyond where it started. I'm trying to reach the apex of where I am now, but without turning my back on or dismissing what I've done before."

After nearly 20 years of releasing mesmerizing music, Talib Kweli stands as one of the world's most talented and most accomplished Hip Hop artists. Whether working with Mos Def as one-half of Black Star, partnering with producer Hi-Tek for Reflection Eternal, releasing landmark solo material or collaborating with Kanye West, Pharrell Williams, Just Blaze, J Dilla, or Madlib, Kweli commands attention by delivering top-tier lyricism, crafting captivating stories and showing the ability to rhyme over virtually any type of instrumental.

In 2011, Kweli founded Javotti Media, which is self-defined as "a platform for independent thinkers and doers." Kweli has set out to make Javotti Media (which released his 2011 album, Gutter Rainbows, and is named after his paternal grandmother) into a media powerhouse that releases music, films and books.
Khemist
Philadelphia-bred songwriter, MC, guitarist and prolific musician, Khemist is an award-winning, critically-acclaimed artist and bonafide lyrical force to be reckoned with. Hailing from Philly's Logan Valley, Khemist's eclectic body of work reflects his bittersweet upbringing amidst the blighted streets of the hardscrabble city, yet defies falling into stereotypical music categorizations.
Influenced by greats, such as Sonia Sanchez, Ta-Nehisi Coates, Black Ice, Mums Da Schemer, Nas, Toni Morrison, Robert Browning, Nikki Giovanni and Octavia Butler, Khemist's layered lyrics speak of survival and self-reliance, loss and longing, with a razor-sharp delivery that resonates with his legions fans, including Lauryn Hill, Black Thought, Bilal, and Pharoahe Monch.
Ironically, it was years of not speaking during his childhood -- from fifth to eighth grade -- that Khemist credits with leading him to a career as a journeyman lyricist. While at the playground, Khemist came across an injured bleeding man facing certain death. An older man told Khemist to keep his mouth shut about the shocking scene he just witnessed -- and that is exactly what he did. In an instant, Khemist was robbed of his innocence by a death he never actually saw, but could not unsee. Coupled with the trauma of the subsequent loss of friends to senseless crime and the American carceral system, Khemist became desensitized to violence, yet determined to serve as a voice for the voiceless.
A former workshop leader for the Philadelphia Youth Poetry Movement, Khemist cut his teeth writing poetry, listening to "The Come Up Show with DJ Cosmic Kev," watching HBO's Def Poetry Jam and battling on rap DVDs. Later, he would be honored, to finally be featured on Def Poetry.
Recording with leading producer Anwar Marshall, Khemist graduated from spoken word poetry and marathon freestyle rap to picking up a guitar at age 22. His willingness to embrace this new challenge and discomfort facilitated substantial artistic growth and liberated him to become more than an emcee. Pairing lyrical prowess with diligent musicianship, he developed a sound that reflects his encyclopedic-like knowledge of Black American musical folkways , as well as the vast, ambitious nature of his progressive sounds. It is this music that he believes to be the most important of his life.
Like Khemist, this is not just rap.
Khemist first made waves on the Puzzle Pieces mixtape. He followed with Death 2 Wack Rappers, hosted by Black Thought, and the Khemist x Aktive mixtape, featuring DJ Aktive. Khemist's spoken word project, Lornda & Poems, is a heartfelt ode to his grandmother. Virginia radio fixture and Pusha T affiliate, DJ Rick Geez, joined Khemist on Scrap Metal. Written and recorded in one day, All In A Day's Work, dials up the lyrical showmanship of Philadelphia rap lore. Khemist later connected with Zaytona on Wolves.
In 2019, Khemist caught the attention of musicheads and fans all over with his music video, "I Been on a Budget", as well as his live performance videos. A year later, he gained an even broader audience when he appeared on NPR Music as a guest performer with saxophonist, Teodross Avery, and received a Lennon Award for Songwriting for his song, Upright.
After countless hours logged in the studio, Khemist's forthcoming Khemtrails EP and impending full-length studio album are the culmination of his previous releases. He has moved into a new realm with his music on his EP, Khemtrails (Black Baby Digital). His "most honest music" to date and one where he "took ownership over each component of the music," Khemist says that with Khemtrails he is living in his purpose.
Stream Khemist's latest EP, Khemtrails (Black Baby Digital), released on June 19, 2020 in honor of Juneteenth. Khemist is currently working on a full length LP for a 2022 release. For new music releases and tour dates, follow Khemist on social media, at @khemist_LV, or go to
https://linktr.ee/Khemist
.