POSTPONED
Strange Majik (Album Release) + Hide & Seek + Joseph King and the Mad Crush
Doors: 6:00 PM
/
Show: 8:00 PM
21+ Years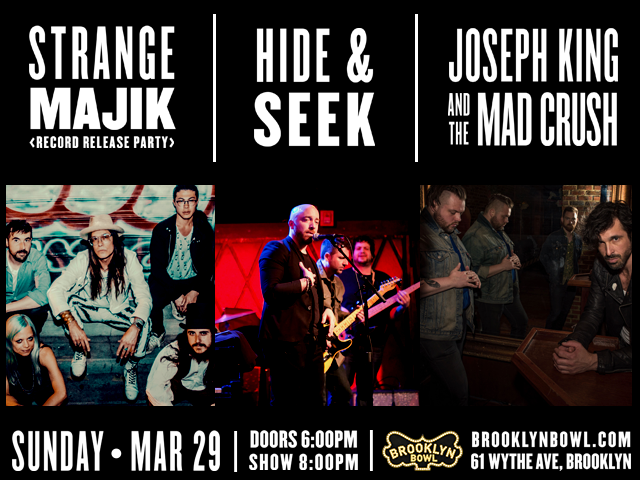 Event Info
Venue Information:
Brooklyn Bowl
61 Wythe Avenue
Brooklyn, NY 11249
Due to circumstances outside of our control, this show has been postponed until further notice. Hang on to your tickets, we'll email you (and post updates here) as soon as a new date is announced.
Artist Info
Strange Majik
Strange Majik is the genre fluid rock 'n' roll soul of David Pattillo. It's punkified vintage blues and trippy guitar psychedelia. It's acid rock with a heart of Memphis soul. It's a musical hi-five to elevate your spirit and get your body moving. It's a jam band juggernaut powered by the iconic craft of a classic songwriter.

With over 100 published songs and a lengthy credit list, Pattillo has a history in the music scene. He has written and produced songs for Motown/Universal, worked with super producers Linda Perry and The Berman Brothers, co-written with Nashville music row coterie, co-produced the Live At The Artists Den series on PBS (for which he was nominated for an Emmy), hosted a UK radio show on Amazing Radio, and paid his dues working with a long list of artists from Public Enemy to The Beastie Boys in the NYC studio world. His true love is writing and performing music and discovering great musicians. And since 2015 he has done just that with Strange Majik.

With an ace lineup of players from the bands of Les Claypool and Sean Lennon, Ghost, Lez Zeppelin, Dispatch, and Harry Connick Jr. you will be hard pressed to find a weak link. T-Rex/Bowie super producer Tony Visconti recently posted on social media "David Pattillo and his band are fantastic. I call it Progressive Blues!" In a review of their 2018 album Channel T, The Deli Magazine says "It's an acidic tour de force of vintage rock and roll. it's just impeccable, classic musicianship from start to finish."

After the release of two full length LP's and touring in his backwater blues guitar two-piece predecessor The Dead Exs, Pattillo has settled into a 5 year-long Tuesday residency at NYC's Belle Reve. Performing for celebs like Kim and Kanye and Elon Musk, and jamming with Live's Ed Kowalczyk, Danny Clinch, and even rock royalty Jakob Dylan the Belle Reve Tuesdays rarely disappoint. Highlark Magazine says "There's something about him that brings you back to the 70s – not just the look or his authentic sense of character, but that blues rock sound with a gritty, real performance that now seems to be a rare gem among the new waves of music."

He and his band have shared stages with NYC buzz bands Hollis Brown, Daddy Long Legs, The Mystery Lights, Liza Colby, Revel In Dimes, and Fiona Silver as well as veteran songwriters Ray Wylie Hubbard and Willie Nile. He has been featured in Shindig Magazine UK, Record Collector Magazine, The Deli Magazine, and many blogs and podcasts around the US and UK. His songs have been licensed by international sports brands, TV shows and films.

Strange Majik's new LP "20/20" (March 2020) is "marrying the rousing 70s rock sound like Roxy Music and David Bowie with thrilling, emotive blues" says euro blog Jansenjams. With classic instrumentation of drums, bass, guitar, wurly, organ and sax perhaps you can call it retro but Pattillo's lyrics keep things modern. This is not a throwback to old times. Shindig Mag says "The British influence is all over Strange Majik's sound. You can hear The Stones, Ziggy era Bowie and more than a little Hendrix whilst still managing to sound as American as apple pie." As Rick Koster of Connecticut's Daily The Day says, "Expect Strange Majik to put a spell on you."
Hide & Seek
Hide & Seek has created a harmonious fusion of rock, blues, soul, and Americana. Ranging from whimsically flirtatious to serious social commentary, the lyrics sit atop evocative melodies sung by chief songwriter Alex Newman (vox / guitar).

Sprinkling in touches of show-tunes, Adam Spiegel (keys) compliments the vocals with his own broad range. The rhythm section - TIm Shortle (drums) and Ryan Metosky (bass) - pull from jazz and jam influences to create moods that are both haunting and foot-stompingly fun. Rounding out the unique sound is Tony DePiano (lead guitar) who conjures up the spirit of Americana with meaty guitar tones reminiscent of CCR and Led Zeppelin.
Joseph King
Joseph King and the Mad Crush is an indie rock band from Brooklyn, New York, and is comprised of bass player and singer John Paul Frank, drummer Will Whatley, and singer and guitar player Joseph King. They're also friends.

After 8 releases and years of touring with his first two projects, Canvas (Austin, TX) and Deadbeat Darling (New York, NY), Joseph released his first solo album, "Wanderlusting" in 2014 - a stripped down acoustic driven collection of surfy pop tunes. His follow up EP, "I Miss Everything", dropped in February 2017 and is a fully realized manifestation of Joseph's unique songwriting and musical style - sincere and sometimes quirky pop songs with straight forward indie rock edge, surf rock undertones, and late 60's throwback pop sensibilities. Currently, the trio is back in the studio working on a new full length album, set to be released as a series of singles throughout late 2020.