Thursday,
January
30th
, 2020
Blue Point Presents
Spin Doctors
Tracy Bonham
Doors: 6:00 PM
/
Show: 8:00 PM
21+ Years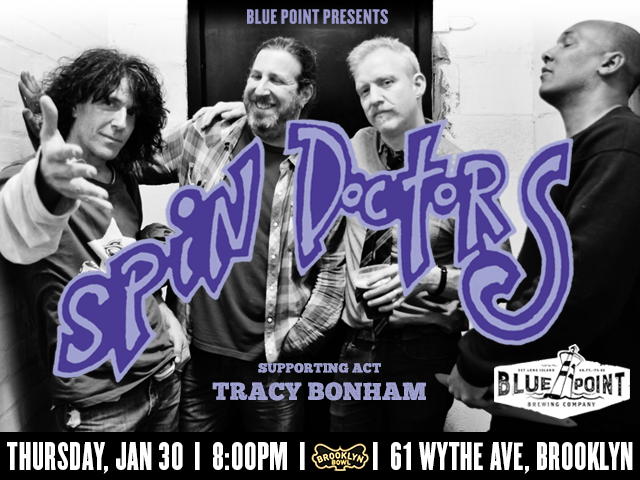 Event Info
Venue Information:
Brooklyn Bowl
61 Wythe Avenue
Brooklyn, NY 11249
For all tickets purchased prior to October 1 on TicketFly, those tickets are still valid and able to be scanned at the door upon entry. Just pull up your ticket on your phone or bring your print-out. Starting October 1 all Brooklyn Bowl tickets will be available on TicketWeb.
Artist Info
Spin Doctors
To the wider world, the Doctors are multi-million-selling icons behind hits like Two Princes and Little Miss Can't Be Wrong, not to mention the classic debut album Pocket Full Of Kryptonite. Now, Chris Barron (vocals), Aaron Comess (drums), Eric Schenkman (guitar) and Mark White (bass) are back at it and on tour this year.

The Spin Doctors gave you the soundtrack to the best nights of the '90s, so it makes sense that their debut album went triple platinum and has now sold over 5 million copies in the U.S. alone. Rolling Stone said it best in their January 1993 cover story of the band – "[Their] popularity is based on universal rock & roll virtues...The Doctors aren't trying to blaze new trails. They know we've been down this way with the Stones, Curtis Mayfield, and a few of their other touchstones. But the proof- plenty of it – is in the party."

But Chris, Aaron, Eric and Mark are not done yet. Their most recent album, If the River Was Whiskey, rediscovers a strand of their musical DNA that melds perfectly with the hits you know and love. "It's been so refreshing to go back to this material," says Aaron. "It's just brought everything that's good about the band out again. I can honestly say that we're playing better than ever right now, and I think a lot of that is because of the material on this record: it's just really opened things up. Some bands, you go and see them 25 years later and they're up there going through the motions. But to me, we sound better than ever."

"We play about four or five tunes a night from this new album and they all work," says Eric. "It just feels seamless, like any of the new tunes can sit with any one of the Kryptonite songs. And the band is just playing amazing now. It's a pleasure to play with people that you've been playing with so long... and everybody's still breathing!"

"I don't care about sales, man," states Chris: "...honest to God, I just want to keep making a living playing music. We get up onstage and we turn it on and sing and play our hearts out. And that's all I've ever wanted to do: just make real music, give people something from my heart."

This October marks the band's 30th Anniversary since their beginnings on Bleeker Street, NYC. They'll be celebrating this milestone by touring around the globe and then back to the studio to record a new album sometime in the new year.
Tracy Bonham