Friday,
January
7th
, 2022
11th Annual Birthday Celebration!
Slick Rick: The Ruler
Intelligenz
Doors: 6:00 PM
/
Show: 8:30 PM
21+ Years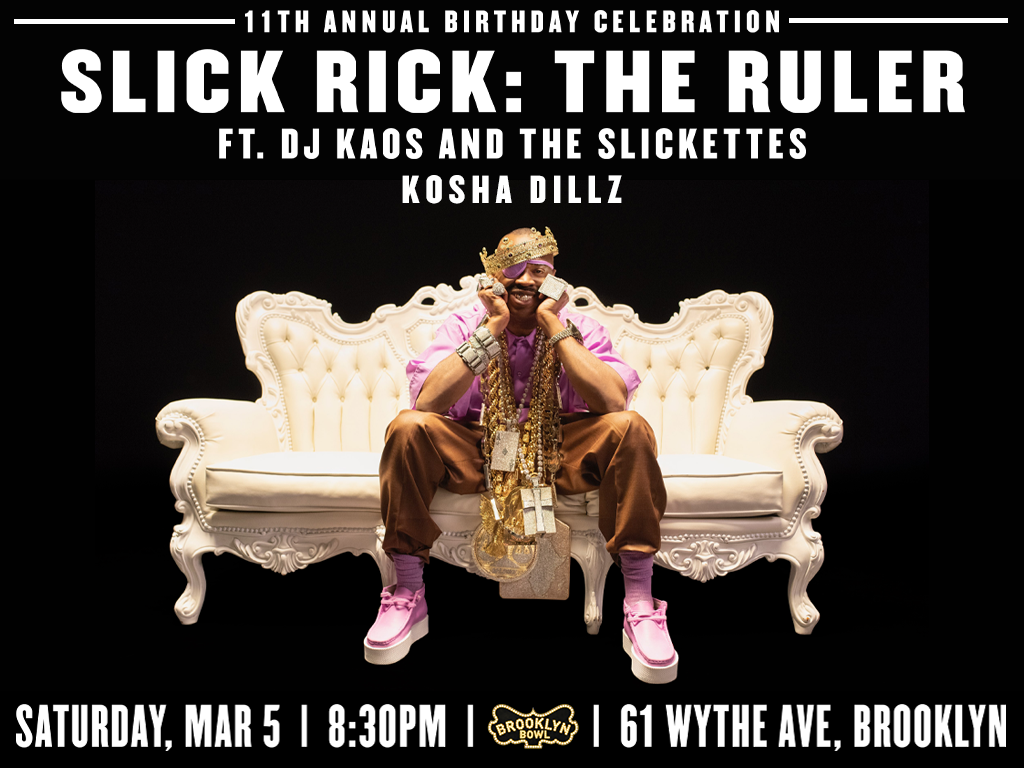 Event Info
Venue Information:
Brooklyn Bowl
61 Wythe Avenue
Brooklyn, NY 11249
Valid photo ID required at door for entry
Doors: 6:00 PM
Show: 8:30 PM
In accordance with the New York City "Key to NYC" vaccination mandate, Brooklyn Bowl has updated its COVID-19 Policy, effective immediately:
VACCINES
All guests must present a matching photo ID along with proof of vaccination in the form of:
NYC COVID Safe App

CDC Vaccination Card (or photo)

Official immunization record from outside the U.S
Acceptable vaccines include:
Any guests, including ticket holders, unable to provide adequate proof of vaccination will not be granted entry into the venue.
MASKS
Guests under 12 are required to wear masks except while eating or drinking.
All guests are strongly encouraged to wear masks.
All Brooklyn Bowl staff are fully vaccinated and must wear masks while inside the venue.
Our COVID-19 policies are subject to change at any time. Please refer to your show's event page for show-specific vaccine and mask requirements, and continue to check prior to visiting Brooklyn Bowl.
The health of our guests, staff, and performers remains our highest priority, and we appreciate your understanding as we continue to navigate this continually-evolving situation.
Artist Info
Slick Rick
Richard Walters (born January 14, 1965), better known by stage names Slick Rick, MC Ricky D and The Ruler, is a rapper. Originally from South Wimbledon, London, England, he moved with his family to The Bronx in 1975 where he met B-Weezy who taught him how to rap.[citation needed] He has always credited "B" from St. Louis for his success with his career. Rick's characteristic eyepatch was acquired after being blinded in the right eye by broken glass as an infant. He is best known for a series of rap recordings during the 1980s, including "Children's Story" and "La Di Da Di". -Charlie Rock of Harlem World crew was instrumental in bringing Slick Rick and Doug E. Fresh together when Doug requested an introduction after he had seen him win local MC battle contests. It was at an MC contest at the 369 Armory on 142nd street in Harlem, given by promotion partners Ray Chandler & Charlie Rock, that Rick & Doug were formally introduced by Rock. -As a 20-year-old in the summer of 1985 he scored his first big hits (with Doug E. Fresh), "La Di Da Di" and "The Show" and "All the Way Down" circa. 1986. -Slick Rick released the song "La Di Da Di" back in the early 1980s which features Doug E. Fresh and the Get Fresh Crew. His first album The Great Adventures of Slick Rick was released in 1988 while he was living in New York City. "Children's Story", which appears on The Great Adventures of Slick Rick, is one of the most famous songs in rap and has been covered by Black Star, Black Rob, Everlast, Messy Marv, Tricky's side project Nearly God, UK rapper Ramson Badbones, Björk, Nonpoint, Snoop Doggy Dogg and Japanese rapper Zeebra. "Children's Story" was also featured on the videogame Grand Theft Auto: San Andreas on Playback FM, a classic hip-hop station. The album attained platinum status, but Rick was unable to exploit this due to an arrest for attempted murder. He shot a bystander and his cousin whom he'd hired as a body guard and who later admitted to having Walters shot outside a club in 1991. Russell Simmons, head of Def Jam records, bailed him out and Rick quickly recorded The Ruler's Back before spending five years in prison, two for the second degree attempted murder charges he received for that shooting, and three while hassling with Immigrations Services over his residency in the US. "La Di Da Di", "Mona Lisa" and "Children's Story" are among his best known songs, with "La Di Da Di" being covered nearly word-for-word by Snoop Dogg on his 1993 album Doggystyle.
Intelligenz
I Am What I What I Was Never Supposed to Achieve – a phrase created by Chicago born and raised Emcee, Intelligenz, to describe her passion and determination to use music as a route for overcoming her childhood adversities. Surviving group homes, foster care and the loss of her mother at 16, Intelligenz chose a name that would force her to be accountable for not just her lyrics but posture. A nod to hip-hop itself and times when words were used to educate, inform and uplift her community, the name is not about ego, but respect to the essence and impact hip-hop has always had on the culture. This Air Force, veteran began writing in high school. She kept the talent hidden for years, using it as her own personal outlet before finally getting the courage to start performing at open mics, local festivals and eventually competitions. Battling, stage fright, she went on to enter MC Lyte's cypher-style "Next Top Female MC" contest and won – securing a two year management deal with MC Lyte which led to a mentorship with, arguably the greatest female emcee of all time; and also forcing her to conquer fears. Since then, Intelligenz signed with Record label, HiPNOTT Records, releasing and touring her hit "Round of Applause" worldwide. Now moving as an independent artist, she continues to break barriers and expectations. She was chosen as the opening talent and female emcee for the legendary Slick Rick on his 2016 Coming Home Tour to the United Kingdom after twenty years. Furthering her reach, she's also toured with him throughout Europe and again in 2018 in Australia on the joint Slick Rick and Raekwon summer "The Ruler and the Chef tour". Intelligenz has opened for other hip-hop heavy weights such as Wutang, Rakim, Redman and Method Man, Lloyd Banks, Lord Finesse, Rah Digga, De La Soul, Masta Ace, and many more. Continuing to push her singles, Welcome to the Grind, and I'm a Movement, she is preparing to debut her first album entitled "Now or Never". Intelligenz aims to break industry barriers by continuing to speak to the conscious listeners who still crave the authenticity of hip-hop. From her freestyles on the Sway In the Morning show with Sway Calloway to her poetic writing, this debut album will include no emcee features and of course will be completely written by Intellgienz in all capacities from hooks to verses. Her goal is to be a success story for the legends that have opened the door for her, an example to the young women fighting to be heard, while honing her craft daily to follow in the footsteps of those we regard as our greats. She aims to help women remember that their mind is pen game is just as capable as the man men before her. With determination and integrity, The music of Intelligenz and social media can be found via the social media sites below: