Tuesday,
December
31st
, 2019
NYE Late Night
Sleigh Bells (DJ Set)
Doors 12:00am | Show 12:15am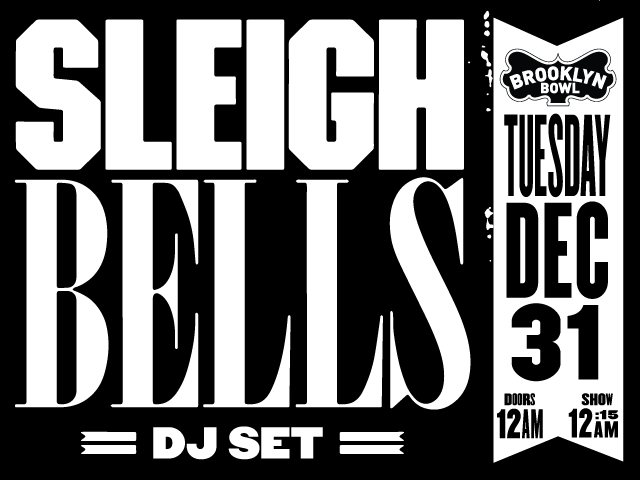 Event Info
Venue Information:
Brooklyn Bowl
61 Wythe Avenue
Brooklyn, NY 11249
Doors 12:00am | Show 12:15am

This performance will take place in the DJ booth, not on stage
Artist Info
Sleigh Bells
Combining sugary hooks with a loud, rhythmic crunch, Sleigh Bells' experimental pop is the project of songwriter/producer Derek Miller and vocalist Alexis Krauss. The musicians formed the group in New York in 2008, where Miller (a Florida native and onetime member of hardcore act Poison the Well) had relocated in the hopes of starting a new group. He found his ideal partner in Krauss, a former vocalist for the teenaged girl group Rubyblue, and the two began creating a batch of demos. The duo signed to M.I.A.'s boutique label N.E.E.T. and released its debut album, Treats, to critical acclaim in 2010. The band spent much of 2011 touring but found time to record, with Miller writing songs inspired by personal tragedy and playing a particularly metallic-sounding Jackson USA Soloist. The results, Reign of Terror, were released early in 2012 and peaked at number 12 on the Billboard 200. During another year of heavy touring, the duo found time to lay down tracks for its third record, Bitter Rivals, which arrived in October 2013. After two years of relative quiet, Sleigh Bells returned in 2015 with "Champions of Unrestricted Beauty," a teaser for their fourth album that displayed a more straightforward pop sound than some of their previous music. November 2016 saw the release of their fourth album, Jessica Rabbit, which featured collaborations with Dr. Dre producer Mike Elizondo. Sleigh Bells returned a year later with the mini-album Kid Kruschev, which was sparked by Krauss' move to upstate New York as well as the turbulent political climate of the late 2010s.