Thursday,
August
11th
, 2022
Stubborn All-Stars + Skadanks ft. Rocker-T with special guests Worl-A-Girl, Dollarman and Ras Droppa
Boogaloo Pete, DJ Ryan Midnight
Doors: 6:00 PM
/
Show: 8:00 PM
21+ Years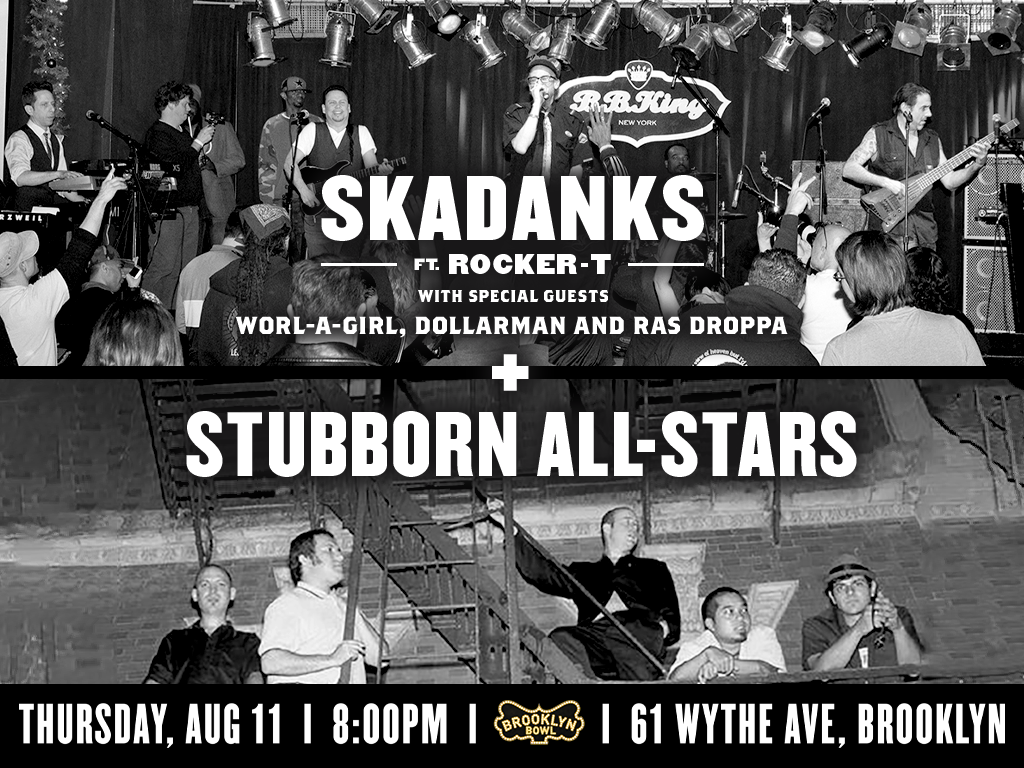 Event Info
Venue Information:
Brooklyn Bowl
61 Wythe Avenue
Brooklyn, NY 11249
LIMITED LANE AVAILABILTY UNTIL 9PM
Boogaloo Pete and DJ Ryan Midnight starting at doors and spinning between sets
Stubborn All-Stars - 8pm
Skadanks - 9:30pm
Valid photo ID required at door for entry
Doors: 6:00 PM
Show: 8:00 PM
Based on the latest local guidelines, attendees are no longer required to provide proof of vaccination for entry into this event. Be sure to check your venue website for the latest updates and guidelines as entry requirements are subject to change.
An inherent risk of exposure to COVID-19 exists in any public place where people are present. COVID-19 is an extremely contagious disease that can lead to severe illness and death. According to the local health authorities, senior citizens and guests with underlying medical conditions are especially vulnerable. By visiting our establishment, you voluntarily assume all risks related to the exposure to or spreading of COVID-19.
Artist Info
Stubborn All-Stars
Skadanks
Since the late 80's Skadanks have been known in NYC for mashing up their live shows!
Injecting elements of ska, rock and hip-hop into their dance-hall reggae, they set themselves apart from other bands on the scene. Weekly gigs in NYC sharpened their edge and led to touring and working with major artists such as Super Cat and Junior Reid.
The release of the single 'Whole World African' and then the album 'Give Thanks' on Elektra records earned them international attention as well as fans that still follow them to this day.
Reuniting for the first time in many years, come hear original members Rocker T (lead vocals), Alex Valenti (bass), Ricky Tepperberg (keys), Cliff Simpson (drums) and JJ Sansaverino (guitar) tear up some Skadanks classics as well as some new creations inna dance-hall style! Will be a family reunion with special guest artists TBA***
Rocker-T
Rocker-T has been singing for 50 years and practicing instruments for 46 years. He has composed, recorded, produced and arranged more than 200 songs and 14 albums since 1986 to the present. Rocker-T Founded the Jah Warrior Shelter HiFi Sound System in 1989 and co-founded the band Skadanks in 1985. He has also spent the past 25 years as a practicing sound healer and Tibetan Yoga/Tao Gung practicioner/instructor and is an initiated Nyabinghi and a Junna Akhara Sadhu. Rocker-T is a being of pure Luv and Sound. He is renown for his modern while ancient musical techniques and his deep temple yet street level transcendentally uplifting performances. He currently performs as the High Commander of the DubSmashers Analog Shuttle and also with a few different live Bands as well as providing singing bowl sound healing sessions.
Worl-A-Girl
Worl-A-Girl is an American hip hop and R&B-influenced reggae group, formed in 1991. They were signed to a major label - Chaos/Sony and received the RIAA Sales Award for the sale of more than 500,000 copies of their hit track "Jamaican Bobsledding Chant" on the popular Cool Runnings Movie Soundtrack. They are currently in the studio working on a new project which will be released very soon!
Dollarman
Dollarman is a Caribbean singer, songwriter, producer and musician born in Grenada, now residing in Brooklyn. Best known for his hit dance club tracks, including "Rock This Party" with Bob Sinclar. Dollarman just released a new CD called "TIME" which includes reggae, dancehall, club and ska tracks with collaborations featuring leading worldwide artists!
Ras Droppa
Ras Droppa is well known and respected throughout the New York Reggae scene and worldwide as a singer and musician, whether headlining with his own band or supporting bands such as CCB Reggae, Easy-Star All Stars and more! He recently appeared on the Mike Gilliam show on CUNY TV performing his hit tune "NRA".