Wednesday,
September
22nd
, 2021
Neal Francis
Ikebe Shakedown
Doors: 6:00 PM
/
Show: 8:00 PM
21+ Years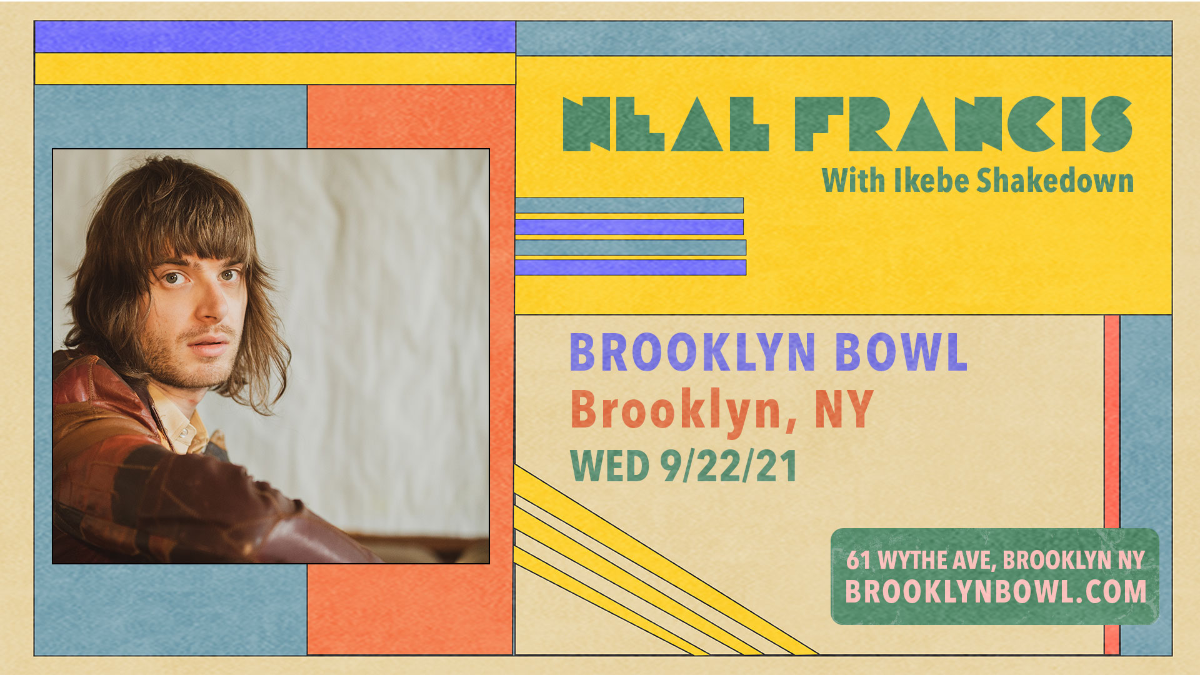 Event Info
Venue Information:
Brooklyn Bowl
61 Wythe Avenue
Brooklyn, NY 11249
Valid photo ID required at door for entry
$20 in advance / $25 day of show
Doors: 6:00 PM
Show: 8:00 PM
In accordance with the New York City "Key to NYC" vaccination mandate, Brooklyn Bowl has updated its COVID-19 Policy, effective immediately:
VACCINES
All guests must present a matching photo ID along with proof of vaccination in the form of:
NYC COVID Safe App

CDC Vaccination Card (or photo)

Official immunization record from outside the U.S
Acceptable vaccines include:
Any guests, including ticket holders, unable to provide adequate proof of vaccination will not be granted entry into the venue.
MASKS
Guests under 12 are required to wear masks except while eating or drinking.
All guests are strongly encouraged to wear masks.
All Brooklyn Bowl staff are fully vaccinated and must wear masks while inside the venue.
Our COVID-19 policies are subject to change at any time. Please refer to your show's event page for show-specific vaccine and mask requirements, and continue to check prior to visiting Brooklyn Bowl.
The health of our guests, staff, and performers remains our highest priority, and we appreciate your understanding as we continue to navigate this continually-evolving situation.
Artist Info
Neal Francis
"I just wanted to be honest about everything, from my musical influences to my story," muses Neal Francis. After years of dishonest living—consumed by drugs, alcohol, and addiction—such sincerity is jarring from the Chicago-based musician. Liberated from a self-destructive past and born anew in sobriety, Francis has captured an inspired collection of songs steeped in New Orleans rhythms and early 70s rock n' roll. His music evokes a bygone era of R&B's heyday while simultaneously forging a new path on the musical landscape. Ohio-based Karma Chief Records (a subsidiary of rising soul label Colemine Records) released his debut LP Changes in September 2019.

There is a deep connection between Francis's childhood—his obsession with boogie woogie piano, his father's gift of a dusty Dr. John LP—and the songs he's created. The result is an astonishing collection of material without parallel in the contemporary funk and soul scene. The influences are unmistakable: the vocal stylings of Allen Toussaint and Leon Russell; the second line rhythms of The Meters and Dr. John; the barroom rock 'n' roll of The Rolling Stones; the gospel soul of Billy Preston; the roots music of The Band. Francis pays tribute to the masters but has his own story to tell: "It's the life I've lived so far."

And what a life it's been. Born Neal Francis O'Hara, the piano prodigy found himself touring Europe by the age of 18 with Muddy Waters' son and backing up other prominent blues artists coast-to-coast. In 2012, Francis joined popular instrumental funk band The Heard. With Francis at the creative helm, The Heard transformed into a national act, touring with boogaloo progenitors The New Mastersounds and chart toppers The Revivalists and appearing at Jazz Fest and Bear Creek. As The Heard's star rose, however, Francis sunk deeper into addiction. Once a promising sideman, by 2015 he had been fired from his band, evicted from his apartment, and was perilously close to self-destruction. "When you get close to death like that you can feel it," Francis recalls. An alcohol-induced seizure that year led to a broken femur, dislocated arm, and, finally, the realization that he needed to get clean.

The journey from a hospital bed to launching his solo career was neither predictable nor straightforward. There were musical fits and starts, relapses, and broken relationships. Yet the overwhelming passion driving Francis in this second act has been an abundance of creative energy. "Drinking held my music in a half-cocked slingshot. I was always so consumed by drugs and alcohol that I didn't have the time, money, or creative energy to do it. Sobriety let it loose."

Determined to realize the songs swirling in his head, Francis assembled a crack team of musicians, calling on bassist Mike Starr (The Heard) and drummer PJ Howard (The Revivalists, The Heard). He linked up with producer and analog-obsessive Sergio Rios (Orgone, Cee Lo Green, Alicia Keys) and self-funded a trip to Killion Sound in Los Angeles to record the initial batch of material. "I learned to trust my instincts in that room," says Francis. Buoyed by classic horn arrangements and Rios' fierce guitar work, the resulting tracks illuminate a lifetime spent studying the masters of rock and soul music.

From the RMI electra-piano riff that kicks off "She's A Winner" to the screaming organ swells of "This Time," Francis and company let it all hang out. This is fun music, dance music. Yet verse after verse and chorus after chorus, Francis wrestles with his past in a straightforward manner: "It's 5 o'clock in the morning, but I'm not home/ I'm surrounded by people, but I'm really alone." Like Toussaint and Russell before him he's married the upbeat rhythms of New Orleans R&B with the lyrical approach of a confessional singer/songwriter. The refrain on "This Time" serves as a foxhole prayer for a better future: "Let me get it this time/I won't let you down/Let me get it this time/I won't fool around."

Francis finished recording basic tracks for Changes in Los Angeles in February of 2018 and spent the following months doing overdubs in Chicago with engineer Mike Novak (who also recorded demos for the project). Soon after he was eager to begin his touring career. After signing with Paradigm Talent Agency, Neal played shows across North American supporting Australian band The Cat Empire. He has received praise on several notable radio outlets including KEXP, KCRW's The Morning Becomes Eclectic, and BBC Radio 6. Francis and his four-piece band recently performed during the New Orleans Jazz & Heritage Festival, sharing the stage with The Meters and other legends. In 2019 alone he hit the road with Black Pumas, Steel Pulse, Lee Fields & The Expressions, Dumpstaphunk and others. Francis pledges to tour relentlessly to promote his own music. "I'm doing this to fulfill a drive within myself, but also to pay tribute to the gifts I've been given. And it comes from a place of immense gratitude."

"The reincarnation of Allen Toussaint." - Craig Charles, BBC Radio 6

"Reminds me of Leon Russell, Dr. John and JJ Cale every time I hear him. His sounds are smooth, drenched in New Orleans rhythms, the blues and the early 70's." - KCRW

"He's mastered the art of 70s tinged funk." - Lightning 100

"Smooth vocals and a tight groove that'll have you nodding your head and feeling mellow" - NPR Music's Best New Songs

"There's a good chance you'll have heard of Francis by the time the year is over…classic Funk, Soul and R&B." - Cincinnati CityBeat

"Absolutely an artist to watch" - Winnipeg Free Press

"Soulful style…uplifting vibe…" - Dusty Groove

"Instant Americana-funk classic…R&B, blues and touches of gospel and good old fashioned funk merge into pure beauty and soul here, making the appetite and excitement for whatever Francis does next all the more intense." - Record Crates United

Changes received Top 10 Album of the Year recognition from KEXP, KCRW, The Current, KDHX, Songpickr, WYCE, Radio Boise, Indie 102.3, Radar Radio (Portugal), and Across The Margin
Ikebe Shakedown
Ten years ago, Ikebe Shakedown began pushing the boundaries of instrumental music. Each new track and live set has sent them deeper into combining the foundational elements of '70s soul, raw psychedelic style, and cinematic Western soundtracks with powerful grooves and soaring melodies.

With their new release, Kings Left Behind on Colemine Records, the band is giving listeners more mystery and majesty than ever before. The album features the entire group writing together, allowing each instrument and element to shine through.You'll find rhythms that punch you right in the gut, even as dreamy guitars and lush horn melodies and string arrangements capture your imagination.

Kings Left Behind was recorded by Ikebe's bassist, Vince Chiarito, at Hive Mind Recording, a Brooklyn studio built from the ground up and co-owned in part by Vince and the band's saxophonist, Michael Buckley. Since it opened in 2017, Hive Mind has become a home base for the band, giving them the freedom to experiment with the textures and sounds of a genre they define as Instrumental Soul.

No matter how much things have changed over the past decade, Ikebe Shakedown has been a consistent, driving force. The band has gone from local clubs to the stages of Bonnaroo and Austin City Limits, playing with some of the biggest names in music. They continue to stretch their capabilities and add to their worldwide following. And with no signs of slowing down, fans can only imagine what comes next.