Thursday,
October
10th
, 2019
Little Ghost Tour
Moonchild
Devin Morrison; No bowling after 10pm
Doors: 6:00 PM
/
Show: 9:00 PM
21+ Years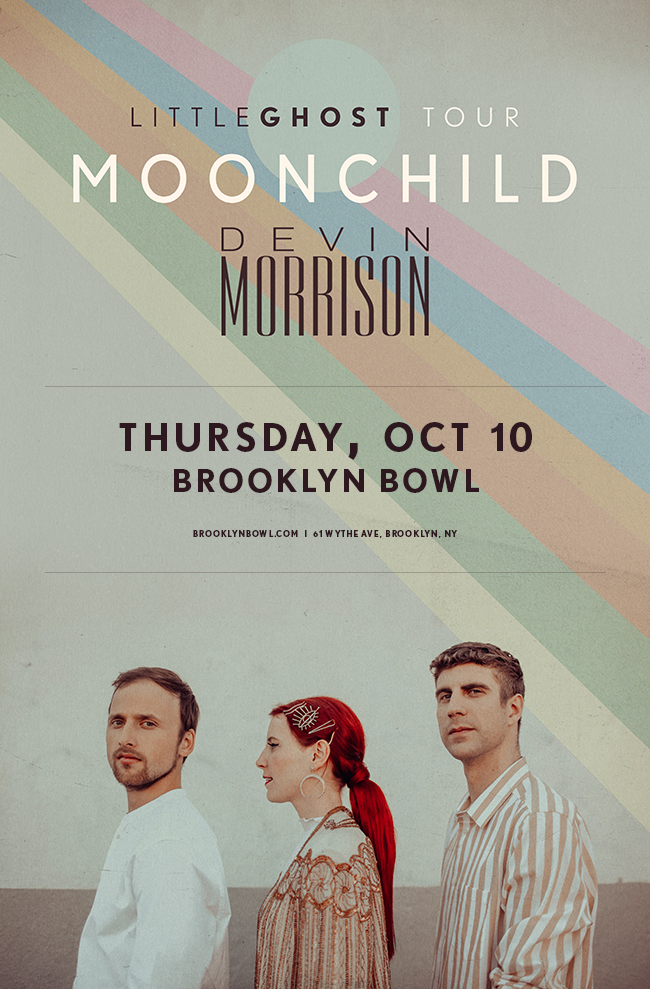 Event Info
Venue Information:
Brooklyn Bowl
61 Wythe Avenue
Brooklyn, NY 11249
No bowling after 10pm
VIP Meet & Greet Information:
- One general admission ticket
- Early entry into the venue at 4:30pm
- Exclusive Q&A session with Moonchild at 5:00pm
- Personal photograph with Moonchild
- Collectible B-sides poster; signed by Moonchild (limited print)
- Exclusive VIP merchandise item
- Official meet & greet laminate
- Limited availability
If you have any questions regarding your VIP package elements, please email
[email protected]
If you have any questions regarding the ticket portion of your purchase, please contact the ticketing outlet you used to purchase your tickets.
For all tickets purchased prior to October 1 on TicketFly, those tickets are still valid and able to be scanned at the door upon entry. Just pull up your ticket on your phone or bring your print-out. Starting October 1 all Brooklyn Bowl tickets will be available on TicketWeb.
Moonchild will be partnering with charities nationwide to support causes that work to positively impact local communities. $1 from each ticket sale will be donated, details forthcoming
Artist Info
Devin Morrison
Moonchild
Moonchild is a combination of three multi instrumentalists - Amber Navran [vocals, tenor saxophone, flute, keyboards, synth bass, drum programming], Andris Mattson [trumpet, flugelhorn, keyboards, synth bass, guitar, drum programming], and Max Bryk [alto saxophone, clarinet, keyboards, synth bass, drum programming]. The resulting union yields an ever-evolving fusion of alternative R&B, jazz, and neo-soul. They all participate equally in writing, producing, tracking, and mixing their records, keeping the spirit of collaboration alive as they grow and transform as one.

"Our chemistry as writers was pretty instantaneous from the start," explains Andris. "The first tune we came up with, we all sat on a piano bench together and wrote as a unit. Nowadays, each of us has our own studio setup and are constantly making beats and writing songs on our own. We'll often send each other emails of beats we made and then get together to expand them into full songs. We have so much trust in each other during the writing process."

As Moonchild, the whole becomes greater than the sum of its parts—never more so than on their fourth full-length, Little Ghost.
After that first shared piano bench session at the University of Southern California, the group unveiled their debut Be Free in 2012. Please Rewind followed three years later, and 2017's Voyager saw them ascend to new critical peaks. NPR Music touted the record among, "Five R&B Albums You Slept On In 2017," and JAZZ FM named them "Soul Act of the Year" for 2018. "Cure" toppled 8 million Spotify streams, and "The List" exceeded 7 million plays on Youtube.

Along the way, the trio performed headline shows everywhere from the United States and Europe to Asia, and supported other tours for the likes of The Internet, Kamasi Washington, and more. As they began writing and recording Little Ghost in 2018, they continued to seek out new sounds and textures. While laying down tracks at Lake Arrowhead, Andris dove further into the guitar, incorporating it at the core of the new music.

"The three of us are always experimenting with new programs and gear and trying to improve our craft individually," he goes on. "I've been so into guitar, so that's a big shift from previous Moonchild albums. The acoustic and ukulele really expanded our sound. The keyboard-driven sounds and horns are still there, but they're intertwined with guitar."

"The evolution connects to the title," adds Amber. "At the end of a star's life, the gas expands into space and leaves a really beautiful nebula, and there is one up there called Little Ghost. We thought it was a cool concept of expansion, mirroring what we were doing as a group."

The first single "Too Much To Ask" illuminates that expansion. Andris pairs an electric piano patch with the guitar and ukulele over a skittering groove as Amber's raspy delivery rolls from a near-whisper to a soulful swoon.

"It's about realizing you're in a relationship with someone who's halfway out the door – who doesn't care like you do," she says. "Often you come to that realization one hint at a time, with the all little things they don't do."

Eliciting a raucous reaction by playing horns together live, the band "incorporated more horns than ever before," according to Max. Not only do horn solos blare and bounce through "Money" and "Come Over," but they kickstart the momentum on the opener "Wise Women" where jazz-y shakers and hi-hats give way to a breathy clarion call for female empowerment as Amber sings, "Go on and prove them wrong."

"'Wise Women' is just about making things happen for yourself and not waiting for opportunities to come to you," she elaborates.

Ukulele and piano converge for a dreamy dynamic on "The Other Side," while everything concludes on the sweeping string outro of "Still Wonder." It serves as a cinematic send-off befitting of the 14-track journey.

"Writing together is ultimately therapeutic," Amber leaves off. "I hope we give listeners something they can relate to and find comfort in. It's what music does for us."

"We were obsessed with crafting this record," concludes Max. "It got us really excited every day. Maybe it can inspire others to pursue their own art or anything that makes them feel good."
Just Announced
Brooklyn
Rocks Off Presents
Ruby Dear
Doors: 6:00 PM /
Show: 8:00 PM